Despite the retirement of five key-figures in the last two years, Germany is still one of the big guns in international football and the big favorite for the 2018 World Cup in Russia.
German head coach Joachim Loew will have to start the qualification campaign against Norway in Oslo this Sunday evening without Bastian Schweinsteiger (Manchester United) and Lukas Podolski (Galatasaray Istanbul) but can still rely on a squad that exudes outstanding quality.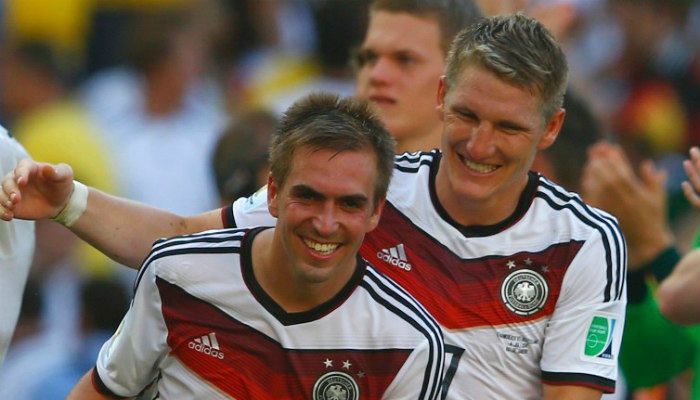 Schweinsteiger and Podolski have retired from international duty as have Philipp Lahm (Bayern Munich), Per Mertesacker (Arsenal) and Miroslav Klose (Lazio). But Loew and the 2014 world champion are far from having to make fundamental changes.
Looking at Loew's decision as to who will follow Schweinsteiger and his predecessor Lahm as captain, it is proof of Germany's inexhaustible reservoir of talented and experienced players. No less a player than probably the world's best goalkeeper, Manuel Neuer, will lead the German team alongside the highly experienced players like Mats Hummels, Jerome Boateng, Thomas Mueller (all Bayern Munich), Toni Kroos (Real Madrid), Mesut Ozil (Arsenal) and Sami Khedira (Juventus Turin) who are backed up by the promising youngsters Leroy Sane (Manchester City), Max Meyer (FC Schalke 04) and Joshua Kimmich (Bayern Munich).
The new German team seems to be full of confidence after the changes in the squad but still has to prove their determination in a rather easy qualification group with smaller football nations like Northern Ireland, Czech, Azerbaijan, San Marino and Norway.
The new leader Neuer expressed the his team's intention to successfully defend the 2014 World Cup title by demanding "full speed ahead" for the upcoming qualification campaign for Russia.
"We have to and we want to be more dominant in qualifying than we were for Euro 2016 in France," said Neuer when demanding four victories in the four games up until the end 2016.
After the Germans encountered greater problems than they had bargained for after the 2014 World Cup, Loew seems determined to open a new chapter in German football history.
The 56-year-old expressed his intention to defend his World Cup title – a feat only achieved twice in World Cup history. In 1938 Italy successfully defended the title they won in 1934 and Brazil won two successive titles in 1958 and 1962.
"It's our intention to defend the World Cup title has never been done before by a German team," Loew said. "We have a clear plan for the route to Russia. Of course we want to qualify with a good performance. In 2017 we want to use the Confederations Cup as a stage for our younger players. We'll give some of the experienced ones a break to recuperate. Three tournaments in a row are too much looking at the many games some players have with their clubs," continued Loew.
By expressing his concern regarding the country's club football, Loew is trying to ease the rising tension between the German association and the major clubs like Bayern Munich and Borussia Dortmund. Oliver Bierhoff, general manager of the national team, has replied to the attacks made by Bayern Munich's chairman Karlheinz Rummenigge and Borussia Dortmund's CEO Hans-Joachim Watzke who accused the German association of using their players to gain attention and money.
Rummenigge and Watzke both said that the many international games would prove to be a disadvantage for the bigger clubs. "We pay the players a huge amount of money and we see they are burdened with many games in the national team and can't recover properly," Rummenigge said.
On top Rummenigge and Watzke threatened to cut the number of players that will be released by the clubs for the national team. "Our biggest rival in sponsoring is not Borussia Dortmund but the German national team," Rummenigge said. "During the France tournament our players had to do many sponsoring activities with Mercedes whilst our sponsor partner Audi played no role. There has to be changes in the future."
Borussia Dortmund's CEO Hans-Joachim Watzke said the club has the power to stop such situations and may well use it. "We have to reduce the enormous amount of sponsoring activities by the national team," Watzke said.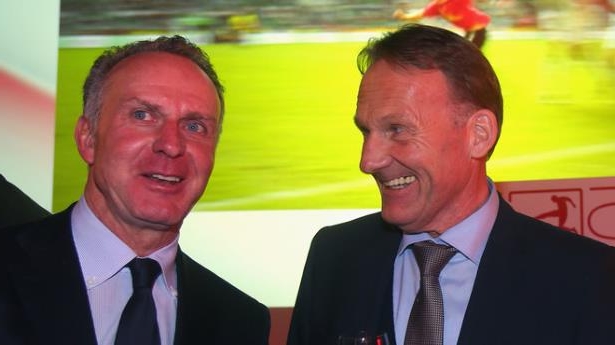 Both Rummenigge and Watzke were counter attacked by national team manager Oliver Bierhoff, who said: "The popularity of the players is growing with every game in the national team. Players become famous all over the world by playing for their national team and not through overseas tours for their clubs in the pre season."
While the arguments are ongoing, German head coach Joachim Loew is trying to find the best possible squad for the start of his World Cup campaign. As striker Mario Gomez (VfL Wolfsburg) and defender Jerome Boateng (Bayern Munich) are both out injured as are Ilkay Gundogan (Manchester City) and Marco Reus (Borussia Dortmund), the head coach might start with Manuel Neuer in goal and a four-man defense (Joshua Kimmich, Mats Hummels, Benedikt Hoewedes (FC Schalke 04) and Cologne's Jonas Hector. Sami Khedira and Toni Kroos are expected to form the midfield partnership with Julian Draxler (VfL Wolfsburg), Mesut Oezil, Thomas Mueller and Mario Goetze up front.