It was one of the greatest night in English Football History. Arsenal went to play the last game of the season at Anfield needing a two-goal difference win to stop Liverpool from winning the title.
Long before Aguero's title winning goal there was Michael Thomas who scored THE goal which registered his and Arsenal's name in the history of Football, and completed Arsenal's long-awaited league title hopes after 1971.
The US based film studio Universal Pictures have completed a documentary on the famous night at Anfield. Former Arsenal boss George Graham and most of his title-winning squad like Thomas, Alan Smith, John Lukic and Lee Dixon are going to be a part of the famous night once again but from a different angle.
The two teams were head to head on the table throughout the season but the title was looking to be heading towards Anfield until the teams met each other in the final game of the season on May 26, 1989.
It was the final match of the season with two teams fighting for glory. Arsenal had to win the game with at least two more goals than Liverpool, and anything other than a loss was enough for the Reds to win the title.
Former Coach George Graham even claimed that no one was backing Arsenal that day. He even pinned newspaper cuttings on the wall to try to inspire them.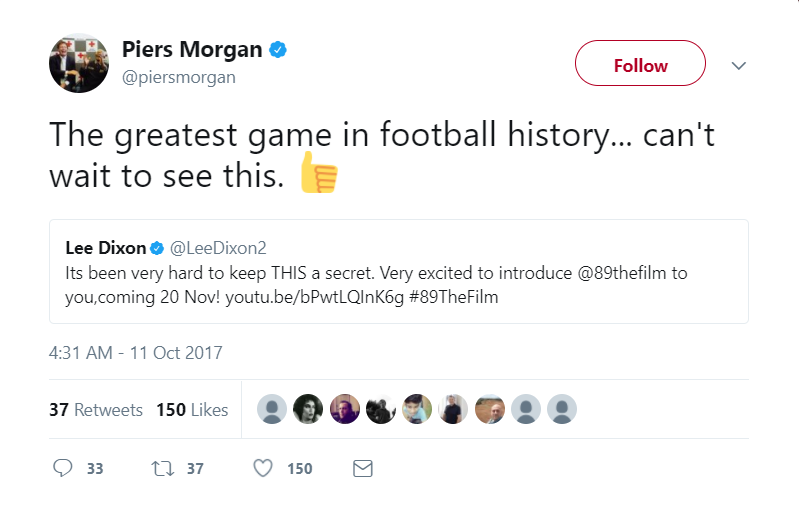 The match started with both teams on their toes to be on the scoresheet. Liverpool were on the driving seat at half time with both teams failing to score until Alan Smith gave Arsenal a hope in the early minutes of second half. Momentum and morale were both in Arsenal's favor but their only problem was time. Liverpool midfielder Steve McMahon is still remembered for putting one finger up to show his team-mates that there was only a minute left until they were champions again.
It was winger John Barnes, who rather than wasting precious time, lost possession. The ball was passed to Thomas who ran past the defense line with the commentator saying, "It's really up for grabs now… THOMAS!", before he netted the ball in the final seconds of the game.
The film is expected to recall the story of the season, build-up and the night itself. The movie is set to be released on DVD, Blu-Ray and digital download on November 20, 2017.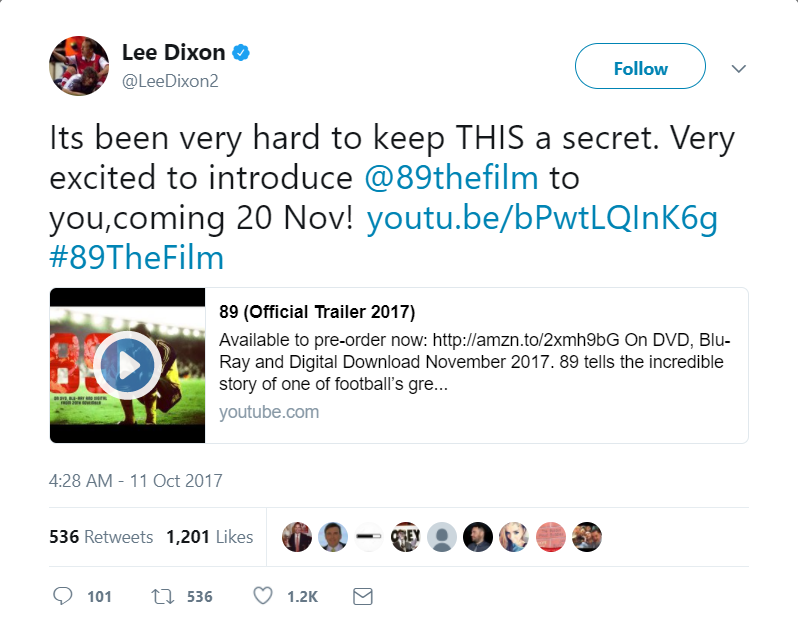 History was re-written by Manchester City, winning the 2011-12 Premier League title in stoppage time of their final match of the season, where the team managed by Roberto Mancini scored two stoppage time goals to win their first title in 44 years, beating arch rivals Manchester United on goal difference.
But that night at Anfield was arguably the best in the history of English Premier League – first versus second in the final game of the season to decide who would be crowned champions.