The creme de la creme of sports journalists were clambering in Paris this past week to get a chance to interview who was perhaps the greatest football player of all time. 
The French capital was abuzz with fans and journalists from all over the world as Lionel Messi landed at the Charles de Gaulle Airport before going to a medical examination with Les Parisiens.
But there was one person – Ibai Llanos –  who got an invitation from Lionel Messi himself to travel to Paris for his presentation ceremony and later even got the opportunity to interview him in person at Parc des Princes.
FootTheBall takes a look at how Llanos was able to befriend some of the best football players in this world while sitting in front of a video game console in his home during the stringent lockdown in Spain.
IBAI LLANOS – YOUTUBER WHO BEFRIENDED LIONEL MESSI
On the momentous day of Lionel Messi's presentation at the Parc des Princes in Paris, one person stood out among the lot of journalists and reporters who were all rather impeccably dressed.
On the pitch of the stadium there stood a man wearing an open denim shirt and jeans, waiting for his turn to interview Lionel Messi after his much reported move to Paris Saint-Germain.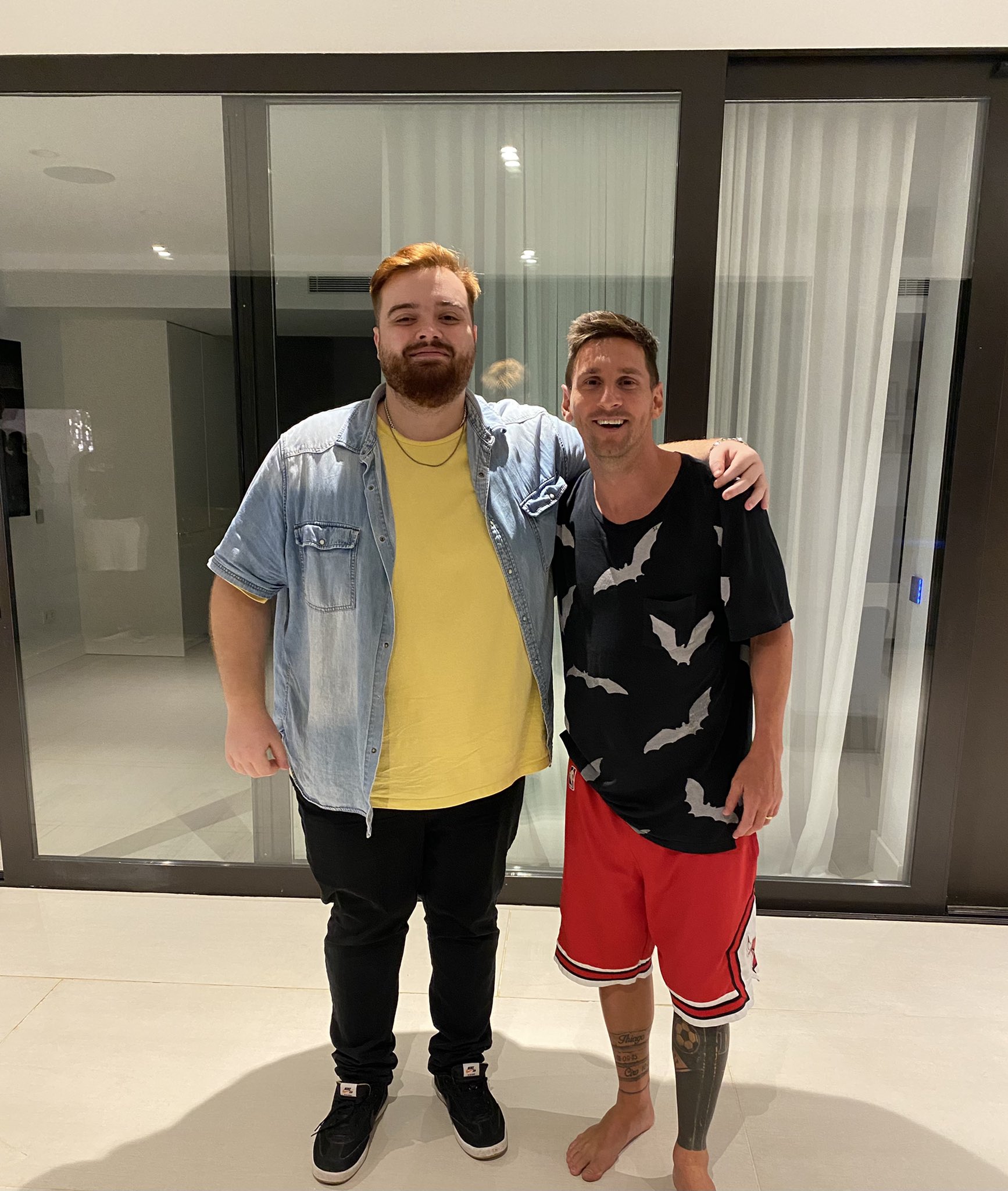 "I'm not going to ask him about Pochettino's formation, we're going to just have a nice chat with him," said the Twitch streamer to his colleagues following Messi down the players' tunnel to finally speak to him.
In stark contrast, the traditional Spanish mediapersons were not able to secure an audience with Messi in the French capital.
Ibai Llanos, on the other hand, had been invited for Messi's farewell dinner in Barcelona alongside such football players like Sergio Aguero, Gerard Pique and Jordi Alba.
DECIPHERING WHO IBAI LLANOS IS
Ibai Llanos was born in the city of Bilbao in the Basque Country in Spain in 1995 and began on the path that he today has traversed so far in 2014 when he served as a commentator for a League of Legends match.
In no time after that, he became a massively popular Esports commentator and relocated to Barcelona in Catalonia where he currently lives.
In 2019, he made a comedy video which became the most viewed post on Twitter in Spain that year, but one of the key defining moments for him was when his popularity reached stratospheric levels during the harsh countrywide lockdown in Spain last year.
People living in Spain were restricted to venture out of their dwellings unless it was for a medical emergency or for going to the supermarket to buy supplies, while anyone under the age of 16 wasn't allowed to leave their house at all.
More and more people quarantined inside their homes in Spain began watching the 26-year old Spaniard's content on social media and he became popular among the Spanish media as well.
Llanos made an appearance on the hugely followed show La Resistencia in Spain and recently sat down with Spanish television journalist Jordi Evoles for an hour-long chat, who had a few weeks ago interviewed Messi and an ex-Spanish prime minister.
HOW DID HE BEFRIEND THE CREME DE LA CREME OF FOOTBALL?
Llanos is an avid football enthusiast and formed a close bond with Argentine forward Sergio Aguero when the latter was still in Manchester last year through the live streaming platform Twitch.
He even sent Aguero's son Benjamin a Boca Juniors jersey, much to the playful chagrin of the former Independiente player. 
He also ended up interviewing Barcelona defender Gerard Pique and later agreed a deal with the player's production company, Kosmos Productions to broadcast the Copa America tournament this summer on Twitch.
Llanos can count himself among the elite few who had the privilege and honour of dining with Messi and a select few of his close friends in Barcelona for his farewell dinner when it was clear that he would be leaving the Catalan club.
But the Spaniard had no idea that he would be meeting Messi as he had been told by Aguero that they were going out for dinner at an exclusive restaurant with his brother and mother.
But, Aguero drove Llanos to Messi's house, where he was received by the Argentina captain. 
The only thing that Llanos was able to manage were the following words upon seeing Messi in person: "There he was wearing a Batman t-shirt, Chicago Bulls tracksuit and with no socks on. I felt like I was about to have a heart attack".
After this, Messi invited him to Paris for his presentation ceremony at the French club and offered him what one might call a once-in-a-lifetime chance to interview him on the live streaming platform on Twitch.
WHAT DO JOURNALISTS IN SPAIN THINK
He is tremendously popular among the Spanish youth and this led to the Spanish newspaper El Mundo calling him "the best-known man in Spain…by your child".
But other media outlets in the Iberian country are concerned about the apparent shift in the balance of power in what they see as effectively a usurping of the traditional press and journalists by streamers and online personalities like Llanos.
Many veteran reporters and journalists have said that he is too friendly with football players and hence doesn't ask them what they call 'more difficult' questions.
"Every time Ibai Llanos interviews players it's the same old story. He is an entertainer and his priority is not to explain the news or contextualise events" said Xavi Hernandez, a journalist working for Catalan newspaper Ara.
But, Llanos remains unfazed by such criticism, admitting that his aim is not to compete with the media in any capacity owing to the fact that he is first and foremost a fan of the game and cannot turn down such an opportunity.
"Of course, I'm not a journalist and I don't want to even compete with the press, I respect their profession a lot and have many journalist friends. But I cannot turn down a chance like this if it's offered to me, I'm sorry".