As Paul Tierney blew the full-time whistle on Saturday evening, the Old Trafford crowd were dreaming. The returning crowd after one and a half years were given good reason by their favourite players on the pitch to hope again. Manchester United dismantled Leeds United 5-1 and made a title statement to the Premier League. United should maintain this momentum and prevent this from being false dawn.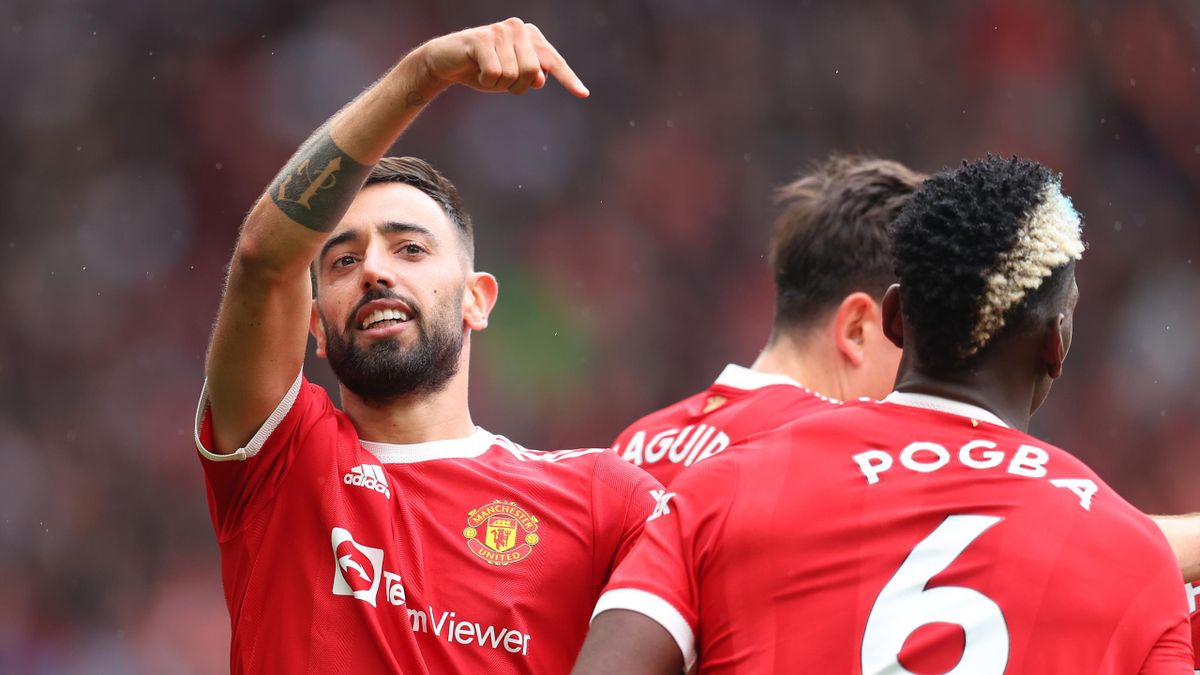 The Red Devils dazzled on the night with their superstars Bruno Fernandes and Paul Pogba running the show. Goals were flowing and the sound from a packed Old Trafford couldn't have gone any higher. United also presented Raphael Varane before the match to everyone's surprise and handed a debut to Jadon Sancho as they made fun of their battle of the roses rivals.
What a feeling. What a noise! 😍#MUFC | #MUNLEE pic.twitter.com/eno8CzHKsf

— Manchester United (@ManUtd) August 14, 2021
They should however be cautious and not get carried away by this start. As Manchester United fans have seen many such false dawns in the recent past, a strange feeling would be tickling their spine. Can this United side be different? Did their recent transfer business change their fate? Has the gamble of trusting Ole Gunnar Solskjaer paid off? Can the Red Devils finally go on to lift the Premier League title? There are so many questions and father time can only answer them. But we at FootTheBall try to break down how the Red Devils can make a genuine title claim this time.
A HISTORY OF FALSE DAWNS
Manchester United were the most successful side in the Premier League till 2013. Sir Alexander Ferguson built a legendary United squad number of times to lift the Premier League title 13 times. in 2013, the day he had to retire had finally come. Manchester United bid farewell to arguably the greatest manager of all time with a Premier League title. That ironically proved to be their last success in the league.
Sir Alex Ferguson won 13 Premier League titles during his time at Manchester United, 10 more than any other manager.

The Greatest Of All Time. 🐐 pic.twitter.com/Xy0DoUMpaG

— Statman Dave (@StatmanDave) December 31, 2020
David Moyes was brought in to fill the massive shoes of Sir Alex. The ex-Everton manager failed horribly as he tried to replicate his predecessor's model. Moyes was gone soon and in came the Dutch mastermind Louis van Gaal. It was a changing time for United fans as they had to accept their monopoly in the league ended and new challengers like Manchester City and Chelsea rose.
The introduction of Jose Mourinho changed the scene in 2016. The special one was an experienced title winner and wanted to work his magic at the theatre of dreams. United under Mourinho played their best football in the 2017/2018 season. The Red Devils were a potent counterattacking side and challenged Manchester City for the league title. It however turned out to be a false dawn as Manchester United finished second, a whopping 19 points behind City in the title race. Mourinho shockingly called finishing second with that United side was his biggest acheivement.
Jose Mourinho on his Man Utd tenure: "I said nine or 10 months ago that after winning eight Championships, finishing second with United may have been my greatest achievement. Now people understand." pic.twitter.com/d1Xoi1gB5q

— Squawka News (@SquawkaNews) May 15, 2019
The third season syndrome struck again as Mourinho was sacked by Christmas. Ole, a United legend was appointed as the caretaker manager. Ole's heroics in the honeymoon period, won him the permanent job. United trashed Chelsea 4-0 on the opening day of the season in 2019 but it ultimately proved to be another false dawn as United finished with just 66 points in the league.
OLE AT THE WHEEL
Perhaps Ole would've been overwhelmed by the gravity of his task. He was just brought in to be a stop-gap arrangement. In his nascent managerial career, he hadn't done enough to be a favourite for the United job. Ole defied all the odds on a magical night in Paris. His devils made a famous comeback to knock Paris Saint Germain out from the Champions League in 2019. Rio Ferdinand, a United legend urged the club to let Ole takeover permanently and keep him at the wheel.
The board were convinced that Ole dressed in Manchester United DNA throughout was the right man going ahead. As a part of Sir Alex's great teams, Ole knows a thing or two about rebuilding squads and winning trophies. He knows that success is not an overnight result but a slow and steady process. Besides he had to rebuild a squad that was filled with misfits and mistakes from his predecessor's reigns.
In the transfer market, he rarely put a foot wrong. His signings Harry Maguire and Bruno Fernandes are the pillars on which the current United squad is built. He also offered a way out for misfits such as Alexis Sanchez and helped achieve a balance in the squad.
Ole's signing so far:
AWB ✅
Maguire ✅
James ✅
Bruno ✅
VDB ✅
Telles ✅
Cavani ✅
Heaton ✅
Sancho ✅

Varane ⏳

Other targets which he didn't get:
Grealish, Bellingham, Haaland.

Let Ole Cook. pic.twitter.com/cz21C451wp

— Ma-Rio Ferdinand (@utd_mario) July 17, 2021
When it comes to running the club he knows about the heartbeats around Manchester. He uses this to lure players to United. In his recent press conference, he told he describes what it means to play in the Theatre of Dreams to tempt players into signing. Edinson Cavani was convinced to stay on using this same tactic.
The gelling period is over, the rebuild is nearly complete, Ole must now focus on the most important part. Winning silverware is a must now and with his squad he can definitely win the Premier League.
THE TIME IS NOW
Manchester United made light work of Leeds on the first matchday. This is scary considering the fact that they've missed a number of crucial attackers and new signings. Ole has to keep this momentum.
Even in the previous season, United were heavy at the top. What they lacked was another world-class centre-back alongside Harry Maguire. They addressed this issue in this transfer window by signing Raphael Varane. The world winning French centre-back is a serial winner and brings an elite mentality along with exceptional defending.
Man Utd 5-1 Leeds United.

-Bruno Fernandes scores a hat-trick
-Paul Pogba has four assists.
– A collector's item goal for Fred
-New signings Sancho and Varane at Old Trafford.

Ole Gunnar Solskjaer's men start the season off with a bang 💥 pic.twitter.com/pcmMLQYdR9

— CBS Sports Golazo ⚽️ (@CBSSportsGolazo) August 14, 2021
In Jadon Sancho, an excellent right-sided winger was snapped. Sancho is versatile and can fill in other positions too hence reducing the burden on Bruno Fernandes. Ole would be happy with the performances of other players like Pogba, Fred and McTominay. He knows that Edinson Cavani would be back in training shortly. Ole also has an excellent X-factor in Amad Diallo to swing games off the bench in his favour. A proper defensive midfielder is all that needs to be added to this squad.
🤩 @Sanchooo10 has arrived 👋#MUFC | #MUNLEE pic.twitter.com/XadfZEwi6R

— Manchester United (@ManUtd) August 14, 2021
If you observe the champions of the past like Manchester City and Liverpool, you can find an incredible swagger. It doesn't come overnight and it must be built year by year. Manchester United displayed the same swagger yesterday against Leeds as they don't want another false dawn. Ole has been at the helm for nearly three years now and knows how to get the best out of them. As a manager too, Ole improved a lot and it was evident by his tactics and substitutions.
After eight years of suffering this might be the time for Manchester United to run away with the league title breaking out from all false dawns.