He came, he saw, he conquered, and then he left. Antonio Conte's two-year spell can be summarized with these phrases properly. The decorated Italian manager ended Inter's league drought as he stormed to the Scudetto with the Nerazzuri. Following few fallouts with the board, he left Inter this summer. Ex Lazio boss, Simone Inzaghi a highly exciting manager has been named his replacement. Inzaghi can be the right fit for Inter and can lead them to glory in the new campaign.
🚨 | ANUNCIO

¡Simone Inzaghi es el nuevo entrenador del Inter! ⚫🔵

👉 https://t.co/NopyTsPEQk#WelcomeSimone #IMInter pic.twitter.com/19SmyWLjmc

— Inter 🏆🇮🇹 (@Inter_es) June 3, 2021
Inter Milan made giant strides under Conte. The explosive manager has awoken the sleeping giant and made it realize its potential. When he decided to walk away, finding his replacement would always provide a challenge. Their board acted quickly to snap a relatively younger manager who could take the baton from Conte. They are in a position from which they could build on now. Inzaghi shouldn't let Inter fall back to mediocrity.
Inzaghi, earlier known as the little brother of the famous Fillipo Inzaghi, has changed his fortunes in coaching. He became a coach at Lazio as soon as he hung up his boots. Inzaghi, like any other Italian coach, has a strong philosophy that could drive Inter forward. Inzaghi's coaching philosophy can be linked to that of Conte's. This job can make or break his future as a manager as he's coaching an elite club for the first time. What can Inzaghi offer at Inter?
THE EXPLOSIVE CONTE
Antonio Conte is known for his extremely short temper. He demands what he wants from the board and refuses to budge on them. Conte spends every part of his soul on the team. He expects the board to match his energy and back him well. If he feels that they're not on the same wavelength, he simply walks away.
Conte left Chelsea in 2018 under similar circumstances as he failed to see eye to eye with Roman Abramovich. Inter pounced on him in the summer of 2019 as they ignored his Juventus links to take them back to glory. The club made the most of Conte and the board's honeymoon period as few high-profile signings like Romelu Lukaku and Christian Eriksen were made. Lukaku in particular developed into a world-class striker under Conte.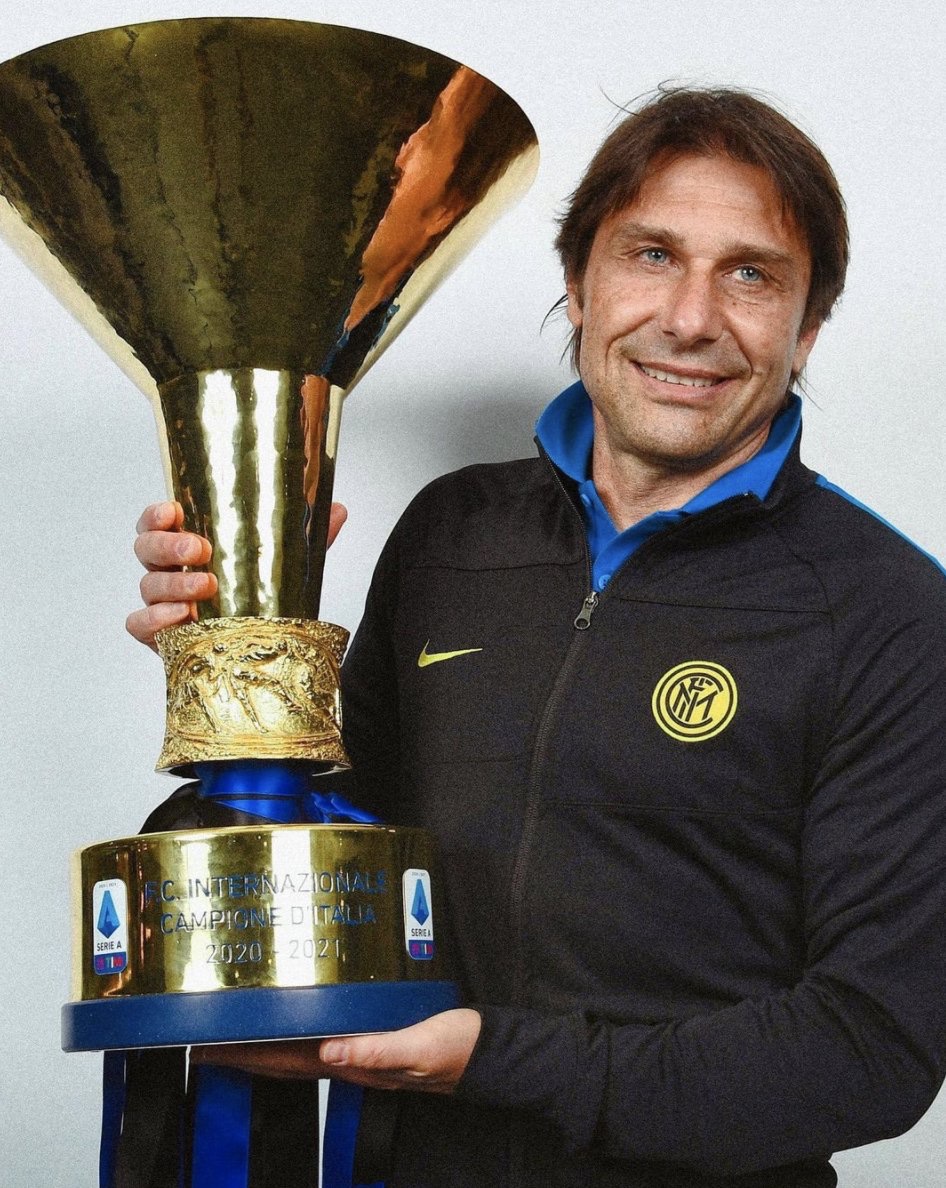 Inter fell short of league glory in Conte's first season in charge as they were pipped to the Scudetto by Juventus by a single point. Despite their brilliance at times, Inter weren't able to get over the line as inconsistencies and a lack of squad depth hurt them. Conte made sure that he instilled a winning mentality in the squad and turned them into mentality giants to displace Juventus who ruled over the league in the past nine years.
Inter Milan president Steven Zhang details "different views" that led to Antonio Conte exit https://t.co/20qrIhAkVN pic.twitter.com/WkoxI88QIZ

— Mirror Football (@MirrorFootball) June 6, 2021
This season, the Nerazzurri were relentless and made very few mistakes throughout the campaign. They constantly tailed city rivals Milan and usurped them when it matters. Since then they kept all their opponents at an arm's length and clinched the title in early May. Covid pandemic meant that the club had to cut its expenses and were ready to sell a host of first-teamers. Conte was cross with this idea and resigned from his post as he wasn't willing to operate on a condensed level.
COACH SIMONE INZAGHI
Simone Inzaghi at times was overshadowed as a player by his elder brother Filippo Inzaghi. Simone, a tall striker, toured many clubs before settling in the Italian capital Rome with Lazio where he enjoyed great success. He wasted no time as he turned to coaching immediately with Lazio youth teams.
Simone Inzaghi e a Lazio (1999–2019)

Como jogador:
🏆 Campeonato Italiano
🏆🏆🏆 Copa da Itália
🏆🏆 Supercopa Italiana
🏆 Supercopa Europeia

Como treinador:
🏆 Copa da Itália
🏆 Supercopa Italiana
🏆🏆 Copa da Itália sub-19
🏆 Supercopa Italiana sub-19 pic.twitter.com/nYdFEuZ8IT

— S.S. Lazio Brasil (@SSLazioBrasil) May 16, 2019
Stefano Pioli's sacking in 2016 meant Simone took the reins of the senior team. Inzaghi was just a caretaker coach and was replaced by Marcelo Bielsa in the summer. However, the Argentine left his post within a week due to undisclosed reasons. It meant Inzaghi, who was a strong fan favourite, returned as the permanent coach.
Lazio were struggling in the league and were away from European competitions for a short period. Inzaghi was trusted with the responsibility and he repaid their faith with cup glory and delivering European football. He implemented a 3-5-2 formation at Lazio with more emphasis on pressing and attacking efficiently. Inzaghi uses mid-block in defence to press. He also made smart signings like Ciro Immobile, Lucas Leiva, and Caicedo who proved to be big hits. Inzaghi also made better players out of Sergej Milinkovic Savic and Manuel Lazzari.
Simone Inzaghi's Tactics | Lazio's 5-3-2 mid-block against Juventus https://t.co/zzQ7Wl9bUS

— Get Italian Football News (@_GIFN) October 15, 2017
Success immediately followed as they were a better unit on the pitch. Inzaghi won his first title in the form of Supercoppa Italiana in 2017. He then won one more trophy in the same competition in 2019 along with a Coppa Italia triumph in the same year. Lazio were still erring in the league as Inzaghi tried to drive them to Europe. The dream was finally achieved in 2020 as he led them to a 4th placed finish in the league hence securing Champions League football. Inzaghi even took them to the knockouts of the competition.
THE GLORY RUN WILL CONTINUE FOR INTER
As Conte left Inter, the board had only two names on the mind. One was a multiple-time league winner in Massimilano Allegri and the other was a novice in Simone Inzaghi. They favoured Inzaghi as his philosophy was close to Conte's. Inzaghi finally steps out of his brother's shadow as he becomes a prominent coach of an Italian giant.
Inzaghi believes in a five-rule principle for success according to La Gazzetta Dello Sport. They are dialogue, continuity, flexibility, freedom, and aggression. These are the same principles he implemented at Lazio too. Continuity won't be a problem for Inter as Inzaghi's system often mirrors Conte's one.
Inzaghi deploys a 3-5-2 with versatility in-game. The wingbacks bomb forward adding bodies in attack and fall back when needed in defence. Hence a 5-3-2 can be seen when out of possession. The system is complemented by a strike pair with a number 10 just in front of the midfield. Inzaghi's system works well as the movement of players creates passing triangles and diamonds on the pitch regularly. Immobile played a pivotal role in his lineup as his linkup play and willingness to run off the shoulder of the last man creates havoc.
🌟MVP 2020/2021🌟
Migliore in assoluto: @RomeluLukaku9 ! 🔝

Strapotere atletico, tecnica superiore e assoluto trascinatore. I numeri della sua stagione sono straordinari: 24 gol e 11 assist! https://t.co/oNZ4nupzZV#SerieATIM #WeAreCalcio pic.twitter.com/wsnnNCt4fd

— Lega Serie A (@SerieA) May 31, 2021
Inzaghi has better personnel at Inter and a better squad depth with a higher budget. The centre-back trio of de Vrij, Bastoni, and Skriniar is a mouth-watering one. Lukaku can explode under Inzaghi if he performs the Immobile type of role to perfection. Others like Lautaro Martinez, Alexis Sanchez, and Nicolo Barella can continue their strong form to fire Inter ahead.
Expect nothing less than a strong title defence from Inter. They can also eye a deep run into the Champions League, something that Conte failed to achieve. Inzaghi can be the right man to lead Inter to domestic dominance.