Two bomb blasts outside a football stadium in central Istanbul on Saturday night have left 38 dead and 166 others injured, after a moving car was detonated targeting riot police on duty near a stadium in the district of Besiktas, where a football match between Besiktas and Bursaspor ended about one and half an hour before.

CCTV footage captures the exact moment one of the bombs go off outside Besiktas' Vodafone Arena in Turkey's largest city on Saturday night.
---

This footage shows cars and a bus driving outside the Vodafone Arena, near Taksim square, and as the explosion takes place, traffic comes to a standstill before a flash of light shows the moment the suspected car bomb goes off.
30 of the victims were police officers.The blast targeted a riot police bus. "It is thought that it was a car bomb at a point where our special police forces were located, right after the match at the exit where Bursaspor fans left, after the fans departed," the Guardian quoted Turkish Interior Minister, Suleyman Soylu, as saying.

And even football experts giving a post-match analysis fled their commentary box.
---
At least 29 people are thought to have been killed in the blast and a second explosion in the nearby Macka park.
While no group has claimed responsibility of the attacks, Xinhua News Agency reports that at least 10 suspects were detained in connection with the blasts while six prosecutors tasked with investigating the attacks.
Three of the injured were in critical condition, said Health Minister Recep Akdag.
Turkish President Recep Tayyip Erdogan vowed to "continue our struggle" despite more bloodshed.
Istanbul and the Turkish capital Ankara have come under a spate of deadly attacks over the past year amid a worsening security situation.
In March, 2016, the Galatasaray-Fenerbahçe derby in Istanbul was called off about two hours before kickoff due to a suspected plot by the Islamic State terror group to attack the stadium. The planned attack on the Galatasaray-Fenerbahçe match is believed to have been organized by IS leader Yunus Durmaz, known as Ebu Ali, who was behind an October 2015 attack in Ankara that claimed 103 lives.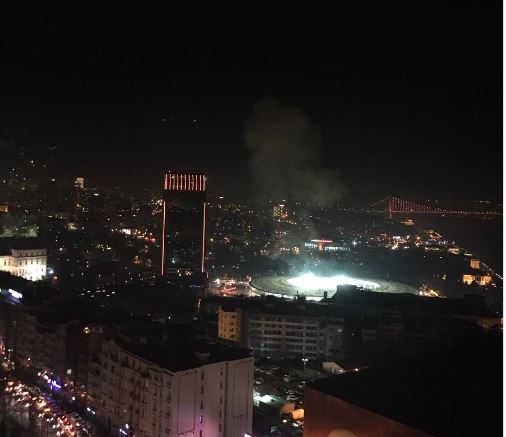 ---
Here is a collection of videos from the deadly bomb blasts that hit Istanbul today, including one where Istanbul's Besiktas Stadium bomb blast was 'captured on camera' as guitarists played music in a park in the Turkey's biggest city: