ISIS is back with another shocking poster, showing World Footballer of the Year Cristiano Ronaldo kneeling bloodied and bruised with a jihadist holding a knife behind him.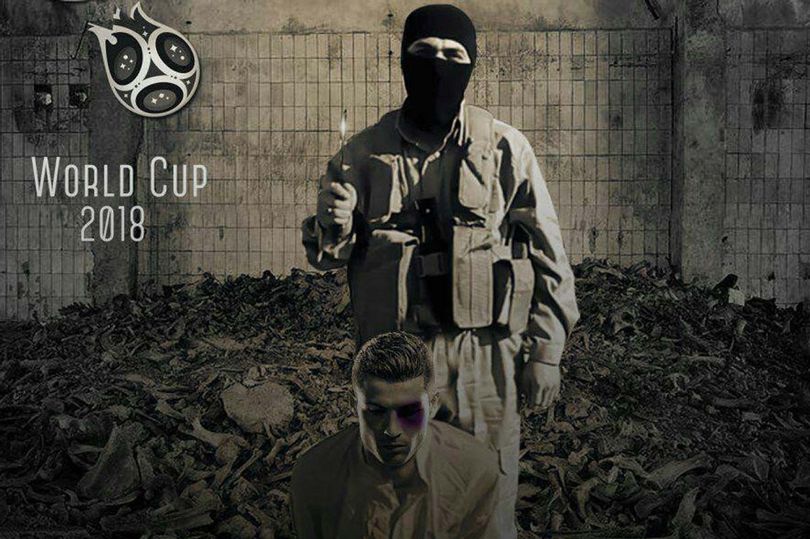 The latest propaganda poster shows Real Madrid superstar Cristiano Ronaldo with a black eye and his hands tied behind his back on his knees in the foreground, a masked executioner standing behind him holding up a knife, the pair atop rubble and broken bones.
Ronaldo has joined the likes of Lionel Messi and Neymar who were also featured in sick ISIS propaganda photos previously.
The poster reads: "Our words are what you see NOT what you hear. So, just you wait. We are WAITING too…"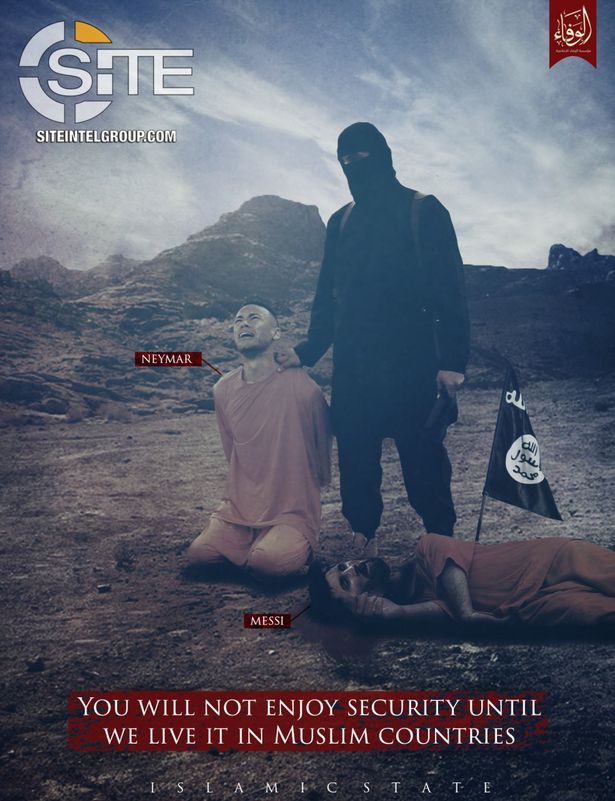 Another poster, where Barcelona star Messi appeared beheaded while Neymar was pictured on crying on his knees, while a terrorist was standing next to both with a knife in his hands.
And that poster came just days after a meeting was held between Argentine football chiefs and Russian ambassador over safety fears, which were sparked by an ISIS mock up of Messi crying blood.
The ulterior motive behind these sick mock ups is to spread fear among people, targeting the Westerners.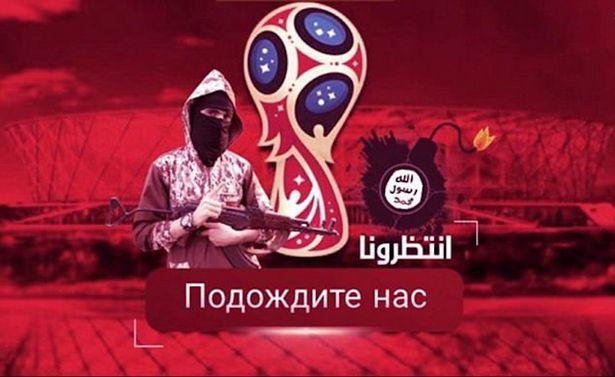 ISIS shared an image of a Jihadi carrying rifle next to 2018 Russia World Cup logo. Standing in front of the Volgograd Arena in Southern Russia football stadium , to spread mayhem to the tournament.
The 2018 FIFA World Cup will be played across 11 cities in Russia from 14 June to 15 July, when the final will be played at the Luzhniki Stadium in Moscow.
Thousands of England fans are expected to base themselves in the country for the month-long finals.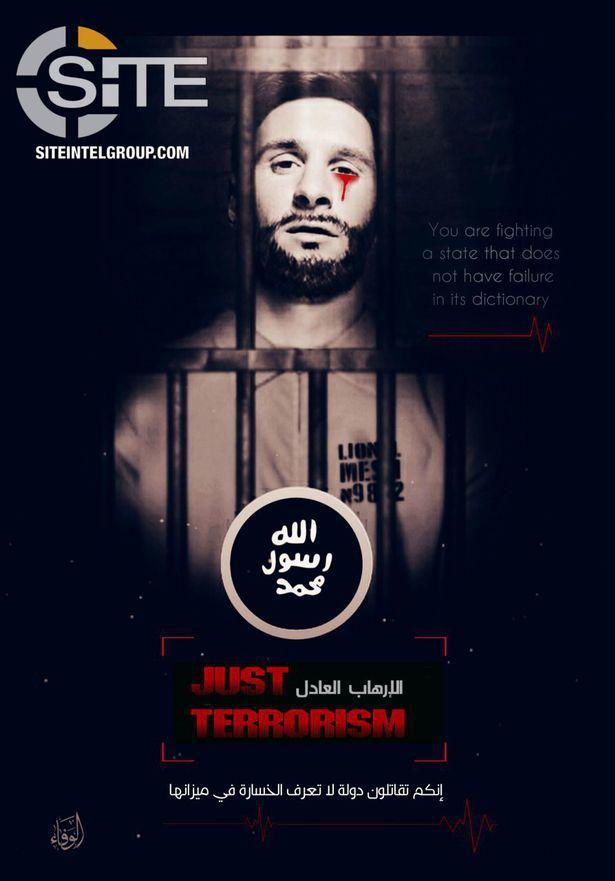 Russia's second largest city, St Petersburg, was targeted by ISIS when a bomb detonated in April, where 14 people were killed.
Russia responded by an airstrikes in Syria that made things worse.
ISIS released another propaganda image last week, featuring bullet-ridden photos of U.S President Donald Trump and Russian President Vladimir Putin, inviting Jihadist followers to  attack more on the group's two leading foes abroad.
The image, shared throughout pro-ISIS channels on the encrypted messaging application Telegram, featured an excerpt of a Quranic verse manipulated by the ISIS followers to urge fellow jihadis to take every opportunity to conduct deadly attacks in the U.S. and Russia.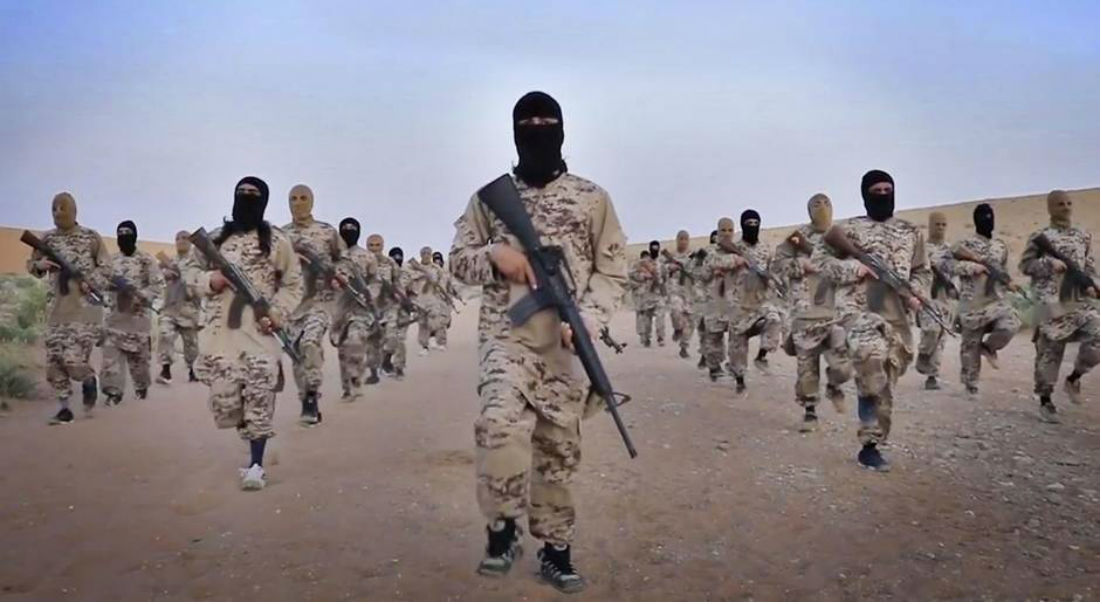 Despite the jihadis suffering severe territorial losses to military campaigns sponsored by Moscow and Washington, the image also claimed that they would overcome its enemies on the battlefield.
"Lie in wait for them at every chance to ambush," the text reads beneath photos of Trump and Putin pasted to gun target practice sheets. "The Levant is the graveyard of the Russians and Americans."
Thousands of Russians from mainly central Asia have travelled to the Middle East to fight for ISIS. Experts in Moscow believe around 2,400 joined the regime in 2015 alone.