If you are a Barcelona fan, we have got great news for you. Barcelona's newly elected president, Joan Laporta openly pleaded with Messi to stay at Barcelona, in front of the whole world during his inauguration at Camp Nou. Transfer rumours revolving around Messi have been going on for more than a year now and still the whole situation is unclear. Messi's contract is ending in June which means Joan Laporta has roughly 2 months to persuade Messi into staying at Barcelona. Openly announcing it in front of him was the first step of Joan Laporta's master plan. Before moving one, if you are a Manchester City fan or a PSG fan, be ensured that we feel extremely sorry for you.
JOAN LAPORTA'S SPEECH
🔵🔴 Joan Laporta, the new president of FC Barcelona pic.twitter.com/74e0RJlfuO

— FC Barcelona (@FCBarcelona) March 17, 2021
Joan Laporta had his inauguration in front of 300 members including Messi himself at Camp Nou on Wednesday. After thanking the board and all the members for this opportunity, Laporta got straight into the Messi situation by saying, " I take the opportunity to say again that I will try to convince Leo (Messi) to stay with us. That is a must-do task, I will do all I can. He knows it."
Joan Laporta has made it pretty clear where his priorities lie early on. Even before he was elected, Joan Laporta had mentioned that he will do everything he can to make Messi stay at the club and it looks like he is about to deliver. Joan Laporta said that Messi is extremely crucial for Barcelona's future and he is the 'best player in the history of the club'. Having players like Ronaldinho and Cruyff played for Barcelona, this was a really bold statement by Joan Laporta.
😍 Nice to see you again, @JoanLaportaFCB! pic.twitter.com/53nR3ujgk6

— FC Barcelona (@FCBarcelona) March 17, 2021
Laporta went on and said, "You know of my love for you, Barca loves you a lot." Laporta was the President of the club when Messi had just started his career. Laporta has been part of Messi's football and hence he really means it when he says he loves the player.
Lastly, on a very sweet and wholesome note, Laporta concluded by saying, " If this stadium would be full when you play the next game I am sure you wouldn't be able to leave."
WHY LAPORTA MADE THE PLEA
Not 1⃣, not 2⃣, not 3⃣…

We have counted up to 4⃣3⃣ #Messi records with Barça 😱😱

— FC Barcelona (@FCBarcelona) March 18, 2021
As we said earlier, Joan Laporta has been part of a major chunk of Messi's beautiful footballing career. Laporta must really have an emotional connection with the player and wants him to finish his football at the only club the Argentine has ever played for. Other than emotional value, Messi is currently 34 but he is nowhere near the end of his career. Messi is still sharp and fast on the pitch which means he has 3-4 more seasons left in him before he hangs up his boots. Barcelona is in a transitional stage with old players retiring and new young players joining the squad. Players like Pedri and Fati are the future of this club and they need to be mentored the right way both on and off the pitch. Laporta's reputation in front of the fans and the board will also strengthen if he is able to convince Messi into staying for a couple more seasons.
DID LAPORTA CONVINCE MESSI WITH THE PLEA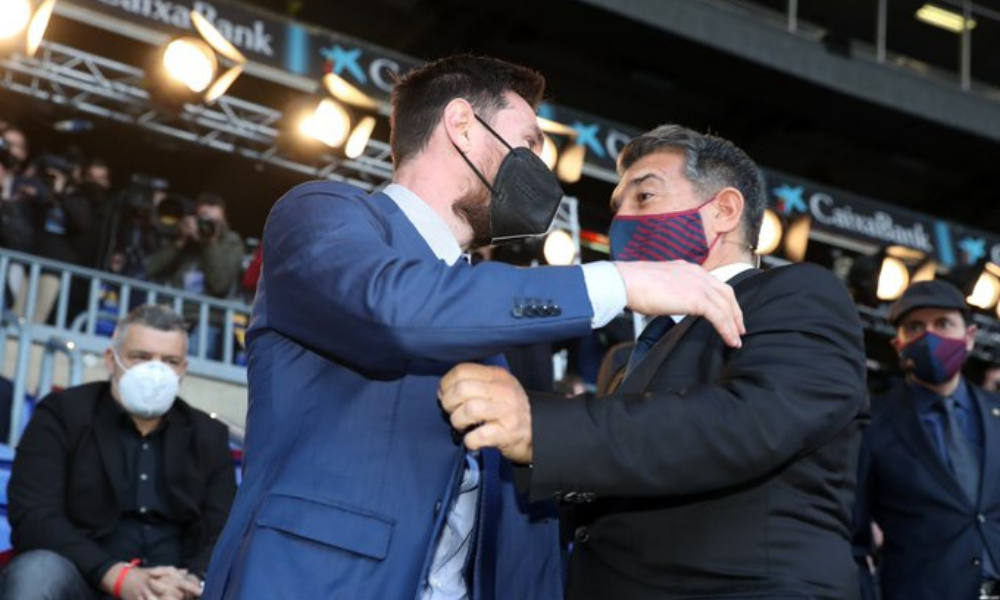 By talking about such a sensitive matter in his inauguration speech, Laporta has surely made it clear to the world that he is intending to keep the promise he made to the fans. Messi was smiling and nodding which means Messi liked the little homage he received by Laporta. Messi even went on and embraced Laporta at the end of the ceremony which can only mean good things for Barcelona fans.
Still, a plea is not enough on its own. Barcelona is in a mess right now with the Barcagate scandal, the debt they are in and many other issues. Laporta has lots of stuff on his plate and Messi will only stay if he feels all this won't affect his game.