During a recent press conference in China, Manchester United's manager Jose Mourinho compared Zlatan Ibrahimovic and many of his players to a tailor-made suit.
Ibrahimovic joined United on a free transfer from Paris Saint-Germain earlier this month but has been given a longer break than the England players in Mourinho's squad, even though his Sweden team went out of Euro 2016 before Roy Hodgson's side in the group stage.
However, Mourinho insists that he has assessed all his players on their own merits, and decided to leave the 34-year-striker out of United's exhaustive tour to China so he can prepare better for the Premier League season.
"The best suits are the suits by measure," Mourinho explained at a press conference in Shanghai on Thursday. "There are no two players the same.
"My decision on Zlatan is the consequence of many hours of study, analysis and discussion with my staff. Despite the fact he was out of the Euros one match before the English guys, everything is different."
Ibrahimovic is expected to begin training at Carrington in a few days' time and will make his debut against Galatasaray in Gothenburg at the end of the month or in Wayne Rooney's testimonial against Everton on August 3.
While talks still rage on about Ibra's return, another query doing the rounds is about the disappearance of his many tattoos splattered across his body when he posted the latest Instagram video of his scissor kick.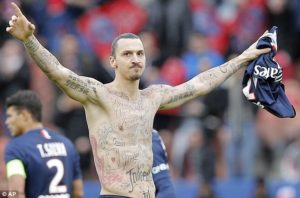 The answer to that is quite simple, all those tattoos were temporary!
He had the names of 15 people suffering from hunger and famine tattooed onto his upper body in a bid to raise global awareness of the issue.
At the time, he said: "I had 15 removable tattoos on my body, they are the names of real people who are suffering from hunger in the world.
"Those tattoos have gone now, these people are still here. I hope that you can see them through me."
Ibrahimovic does still have a number of permanent tattoos, but they are all on his arms and down the side of his torso, which is perhaps why they aren't clearly visible in the video he uploaded to Instagram.