Kylian Mbappe is apparently going to stay in Paris for at least one more season as Real Madrid have taken the foot off the gas in their pursuit of the French forward this season. 
This was reported by multiple sports publications on Monday evening, when Los Blancos purportedly cooled off their interest in the former AS Monaco player after two successive bids were unsuccessful in the French capital.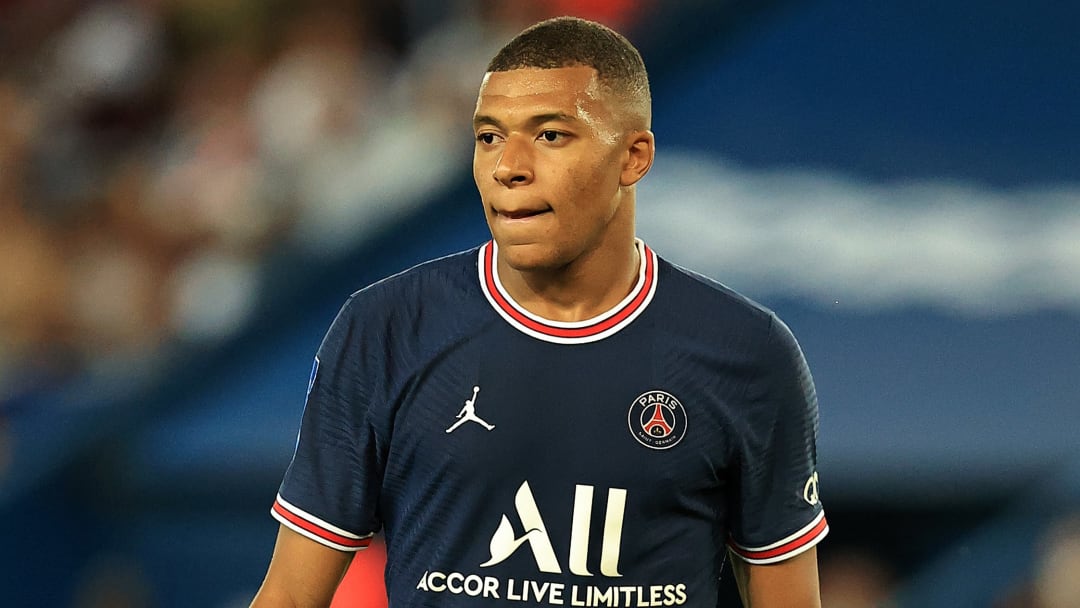 Mbappe, still only 22, is part of the fulcrum of the PSG squad in Paris alongside Neymar and Messi as Les Parisiens aim to win their first ever European Cup this season under the tutelage of Mauricio Pochettino.
As the Frenchman and Real Madrid will not be apparently involved in a deadline-day drama concerning his transfer to the Spanish capital purportedly, FootTheBall looks at and assesses the reasons why Los Merengues didn't make the move for the French wunderkind this summer.
REAL MADRID WITHDRAW FROM RACE TO SIGN MBAPPE THIS SUMMER
The Spanish heavyweights have been plotting a move for Kylian Mbappe for more than a year now. Florentino Perez has offloaded the likes of Sergio Ramos, Raphael Varane, Sergio Reguilon, James Rodriguez and Martin Odegaard to make space for Kylian Mbappe on the field as well as the wage bill.
Kylian Mbappé to stay at PSG this season, according to @marca.

The same news outlet who said the deal was done last Thursday..

— 𝐀𝐅𝐂 𝐀𝐉𝐀𝐗 💎 (@TheEuropeanLad) August 30, 2021
It has been common knowledge that Perez has been meaning to bring Mbappe to Madrid in order to strengthen the squad that already contains the likes of Karim Benzema, Gareth Bale and Eden Hazard.
But Paris Saint-Germain and Nasser Al-Khelaifi have proved to be hard-nosed negotiators in the case of the former AS Monaco player as they rejected the initial bid of €160 million before Real Madrid cooled off their interest in Mbappe, for at least this summer, after talks went awry following a second bid amounting to €180 million.
TALKS OFF DUE TO A VARIETY OF REASONS REGARDING MBAPPE'S MOVE
The talks were put off due to a variety of reasons including but not limited to Kylian Mbappe's differing valuation with respect to both PSG and Real Madrid. Les Parisiens and Nasser Al-Khelaifi believe that a fee in the region of €200 million ought to be the correct valuation for the 22-year old.
Paris Saint-Germain did not officially respond to either of Real Madrid's two offers for Kylian Mbappé .

[via: Tw/MarioCortegana] #RMCF #PSG pic.twitter.com/TrhiafW5wY

— SportsRooter.com ⚽️ (@SportsRooter) August 31, 2021
Meanwhile, Real Madrid and Florentino Perez are of the view that €180 million is indeed a sufficient enough amount to convince PSG to part ways with Mbappe and send him to Madrid this summer.
But, as per reports from The Athletic, Nasser Al-Khelaifi spent the majority of Monday looking after operations and working in the capacity of the chairperson of the European Club Association and didn't have any apparent contact with Florentino Perez or any other club official from Real Madrid.
One argument in favour of Real Madrid is that Mbappe will be available for free from next season after his contract with Les Parisiens expires at the end of June 2022 and splurging an obnoxious amount of money on such a player would be imprudent by Real Madrid.
As it is, Florentino Perez's idea is to build a long-term project in the Spanish capital and therefore the immediate acquisition of Kylian Mbappe doesn't look like a priority if PSG do not lower the asking price for the Frenchman.
Real Madrid on verge of making increased third bid for Paris St-Germain forward Kylian Mbappé. @JBurtTelegraph reports – https://t.co/ITLktUY4ZC

— Telegraph Football (@TeleFootball) August 30, 2021
Mbappe can start discussing possible offers from other European clubs from January 2022 onwards if he doesn't renew his contract in Paris for the next season and Real will be more than willing to play the waiting game in the case of Mbappe.
REAL MADRID TO MAKE ONE LAST ATTEMPT AT SIGNING KYLIAN MBAPPE?
As per reports of the sources of The Athletic, Real Madrid will make one final move this summer on deadline day to swoop Kylian Mbappe from Paris. 
It's #DeadlineDay & there are deals to be done.

Our writers detail the moves that could yet happen:
▪️ Real could make a surprise third Mbappe bid
▪️ What James's arrival at #LUFC could mean for Costa
▪️ Hudson-Odoi's search for first-team footballhttps://t.co/iSg1mpMc0A

— The Athletic UK (@TheAthleticUK) August 31, 2021
The Frenchman is valued by PSG at €200 million and Real can match the amount as Florentino Perez plots one last ploy for bringing Mbappe to Spain.
🇫🇷 Kylian Mbappe's #DeadlineDay odds… pic.twitter.com/VzoRcVNdWh

— ODDSbible (@ODDSbible) August 31, 2021
If it does happen, then it will probably be the most expensive signing in deadline day history as Mbappe packs his bags for Madrid before the transfer window closes for another four months.
If Kylian Mbappe does sign for Real Madrid on transfer deadline day, it won't be the first time the club has made a big move in the final hours of the window. pic.twitter.com/QxErDvmBBW

— Leelafootballnews (@Leelafootball2) August 31, 2021
But, as of now the prospect of Mbappe travelling southwards from Paris to Madrid seems a far-fetched dream if Real do not meet the valuation of PSG for the French football player anytime soon before the September the first deadline in Europe.