Violence and riots during football matches have been ever-present in history though on the decline in recent times. However, a major event on Saturday in Liga MX, the Mexican top-flight, have shaken up fans to their core. While Europe was preoccupied with their own fixtures, a match was taking lives in North America.
The scene coming out of Liga MX match today between Atlas-Querétaro is one of the worst I've ever seen in soccer and probably even pro sports for that matter. Reports of at least 17 people dead and several dozens more injured following fan violence. Massive stain on the sport.

— Mark J. Burns (@markjburns88) March 6, 2022
Moreover, the violence was so intense that it has taken the lives of 17 people while dozens were injured. With the footballing authorities investigating and promising heavy action, it remains to be seen how football resumes. Mexico is slated to host the 2026 World Cup in North America and this could have a bearing on that too.
What happened on Saturday?
It was supposed to be a regular match between the home side Queretaro and Atlas. Liga MX has only had a handful of matchdays so far, all of whom event less. This game started off in the same vein, with Atlas taking the lead just before the half hour mark. The score remained the same till the hour and no onlooker could have predicted what happened next.
Bloody riots in Mexico. 05.03.2022
Queretaro – Atlas.

Liga MX match ends after brtual violence in the stadium between rival fans.

At least 22 injured, several in grave condition, and all of them were Atlas fans. pic.twitter.com/RuxJbHuDz9

— HooligansTV (@HooligansTV_eu) March 6, 2022
Fans of Queretaro, possibly tired of watching their side play listlessly, started attacking their counterparts in the stands. Soon enough, the fighting had escalated into a full-scale brawl but this was just the start. The violence got so bad that fans spilled onto the pitch, forcing most of the players to flee inside.
Thoughts are with the situation in Mexico right now where violence between fans of Queretaro and Atlas has led to multiple unconscious people laying around the field and stadium.

A stain on the sport in the region. pic.twitter.com/a0dzH5DBe1

— MLS Buzz (@MLS_Buzz) March 6, 2022
Some stayed outside trying to calm the situation but to no avail. The gates were opened by security for the away fans to escape which only a few managed. Most of the crowd got engaged in the full-scale riots with the videos of the incident making for horrible viewing.
The match was cancelled immediately with Liga MX condoning the violence. Furthermore, they postponed all other matches over the weekend while an investigation is underway.
Premeditated attacks?
The images of absolute barbarity have shocked viewers from around the world. Atlas' fans have alleged that their attackers were carrying knives, rocks, and even guns among other objects. They themselves were not allowed to carry anything remotely of metal by security. The whole issue of security has thrown up a variety of questions with attendees stating that there were very few personnel.
Fan violence marred a Liga MX match on Friday. pic.twitter.com/F6Zhxg5NyX

— FOX Soccer (@FOXSoccer) February 18, 2017
"If the [team] does not have enough officers or they lack training, we are going to work to hold them responsible," declared Guadalupe Murguia, Queretaro's state interior secretary.
Queretaro president has acknowledged the same, saying he will accept the sanction imposed by the league. A darker side to this has also emerged which talks of the security officials themselves getting involved in attacking fans. He has also alleged that this could have been the work of members of the barras bravas. They are connected to a hooligan group of Queretaro known as Gallos Blancos de Querétaro.
Today going to a Mexican stadium is to die…#Queretaro #FIFA #BreakingNews #Mexico pic.twitter.com/tzm7f68cdv

— Luis Mendez (@luismendez_n) March 6, 2022
There is no doubt that there is a more sinister side to what is out in the public currently. Liga MX has seen spurts of little violence in the recent past. Atlas supporters were involved last year in a brawl with crosstown rivals Chivas. However, the scale of Saturday's events have shaken up even the veterans in Mexico's footballing circle.
Several former players have heavily condemned the attacks. FIFA and CONCACAF are closely monitoring the league's investigation as well.
A nation weeps
A football stadium is the last place one would think of dying, while watching your team play. Minor fights more or less happen around the world but a riot of this scale is truly horrifying.
There are several sides involved in all of this, with both clubs promising to assist the investigation. The aggressors were armed from beforehand which begs the question of whether all of it was pre-planned.
Liga MX president Mikel Arriola condemned the violence in Queretaro & promised stiff penalties for the responsible parties but if reports about fans losing their life tonight are accurate it's irresponsible to go ahead with the rest of the round.

Sad scenes in Liga MX. https://t.co/brIUwjtFhj

— Jon Arnold (@ArnoldcommaJon) March 6, 2022
The fans, meanwhile, are left to count their losses. Several have spoken out on social media of having seen terrible violence right in front of them. The pictures and videos are shocking to watch, as the attackers were determined to hurt.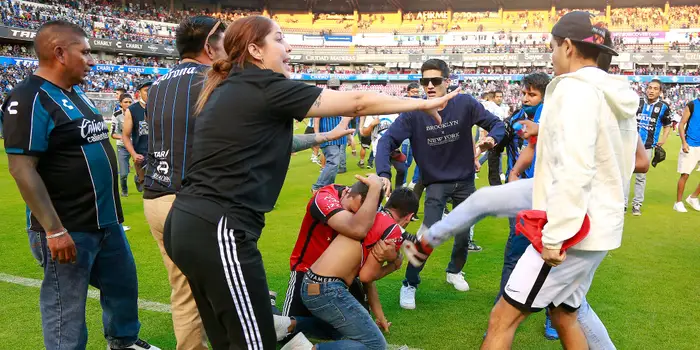 Though nobody has been charged by the authorities officially yet, some severe punishments are needed for the instigators. Football is no place for hooliganism or violence and authorities have to stamp it out completely. Unfortunately, it does seem like sport has to live with this at least for the near future.