"A street player". "A diminutive Argentine striker". The moment you hear those words, it brings memories of Diego Maradona, Lionel Messi and Sergio Kun Aguero.
But when you hear Pep Guardiola wax eloquent about a 21-year-old, then you sit up and take notice.
"He is a guy who has a sense of goal, the quality, the movement in behind – a street player. He is so dynamic. I think when he is playing the goal is there in his mind with the way he finishes and makes the movements over five metres," says Guardiola about 21-year-old named Julian Alvarez, who has been signed by English champions Manchester City.
What's the fuss about 'The Spider'?
The 21-year-old is an excellent goal scorer, so he tops the scoring charts in his national league. Alvarez has been the dominant force for the Boca Juniors this season, with 18 goals to his name. He is also good in chance creation, with seven assists to his name.
However, we have to look at his early career, where he thrived in his country and Spain at the youth level.
Alvarez caught the eye of big teams as early as 11 as he was signed by Real Madrid for their youth team. He was invited for a tournament by the Los Blancos, but he had to return to Argentina even after winning the title as foreign players under 13 could not be signed by any European club.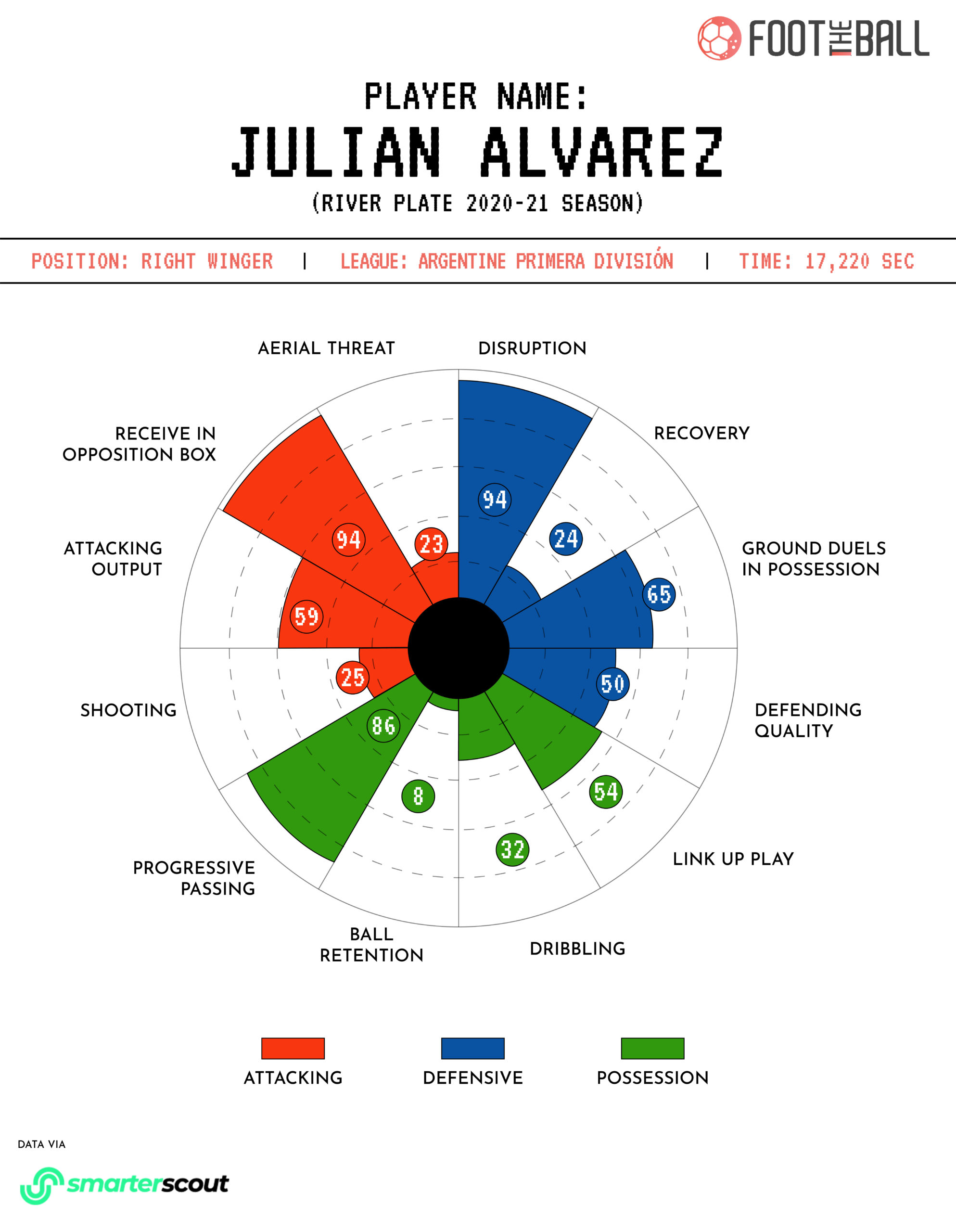 However, his exposure to such a tournament at a young age was quite helpful for his development as a player.
After making his way through the youth system at River Plate, the forward made his debut in the 2018 season.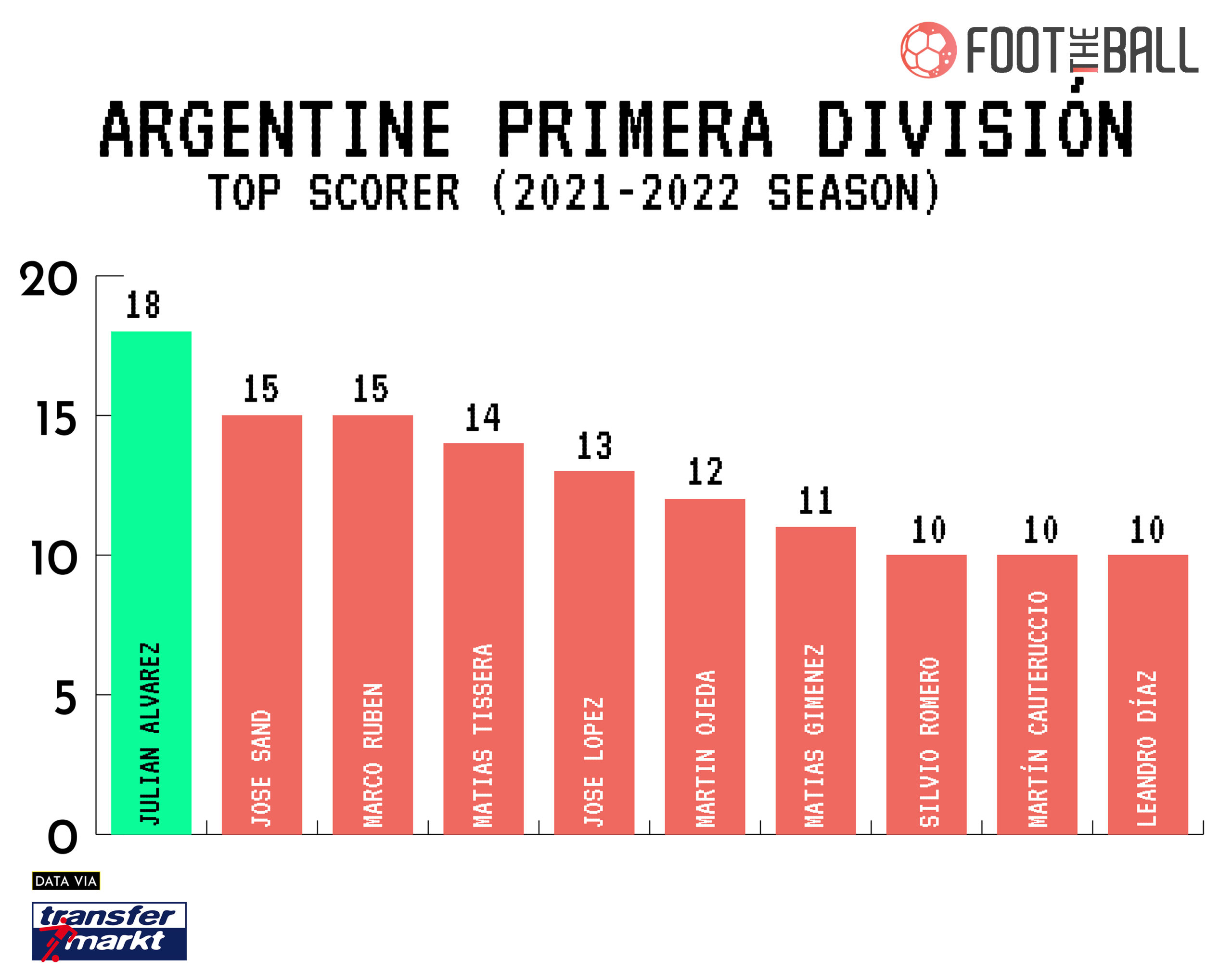 However, he would start to establish himself in the River Plate side only in the 2020 season when the forward scored seven goals and provided three assists in 19 games.
With his starting position undisputed, Julian Alvarez is now having the season of his life where he has scored 18 goals. This is despite the fact that his expected goal was only 8.53 goals thus far, which means that he is achieving more than twice the expected goals.
The creative and versatile forward
Looking at his heatmap from the season points out some interesting observations. Though he is a centre-forward, Alvarez spends a lot of his time on the right-hand side of the pitch just outside the goal area.
This is not surprising as he alternated between centre-forward and right-winger position in his early days. However, according to the heatmap, he also spends most of his time in the attacking third of the pitch, where he drops down to get the ball and create chances for his team.
Alvarez has six assists in the current season and has created nine big chances.
Out of the 18 goals that he scored this season, five have come from outside the box, which shows that he is adept at finding the back of the net from anywhere near the goal area.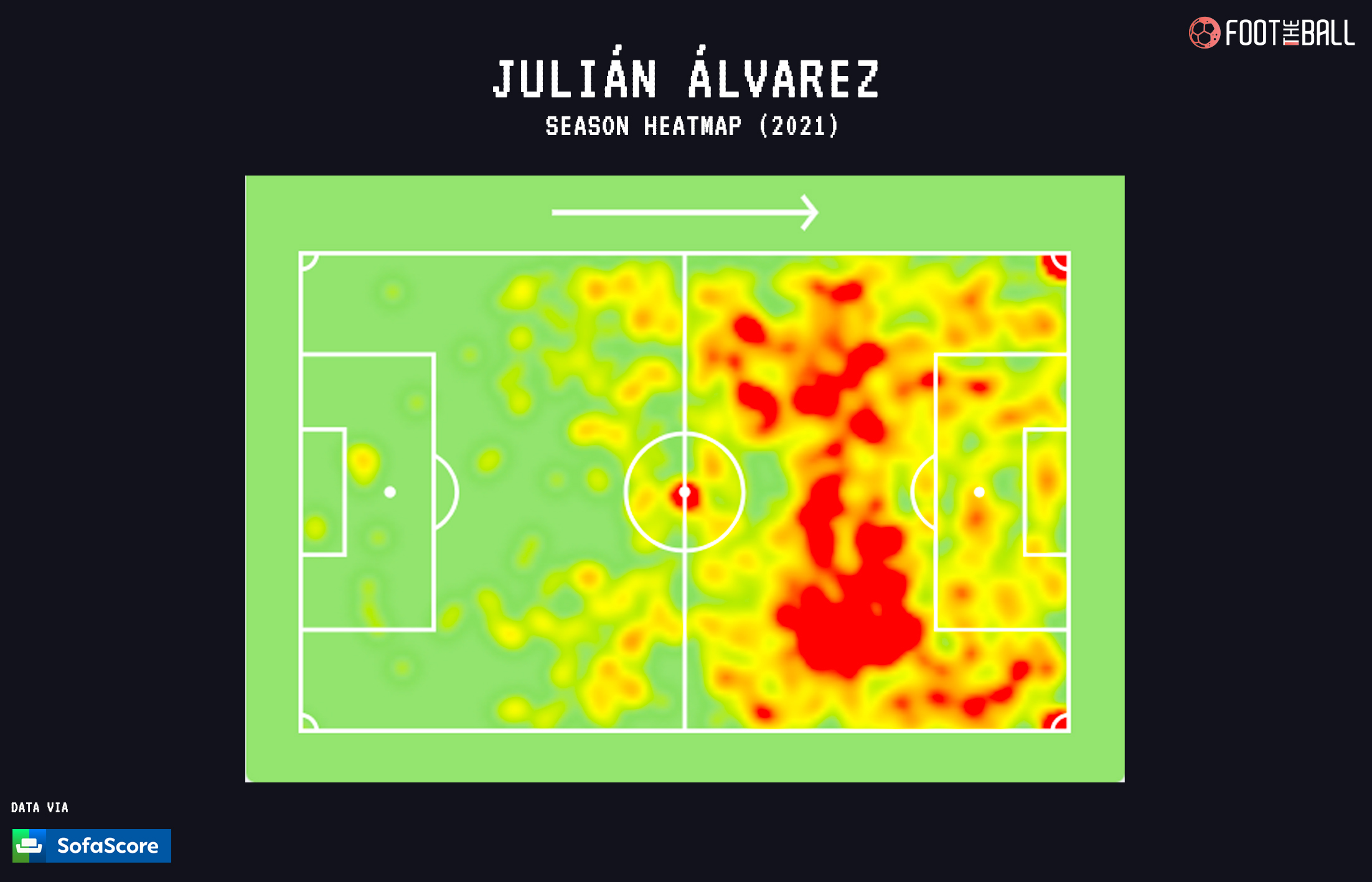 And despite being a right-footed player, he has scored five goals from his left foot and has one goal from a header in the season.
This mix of creativity and goal scoring has a perfect place in Pep Guardiola's system that demands forward to be more involved in the team's play.
Why Manchester City signed Julian Alvarez?
Even with the fantastic form that Julian Alvarez finds himself in, it is tough to see him as the first-choice striker at the Etihad. First of all, Guardiola has shown that he can play without a number 9, and there is already Gabriel Jesus in the team for competition. Also, his signing does not mean that club will not try to land an elite centre forward like Erling Haaland and Harry Kane.
However, this does not mean that he quill not get ample minutes. On the contrary, even if City do manage to get Haaland or Kane, the sheer number of matches that the club plays (also accounting for any injuries), Alvarez will get a lot of opportunities.