On 22nd November 2020, Lionel Messi broke one of the rarest records, scoring the most number of goals for one single club overtaking Pele in the history books.
Messi scored his 600th goal for FC Barcelona against Real Valladolid in the league in a 3-0 win. Pele, arguably one of the greatest ever to have graced the game of football, scored 643 goals in 665 competitive games for Santos, while Messi achieved the feat in 749 appearances.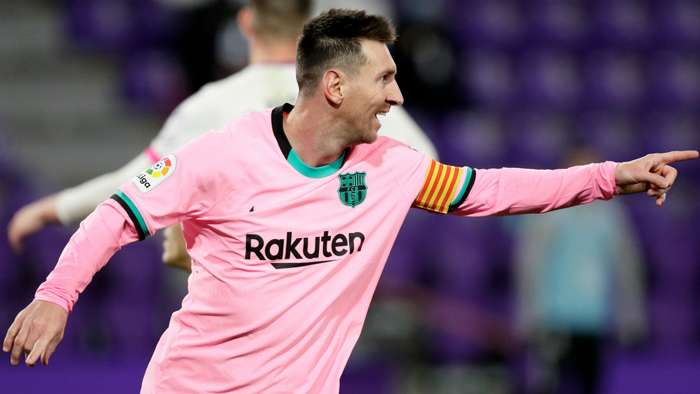 Messi after scoring against Valladolid. (Image Courtesy: La Liga / Twitter)
And now it is being decided that the boots which were used by Messi to break the historic record, will now be offered in a charity sale to support the 'Arts and Health Project of the Vall Hebron University Hospital, in Barcelona. The online auction for the same will take place on "christies.com" and is scheduled to be conducted between 19 and 30 April 2021. The auction will be to benefit the museum's program for young cancer patients and their families.
Messi initially had donated the game-worn boots to the Museu Nacional d'Art de Catalunya (MNAC), but they have now together decided to auction the memorabilia and give the proceeding to charity.
When Messi was asked about the initiative, he said, "Achieving the record of 644 goals for the same club made me very happy, but the most important thing is being able to give something back to all the kids fighting for their health. We hope this auction serves to really raise awareness about this great initiative and I would like to thank all for supporting a cause so important to me."
Christie's is proud to present Messi: The Boots That Made History, a charity sale of #LionelMessi's record-breaking 644th goal scoring adidas boots. The online sale will take place from April 19-30 with proceeds going to @vallhebron in Barcelona. #christiesxmessi pic.twitter.com/SfyefW8Zmp

— Christie's (@ChristiesInc) April 15, 2021
Speaking to MARCA, Christie's representative in Spain, Maria Garcia Yelo said, "Christie's satisfaction for having chosen Lionel Messi and MNAC to be able to carry out this charity auction. This pair of football boots will arouse an enormous amount of interest and will attract bidders from all around the world."
The Adidas Nemeziz Messi 19.1 boots are signed by Messi himself, his wife Antonela Roccuzzo and the dates of birth of their sons, 'Thiago, Mateo and Ciro' written on them. They will also come with a certificate of authenticity and are expected to fetch between €60,000 – €80,000.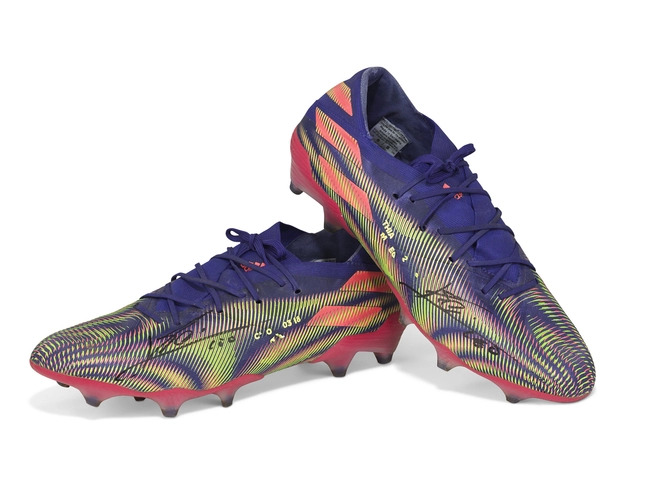 The boots which are to be auctioned. (Image Courtesy: Christie's / Website)
The Argentine superstar has once again proven how his success is just as inspiring off the pitch, as it is on it. Hopefully the records can keep flowing for him, as can the gestures towards these great causes.