As the (absence of any) ink starts to dry in the heads of football fans around the world over the fact that Lionel Messi is leaving Barcelona, it is now apparent why this situation came around. Barcelona simply did not have the financial room to register their greatest ever player for the upcoming season as per La Liga rules.
WHY CAN'T BARCELONA REGISTER MESSI
With Lionel Messi's proposed new contract with a 50% wage cut, Barcelona's wage to revenue ratio would have been at 115%. Without his wages it would be at 95%. As per La Liga rules, the wage to revenue ratio cannot be more than 70% for a club which shows that the preposterous suggestion that Lionel Messi prove his love for Barcelona any more by playing for them for free is simply not possible.
Unrepeatable 🐐 pic.twitter.com/xpWRDlHyCq

— FC Barcelona (@FCBarcelona) August 8, 2021
Barcelona are clearly in a transitional phase on and off the field. Regardless of how heartbreaking a decision it is, letting Messi go is the right one for the club. President Joan Laporta claims that they have plans to clean up the mess but for that it is pertinent to ask just how we got here.
BARTOMEU'S GIFTS
Before Laporta, Barcelona's president was Josep Bartomeu and it would not be an overstatement to say that he and his board are largely the chefs of the soup the club is in. The first year of his tenure, which began in 2014, could scarcely have gone better. Barcelona won the treble powered by the MSN trio and off-field their operating loss (excluding player sales and interest) was just 1 million Euros.
https://twitter.com/FootTheBall/status/1423414091163471874
The following two seasons they managed to continue their dominance domestically but suffered on the continental stage. Their financials improved too – turning an operating profit of 1 million and 9 million in 2016 and 2017 respectively. And then, Neymar left.
His sale of approximately 220 million Euros brought with it a windfall gain for the club but on-field it left a big hole that just could not be filled. Their purchases of Phillippe Coutinho, Ousmane Dembele and Antoine Griezmann far exceeded the amount Barcelona received. In fact their net spend since Neymar's departure is 393 million Euros.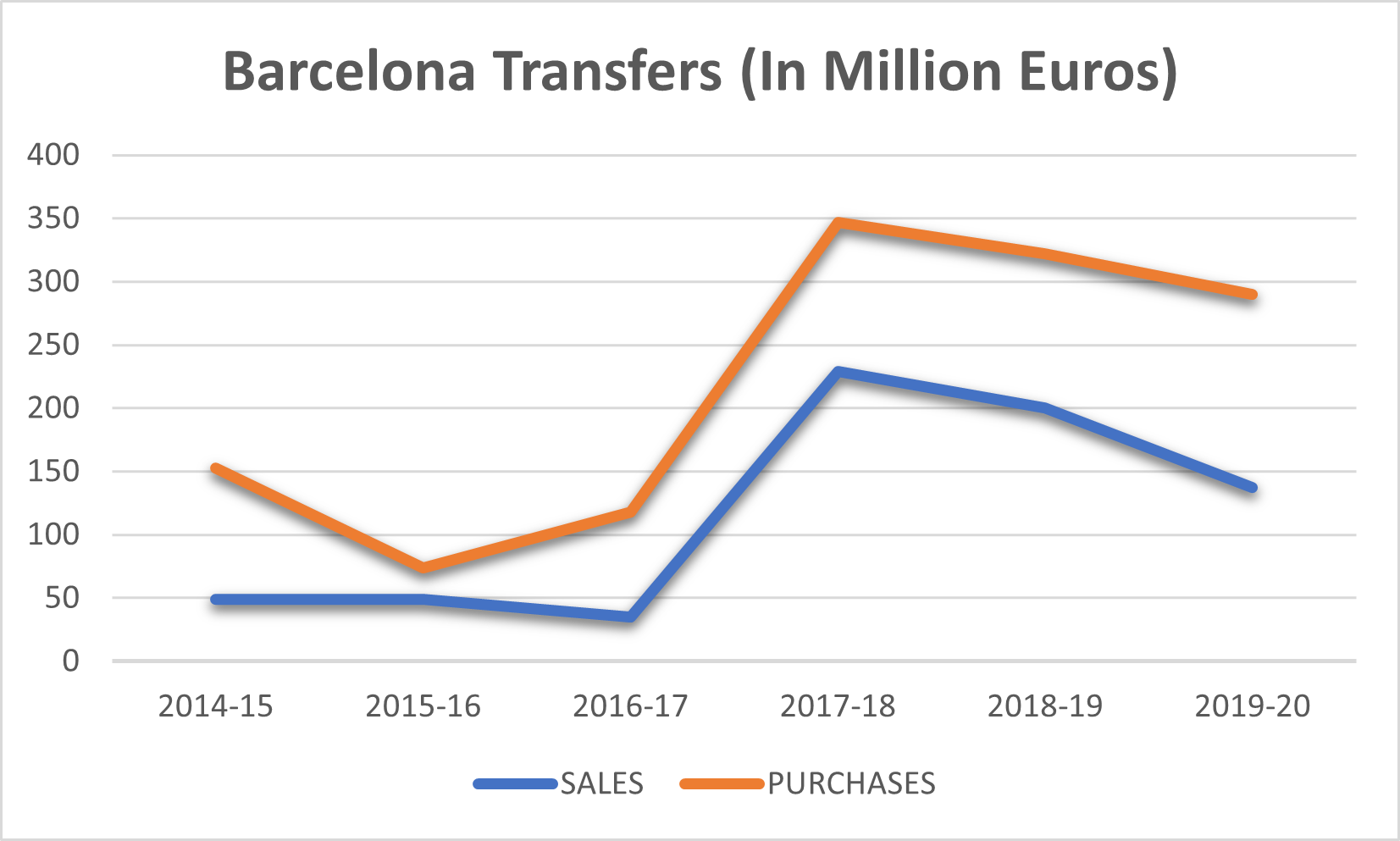 They have been unable to move on transfers that did not work out like Coutinho or those that have overstayed their welcome like Samuel Umtiti which shows in their falling player sales revenue. In the graph above one can see the divergence in player sales and purchases, despite which on-field success has only grown farther away.
THE REAL PROBLEM
However, this is only a part of the problem. Transfers, to a large extent, can be written off and covered up with some loans and the losses recouped over the years. In fact, most of Barcelona's recent transfer market purchases have been on credit.
Therefore, it is not just that bad transfers were made that is the problem. The fact that they have not been reversed is the more pressing concern. The knock-on, and crucial here for Messi, effect is that the players on the books command spectacular wages which the club cannot afford.
As seen below, Barcelona's sporting salary bill jumped from 340 million Euros to 487 in just one year (the figure for 2014-15 includes player amortisation cost). Since they have not been able to sell on the deadwood, their wage bill has not come down. The lower figure for the 2019-20 season is still a 30% increase over three years.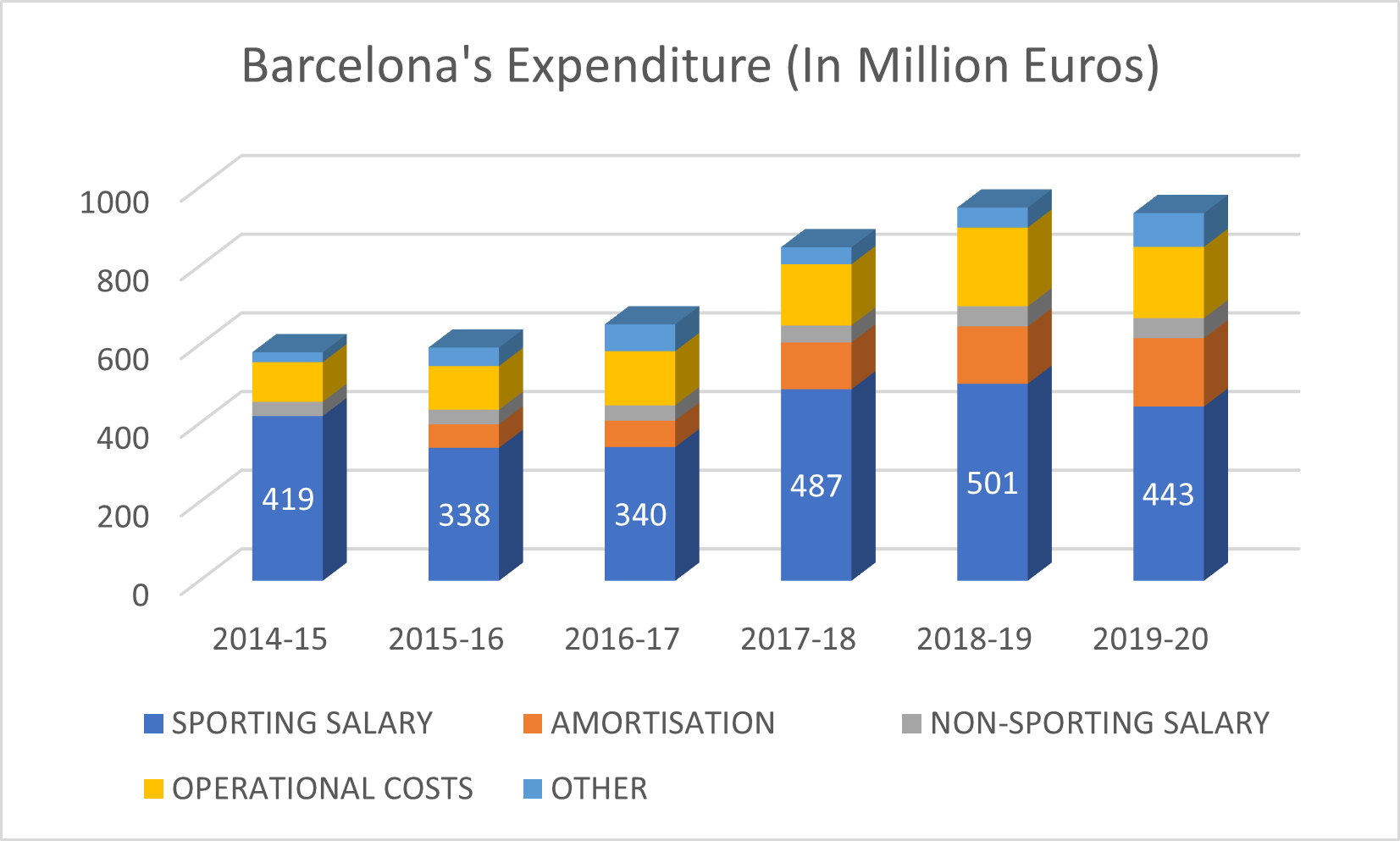 Pre-covid, this was concerning but not catastrophic. However, the collapse of revenue post the pandemic's impact has left the club struggling to pay the bills. Their revenue fell from 990 million Euros to 855 million Euros with all departments – media (broadcasting), stadium (matchday) and marketing (commercial) taking a hit as seen below.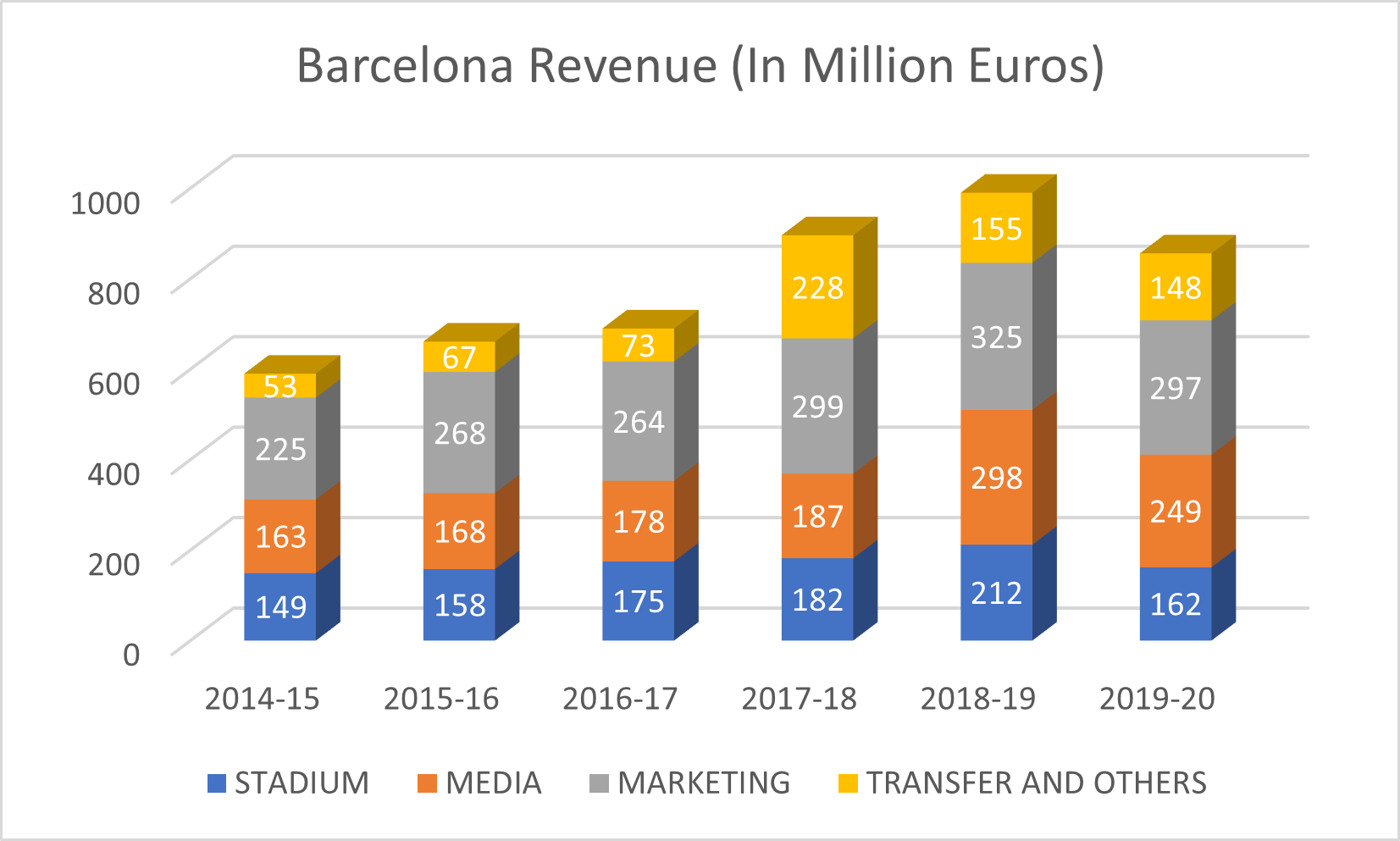 Only Manchester United's revenue dropped more amongst the 12 'Super League' clubs and that was primarily due to reduced broadcasting revenue caused by their participation in the Europa League.
The real situation though is expected to be far worse than what is visible on paper because a large part of player wages were delayed in 2020 in the immediate aftermath of the pandemic according to reports. The fact that Barcelona are owned by members, rather than a corporate or a wealthy individual, makes it harder for the club to absorb losses.
BUILDUP TO MESSI'S DEPARTURE
It was clear to Barcelona that to keep Lionel Messi they would need to make major savings. They were further handicapped by the Copa America in the summer which meant a delay in negotiations that led to his contract running out at the end of June.
🇦🇷 Leo #Messi and @aguerosergiokun won the Copa América with @Argentina! 🏆 𝙊𝙡𝙚́!

2/6 ↕️ pic.twitter.com/Q5jchriYIe

— FC Barcelona (@FCBarcelona) July 18, 2021
This was crucial as it gave him the status of a free agent. According to Spanish rules, his new contract's wages could thus not be lower than 50% of his previous contract – a cut which he had agreed to but was still not enough.
Barcelona moreover signed more free agents in Eric Garcia, Sergio Aguero and Memphis Depay and question marks remain over their registration status. The club is working towards getting players to take pay cuts with Gerard Pique having already reportedly agreed and other senior players like Sergio Busquets and Jordi Alba set to follow suit.
Barça president Laporta: "According to our calculations, we can register Memphis Depay, Eric Garcia and Kun Agüero. I hope there will be no problems, also because these players made an effort to join Barça". 🔴 #FCB #Barça

— Fabrizio Romano (@FabrizioRomano) August 6, 2021
Laporta and co. also considered unilaterally terminating the contracts of players it did not need but with no wrongdoing on parts of those players, it would leave the club susceptible to legal charges which it would find difficult (and costly) to defend against.
ARE BARCELONA THE ONLY CLUB STRUGGLING?
Barcelona's years of profligacy in terms of both, the transfer market and handing out bumper contracts, has caught up with them. However, they are far from the only ones struggling. Fierce rivals Real Madrid had to let their own captain Sergio Ramos leave while they also sold Raphael Varane to Manchester United for a cut-price deal.
Italian champions Inter Milan are facing the threat of liquidation and have sold Achraf Hakimi and Romelu Lukaku in a bid to stay afloat. AC Milan and Juventus are unable to spend much on players.
He's coming home @RomeluLukaku9 @ChelseaFC 💙💙💙💙💙💙💙💙💙 pic.twitter.com/xFzxecgLZ2

— Didier Drogba (@didierdrogba) August 8, 2021
Man City and Chelsea benefit from having billionaire owners ready to bankroll all the whims and fancies of their managers. Tottenham Hotspur had to take a loan to soften the blow of the pandemic while Arsenal have been skint for a while and continue to be so. Manchester United benefit from having an extremely strong commercial side but even that is showing signs of slowing down while Liverpool are bargaining hard in their contract talks and are not looking to spend big in the foreseeable future.
Long story short, the decadence of the big clubs over the past decade or more has been laid bare by the pandemic and nearly all of them are struggling. Some have managed it better than others while some have the resources to do so. One thing does become apparent that the Super League was more of a hail mary than a coup. The big clubs cannot afford to go back to their old ways in the long run.
You cannot have football continue in this "MORE MORE MORE". On wages, games per season, transfer fees and more.
The Super League was a cowardly way to try and fix football's rampant hyper capitalism with more hyper capitalism, but there needs to be a reboot. Somehow.

— 🎅🏿 Carl Anka 🎅🏿 (@Ankaman616) August 6, 2021
For Barcelona though, it is unfortunate that they are stuck with a dam of deadwood players and the cost of their survival becomes the departure of their favourite son. It is a telling moment in the history of the sport and fans can only hope that the lessons have been learnt.