A new epoch began in France as Messi stepped up from the bench for Paris Saint-Germain in an away match at Reims with the French club winning to ensure a 100% record in the French top-flight (the only club with a perfect record in France this season until now).
A new journey begins 💎🔴🔵#SDRPSG pic.twitter.com/92PtadFy2G

— Paris Saint-Germain (@PSG_English) August 29, 2021
Mauricio Pochettino had promised that Messi would feature in the match in the Stade Auguste-Delaune in some capacity after the Argentine was included in PSG's squad for the match.
The former Barcelona captain came on the pitch in the 66th minute for his Brazilian teammate Neymar, who was also appearing for PSG for the first time this season, to a raucous reception by the entire stadium in northeast France.
As a new era in football commences henceforth, FootTheBall analyses Lionel Messi's debut for Paris Saint-Germain and what it means for Les Parisiens and the beautiful game.
SLOW AND STEADY INTRODUCTION
Mauricio Pochettino included Lionel Messi in the squad that travelled to northeast France in the city of Reims as he promised that Messi would be playing in the city that is famed for the ceremonial significance of the coronation of French monarchs.
As such, the entire Stade Auguste-Delaune was packed to the rafters as fans flocked inside the stadium to get a chance to witness the genius of La Pulga firsthand in France. 
Reims' home stadium is a very compact one, having a seating capacity of just over 21,000, but it still managed to create an atmosphere of anticipation and excitement as the minutes ticked by on the pitch and it became clear that Messi would be coming on the pitch as a substitute.
👍🇦🇷👍 #SDRPSG pic.twitter.com/JRQVWA9ij3

— Ligue 1 Uber Eats (@Ligue1UberEats) August 29, 2021
The Argentine did come on, but the game had lost its pace by that time and Pochettino decided to bring Neymar off the pitch for Messi.
Kylian Mbappe scored a brace to preserve PSG's 100% record in France and by the 66th minute, six substitutions had been made on either side as the game descended into a show of physicality with Reims displaying physical prowess to outmuscle the PSG players who had been running riot on the pitch until then.
Messi arrived and fared relatively well given that he played less than half an hour on the pitch in what was a watershed moment for him after leaving Barcelona after 21 years in Spain.
📸 LEO 😍@StadeDeReims 0️⃣ – 2⃣ @PSG_English#SDRPSG pic.twitter.com/bL5MipwQEv

— Paris Saint-Germain (@PSG_English) August 29, 2021
The Argentine recorded 26 ball touches all over the pitch, with the majority of them coming on the right flank of the pitch. In addition to that, he contested in 5 duels in the game and was successful in completing 1 ball recovery.
KYLIAN MBAPPE LINKS UP WITH MESSI ON ARGENTINE'S DEBUT FOR PSG
As Neymar was off the pitch when Messi came into the game, Mbappe stepped up to link up with the Argentine, with the former AS Monaco player showing flashes of play where he seemed to build an understanding with the Argentina captain.
Messi was fouled three times (the most number of fouls suffered by any player in the match) on the pitch in 24 minutes as Reims players struggled to contain the Argentine's slaloming runs whenever he got the ball in space and tried to dart for goal. 
🧐 La première de Leo Messi en chiffres 🇦🇷 ! #SDRPSG

👟 26 ballons joués
💪 5 duels disputés
👮 3 fautes subies
🦶 1 tacle
🛠️ 1 ballon récupéré
🎯 21 passes tentées (dont 11 dans le camp adverse), 95% de réussite pic.twitter.com/Al6N4Zvur3

— Ligue 1 Uber Eats (@Ligue1UberEats) August 29, 2021
One particular passage of play especially stood out, when Messi began a run towards goal before playing with Mbappe as the Argentine ran towards the centre of the penalty area. 
Mbappe played the ball towards the Argentine, but it was blocked by a trio of defenders, one of whom also appeared to manhandle the Argentine, albeit unintentionally as he accidentally hit Messi on his face while attempting to stop him from getting in a dangerous area.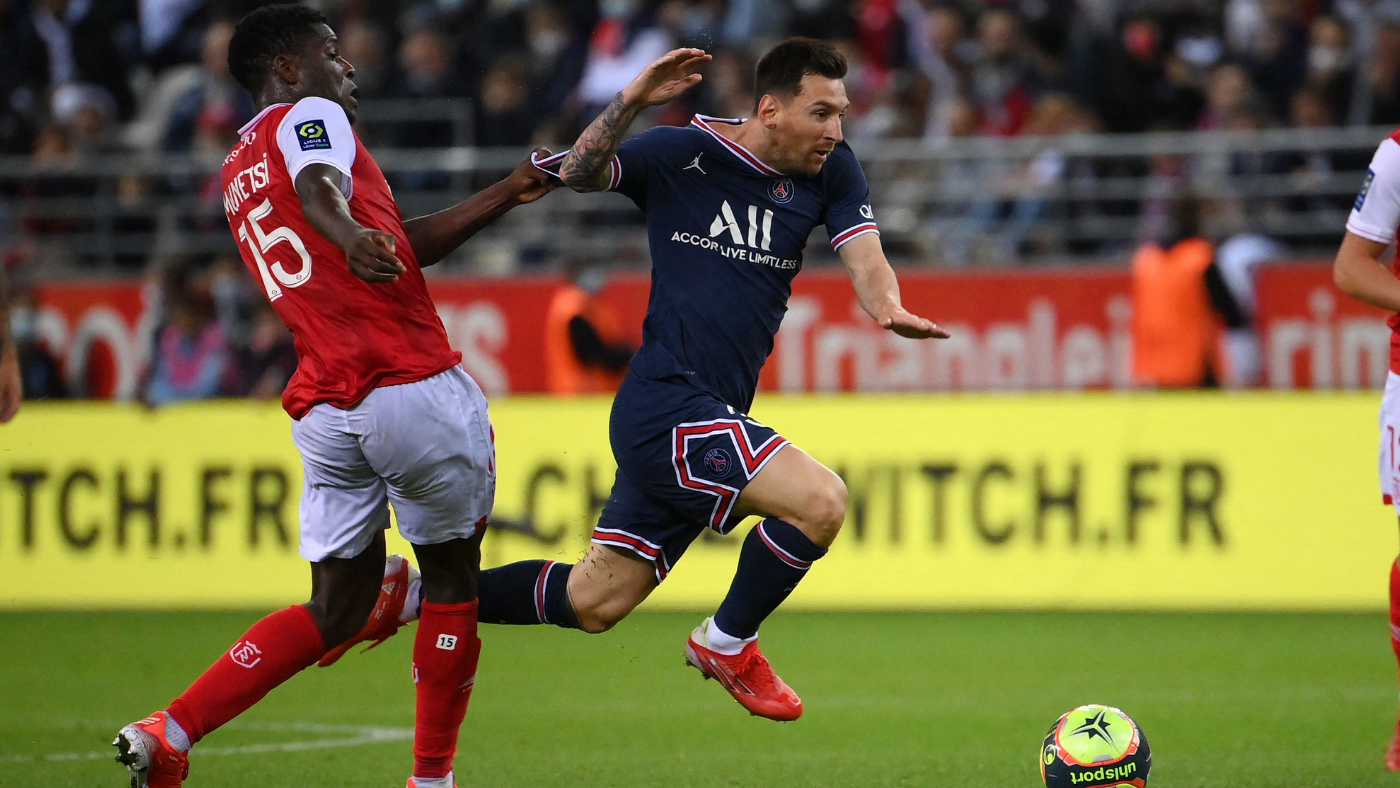 An impressive statistic from the match that emerged was that Messi completed 20 out of 21 attempted passes during the 24 minutes he was on the pitch, recording a rather impressive 95% pass completion rate, considering most of his passes were attempted forwards. 
SOWING SEEDS OF SUCCESS
Even though Messi and Neymar made their first appearances for PSG this season yesterday, it was French starlet Kylian Mbappe who featured in the headlines after the match as he scored an impressive brace with a goal in each half to send PSG to the top of the league standings in France.
Mbappe has been the subject of multiple transfer bids from Spanish giants Real Madrid, but he didn't let them ruffle him as he displayed a calm and composed attitude on the pitch while playing for Les Parisiens in Reims.
There were moments in both halves when Reims threatened to rip open PSG's defence, but Keylor Navas and the centre-back duo of Marquinhos and Kehrer were up to the task whenever Reims broke forward.
Pochettino's charges will now go into the international break before returning back to club duty ahead of their match with Clermont Foot at Les Parc des Princes in the French capital two weeks from now.
And it is expected that Messi might start that match in Paris alongside Kylian Mbappe and Neymar, if the Frenchman stays in France for one more season (his contract expires next June).
💬 "4⃣ games and 1⃣2⃣ points is great before the international break"

Mauricio Pochettino gave his verdict after #SDRPSG

— Paris Saint-Germain (@PSG_English) August 29, 2021
What we can say for now is that the trident of Messi, Neymar and Mbappe would form a potent strikeforce that would surely give defenders, both in France and Europe, a lot of headache as Les Parisiens continue the quest to taste European success for the first time in the club's history.