Matchday 3 in the Bundesliga brought with it an entire weekend of surprise wins and routine thumpings as the creme de la creme of footballing talent battled it out on the pitches of Germany to stake a claim on the German league title in Deutschland.
Bayern Munich completed a routine mammoth demolition of Hertha Berlin with Robert Lewandowski scoring a sensational hat-trick. 
#BLMatchday 3⃣ in the books 📚

Having fun up there, @VfLWolfsburg_EN? 😅 pic.twitter.com/z9Hnqouh2H

— Bundesliga English (@Bundesliga_EN) August 29, 2021
Borussia Dortmund survived a late scare after Haaland came to their rescue and Wolfsburg found themselves top of the pile after 3 gameweeks in Germany.
As the players in the German top-flight prepare to go to international duty with their respective national teams after matchday 3 in the Bundesliga, FootTheBall looks at the conclusions that one can infer from all the action in Germany this past weekend.
1) BAYERN BATTER BERLIN AS LEWAN"GOAL"SKI SCORES HAT-TRICK
Bayern Munich hammered Hertha Berlin 5-0 in Munich (Hertha now sit at the bottom of the league table in Germany) to continue their spectacular form from their DFB-Pokal match with fifth-tier Bremer SV. 
Robert Lewan"goal"ski once again was in the thick of things for the Bavarians as they cruised past Hertha Berlin in the Bavarian capital.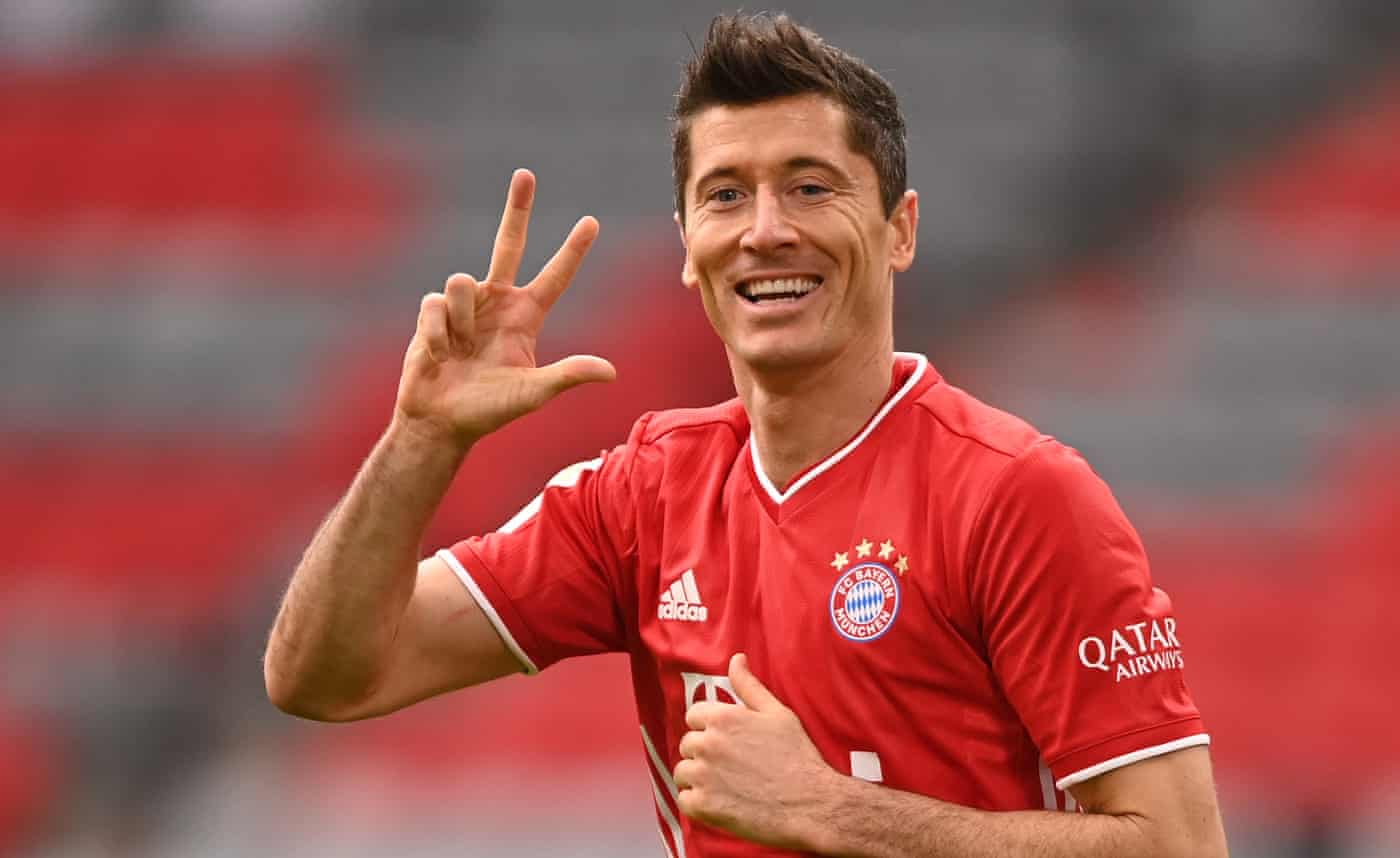 The Polish forward scored a sublime hat-trick to cap off the win at the Allianz Arena with Bayern Munich climbing to third in the league standings in Germany. 
📊 @Lewy_Official leading the way after #BLMatchday 3⃣

Who will be topping the table by the end of the season? 🤔 pic.twitter.com/X8kbtztxim

— Bundesliga English (@Bundesliga_EN) August 29, 2021
Thomas Muller and Jamal Musiala rounded off the scoring for the current German champions as they adjust to life under their new manager Julian Nagelsmann after the departure of his predecessor Hansi Flick.
2) WOLFSBURG IN 'LA LA LAND'
In the season preview for the Bundesliga provided by FootTheBall, it had been predicted that VfL Wolfsburg would prove to be the biggest disappointment if they finished mid-table in Germany after what was a largely breakthrough season in 2020-21 when they managed to qualify for the prestigious UEFA Champions League.
But, they have proved all their doubters wrong with their performances so far. At the time of writing this article, Wolfsburg sit atop the Bundesliga table and are the only side in the German top-flight to have a 100% record after the conclusion of matchday 3 (9 out of as many possible points).
Und jetzt auch mit richtiger Grafik! Entschuldigt. 🔥 https://t.co/b8e5Jkhw3R pic.twitter.com/h3iAgGGeZi

— VfL Wolfsburg (@VfL_Wolfsburg) August 29, 2021
Mark van Bommel has made an excellent start to life in Wolfsburg after replacing their former manager Oliver Glasner. Die Wolfe are the side with the best defence in Germany at the moment, with only 1 goal conceded in 3 games and managed to win against RB Leipzig in their last match.
And it looks like they will only build on what they have managed to achieve until now this season as a rather bright future beckons them.
3) LEIPZIG STRUGGLING SANS NAGELSMANN
New arrival in Leipzig Jesse Marsch has a lot of ground to cover in Germany as his RB Leipzig side have not begun this season in Germany on the right note.
They are languishing in 10th place after a lacklustre defeat to Wolfsburg which means that they have lost 2 out of the opening three games in Deutschland.
🎥 The bits as @VfLWolfsburg_EN claimed three points against @RBLeipzig_EN in a real battle of a game 💪 pic.twitter.com/b0PUI8EwTK

— Bundesliga English (@Bundesliga_EN) August 29, 2021
Unlike his predecessor Julian Nagelsmann, Jesse Marsch has not enjoyed an excellent start to life in Saxony as he struggles without the services of Dayot Upamecano at the back and the rumours of Marcel Sabitzer's departure to Bayern Munich to join Upamecano and Nagelsmann in Bavaria.
The international break looks like something that Leipzig cannot do without as they need to shore up the defence and get a grip on themselves ahead of the commencement of the UEFA Champions League that will possibly mean rotation of line-ups and tinkering with the squad.
4) SC FREIBURG EXCEED EXPECTATIONS IN GERMANY
At the beginning of the season in Germany, no one would have thought that Freiburg would be sitting ahead of the likes of Borussia Dortmund and RB Leipzig.
After an opening-day draw against newly promoted side Arminia Bielefeld, Freiburg have gone on to win the next 2 consecutive matches, including a 2-1 win over Borussia Dortmund to sit in fourth place, level on points with champions Bayern Munich.
Einen schönen Abend, liebe #SCF-Fans 😁 pic.twitter.com/W0CTzMzm9o

— SC Freiburg (@scfreiburg) August 28, 2021
On matchday 3 they won against VfB Stuttgart to continue their winning streak in the German top-flight. They have let in as many goals as Bayern Munich until now in the league, while scoring 5 on their way to 4th position.
And it looks like optimism is growing in their camp before the players depart for international duty over the next week.
5) KOLN AND MAINZ HOT ON THE HEELS OF DORTMUND
Borussia Dortmund survived a late scare after Erling Halaand once again rescued them from dropping two points after netting in a second-half stoppage-time winner at the Westfalenstadion against high flyers Hoffenheim.
FootTheBall predicted that Hoffenheim might challenge for  European places and it is not long before they cause upsets to sides like RB Leipzig later in the campaign.
… and breathe 😮‍💨😂

What a finish!! NEVER GIVE UP 💪🏽#AW28 pic.twitter.com/DvvxK6vb5R

— Axel Witsel (@axelwitsel28) August 27, 2021
For Dortmund though, this is a cause for concern as both Koln and Mainz are breathing down their necks.
Only goal difference separates the three sides in the German league, with all three sides having earned 6 points from the opening three games – something that underscores the broader theme of the league this season apparently.