Carlo Ancelotti's Real Madrid defeated Liverpool in the Champions League final in Paris to take home the club's 14th continental title. It was an entertaining and intense fixture, despite the lack of goals.
The match was off to an inauspicious start as kickoff was delayed by over half an hour due to crowd problems caused by mismanagement at the stadium entry points. However, once the football did get started, it was of the highest quality.
A familiar sight. Madrid kings of Europe! 👑#UCLfinal pic.twitter.com/GOK8us5u09

— UEFA Champions League (@ChampionsLeague) May 28, 2022
Liverpool had the better of the chances throughout the 90 minutes but Madrid defended valiantly, inspired by a Thibaut Courtois in unbeatable form. Vinicius Jr got the only goal of the match in the second half to secure the win for Los Blancos, the crowning moment of a frankly unbelievable run to the final.
Here are five things we learnt from the Champions League final –
UEFA needs to change its ways
There were some truly disturbing scenes ahead of kickoff coming from outside Stade de France with footage emerging of fans being teargassed, pepper-sprayed and locked out. Reports of mismanagement had started emerging close to two hours before kickoff but action from both UEFA as well as the French organisers seemed very slow and indifferent.
To top it off, UEFA blamed the delay and problems on the fans – initially claiming that it was caused by fans arriving late. After being called out on it, they switched the party line to security concerns (presumably, self created) and later pinning it on the pantomime fake ticket buyers.
Little chaotic at the entrances outside the Stade France. Seems too many fans heading toward same entrance. Fan reps hoping situation can be resolved quickly and safely. pic.twitter.com/epURW9iSre

— tariq panja (@tariqpanja) May 28, 2022
With this serious mismanagement and an overall apathy towards the views of supporters, it is no surprise big clubs want to break away from UEFA. Incidents like these only flame the fire of the Super League. Aleksandar Ceferin would do well to remember that it was fans who stopped that from coming to fruition and if the fans turn, he will be powerless in stopping the big clubs.
The Courtois Final
There have been impressive performances in Champions League finals before – Petr Cech was a monster in 2012 while Dida saved three penalties in 2003. Despite the merits of those legends, it is easy to make a case for Thibaut Courtois' evening being the best ever goalkeeping performance in the competition.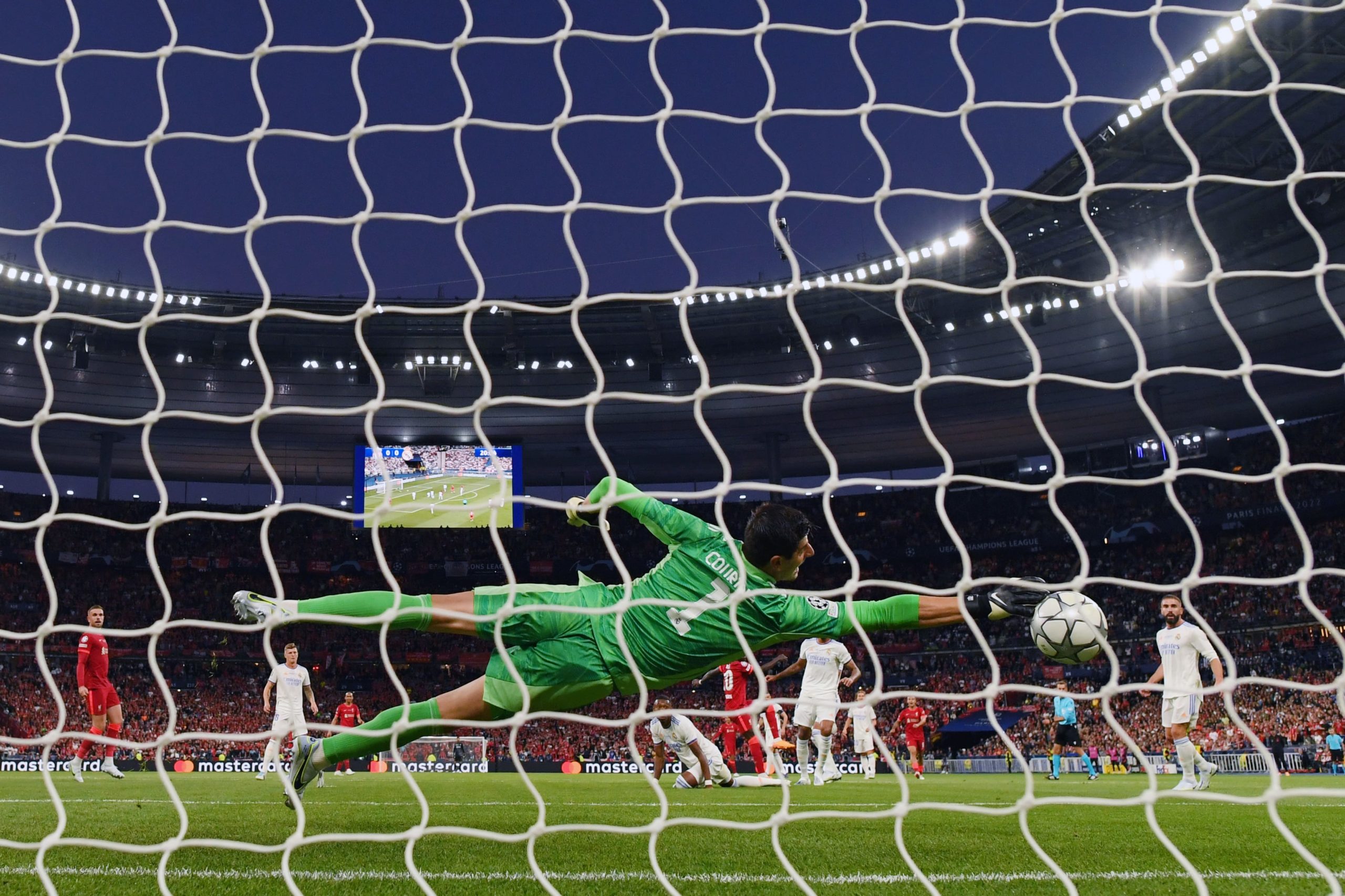 Statistically, he made the highest number of saves of anyone in any Champions League final. Courtois also set a new record for most saves in a single UCL campaign since 2004, when Opta started collecting these stats.
It was not only the quantity but also the quality of the saves that was truly astonishing. The Belgian showed that while he may not be as flashy as Alisson or Neuer, he still is one of the very best in the world.
Deliberate or indeliberate?
Liverpool dominated the first 45 but nearly went into the interval a goal down. Karim Benzema seemed to have given Madrid the lead in the 42nd minute when he tapped in a loose ball in the box.
However, the linesman raised his flag and the goal was ruled out. A lengthy VAR check ensued and it showed that while Benzema was in an offside position, the ball had actually come off of Fabinho's leg. The goal was nevertheless disallowed leading to much confusion.
The goal was apparently ruled offside because it wasn't a deliberate deflection by Fabinho.

— Miguel Delaney (@MiguelDelaney) May 28, 2022
Later it was explained that the touch from the opposing team's player has to be deliberate which VAR deemed it not to be for Fabinho. It was a marginal call but the right one given the rule which no one knew of before today.
A Tale of Two Managers
The result meant that Jurgen Klopp has now lost three out of four Champions League finals while Carlo Ancelotti has won four out of five of his own. Klopp's Liverpool did win both domestic cups in England this season but they have not scored a single goal in 330 minutes of football in finals.
The most successful manager in UCL history.

🏆🏆 Two Champions League with Real Madrid.

🏆🏆 Two Champions League as a coach with Milan.

🏆🏆 Two Champions League as a player with Milan.

🥇 Only one to win the title in all top 5 leagues.

𝐂𝐚𝐫𝐥𝐨 𝐀𝐧𝐜𝐞𝐥𝐨𝐭𝐭𝐢 ⭐️ pic.twitter.com/divGsQyhxv

— Fabrizio Romano (@FabrizioRomano) May 28, 2022
Variance is very high in such one-off showpieces but it does suggest a bit of a pattern. Ancelotti's more pragmatic approach seems to work better in key moments than Klopp's rock-and-roll gegenpressing. It would be harsh to say that Liverpool did not play well but they certainly lacked a cutting edge.
Mbappe who?
Real Madrid were left woefully disappointed last week when Kylian Mbappe and PSG announced that the Frenchman would be extending his contract for a further three years. After courting the winger for two years, it left a bitter taste but perhaps they will not miss him as much as they thought.
Vinicius' initial months in Spain were plagued by wild misses and inconsistent performances but the Brazilian has come into his own this season. His goal against Liverpool was his 22nd of the season to go with his 20 assists.
10 – Vinícius Júnior (4 goals, 6 assists) is the first South American player to be directly involved in 10+ goals in a single UEFA Champions League campaign while aged 21 or under since Lionel Messi in 2008-09 (14 – 9 goals, 5 assists). Talent. #UCLfinal pic.twitter.com/3xEzXmes4h

— OptaJoe (@OptaJoe) May 28, 2022
The winger will finish the season having provided the second highest number of assists in the Champions League. Still just 21, he has a lot of room to improve and if he continues his growth, Real Madrid will certainly not need to splurge on a big name anytime soon.