Red Devils boss Jose Mourinho was elated after his side climbed to fifth spot in the league table after their 3-1 win over Boro.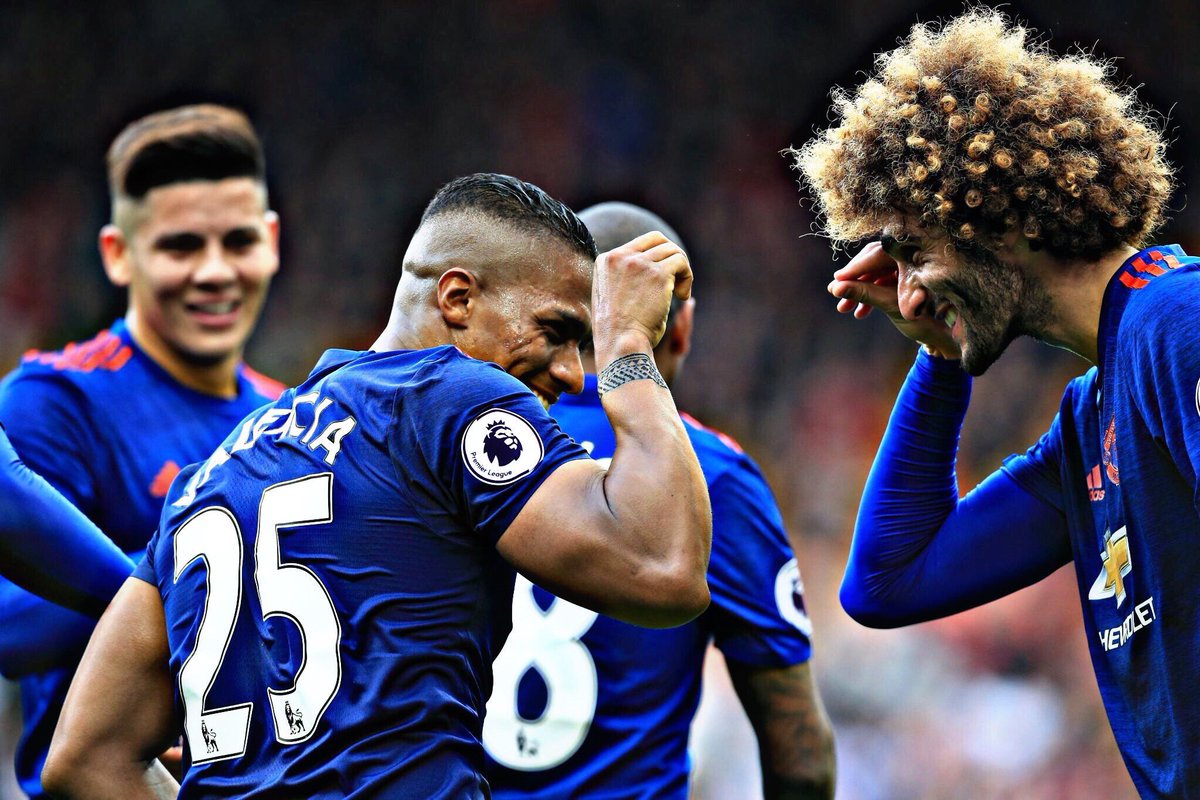 Sunday's 3-1 win at the Riverside Stadium – which ended in a furious tunnel bust-up – now sees Man United rising above the sixth place for the first time since September.
Manchester United's victory over Middlesbrough on Sunday saw ugly scenes both on and off the pitch as players from both the sides clashed.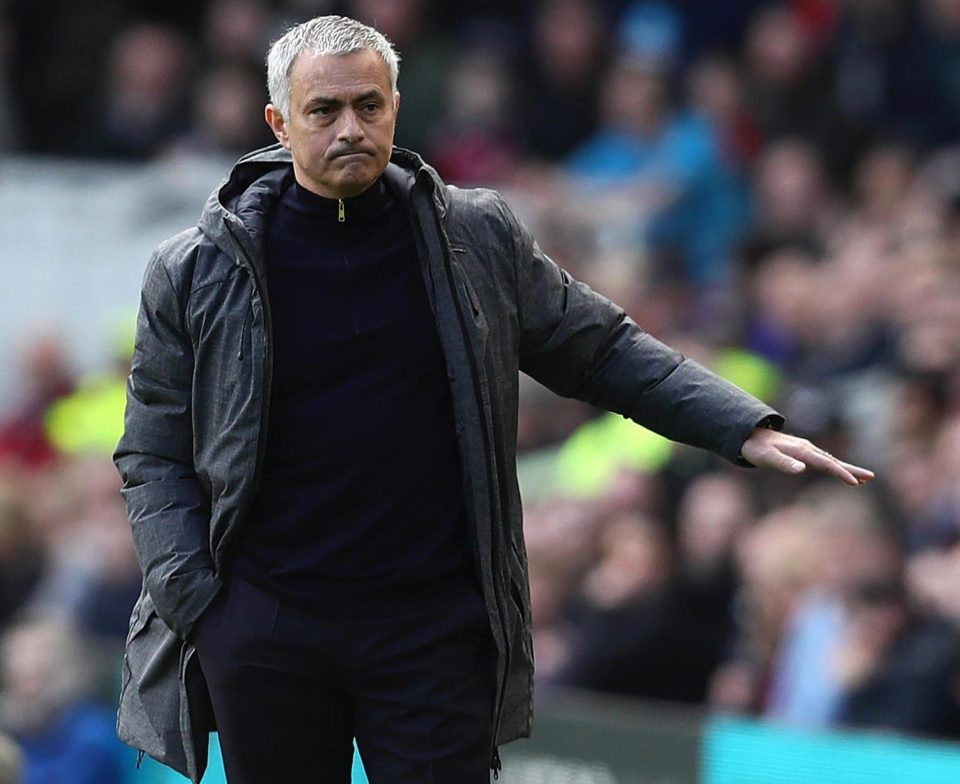 Mourinho, who went into the game without the services of Zlatan Ibrahimovic, Paul Pogba and Wayne Rooney, had also rested Henrikh Mkhitaryan after already moaning about fixture pile-up and fatigue in midweek.
But now Man Utd are two points ahead of sixth placed Arsenal, thanks to goals from Marouane Fellaini, Jesse Lingard and Antonio Valencia.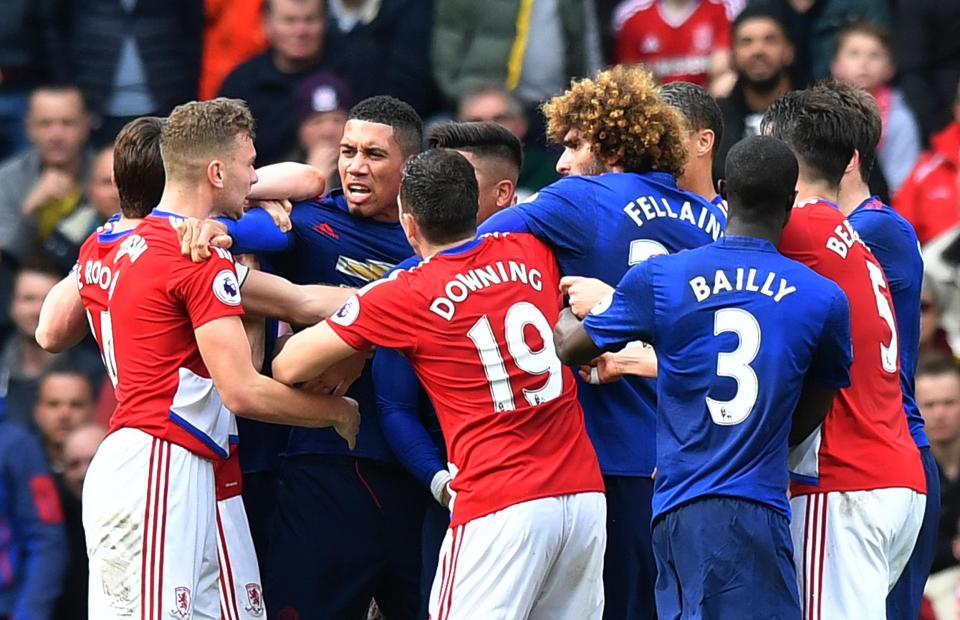 Boro striker Rudy Gestede and Manchester United centre-back Eric Bailly were the first to initiate the ugly scenes during the last quarter of the game.
It all started with a little bit of push and shove as Gestede and Bailly geared up for a set-piece. They quickly lost their tempers as the Boro striker was seen bringing his face too close to the Man Utd defender's neck.
It got worse within seconds after several players from both the sides gathered around to back-up their team-mate.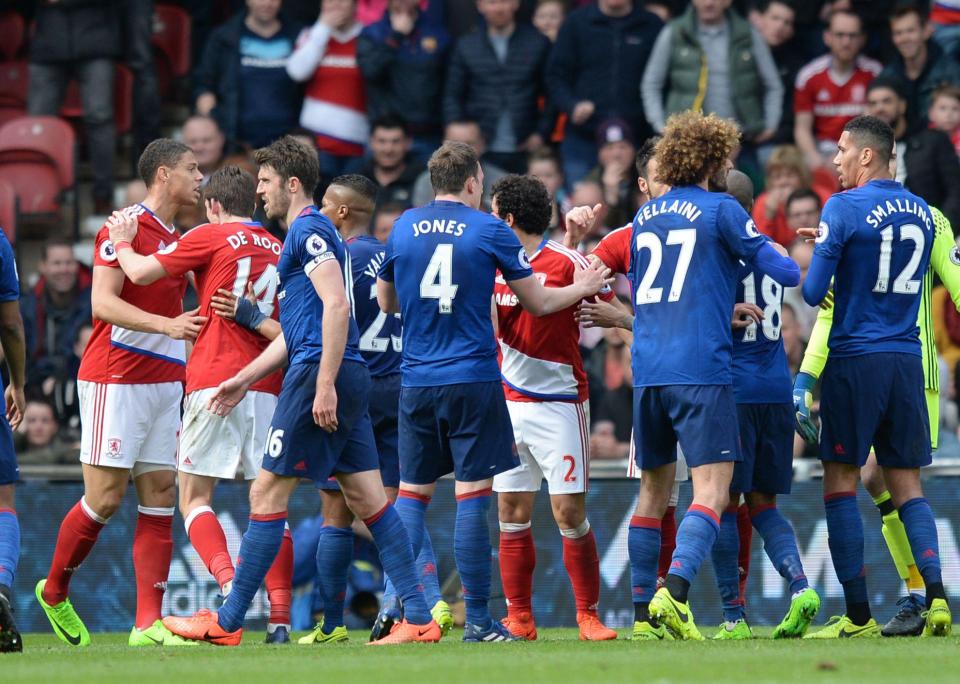 The situation was brought under control shortly but further chaos broke out at full-time following the high-octane Premier League clash.
And when the players headed down the tunnel, chaos broke out again and took shape of a furious tussle.
Bailly & Gestede were involved in a ugly confrontation in the tunnel after the final whistle ?#MUFC #BORO pic.twitter.com/R1igzg3TCi

— BET A BONUS (@BetABonus) March 20, 2017
BT Sport caught bits and parts of the bust-up on camera, as Jesse Lingard tried to stop Ashley Young while Michael Carrick tried to keep Eric Bailly away from trouble.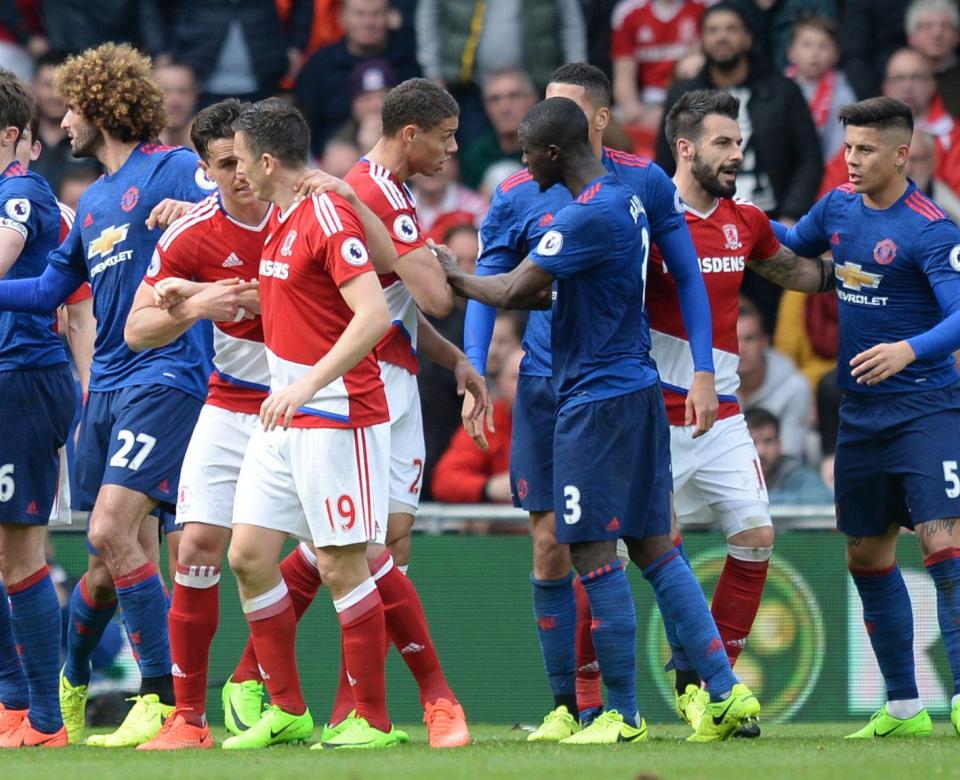 The high-octane tussle between Gestede and Bailly broke out in injury-time as Boro desperately searched for a late equaliser.
Bailly closely marked Gestede and the Boro striker lost his cool and lashed out by pushing him away.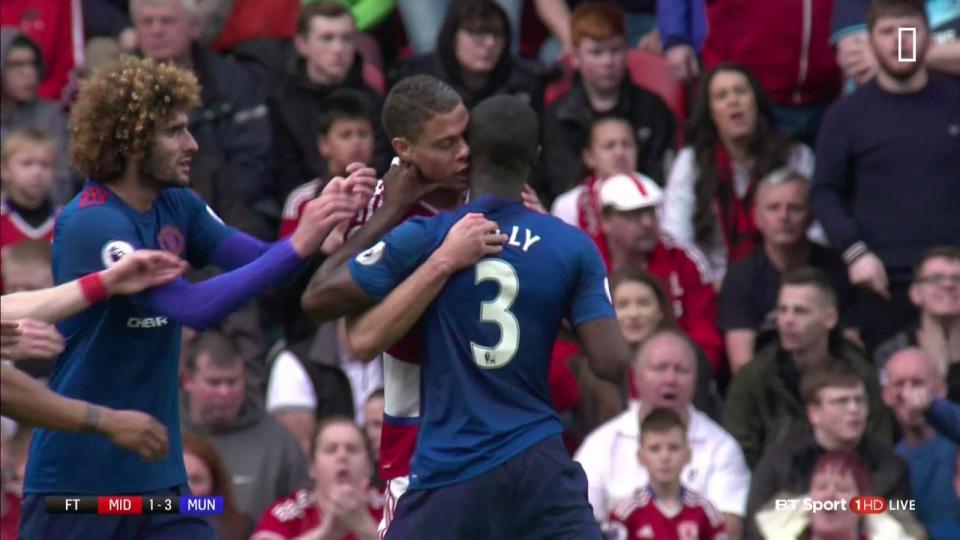 The Man Utd ace hit back with a furious reply and shoved Gestede back and Boro's goalscorer put his arm around Bailly's neck and was seen whispering something into his ear.
Gestede biting bailly on the neck,if this was the other way round bailly would be banned for the season @FA RT pic.twitter.com/h7BKfFSUH0

— AM11 (@primemartial) March 19, 2017
And this led to players from both sides jumping in to separate the duo before they engaged in several other confrontations.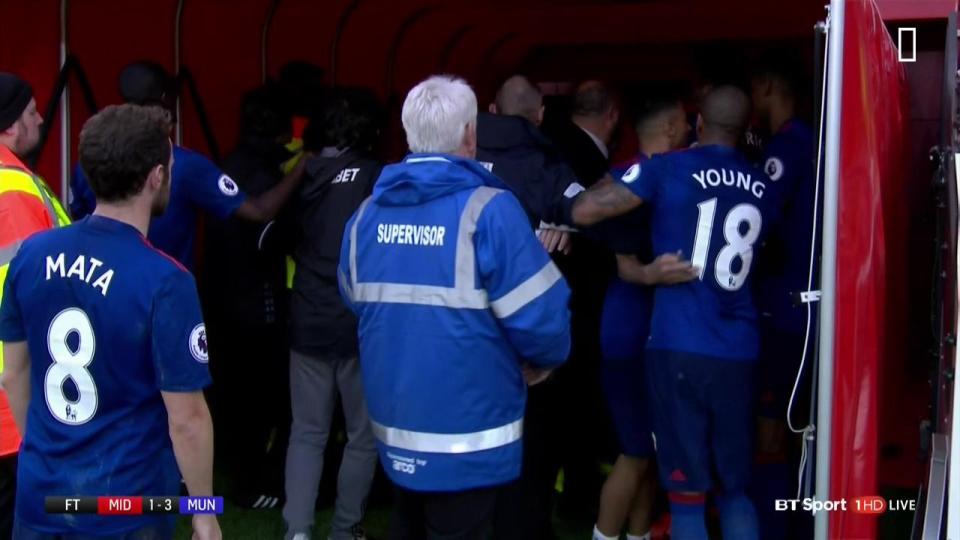 Boro captain Ben Gibson believed that Man Utd defender Bailly had intended to bite his fellow team-mate during their on-field clash.
However, substitute Gestede, who had pulled one back for Boro to make 2-1, has denied that anything offensive had taken place.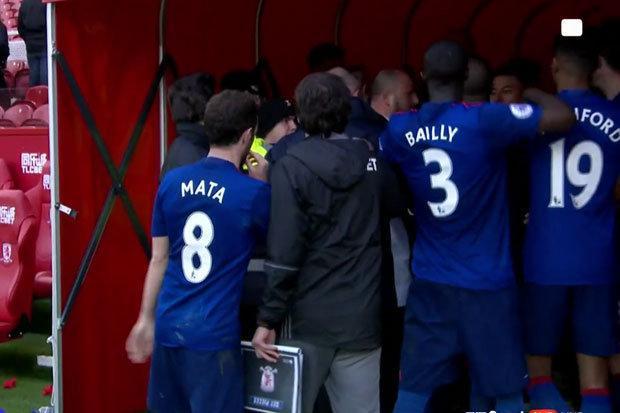 The striker, 28, revealed: "We had a few words together, it was nothing major."
"He gave me a hug and a kiss, that's it. I didn't feel anything."
"Ben thought he bit me, so that's why he reacted like he did."
"But I told him now we were just talking, there was no problem."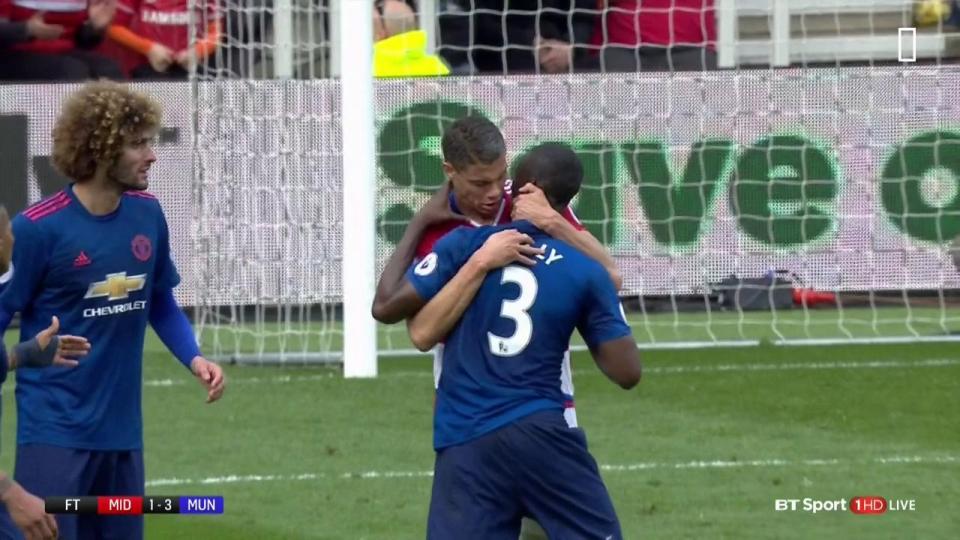 Manchester United defender Phil Jones also played down the afters in the tunnel."
The England defender, 25, said: "I think it was a bit of frustration creeping in on their behalf."
"When emotions are high these things happen, but it was something and nothing."
Boro caretaker boss Steve Agnew added: "It was just a group of players pushing and shoving."
"I have a group of well-behaved players. There will have been a reaction because of the spirit they have."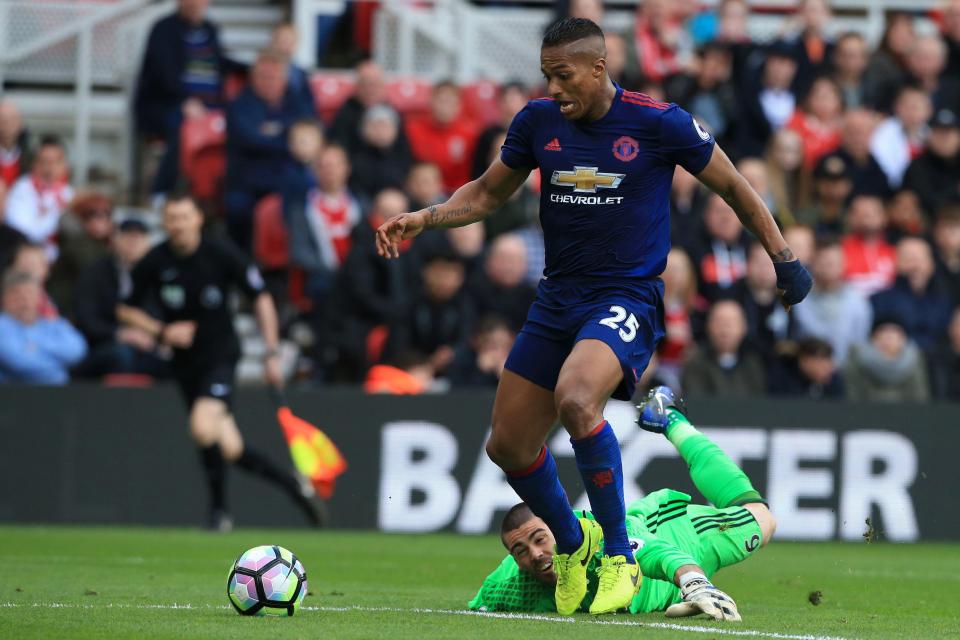 After reviewing the incident after the match on BT Sport, Michael Owen said: "You think 'is someone trying to bite him?"
"The pictures clearly show it was nothing like that but when Ben Gibson goes up to the referee you quite clearly lip-read him saying that he's gone to bit him."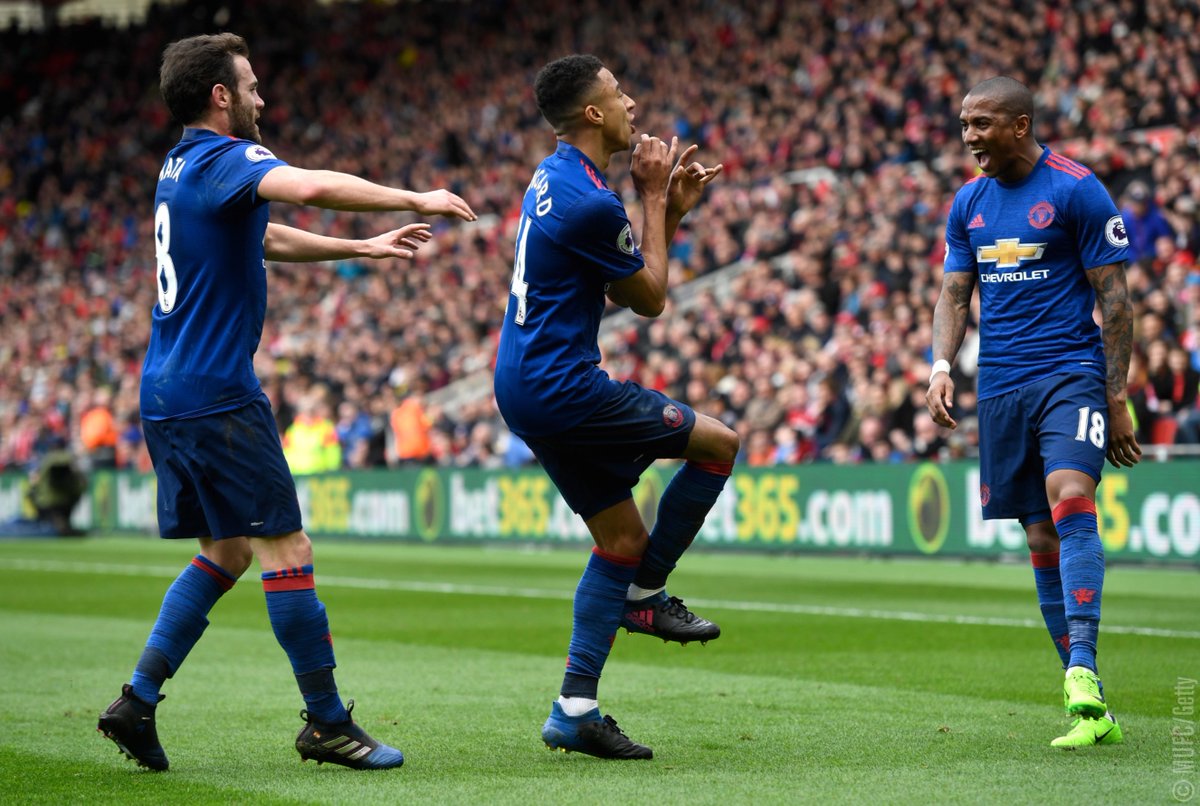 "But I don't think there is. Initially when you see them come together you think it could be, but those pictures clear it up."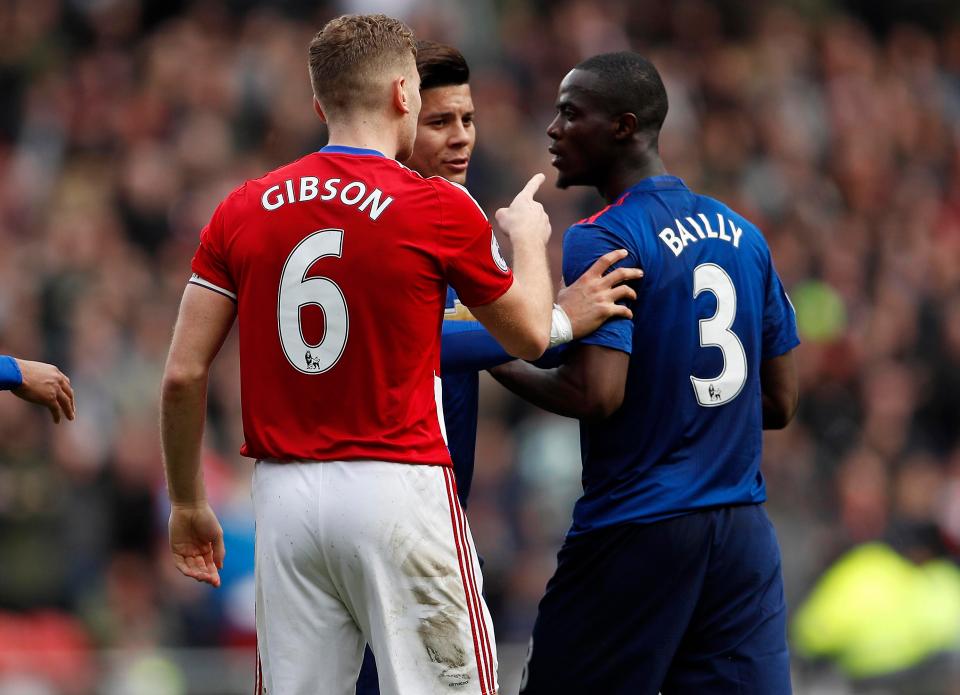 Fellow pundit Owen Hargreaves added: "There was a lot happening. I'm guessing something must have happened for Gestede to react in that way. I'm not sure if Jon Moss saw it."