Friends, colleagues and future of Barcelona, Jose Mourinho and Pep Guardiola were all of these for four years.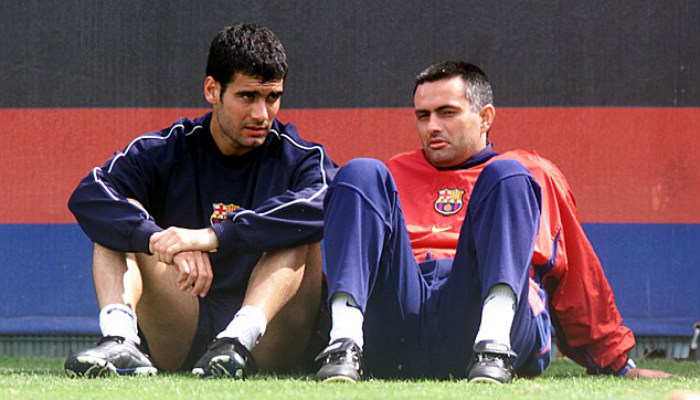 The duo spent four years at Barcelona together, and according to Mourinho himself, they shared a very close relationship at that time, but things changed, changed very quickly.
Mourinho was the chosen one for Barcelona in 2008, the Champions League winning manager had just left Chelsea after making the West-London club one of Europe's most feared team. The Portuguese wanted to return to Camp Nou, but his home-coming was crashed by old friend Pep Guardiola and that changed the history of their relationship.
Two of the greatest modern-era managers turned from friends to foe just like that. One day is all it took to create one of the most fierce and bitter rivalry of the twenty-first century.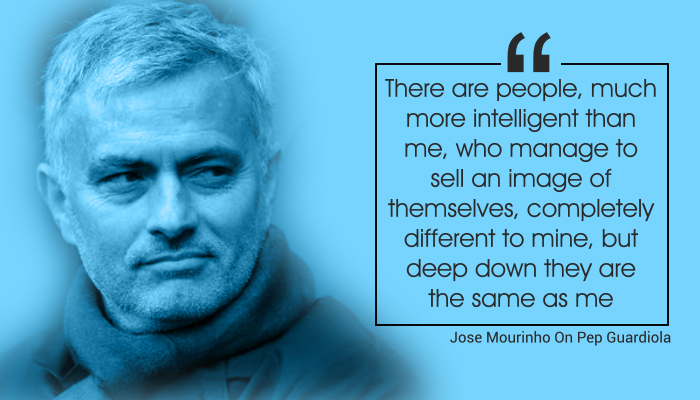 Jose Mourinho once said about Pep Guardiola "There are people, much more intelligent than me, who manage to sell an image of themselves, completely different to mine, but deep down they are the same as me."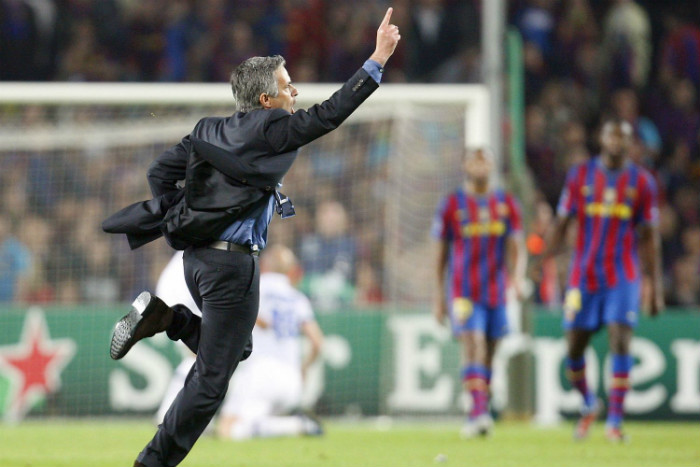 It was in April 2010 that Mourinho got his sweet revenge over former friend Pep, after his Internazionale team knocked Pep's Barcelona out of the Champions League. What was more humiliating was, it happened in Barca and Pep's own backyard, Camp Nou. Jose celebrated by running across the length of the pitch, his fingers pointing towards the sky. Maybe he was celebrating the historical win or maybe the "Special One" was announcing his arrival in Spain.
Mourinho left Inter that summer and arrived in Spain, he was appointed as the manager of Pep's biggest rivals Real Madrid. The battle that started a few months back at Camp Nou was now an official war, with two former mates set to lock-horns for the ultimate supremacy. However, Jose didn't come empty handed. He came with a life-size cutout of himself from that night in Camp Nou, kept in his office at Real's training ground. A reminder of triumph over his nemesis.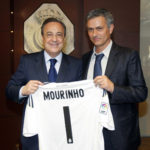 The stage was set, the supporters were ready, the players were geared up, but Jose wasn't satisfied with just that. What was already a vicious rivalry between two heated rivals, was something more for Mourinho, it was personal. And he showed no signs to hide it, as he went on a rampage to provoke and outclass Pep in interviews and press conferences. However, Pep never spoke a word about his former club-mate. The Spaniard stayed mum, never speaking out on comments by Jose, not even responding to personal attacks. He once famously said "I know Mourinho and he's trying to provoke me into a reaction, but it won't work. I'm not going to react. I'm not going to answer back. Only when I think the time is right." The Spaniard had other plans, he chose to answer Mourinho on the pitch, and answer he did.
Jose Mourinho's Galactico's were thrashed 0-5 by Pep's Barcelona. Pep sent a strong message to Jose, talk on the pitch, but Mourinho continued his off-pitch attacks on Pep and Barcelona while battles on field largely went Guardiola's way.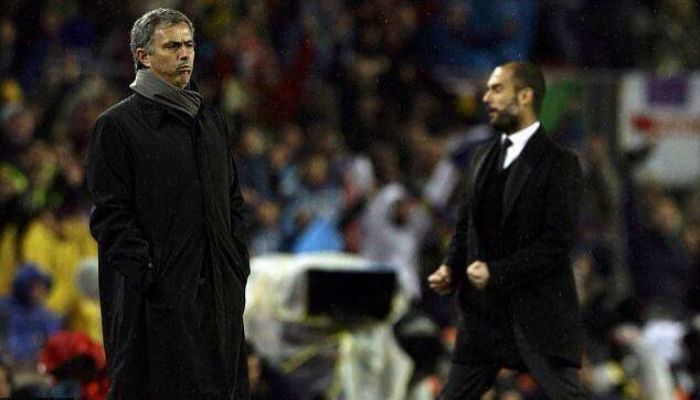 Then came the summer of 2011, the most bitter period in the Jose-Pep rivalry, Real and Barca were set to face each-other 4 times in eighteen days, everyone knew something big was gonna happen in the next few days. Some even questioned Pep's patience stating that Mourinho will get under his skin and the Barcelona boss will ultimately succumb to Jose's mind-games.
Jose's off-the-pitch aggression was matched by his players on-the-pitch, as Real went on to play some of the roughest games in their history, which was evenly matched by Pep's Barcelona players – who would go down at the slightest of touch, DIVERS as they were called in the media. In the Copa Del Rey final, Pedro's goal was disallowed by the referee for off-side, a decision that made Pep say "A two-centimeter decision from a linesman who must have had a very good view ruled out Pedro's goal."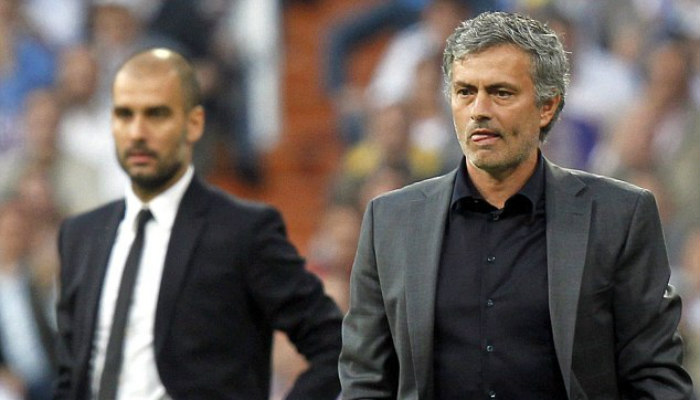 Jose got a reaction and he didn't let a minute pass without taking advantage of the situation, On April 26 Mourinho launched an offence on the Barcelona boss while he was having lunch with the team at the Eurostars Madrid Tower Hotel, "We have started a new cycle," Mourinho said "Up until now there was a very small group of coaches who didn't talk about referees and a very large group, in which I am included, who criticize referees. Now, with Pep's comments, we have started a new era with a third group, featuring only one person, a man who criticizes the referee when he makes good decisions. This is completely new to me." The team saw it live and so did Pep, it was time. Next day Pep launched the counter when he said "Senor Mourinho has permitted himself the luxury of calling me Pep, so I will call him Jose," he said. "Tomorrow at 8:45pm we face each other on the pitch. He has won the battle off the pitch. If he wants his own personal Champions League trophy away from the pitch, let him take it home and enjoy it. In this room [the Bernabéu press room] Mourinho is the f***** chief, the f***** boss. He knows all about this and I don't want to compete with him in here. I'd just like to remind him that I worked with him for four years [at Barcelona]. He knows me and I know him.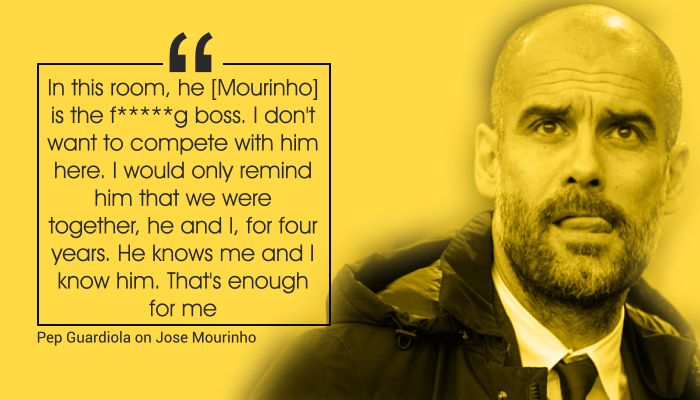 "If he prefers to value the views of the journalist friends who take their information in a drip feed from Florentino Pérez more than the relationship we had for four years then that's his choice. I try to learn from Jose on the pitch, but I prefer to learn as little as possible from him off the pitch." A response that got him a standing ovation from his players, The good-boy of Barcelona had finally responded to the bullish bad-boy.
Mourinho, on the other-hand was content, he had finally achieved what he desired. He broke Pep's patience and concentration, which was evident as Real won the title after 4 years. Jose had managed to end Barcelona's dominance in Spanish football, Pep Guardiola's wonder team were finally beaten.  And so was Guardiola, who left Barcelona at the end of the season. A decision which was heavily influenced by Jose Mourinho's constant mind-games and attacks.
Pep had an impressive El Clasico record of W5 L2 D4 against Jose. Though it is said that he privately confessed "Mourinho has won the war." Pep's close allies also state that it was Mourinho and his antics that forced him to take a sabbatical.
Long before any of this happened, in 1997, Barcelona won the European Cup Winners Cup under Sir Bobby Robson, and two-men celebrated with a warm hug in the middle of the pitch, midfielder Pep Guardiola and assistant coach Jose Mourinho. The Manchester United boss was also presented with a copy of the photograph. "Yes, I still have a photo of that embrace," Mourinho had said adding "We were close."
Jose was supposed to take-over the reigns from Frank Rijkaard and he wanted to promote Pep from the Barcelona B' team to the senior team as his assistant, even Pep had recommended Mourinho's name, but Johan Cryuff though otherwise and the job went to Pep's way.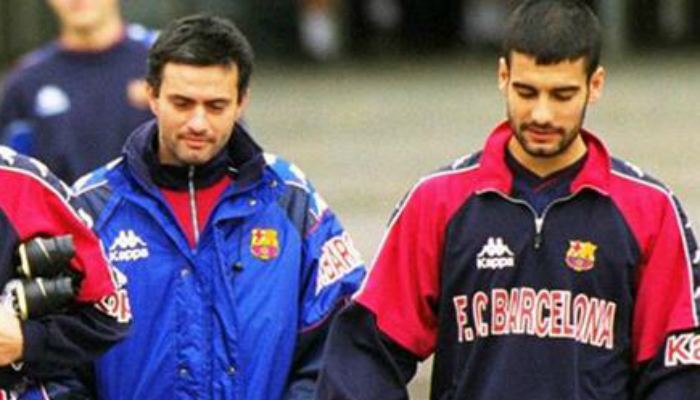 Mourinho and Pep were an instrumental part of Sir Bobby's team at Barcelona, the two would share idea's, help players. Guardiola had said "We would exchange ideas,' said Guardiola. 'It was a friendship, well a working relationship." The duo were also named by many players of the 1997 squad as the tactical masterminds behind the teams success.
A decade later, the two were at each-others throat, accusing one-another. While Jose accused Pep and his team of being favored by UEFA due to UNICEF being on their jersey, Pep blamed Mourinho of instilling venom in Real players, creating a poisonous atmosphere.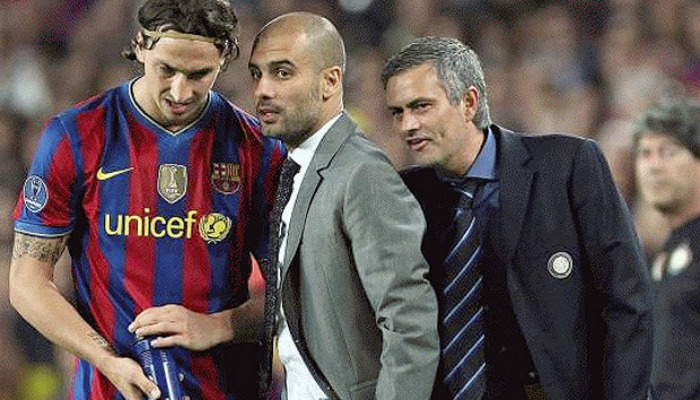 Swedish superstar Zlatan Ibrahimovic, who played under both the managers said 'Pep would sh** himself in front of Mourinho'. Zlatan is back playing for Mourinho at United and the Swede will want to get one-up over his former boss.
Pep has always shown that he doesn't care about the much-hyped animosity, but people close to the 47-year-old say that his personality and physicality change at the mere mention of Mourinho's name. Guillem Balague who wrote Pep's biography stated "An invisible wall pops up. His neck muscles tense, his shoulders hunch and he stops looking you in the eye."
Mourinho once said that they both were very similar, but when Pep was asked to comment on it he blew it off saying "If that's true, I will have to revise my behaviour."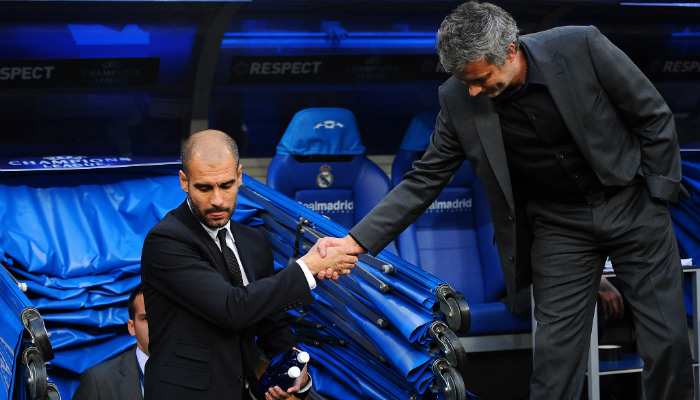 The two men met at the Premier League managers meeting earlier this summer and it was reported that they were cordial with each-other, but the real test lies ahead. What started in 2008 and intensified in 2010 is set to return.
The Manchester derby, like the El Classico is of deep rooted animosity and hatred. However, it hasn't yet reached the pinnacle of the Jose-Pep era of the Spanish derby, but with the duo once-again set to lock horns in the shores of England, which rivalry prevails is to be seen.
ALSO READ : Billion Pound Bazaar! English Premier League Breaks Football Transfer Record