Despite being bitter rivals, there are a lot of similarities between Liverpool and Manchester United. Both clubs have working class origins. Both clubs have enjoyed success in specific spells followed by periods of difficulty. Both clubs' most successful managers have had a socialist disposition.
In the 21st century, another similarity emerged for Liverpool and United a few years apart – American ownership. The Glazers bought Manchester United in 2005, immediately putting it under considerable debt while Liverpool were taken over by John Henry's Fenway Sports Group (FSG) in 2010.
Manchester United generated £1.3B over a 10 year period (2007/2017). 49% of £1.3B which is £637M was used to pay for the Glazers debt(Yellow bar). Money is still being taken out from United till this day to pay for the Glazers debt.#MUFC #GlazersOut pic.twitter.com/4CqAxLLNmo

— Mo (@Utd_Moo) September 15, 2020
Now, as the two sides clash on Sunday in the Premier League, a specter haunts over the match. The supporters of both sides in a surprising and rather angry solidarity against their ownership.
HISTORY OF PROTESTS
The Glazers have never been popular at Old Trafford irrespective of on-field performances. When they purchased the club, United was profitable and debt-free. In the years since their takeover, the club's revenues have grown thanks to the good commercial performance but most of it has gone into the pockets of their owners.
Even in the pandemic riddled year, which supposedly invited the formation of the European Super League, the Glazers saw fit to pay themselves a hefty dividend. Their proliferation from the club has resulted in a decline of on-field results with only commercial success being valued in the organisation.
This has inevitably ruffled quite a few feathers and United fans have been protesting against their owners for years.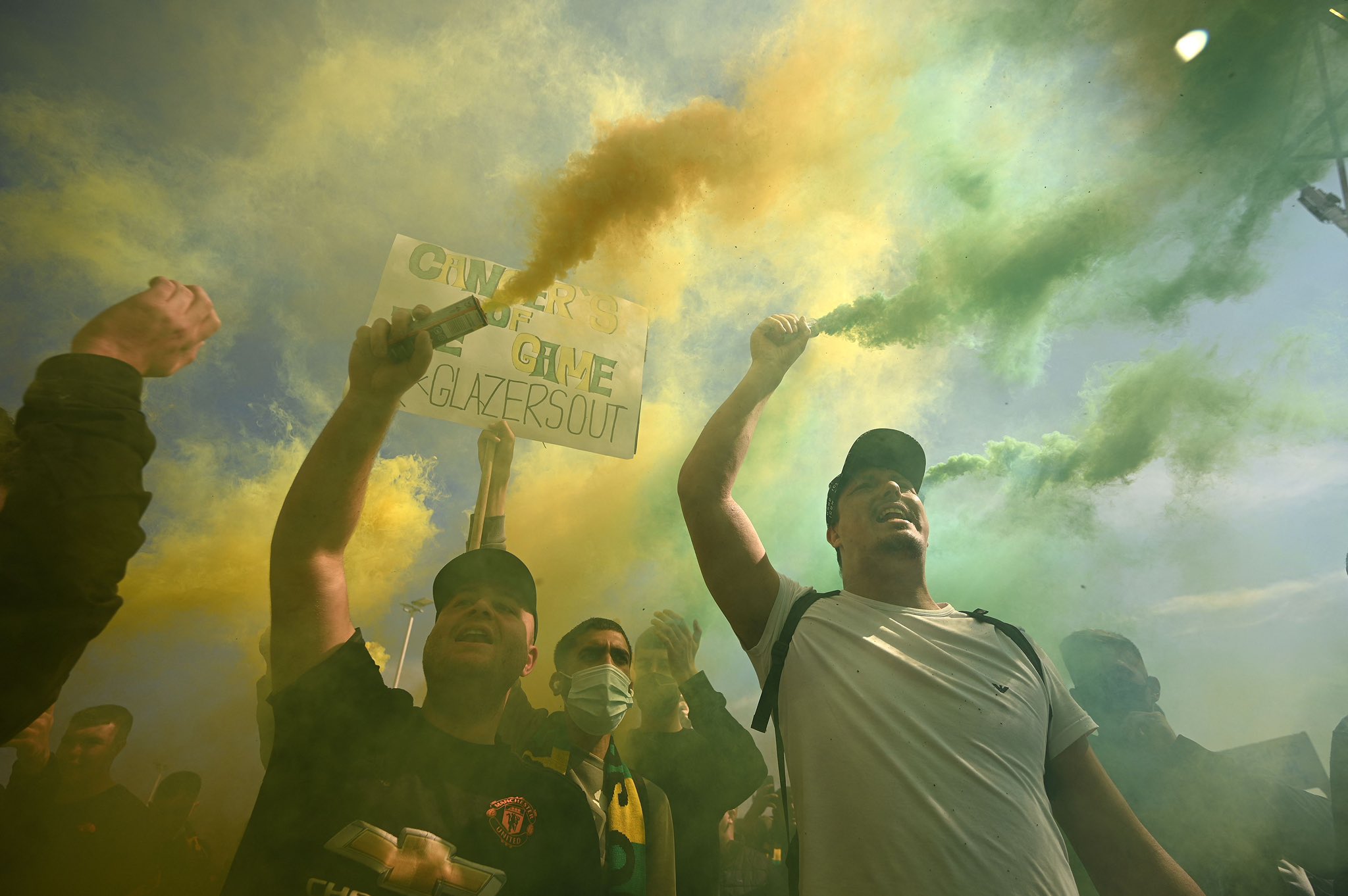 Liverpool's performances have seen an upward trajectory since FSG's takeover. However, little of it is down to the ownership. The exceptional management of first Brendan Rodgers and then Jurgen Klopp has seen the team become competitive despite having budgets that are dwarfed by some of its rivals.
FSG have had multiple run-ins with the fans over unpopular decisions. Most notably, in 2016 when the owners decided to increase ticket prices to 77 pounds. This was met by large scale fan protests including a walkout in a Premier League match in the 77th minute. FSG were forced  to reverse their decision.
Liverpool fans urged to support Anfield walkout in ticket price protest https://t.co/jcWflg8rUM pic.twitter.com/SlaykSOuY3

— Liverpool FC News (@LivEchoLFC) February 4, 2016
They also tried to get the city's name registered as a trademark which would have proved disastrous for local small businesses. Further, they decided to put non-playing staff on furlough in the immediate aftermath of the Covid-19 breakout. These decisions were also overturned after fan disappointment.
EUROPEAN SUPER LEAGUE
Speaking of reversing decisions, the decision of the owners to be amongst the 12 founding clubs of the ill-fated Super League was the latest one to rile the fans. Supporters' of both teams gathered in huge numbers outside their respective stadiums to show their opposition to the breakaway league.
🏟 Protest flags outside Anfield today

Have your voice as a fan heard by taking our Future of Football survey below

👉https://t.co/AS9dQ6JPUU pic.twitter.com/Nmwk9y0eh4

— The Chronicle (@ChronicleNUFC) April 24, 2021
The decision was eventually reversed but it has pushed the fans over the edge, so to say. It was a naked display of financial greed and removed any doubt that supporters had over the ownership's intentions. Fans are not satisfied with the reversal of the Super League decision. They want their owners to leave.
PLANNED PROTESTS AT OLD TRAFFORD
Close to 10,000 Manchester United supporters are expected to be present outside Old Trafford to protest against the Glazers ahead of their Sunday match against Liverpool. The fans last week held posters that read '51% MUFC 20' in reference to Bundesliga's mandatory ownership model.
Liverpool fans hung banners outside Anfield and chartered a plane to express their displeasure towards their ownership last month. FSG and Glazers should consider themselves lucky that fans are not allowed inside the stadium during this turbulent time.
A statement from @MU_ST as plans are confirmed for a protest on Sunday May 2nd, 2pm at Old Trafford.#MUFC pic.twitter.com/H9KEkunM8n

— Stretford Paddock (@StretfordPaddck) April 23, 2021
United have more or less confirmed their Champions League qualification for next season and are more focused on their Europa League endeavours. Liverpool have much to play for but perhaps the biggest and most crucial battle is the one set to take place on the streets rather than on the field.