An 89th minute winner from Phil Foden spared the blushes of Manchester City as they beat Borussia Dortmund 2-1 in what was a tight game between the two sides.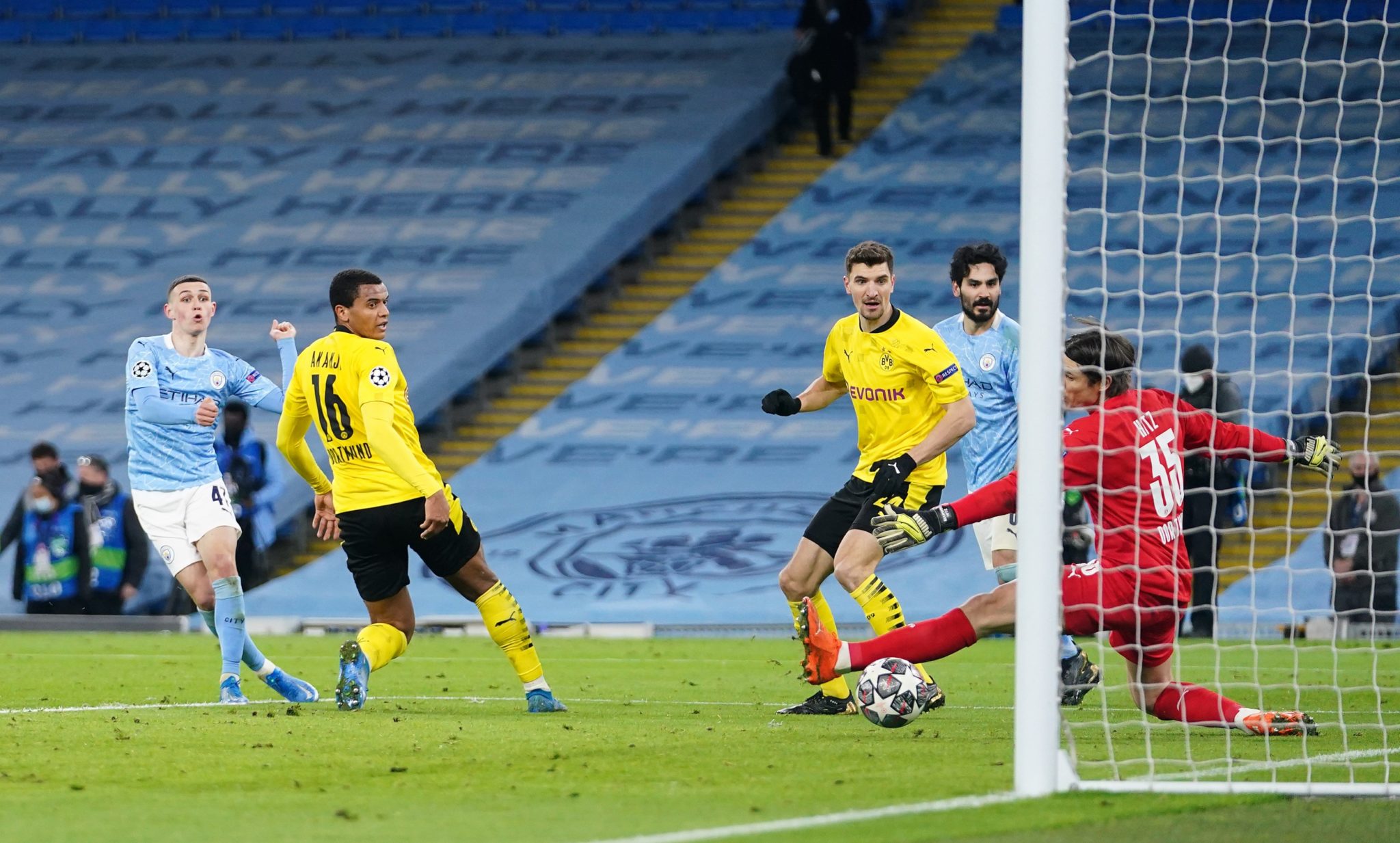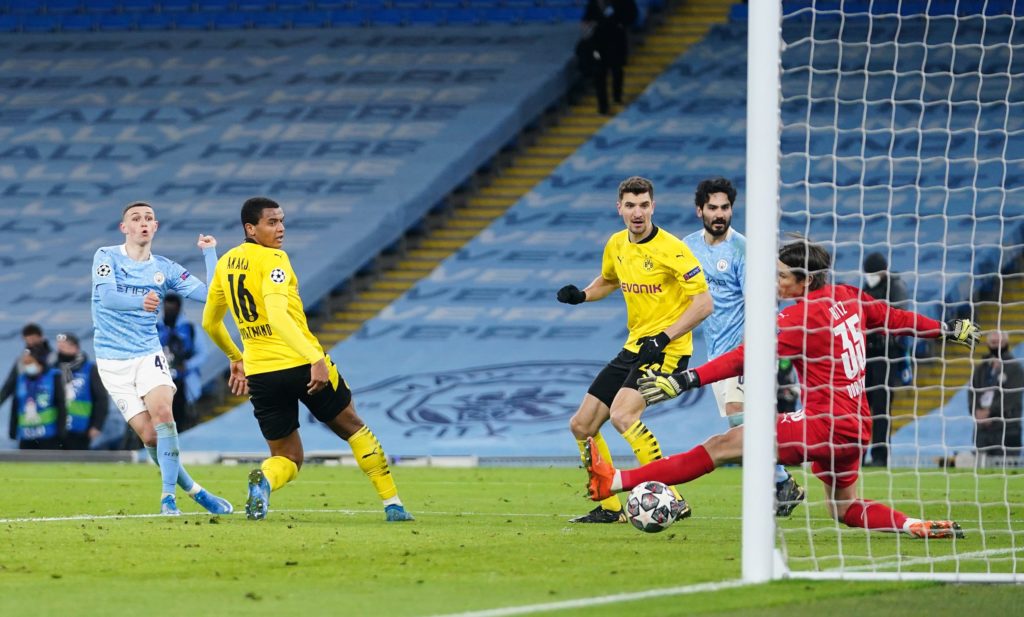 (Image Courtesy: UEFA Champions League / Twitter)
City went into the lead in the 19th minute of the game through Kevin De Bruyne after capitalising on a Emre Can mistake but were lucky to be ahead at halftime after a legitimate goal by Jude Bellingham was ruled out. Dortmund came out flying in the 2nd half and were duly rewarded with a goal as Marco Reus equalised in the 84th minute. However, a over the top ball from De Bruyne was cleverly pulled back by Gundogan for Foden, who placed it to perfection. Here are 4 takeaways from the fixture:
HELLO REFEREE?
🎙 Jude Bellingham:

"It was an unfortunate result, but we'll take the away goal with us. We're going into the second leg with our heads held high. In my opinion, the challenge in the first half wasn't a foul." pic.twitter.com/i7m2UbGRc6

— Borussia Dortmund (@BlackYellow) April 6, 2021
Another day, another refereeing howler. After Kevin De Bruyne fired Manchester City into the lead in the 19th minute against Dortmund in this game, what came was a surprise to everyone around the world, even City fans for that matter. The first, a penalty that was awarded to Manchester City after Emre Can was adjudged to have hit Rodri in the face and subsequently was awarded a yellow card. After a VAR check, which showed that there was daylight gap between Can's foot and Rodri's face, the penalty was correctly overturned, but the yellow card issued was not rescinded, baffling the visitors.
Then came the howler, which saw the referee award a freekick against Dortmund after Jude Bellingham pounced upon a bad touch by Ederson and poked the ball towards the goal, which to the surprise of many, was deemed a foul on Ederson when it was the other way round. VAR could not come into the picture this time as the whistle had been blown before the ball was in the goal, and it's frustrating that even though there is so much of technology available, it is not being using correctly, or in many cases not at all….
ONCE IN A BLUE MOON
Ruben Dias, since his move from Benfica in the summer, has been a rock in the heart of City's defence but he was far from his best in the game against Dortmund. Irresponsible judgement, passes that nearly found a Dortmund player around the box, getting bullied physically for what was almost a goal out of nothing for Dortmund, Dias will not look back at this performance too fondly and will have to rectify his errors before the return leg in a weeks' time.
WOODYINHO FINALLY DOES IT
We present to you Borussia Dortmund's all-time leading Champions League scorer (18), Marco Reus! ⚽️

Congratulations, legend! 👏 pic.twitter.com/ABOV6f9dsl

— Borussia Dortmund (@BlackYellow) April 6, 2021
After nearly 3 years, Marco Reus finally became the all-time leading goal scorer for Borussia Dortmund crossing his best-friend and Bayern Munich attacker Robert Lewandowski. Reus scored his 18th goal after a lovely sequence between him and Erling Haaland as they looked to breach a City defence that has not concded for 788 minutes in the Champions League. Albeit in a losing cause, the Dortmund captain's record must be held in high regard after numerous injuries marred, what should have been a glittering career.
17 YEARS OLD. NO PROBLEM.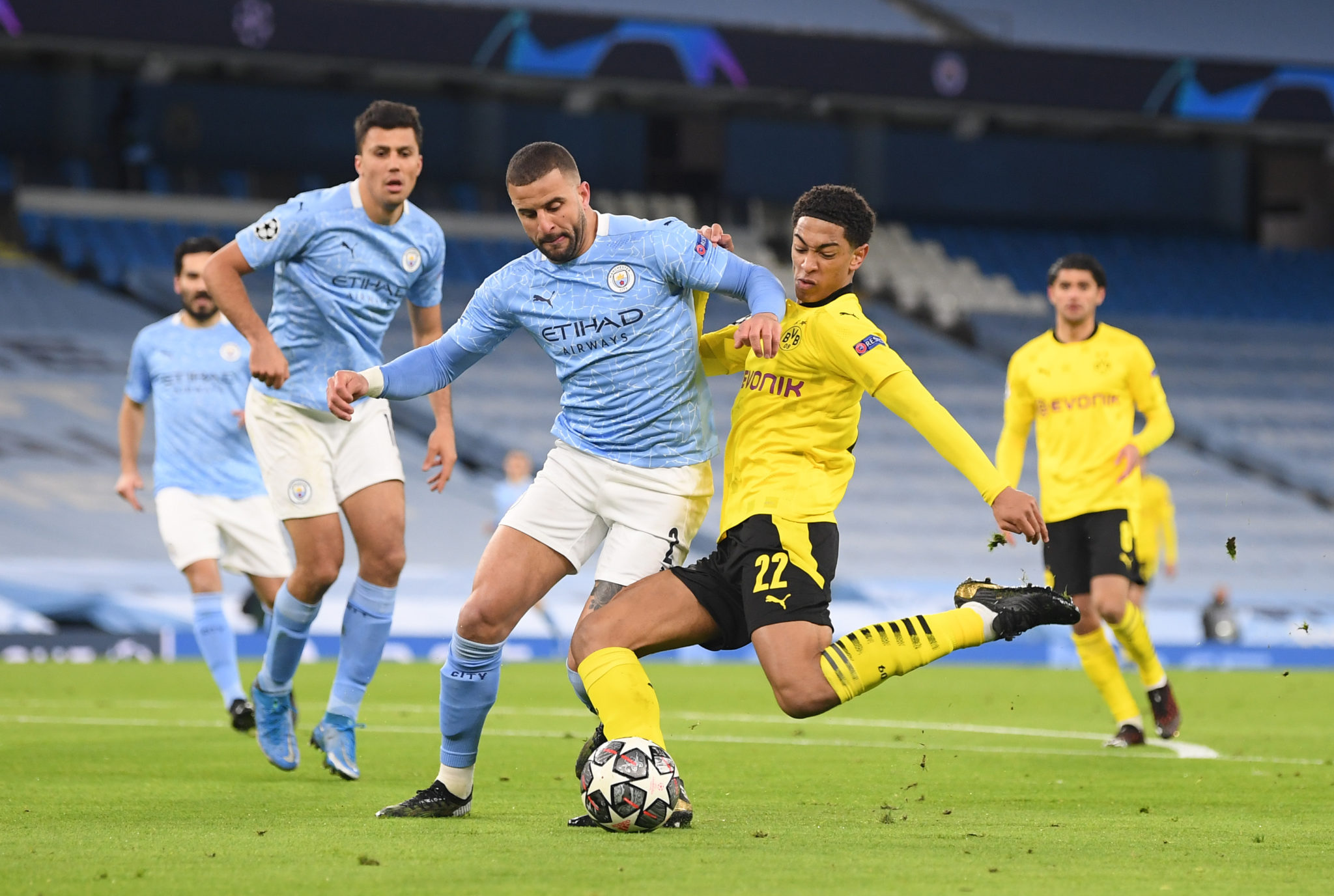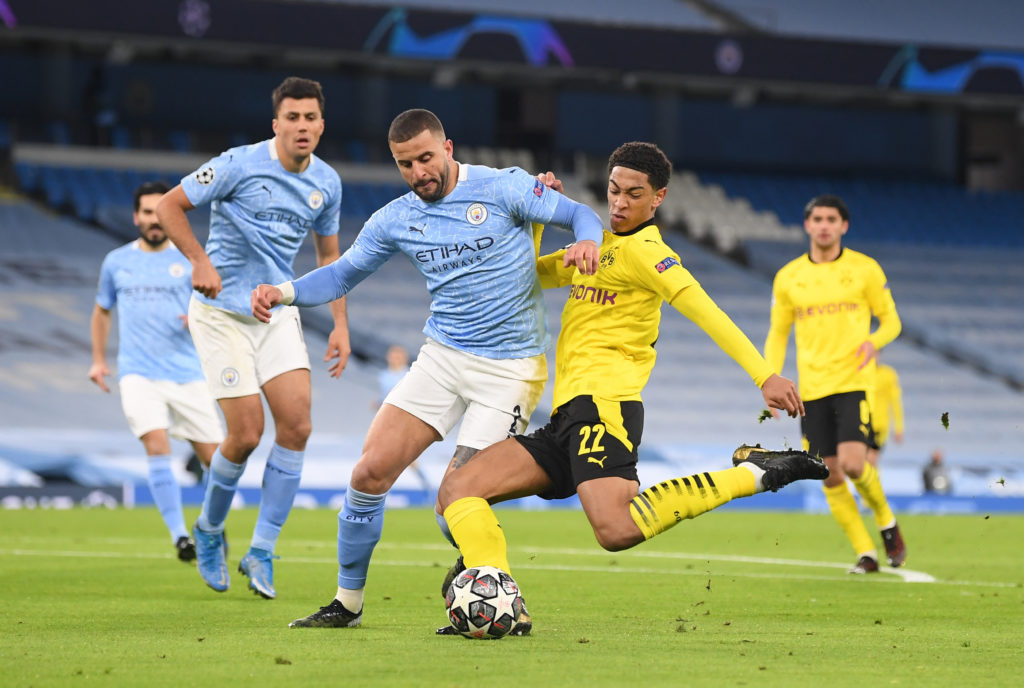 (Image Courtesy: UEFA Champions League / Twitter)
After scoring what was a legitimate goal that was ruled out, many 17-year-olds would have had put their arms up and play out the game with no interest. But that isn't Jude Bellingham as the English youngster put his head down and carried on with a performance that can potentially cement his place in the England squad for the upcoming Euros.
The kid was all over the pitch, winning duels, making interceptions, passing with conviction, an intent to win the ball back quickly after losing it and instrumental in the build-up for Dortmund's equaliser. Against a star studded and packed City midfield which included the former Borussia Dortmund man, Ilkay Gundogan, Kevin De Bruyne, and Rodri, Bellingham was more than up for the task but perhaps this time everyone back in England will sit up and take notice of his prodigious talent.