A Marcos Alonso winner in injury time helped Chelsea stun Manchester City at the Etihad on Saturday, resulting in the postponement of City's title celebration to at least another day.
WHAT A COMEBACK. WHAT A WIN!!! 👌#MCICHE pic.twitter.com/y3Z71AOf4M

— Chelsea FC (@ChelseaFC) May 8, 2021
The match started off with the intensity that was expected from the beginning, with City keeping most off the ball, forcing Chelsea to play on the counter. First clear sight of goal was seen when Timo Werner had thought he had opened the scoring for the Blues, but he strayed in an offside position while receiving the ball.
City continued to bombard the Chelsea box and created half-chances which were either easily dealt by the Chelsea defenders or Edouard Mendy was behind them. And as things go in football, naturally the player who had escaped a possible sending off earlier in the game goes on to score for his team.
Did Sterling's tackle deserve a yellow card or a red card?
pic.twitter.com/e3sLxvv06p #MCICHE

— Full Time Sports News (@FTSportsNews) May 8, 2021
That was happened today, when Raheem Sterling was lucky to avoid a red after his reckless challenge on Timo Werner in the opening 15 minutes, and he went to score the game's first goal just before halftime after Sergio Aguero had a poor touch with a ball from Gabriel Jesus.
Minutes later, City were awarded a penalty when youngster Billy Gilmour was adjudged to have bought down Jesus in the box, although Aguero went on to miss the penalty after a failed Panenka. In the second half, the game opened up and Chelsea started to keep more of the ball with themselves and that resulted in Hakim Ziyech equalising for Chelsea in the 63rd minute after a lovely move.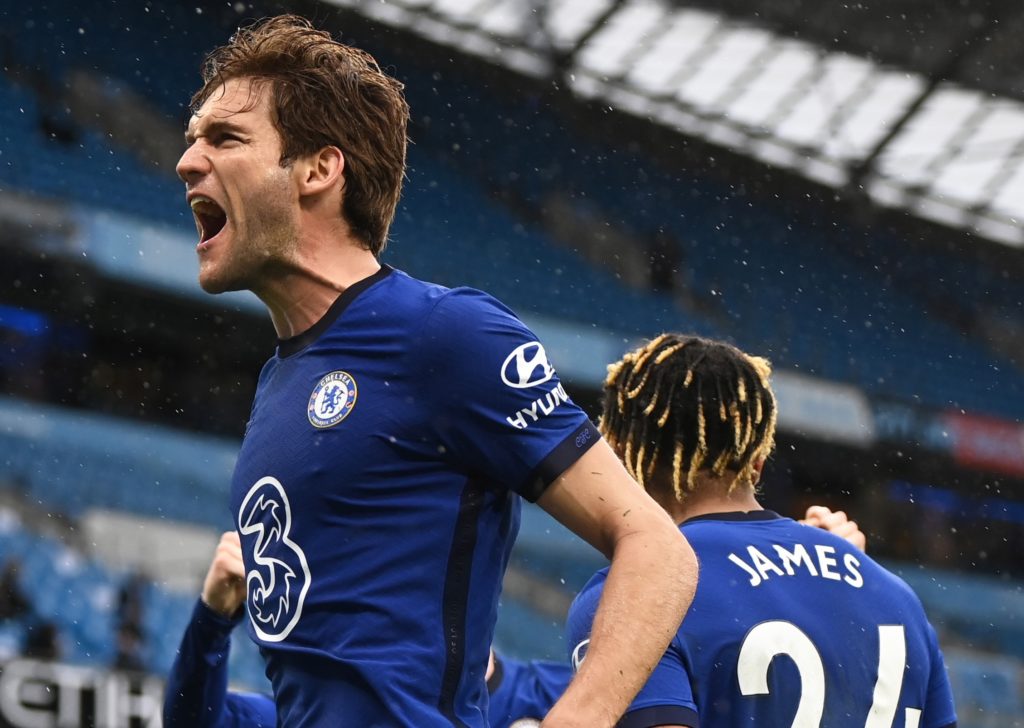 Alonso celebrating after scoring the winner against Manchester City. (Image Courtesy: Chelsea / Twitter)
Chelsea went on to put the ball two more times in the net but both of them were again correctly ruled out offside. In the 88th minute, Kurt Zouma clumsily bought a goal side Sterling down, in what looked like a similar incident to the first half penalty, but any complaints were waived off by the referee and VAR, before Marcos Alonso completed a sweeping move to record a famous win for Thomas Tuchel's side.
This result took Chelsea to 3rd, with 64 points in the table, leapfrogging Leicester, with 63, who had lost 4-2 against Newcastle on Friday. Meanwhile Manchester City's title celebrations have taken a halt after this defeat but will hope to continue them if Manchester United drop points in any of their next three fixtures.
Here are three key takeaways from the fixture:
OVERTHINKING AT ITS VERY BEST
When the line-ups were announced, people were flabbergasted to see the team Pep Guardiola had put out. While Thomas Tuchel made five changes to the line-up that had defeated Real Madrid in the mid-week, the replacements were like for like and in correct positions, whereas Guardiola had done a real madness. We, at FootTheBall, had predicted some rotations in City's lineup but how wrong we were.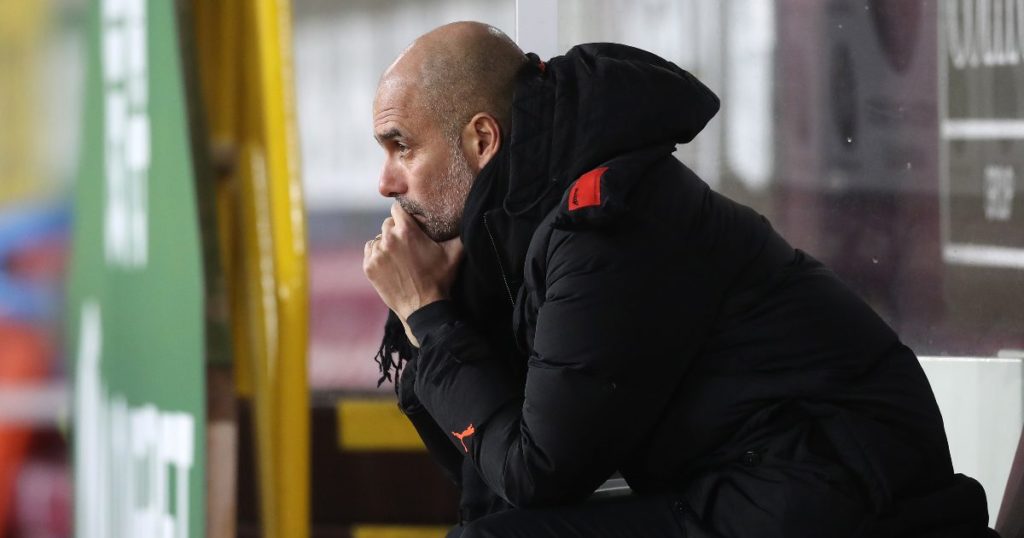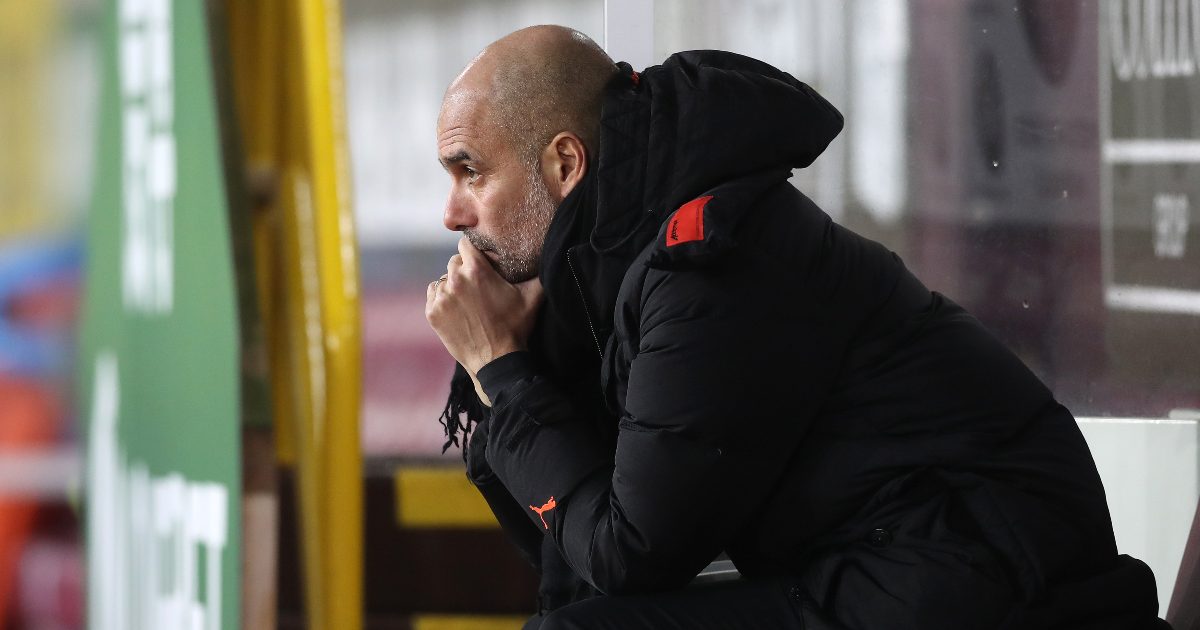 Guardiola has this tendency to overthink in big games, some of them resulting in poor performances. (Image Courtesy: Football365 / Website)
It was one of those rare occasions where the Manchester City manager had changed systems in order to adapt to his opponents as he put out a line-up which included three centre backs, two full backs, two wingers and two pure strikers. And the balance of the team looked off from the very start, with Ruben Dias not being able to impact the game as an overlapping centre back, Benjamin Mendy being oblivious to the role of a Guardiola midfielder and attackers crowding the space in the centre.
It is a known fact that Guardiola overthinks at times in big games, but even this was over the top, and shouldn't be doing when one knows that the league title can be lifted with a win.
CITY DESPERATE FOR A BRUNO
People always under value the art of scoring penalties, more so in the last 2-3 years when Manchester United's Bruno Fernandes started scoring the excessive number of penalties that United were receiving compared to the other teams in the league.
Although, his antics have earned him the nicknames of "Penandes", it is not a crime that penalties are a part of football and a team can be considered to be blessed with a penalty taker who converts them at a rate of 95.2% when the xG value of a one penalty is 0.76.
I would like to apologise to my teammates, staff and supporters for missing the penalty. It was a bad decision and I take full responsibility.

— Sergio Kun Aguero (@aguerosergiokun) May 8, 2021
Well, this is the very problem at City, who are the first club in the Premier League since 1995 to have missed four or more penalties in consecutive campaigns after Sergio Aguero missed from a ridiculous Panenka attempt over Edouard Mendy in goal.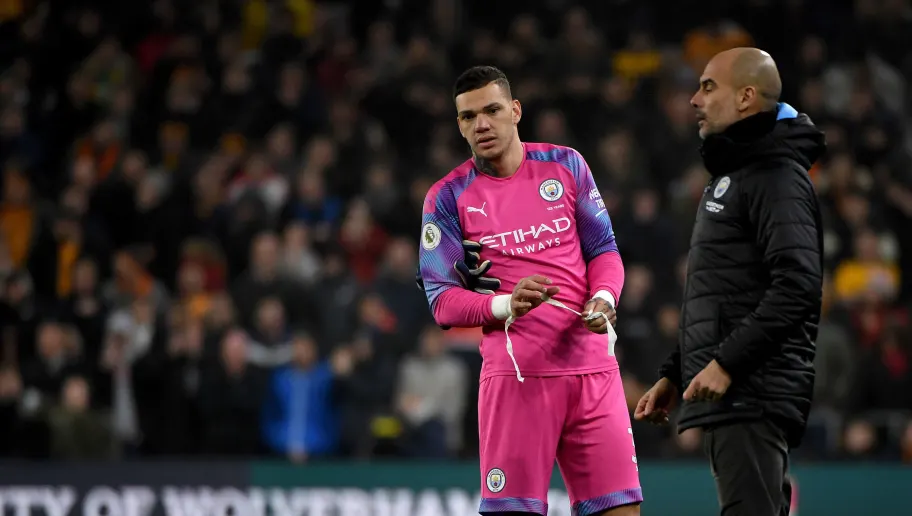 Ederson had offered himself for penalty duties in the past. (Image Courtesy: (Premier League / Website)
Many have had penalty duties in recent years and have gone on to miss one or two of them, which evidently show that City are not blessed with a player who can surely convert from the spot. Guardiola might as well ask Ederson to take penalties in their remaining four games, after the Brazilian has put his hand forward in an interview when he spoke about his consistency in training.
QUITE THE REHEARSAL
If this is what is offered from a match between Manchester City and Chelsea, then get ready, for the more intense fireworks that will be fired during the UEFA Champions League final between the two sides. After beating Guardiola two times in two games, the first one coming in the FA Cup semi-final, Tuchel can go into the final with renewed confidence of having outclassed the Spaniard twice in three weeks.
One more step. 🤙 pic.twitter.com/6dhJPCLbDf

— Chelsea FC (@ChelseaFC) May 6, 2021
Guardiola, too, will know that Tuchel has been able to find out the weaknesses in his City side and rectify those errors before going into, what is arguably the biggest match in City's history. For that, he has three games in the league to experiment and find the solutions and put them in front of a rampaging train created by Tuchel in Istanbul on the 29th of May.