Paris Saint-Germain progress into the semi-finals despite losing 1-0 to the holders Bayern Munich. The tie ended with 3-3 on aggregate with PSG edging the Bavarians on away goals.
FULL-TIME: @PSG_English 0️⃣ – 1️⃣ @FCBayernEN (Agg: 3-3)

We progress into the @ChampionsLeague semi-finals!!! #PSGFCB | 🏆 #UCL pic.twitter.com/wNyiKj7oyA

— Paris Saint-Germain (@PSG_English) April 13, 2021
While the game started cagily, it soon turned into the sparkling night that was being expected from the start as Manuel Neuer pulled of a great save against a Neymar shot. The Brazilian then went on to hit the crossbar with a sumptuous curler and then again striking the post after a beautiful low cross from Kylian Mbappe.
But it was Bayern that opened the scoring after former PSG forward Eric Maxim Choupo-Moting headed past the diving Keylor Navas, making the things interesting for the night.
Neymar was again inches away from scoring the equaliser after failing to latch on to a pass from Angel Di Maria before Mbappe's goal was correctly ruled out for offside as Bayern were unable to hit the back of PSG's goal for the second time, ending their run in the quarter-finals.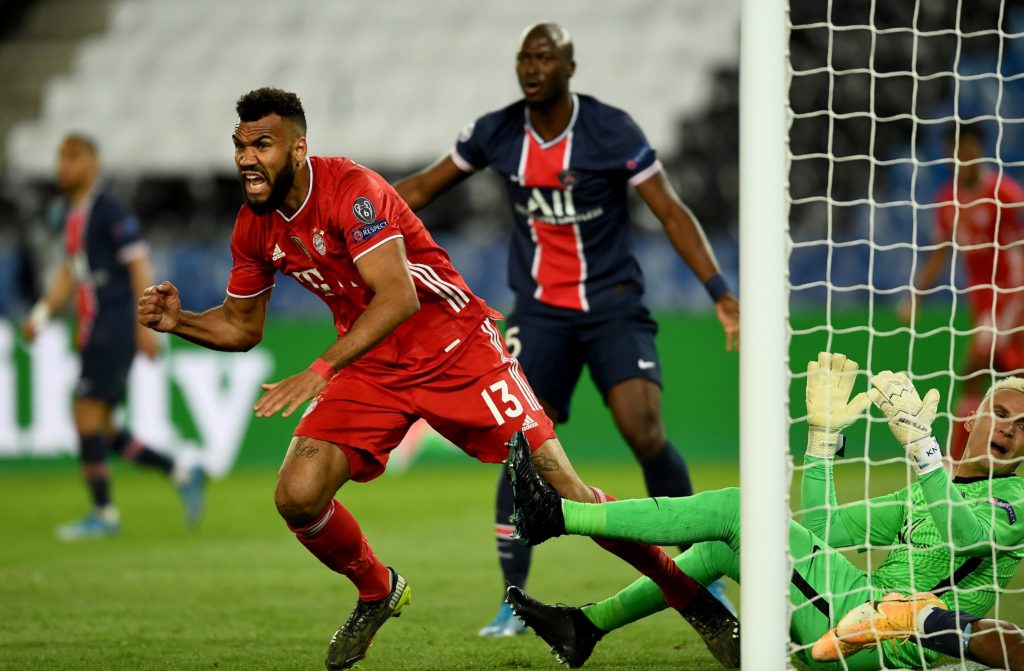 Choupo-Moting after scoring the only goal of the match. (Image Courtesy: UEFA Champions League / Twitter)
Here are 3 key takeaways from the fixture:
BAYERN GOT AN IMPOSTER
When Leroy Sane moved from Manchester to Munich, he was seen as the final piece of attack that was being readied to win Champions League. What started of with promising signs, is now being seen a potential waste of money for a player that lit the football pitch when he began with Schalke and later at Manchester City.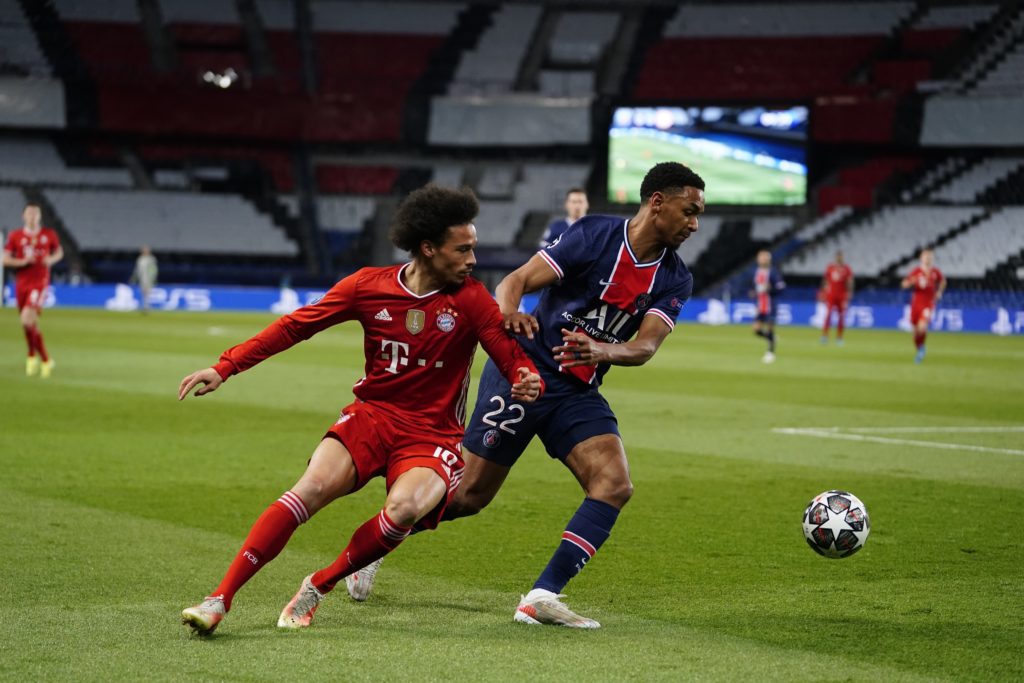 Sane against PSG. (Image Courtesy: Bayern Munich / Twitter)
Injuries affected Sane's initial period at Bayern which can be attributed to the poor performances in November and December, but the 25-year-old is fully fit now and should have no such excuses. It was visible in both the legs as he was wasteful in terms of creating and was not able to impact the game in anyway. Out of the 31 shots that Bayern attempted in the 1st leg against PSG, Sane had just 2 of them, none of them which were on target. Even in the 2nd leg, Sane again attempted only 2 shots and, as usual, was not having any impact on the game.
Manchester City, right now, must be feeling lucky with the €49m that they received from him.
NEY-NEY 🔥🔥
Some must wonder what could have happened if Neymar stayed at Barcelona, or moved to other clubs rather than PSG in Ligue 1, where the stark contrast in quality between him and the others in the league is visible to the naked eye.
A superstar in his own right, Neymar surely would have achieved similar things in England or Italy, but his main mission was to win the Champions League and that mission is now in full charge after PSG defeated the holders Bayern to reach the semi-finals.
👀📈 @neymarjr #𝐏𝐒𝐆𝐅𝐂𝐁 | 🏆 #UCL pic.twitter.com/1kYaSp1mZB

— Paris Saint-Germain (@PSG_inside) April 13, 2021
The Brazilian is full of talent and that was evidently showcased in both the legs as he toyed with the opposition defenders at will, with his pace, tricks and what not. He is on track to a second Champions League final in two years and he would want to make it count, more so after last year's defeat and etch his name in the Parisian folklore.
And now that he has confirmed that he'll stay at PSG for the next few years, expect a few more Champions League nights like these with the Paris jersey.
https://twitter.com/fabrizioromano/status/1382104409325375488?s=21
IS THIS PSG'S YEAR?
Mauricio Pochettino and PSG individually have unfinished business when it comes to Champions League finals and both will collectively look to erase an unwanted legacy.
Even though Pochettino would want to prove Daniel Levy wrong after he was ostracized from Tottenham, whom he led to the Champions League final in 2019, PSG, to a greater extent would want to win to reaffirm themselves that they are on the right path in terms of their ambition, after spending loads of money to reach this situation again, after failing for the first time.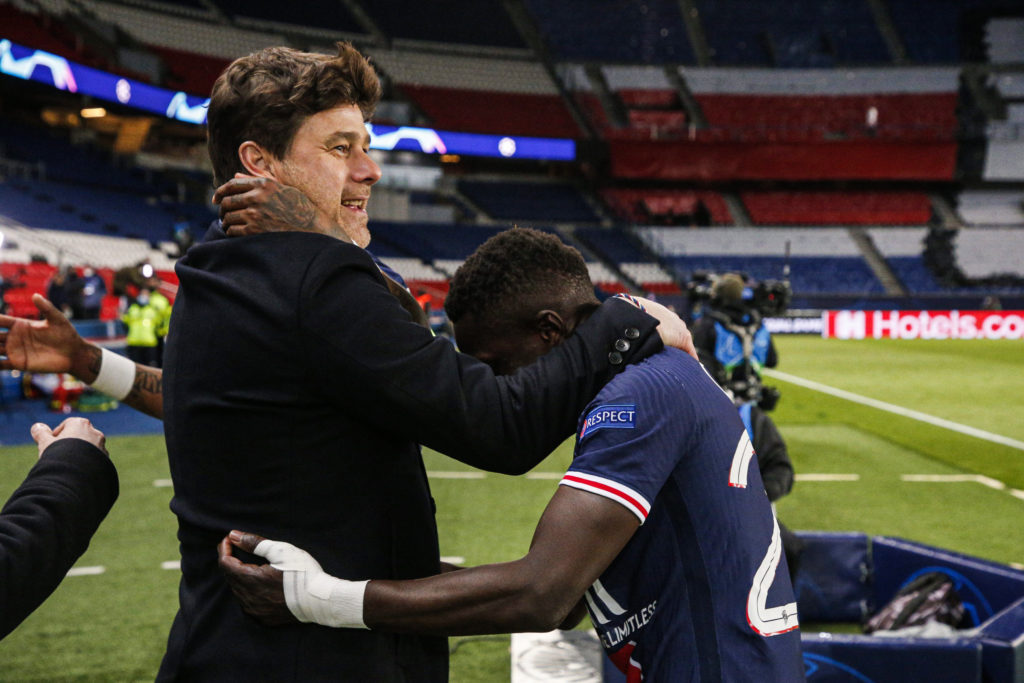 Pochettino celebrating at full-time with Idrissa Gueye. (Image Courtesy: Paris Saint-Germain / Twitter)
This time around they will have Neymar and Mbappe, both in top form to help them achieve that goal. Even though Neymar struck the post twice on Tuesday, he was by far the best player on the pitch. Mbappe, who was quiet for most parts of the game, looks to arrive at crunch moments such as the first legs of the round of 16 and the quarter-finals.
Neymar OR Mbappé❓#UCL

— UEFA Champions League (@ChampionsLeague) April 13, 2021
And when these two click, they are irrepressible, they are two of the finest players on the planet and they are that good to win a competition on their own.