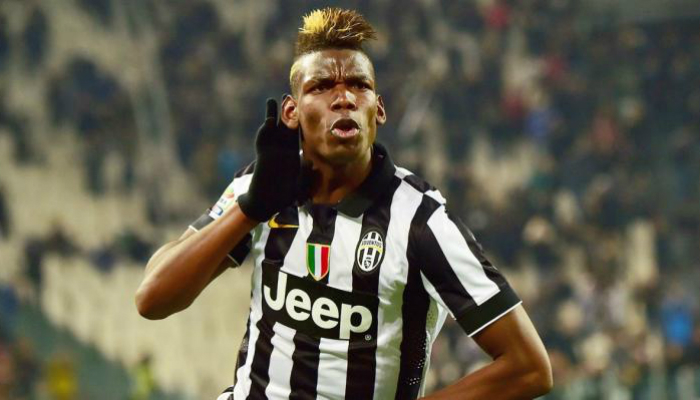 Paul Pogba is set for a record transfer to Manchester United, this time the home coming will be close to £100 million from Juventus.
The transfer saga has taken a mammoth dimension after Pogba teased the Manchester United fans by gifting a Juventus shirt to popstar Drake.
Make of it what you will—Paul Pogba giving Drake a Juventus shirt ? (?: @bIindinho) pic.twitter.com/vbS0N42DuE

— Bleacher Report UK (@br_uk) August 5, 2016
The video shows Pogba handing a Juventus shirt to Canadian popstar Drake, which has not gone down well with the Manchester United fans.
Pogba has been enjoying a holiday trip to United States after completing his international duty for France at Euro 2016.
The French playmaker met Drake and gifted him a Juventus shirt, before posting it on Twitter. The tweet went viral within minutes and has raised doubts in the minds of Manchester United fans, who desperately want him to join the club this summer.
However, some fans noticed that the Juventus shirt which Pogba gifted was actually the last season's home jersey and later it was known that Drake is a big Juventus fan.
@br_uk @bIindinho the old one though..

— Moufasa (@Machiavillian) August 5, 2016
@br_uk @bIindinho yeah last season's kit.

— William Smyth (@DrSprigs) August 5, 2016
Drake has worn all the club jerseys I know. Pogba also playing with Utd fans' emotions. Lol https://t.co/bak39RSSLQ

— M12 (@MarcelitoEsque) August 5, 2016
Manchester united has been highly linked with Juventus playmaker Paul Pogba this summer and foottheball sources claim that the world record move to Old Trafford is on the verge of completion, after Pogba returns from his vacation
Mourinho said on Friday: "We have got a super striker Ibrahimovic and we are going to get a very good midfield player, so I am happy with the balance of my squad, I'm happy with the effort that the club has, and is still putting in for us."