Follow LIVE upates on WORLD RECORD Pogba Deal.
Pogba Lands In Manchester To Complete €110m Man Utd Transfer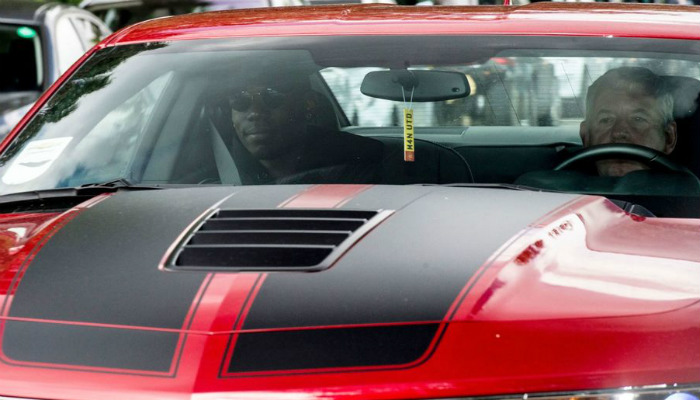 Paul Pogba has landed in England to complete his medical at Old Trafford ahead of the €110m move to Manchetser United from Juventus.
Reports from Sky Sports had confirmed that the French playmaker's private jet was scheduled to take off from Nice at 9.15am (BST) and was expected to reach Manchester two hours later.
An important passenger has just touched down at the airport. Can anyone guess who it might be? pic.twitter.com/1HDsXzE7NN

— Manchester Airport (@manairport) August 8, 2016
Manchester Airport posted an image on Twitter which showed Pogba's jet, following the course down the runway.
"An important passenger has just touched down at the airport. Can anyone guess who it might be?" the tweet read.
Sources claim that Pogba's medical was scheduled for Monday morning after he was seen entering the premises of United's Carrington Training facilities.
Man Utd Should Be 'Proud' Of World Record Fee For Pogba, Says Jose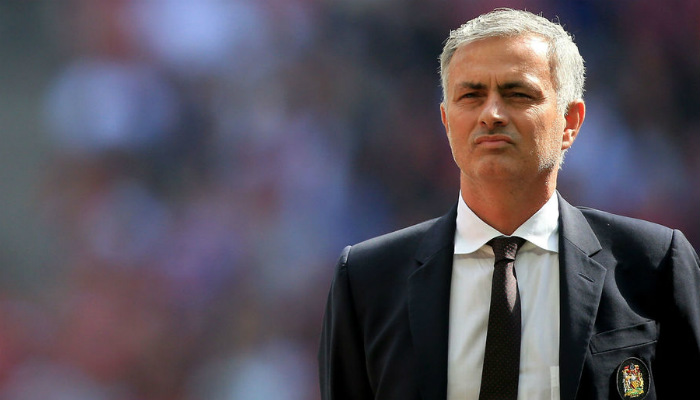 New Manchetser United manager Jose Mourinho is confident that French playmaker Paul Pogba has all the potential to document his name as the best player in the word after he completes his move to Old Trafford from Juventus
In an interview after Manchester United's 2-1 win over Leicester City, Mourinho finally spoke about Pogba's scheduled medical at Old Trafford.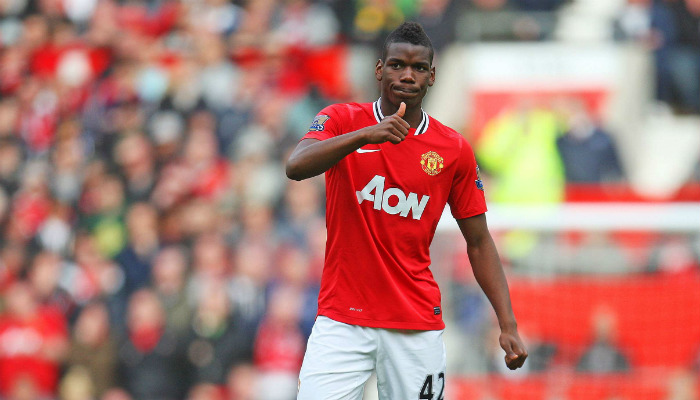 Man Utd is expected to pay Juventus an initial amount of £89.1m and with the whooping agent fees plus other add-ons will take their total spending in the region of about of €120m.
In an interview after Manchester United's Community Shield victory, Mourinho stated: "I think United is the perfect club to bring him to the level that he wants to be."
"The Premier League is the perfect habitat for that. If you want to be the best player in the world, I think if you go to Barcelona or to Real Madrid, you are in trouble. Because I don't think the other two big guys will let you develop to that level."
"Here he has the conditions to develop in the most seen worldwide championship, which is absolutely incredible, with a team that wants to bring Man United to the top again."
"So we have everything to give him and we know the reasons why he wants to come to us. Money he will get from any big club. That's not the point."
"He comes because he knows the club, knows the city, knows many of the players. He wants to be an important part of the Man Utd project. So hopefully everything goes well and he comes into our team."
Man Utd Confirm Pogba To Have Medical Ahead Of £110m Transfer
Manchetser United has officially announced on their website that the Italian giants Juventus has officially agreed to allow French playmaker Paul Pogba to undergo a medical at Old Trafford.
Club statement on Paul Pogba: https://t.co/BCU3m17XXm #MUFC pic.twitter.com/LiTdnSFVNL

— Manchester United (@ManUtd) August 7, 2016
Pogba was on a vacation in USA after his international duty for France at Euro 2016 and latest reports from Italy claim that the Juventus star midfielder would move to Manchetser on Sunday to undergo a medical at Old Trafford, despite Juventus boss wanting the French star to be present at the training session on Monday.
It is believed that the transfer saga has finally come to an end and Pogba is expected to complete a medical at Old Trafford on Monday and rejoin the Red Devils he left in 2012.
Pogba Upsets Man Utd Fans By Gifting Drake A Juventus Shirt
The transfer saga has taken a mammoth dimension after Pogba teased the Manchester United fans by gifting a Juventus shirt to popstar Drake.
Make of it what you will—Paul Pogba giving Drake a Juventus shirt ? (?: @bIindinho) pic.twitter.com/vbS0N42DuE

— Bleacher Report UK (@br_uk) August 5, 2016
The video shows Pogba handing a Juventus shirt to Canadian popstar Drake, which has not gone down well with the Manchester United fans.
Jose Blasts 'Unethical' Wenger & Klopp Over £100m Pogba Buy
At a press conference, Jose Mourinho has hit back at managerial competitors Arsene Wenger and Jurgen Klopp after their strong criticism of Man Utd's world record (€120m) bid for the 23-year-old French playmaker Paul Pogba.
Mourinho stated on Friday: "We have 22 and we are going to have 23 (players). I don't like to speak about other clubs or players from other clubs. Other managers like to do that, they like to speak about my club and my players. I am very pragmatic on this.
"We have got a super striker Ibrahimovic and we are going to get a very good midfield player, so I am happy with the balance of my squad, I'm happy with the effort that the club has, and is still putting in for us."
"I already heard two of my colleagues from other Premier League clubs and I have to confess I don't like it. It's not ethical.
"When others do that nobody says anything I don't speak about the others, they can do what they want. We made decisions. We brought four players, not 10, who are Man United level and can really improve the squad."
Mourinho Hints Pogba Transfer Is Close to Completion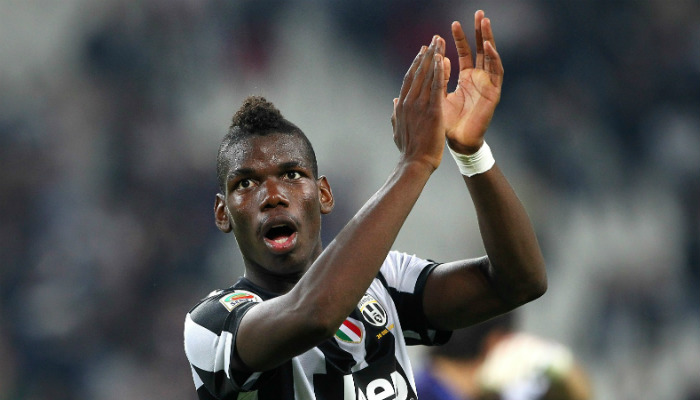 Great news for Manchester United fans as the new club manager Jose Mourinho hinted that they are on the brink of signing French playmaker Paul Pogba from Serie A giants Juventus.
Paul Pogba is set for a record transfer to Manchester United, this time the home coming will be close to €120m from Juventus.
Talking to the media before the testimonial match for Wayne Rooney Foundation, Mourinho said: "We are going to sign one more player, that's for sure."
"I don't want to speak about Paul because he's a Juventus player. But the reality is that we are going to sign one more player. As you know, the market closes on August 31 so we have plenty of time to do that, but obviously I'd like to do it before the season starts," he concluded.
Pogba Man's U(p) With Kickboxing Before World-Record £100Million Move
Afternoon sweat ?? #newyork #combat pic.twitter.com/id5BACTub1

— Paul Pogba (@paulpogba) August 2, 2016
Now, as Pogba prepares to return to Old Trafford, it looks as though the midfielder is ready to bring his renowned physicality back to the Premier League.
The France ace is continuing his summer holiday in New York, but still found time to squeeze in a brutal kickboxing session on Tuesday as he bids to stay in shape.
Pogba showed off his training routine on Twitter, which involved him punching and kicking his training partner who was covered in protective pads.
Pogba, 23, is set to move back to United for a new world record fee and while there has been plenty of debate about whether the France international is really worth such a huge sum, there's no doubt he'll be in great shape when he eventually joins the likes of Rooney, Zlatan Ibrahimovic and the rest of his new team-mates.
Paul Pogba Tease Manchester United Fans On Social Media Ahead Of Anticipated €120m Summer Move To Old Trafford
Rumours surrounding Pogba's anticipated summer move to Manchester United has received a spur after the French midfielder's latest move on social media.
The transfer saga has taken a mammoth dimension after Pogba continued to tease the Manchester United fans with his recent updates on social media, while on holiday in the United States after Euro 2016.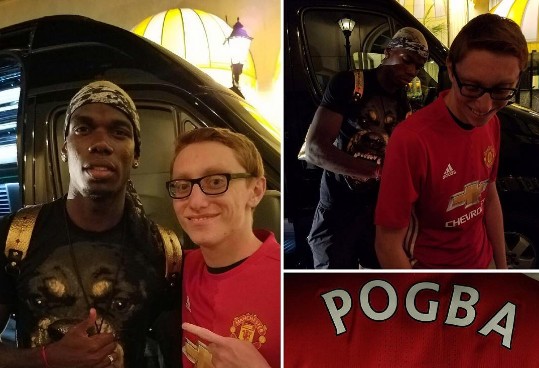 This time Pogba has fuelled the transfer rumours by signing a No.6 shirt of a Manchester United fan.
Die-hard Man Utd fan Jonathan Perkins was wearing his new 'Pogba 6' shirt while celebrating his 18th birthday in Los Angeles, and he got his greatest gift when he bumped into the Juventus star playmaker Pogba – along the streets of California.
Earlier during his vacation, Pogba posted a black and white image on Instagram with a splash of red all over to fuel the rumours a higher pedestal.