Defending Ligue 1 champions Paris-Saint Germain have confirmed the signing of German international Julian Draxler from Bundesliga side Wolfsburg.
The 20-year-old signed for Wolfsburg in 2015 from Schalke and was being chased by Arsenal, but the French champions finally managed to secure his signature.
"It is with great joy and great anticipation that I join Paris Saint-Germain," the winger told PSG's official website.
"For the first time in my career, I am going to discover a new country, a new championship and I am very proud to live this new stage in a club which has become a reference in Europe, which has recruited many very great players."
Julian Draxler signed a four-and-a-half-year contract with PSG that will run till 2021.
"I intend to help Paris Saint-Germain win new titles and continue to grow internationally."
President Nasser Al-Khelaifi said "I am delighted to welcome Julian Draxler into the family of Paris Saint-Germain.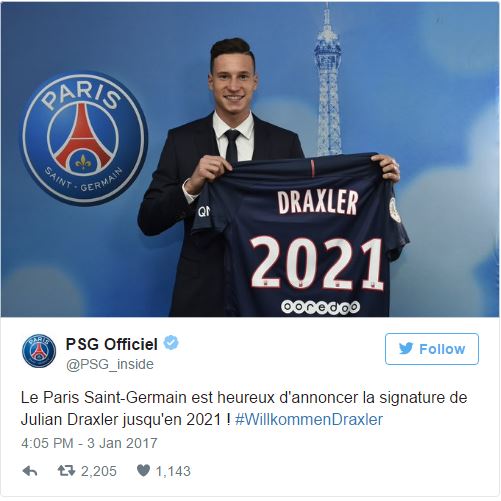 "The signature of this coveted German international reaffirms the strong power of attraction of the club to the players of great talent."
"His qualities have everything to fit in the project of our team and to entertain our fans."
"With the recruitment of Julian Draxler, we maintain the ambitions of the PSG to a very high level."
Draxler will help PSG's bid for a fifth successive Ligue 1 title, as the defending champions struggle domestically – five points off leaders OGC Nice.