Sunil Chhetri, the captain of the Indian national football team scored two exceptional goals against Bangladesh in the Qatar 2022 World Cup qualifiers. Chettri scored his 74th international goal as he crossed Lionel Messi's tally now making him the second-highest goalscorer in international football by an active player.
🤩 He's now got more than Messi! Sunil Chhetri's double earns the Blue Tigers a 2-0 win in #WCQ and moves him on to 74 international goals – above Lionel Messi and one off entering world football's all-time top 10 🧗‍♂️@chetrisunil11 | @IndianFootball pic.twitter.com/sCCd6BgS9H

— FIFA World Cup (@FIFAWorldCup) June 7, 2021
Cristiano Ronaldo currently sits at the top spot as he is 29 goals ahead, so it's going to take a while for Chhetri to catch up to the Portuguese. The 36-year-old forward also made it to the top-10 goal scorers in international football of all time. Here's how an Indian Striker managed to write his names in the history books.
WHO IS SUNIL CHHETRI
Sunil Chhetri is close to a god for football fanatics in India. Just hearing Chhetri's name with the likes of Ronaldo and Messi will do wonders for the Indian football scene. From the time Indian football wasn't given much importance by the people to having its own mainstream commercial league, Sunil Chhetri has been through it all.
115 appearances. 72 goals. 15 years.

One Sunil Chhetri. 🇮🇳#15YearsOfSC11 pic.twitter.com/H4j15C3k81

— Bengaluru FC (@bengalurufc) June 12, 2020
Starting off as a 17-year-old kid at Mohun Bagan in Kolkata, nobody felt he could make it big looking at his short slender figure. Chhetri didn't let his physique stop him from achieving greatness, he perfected his other attributes to make up for his lack of dribbling ability. He worked on his reflexes and pin-point finishing to become a man whom his team can depend on to score some goals.
After showing a lot of promise in the domestic leagues, he got a chance to shine on the international stage in 2005 and he soon became a regular for team India. Ever since then he has won important games for India countless times and made his mark as one of the finest match winners. He scored a diving header for India in the dying minutes of the AFC Challenge Cup and went on to score a hattrick in the final making sure his country lifts the trophy.
Let's relive the moment when @chetrisunil11 scored the first of his 3⃣ International hat-tricks 🤩

This one was against Tajikistan 🇹🇯 in the 2⃣0⃣0⃣8⃣ @theafcdotcom Challenge Cup Final@praful_patel @FIFAcom #BackTheBlue 💙 #BlueTigers 🐯 #IndianFootball ⚽ pic.twitter.com/dUrtfzwuNH

— Indian Football Team (@IndianFootball) June 9, 2020
Sunil Chhetri is also the first Indian player to play for an MLS club as he joined Kansas City Wizards in 2010. During this time, he also played a friendly game against Manchester United making him the first-ever Indian player to play against a major European club.
He has been the AIFF ( All Indian Football Federation) player of the year for 6 years and he has also won a number of individual awards at the domestic level. He also won the Arjuna award in 2011, which is the highest level of award given to sports players in India and he also won the Padma Shri award in 2019, which is the 4th highest civilian award given to Indian citizens!
WHY IS HE A G.O.A.T.
Some people are backing the argument that Sunil Chhetri has played a lot more matches than Lionel Messi and also the level of competition is far tougher in the west and yada yada yada, but that isn't the point we are trying to make. We aren't saying Sunil Chhetri is a better player than Lionel Messi, all we are saying is that what Chhetri has done would have been unimaginable a decade ago. Sunil Chhetri's growth is a clear representation of how much the Indian football scene has grown.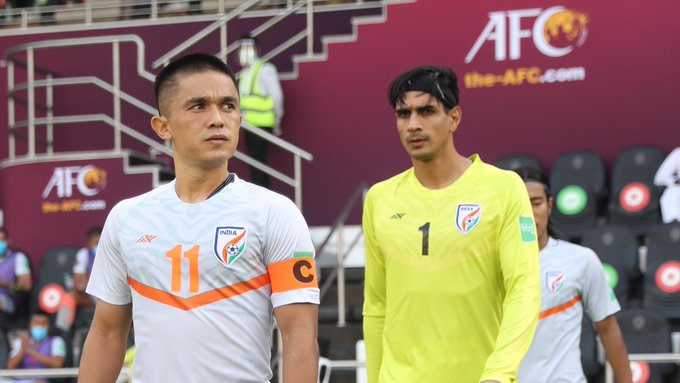 Chhetri is 36 years old and is showing no signs of slowing down at the highest level of competition India faces in the World. Despite his age, he is still the number one choice striker for his country and he delivers rightly so.
Sunil Chhetri has done a lot for Indian football and is forever going to be a legend who changed the future of this country. Young players look up to him as he is an inspiration and proof that even Indians can reach great heights in this sport. Chhetri has given Indian fans something to be proud of. The Indian captain has paved the way for young talented ballers in India and continues to do so.