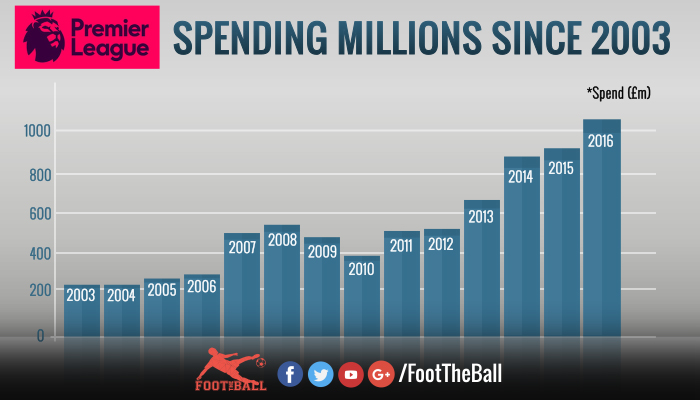 Billion Pounds!
Yes, A billion pounds were spent by English Premier League (EPL) clubs in this transfer window, i.e the summer transfer window, i.e two months. The transfer window circus escalated to levels which were never heard of.
EPL is the most followed football competition in the world. It is also one of the richest in terms of footballing talent, not just on the pitch, but off it as-well. As the League can now boast of having almost all of world's top managers plying their trade in England.
Jose Mourinho, Antonio Conte, Pep Guardiola, Jurgen Klopp and Arsene Wenger are just a few to name. Then there are the likes of Ronald Koeman at Everton, Mauricio Pochettino at Tottenham.
Heck, Even a recently relegated club like Newcastle United has managed to retain, a Champions League winning manager Rafa Benitez.
So, basically if football is your thing, then England is currently the place to be.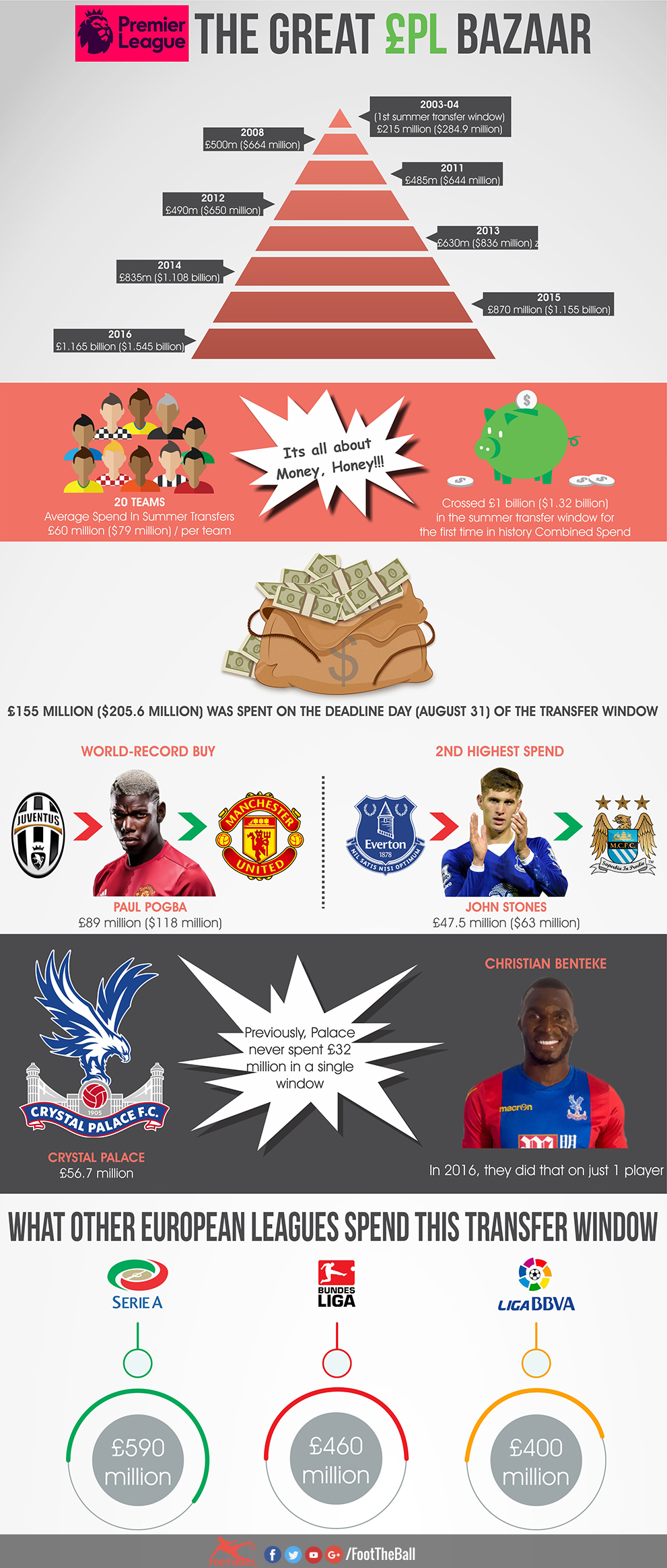 We all have seen how crazy the transfer market has become, so it was evident that sooner or later, the much anticipated £1 billion mark will be breached. And breached it is.
This summer saw some insane, crazy, bizarre moves with take place, even the so-called tiny clubs don't seem tiny, such was the magnitude of the craziness in English football. Did Leicester City's miraculous title win made English clubs enter panic mode? or an overhaul of managerial changes at some of the big fishes pushed the clubs into going the extra mile to stay at the top?
Gone are the days of budget buys in England(yes, Leicester won but hey, miracles), even clubs like Crystal Palace are spending millions, or rather are being forced to spend.
English clubs have carved out a niche transfer market for them, which in early years had it's advantages, but has since become a major stumbling block. Clubs outside of England have realised the isolation of English transfer market and hence demand much higher value for their stars.
One man who has been very vocal in his stance against this inflation in football is Arsenal manager Arsene Wenger. Wenger has fought a lone battle against this spending-spree which has gripped English clubs in the recent years, "Today in Europe you have two markets, one for the English clubs and one for the rest of Europe," Wenger said recently. "When the buyer is English that multiplies the transfer by two, three or sometimes by 10. If an English club does not come for a player he is worth £5 m. If an English club comes in he is worth £35 m, £40m or £50m."
The situation worsen's when a player bought on a highly inflated price fails to live upto the expectations, add to that a high-end salary and you have a disaster in the making. A disaster because the high salaries leave no scope for any foreign club to try and take the said player out of misery. A new solution that Premier League clubs have adopted now is loaning-out the players.
Players who are very well capable of being first-team regulars, players who have a salary package that can make even the biggest CEO's embarrassed, players who in the past have been integral part of the team are shipped off.
Maybe, the overpricing, the flop transfer moves and the embarrassing loan moves don't affect the filthy rich Premier League, but for how long. Especially with the incredible television deal in place which assured all EPL clubs £100 million in their kitty. And even if does sustain, the question is at what cost? Maybe the EPL's great bazaar bubble will last forever. Who knows? But how long can this money madness continue, we can just wait and watch.
---
| | | | |
| --- | --- | --- | --- |
| EPL CLUBS | WHAT THEY SPENT | WHAT THEY GOT | NET SPEND |
| Man City | £168.2m | £3.8m | £164.4M |
| Man Utd | £145.0m | £7.7m | £137.3m |
| Arsenal | £96m | £4.9m | £91.1m |
| Liverpool | £67.9m | £74.4m | £-6.5m |
| Chelsea | £67.2m | £30.4m | £36.8m |
| Watford | £58.4m | £18.3m | £40.1m |
| Crystal Palace | £51.6m | £40.4m | £11.2m |
| Everton | £45.2m | £47.5m | £-2.3m |
| West Ham | £42m | £10m | £32.0m |
| Leicester | £41.5m | £43.5m | £-2.0m |
| Southampton | £41.3m | £62.6m | £-21.3m |
| Bournemouth | £34.9m | £19.4m | £15.6m |
| Swansea | £31.5m | £42.5m | £-11.0m |
| Tottenham | £29.5m | £37.6m | £-8.1m |
| Middlesbrough | £20.8m | £0m | £20.8m |
| Stoke City | £18.8m | £2m | £16.8m |
| West Brom | £18.5m | £8.9m | £9.6m |
| Hull City | £14.5m | £4.5m | £10.0m |
| Sunderland | £13.5m | £8.4m | £5.1m |
| Burnley | £11m | £1.5m | £9.5m |
| | | | |
| Total | £1,017.1 | £468.2m | £548.9 |