In a most brutal fashion, the UEFA president Aleksander Ceferin launched an attack at  the European Super League and branded Juventus chairman Andrea Agnelli and Man United vice-chairman Ed Woodward as "snakes" and "liars".
The UEFA President did not hold back 😳#UEFA #TheESL #EuropeanSuperLeague #Čeferin pic.twitter.com/mNk0NrtW8L

— LiveScore (@livescore) April 20, 2021
What did the UEFA President say?
After much uproar caused by the official announcement of the breakaway European Super League (ESL), the UEFA also broke its silence as president  Aleksander Ceferin hosted a press conference and launched a scathing attack on the dozen clubs who had reportedly joined the ESL.
Ceferin insists that UEFA is prepared to hold the Champions League without the 'dirty dozen' – "We will do it with them or without them." [@martynziegler] pic.twitter.com/Nf0NxApHw8

— Bayern & Germany (@iMiaSanMia) April 19, 2021
"I've seen many things in my life. I've been a criminal lawyer for 20 years but I've never seen people like that," said an angry Ceferin slamming the 12 clubs that had signed to become the founding and permanent members of the ESL.
'Disgraceful, self-serving' Super League clubs. Players will be banned from WC & Euros

– UEFA president Aleksander #Ceferin said the breakaway '#SuperLeague' is "fuelled by greed", and any plays who take part in that would not be able to compete at a #WorldCup or Euro. #FIFA pic.twitter.com/9zwqWYEZQN

— CGTN Sports Scene (@CGTNSportsScene) April 20, 2021
In his passionate speech he accused the Juventus chairman Agnelli of being a habitual liar. Agnelli, who was also the chairman of the European Clubs' Association (ECA) and a member of UEFA executive committee resigned from both the posts as soon as the new breakaway league was officially announced naming Real Madrid president Florentino Perez as the chairman while Agnelli himself and Man United's executive vice chairman Ed Woodward as the two vice chairmen.
"Andrea Agnelli is the biggest disappointment of all. I've never seen a person that would lie so many times, so persistently as he did. It's unbelievable.
"I spoke with him on Saturday afternoon and he said 'no worries, it's only rumours. I will call you in one hour'. Then he turned off the phone."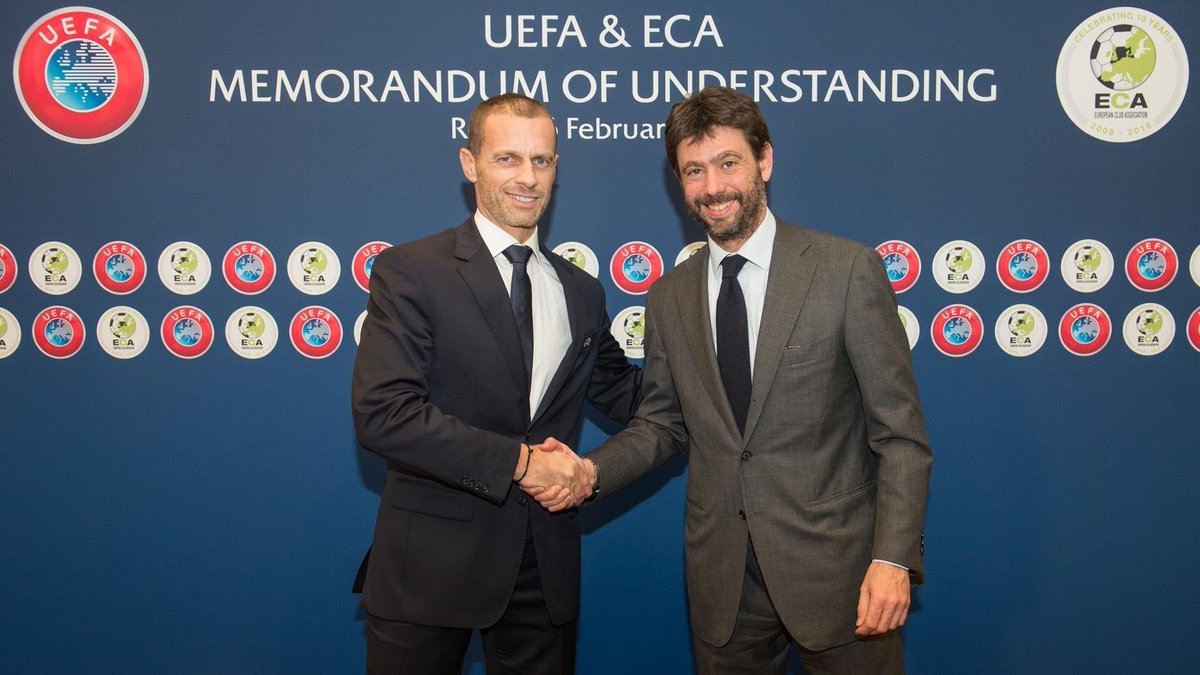 Ceferin's next target was Agnelli's partner in crime, Ed Woodward. Ceferin claimed that Woodward had approved UEFA's proposed reforms on Thursday, three days before his club left the European Clubs' Association and joined the newly formed ESL which is notably funded by Woodward's ex employers JP Morgan Chase.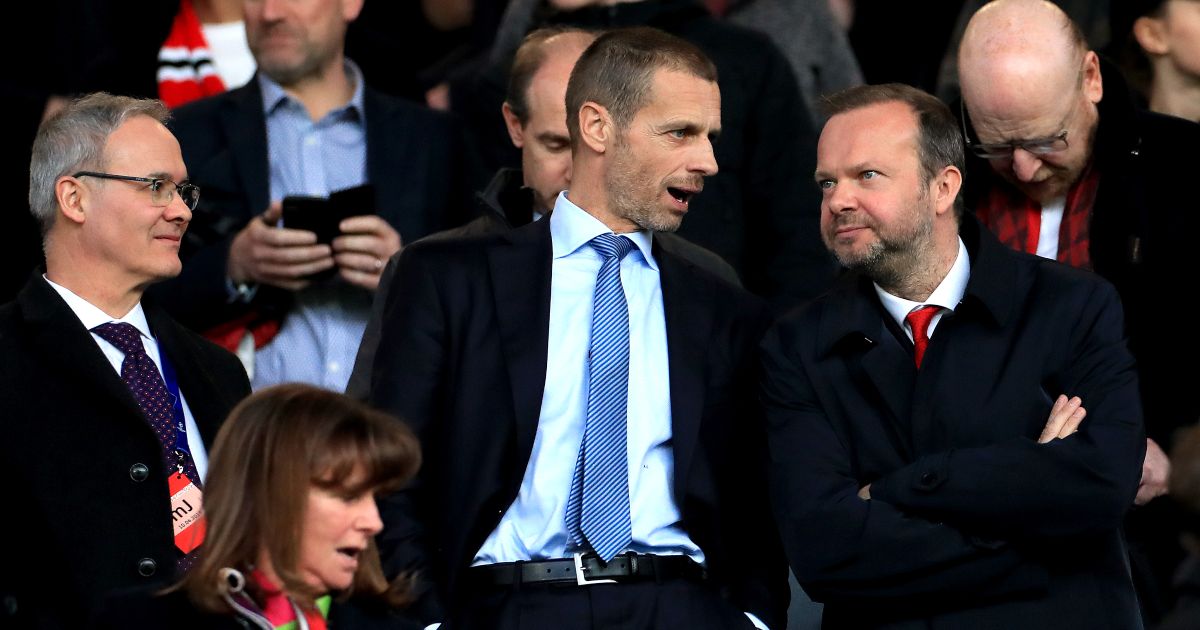 "If I start with Ed Woodward, he called me last Thursday evening saying he's very satisfied with and fully supports the reforms and the only thing he wanted to talk about was FFP (Financial Fair Play), when obviously he had already signed something else,"
"Trust is a strange word…"

"I trust the clubs from France and Germany who resisted this, let's say, temptation," said Ceferin. "I trust my team, the leagues, I trust the people in football federations. So football is not all corrupt, it is just a small part of it."
"There's a small part led by greed and no one else. Mainly, they care about greed. You see some CEOs changing at clubs like we are changing our shirts. Some owners of clubs don't look at the numbers of goals but at the accounts only."
"It is a strange word [trust]. It's an interesting journey for me and also an exciting one. As I said, I met a few big liars and many good people in football."
UEFA president Aleksander Čeferin: "Things change. Juventus were in Serie B. Manchester United before Sir Alex Ferguson were I don't know where. Aston Villa was a big club.

Why are they creating this? Because they are not managed right." pic.twitter.com/NLCfSFVh6Q

— Transfer News Live (@DeadlineDayLive) April 19, 2021
Ceferin drew a clear distinction between the UEFA and the ESL claiming his organisation to be built on trust while the latter on the principle of greed and reiterated that UEFA is committed to serve European football in an honest manner.
"Obviously greediness is so strong that all human values evaporate."
UEFA and Florentino Pérez came to an agreement to change the format of the Champions League and not go on with the Super League project, but Real Madrid's president worked behind the scenes and managed to convince 12 teams. He 'backstabbed' Ceferin. (Source: @abc_deportes) pic.twitter.com/1m2B6e4q6j

— Transfer News Live (@DeadlineDayLive) April 18, 2021
"We are different and we will stay different. You know, it is always good to learn in life who is who."
"All the world knows now that they unanimously supported our reforms on Friday, when they obviously had signed the agreement [with the Super League]. All that are sitting there: Woodward, Agnelli, [Ivan] Gazidis and Pedro Lopes from Real Madrid. I don't have to explain more what I think about them."
UEFA threatens to take legal action
The Slovenian continued to threaten the clubs and their respective owners of a legal action coming at them aided by European football governing body – UEFA.
"We might be naive in not knowing we have snakes close to us. Now we do. There will be legal action soon," Ceferin said.
Perez hits back and demands respect
Real Madrid president and ESL chairman Florentino Perez in an interview given to El Chiringuito slammed the UEFA president and demanded respect for his colleagues
Perez was quoted saying "President Ceferin insulted Andrea Agnelli today, it is not possible. It's crazy to discuss a president of a world club like Juventus," he added. "This is something unacceptable, Uefa must change, we don't want a president who insults other presidents."
#FlorentinoPerez to #chiringuito: "President #Ceferin insulted Andrea #Agnelli today, it is not possible. It's crazy to discuss a president of a world club like Juventus. This is something unacceptable, UEFA must change, we don't want a president who insults other presidents". 🚨 pic.twitter.com/EfjpiE6efu

— Peppe C. (@Peppe90898887) April 19, 2021
Perez went on to accuse the 66 year old European body of secrecy and corruption
"Why aren't Uefa and La Liga salaries public? Why haven't salaries been reduced like everyone else during the pandemic? We need more transparency. We know the salary of LeBron James but we don't know the salary of the Uefa president."