It was 2008, a regular evening in Manchester. The City was soaked in red with noisy neighbours Manchester United making all the noise. Manchester City were trying to make an impact in the league and signed a young defender for as little as £6 million. The boy signed from Hamburg went on to become one of the best players in the history of the Premier League. Vincent Kompany joined City on August 22, 2008, ten days before the takeover by Sheikh Mansour. Together they ushered City into a new era of dominance and made them what they are today. Kompany got his own statue at the Etihad Stadium as a club legend and a symbol of his legacy.
We are thrilled to unveil permanent statues of Club legends @VincentKompany and @21LVA at the Etihad Stadium 💙

🔷 #ManCity | https://t.co/axa0klD5re pic.twitter.com/bLD3S4nZl9

— Manchester City (@ManCity) August 28, 2021
Kompany embodies the Manchester City project undertaken by the City Football Group. He had ambition, vision, passion and all the qualities to put City on the global map. In his 11 year stay at the Etihad Stadium, he won 4 Premier League titles, 2 FA Cups and 4 League Cups. European glory is the only thing missing from his City trophy cabinet. Kompany was also named in numerous teams of the season along with other awards like the Player of The Year and Goal of the Season.
10 – Since Vincent Kompany's first season with the club, @ManCity have won more domestic trophies than any other side in England (4 Premier League titles, 4 League Cups, 2 FA Cups). Era. pic.twitter.com/DOGcPOYFyy

— OptaJoe (@OptaJoe) May 19, 2019
Throughout his career at City, he produced magic moments like title-winning goals against Manchester United in 2012 and Leicester in 2019 etc. Manchester City are forever indebted to the services of Kompany. Kompany along with David Silva and Sergio Aguero helped them scale new heights. In good spirit, the club decided to build statues for the legendary trio. The first batch of statues unveiled in front of the Etihad are Vincent Kompany's and David Silva's. The statues are unveiled before the early kickoff on the 28th of August against Arsenal.
THE POSTER BOY OF NEW MANCHESTER CITY
Vincent Kompany graduated from Anderlecht as a seventeen-year-old. He made name for himself as a strong defender with positional intelligence and perfect reading of the game. Kompany is a shrewd tackler and drives into tackles and wins the ball surely. Kompany is slightly injury prone but when he recovers from an injury, it doesn't feel like he skipped a day in training. He then made a move to Hamburg where he endured a mixed spell. He fell out with manager Martin Jol over differences on national duty with Belgium.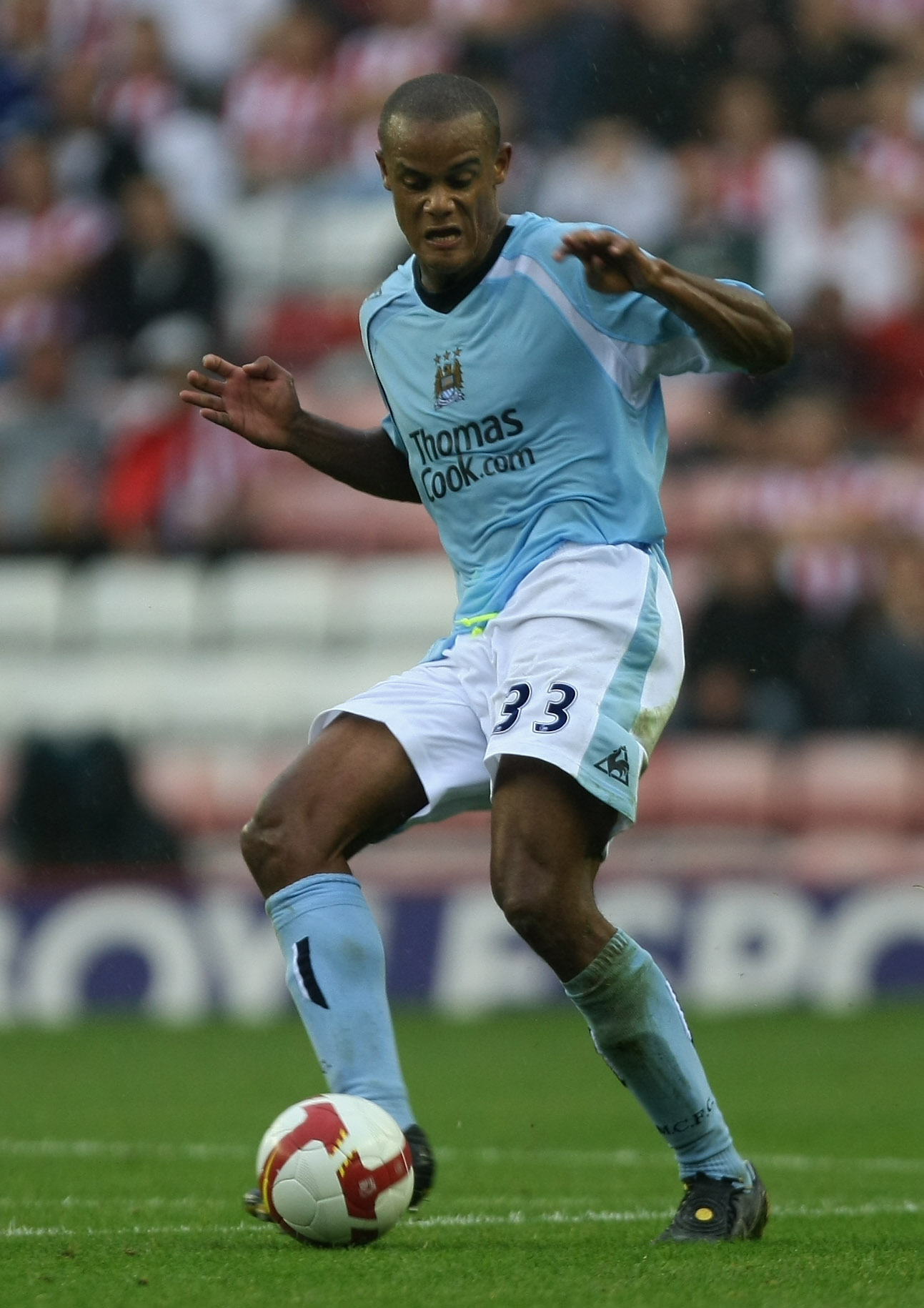 Mark Hughes, the then City manager scouted Kompany in a friendly match. As soon as he saw a window open up for Kompany, he personally sat down with Kompany and explained the City project to him along with their ambitions. Kompany was signed for a meagre £6 million.
Ten days following his signing, the City Football Group took over Manchester City. The takeover meant City were backed with unlimited finances in the market. Robinho, a Brazilian sensation termed as the New Pele was signed from Real Madrid in the same window as a statement of intent. The £32 million signing was an awkward signing for City as Robinho mistakenly thought he was signing for Chelsea instead of Manchester City to escape from Real Madrid.
Nine years ago, City signed @Robinho #onthisday! #mancity pic.twitter.com/0TmUQXXJBP

— Manchester City (@ManCity) September 1, 2017
Robinho's big-money move didn't turn out as City expected. The Brazilian's star quality was undisputed but he failed it display it constantly on the Eastlands. It proved City didn't need big-money signings to deliver on the pitch. Instead, they needed a leader who organizes his troops on the pitch. They needed a warrior like Kompany to lead from the front and be the face of the team. in every sense, Kompany proved to be the poster boy of the new Manchester City in the Sheikh Mansour era.
ASSUMING CAPTAINCY AND DELIVERING THE TITLE
City endured a few rocky years after the takeover. Carlos Tevez was signed in 2009 shortly after he left Manchester United. Roberto Mancini was brought in to replace the sacked Hughes. In 2010, the club broke the bank by signing Sergio Aguero, Yaya Toure and Mario Balotelli for a combined £120 million. The gamble paid off as Yaya Toure's goal sealed a FA Cup title for them in 2011 after nearly 35 years. Carlos Tevez left in 2011 and Kompany had to assume full-time captaincy of the club in 2011.
A leader by trade, the armband just made it more obvious on Kompany. Loaded with guns like Sergio Aguero, Yaya Toure, David Silva and Mario Balotelli and headed by Kompany, the Cityzens launched a stern title challenge. They had to topple Sir Alex Ferguson's legendary Manchester United side. It was an intense title race between the two Manchester sides and it had to be settled in an epic Manchester derby.
🗓 ON THIS DAY:

In 2012, Vincent Kompany scored this iconic header which saw Manchester City beat rivals Manchester United 1-0 at The Etihad..

The win would eventually help Man City claw back an 8-point gap to win the title!

🙌🙌🙌

(via @ManCity)pic.twitter.com/kdS0XSYAj3

— Oddschanger (@Oddschanger) April 30, 2020
At one point in 2011/2012 season City were coasting in the title race. They thumped United 6-1 at Old Trafford in October and were expected to run away. But few slips from City and the casual post-Christmas resurgence from United made them favourites for the title again. United visited City in the 36th game week with an eye on the title. City needed to win to move to the top of the league on goal-difference. The game was finely poised at 0-0 and headed into the stoppage time of the first half.
David Silva made his way to the corner flag to deliver one of his trademark in swingers. The Etihad held its breath as Vincent Kompany raised head and shoulders above everyone to plant it firmly into the net. The stadium went into pandemonium as their captain probably scored the biggest goal in their league history. City needed a win against QPR on the final day to seal the title. Sergio Aguero this time scored late in the stoppage time to seal a remarkable title win on the final day of the season.
🗣️ "Manchester City are still alive here… Balotelli… Agueroooooooo!"#OnThisDay in 2012, Sergio Aguero secured City's first Premier League title in the most dramatic fashion.

Martin Tyler captured it perfectly with some iconic commentary.🙌 pic.twitter.com/xTnDJlsdNb

— betway (@betway) May 13, 2020
In an unbelievable fashion, Kompany guided his troops to a first league title in 44 years. The captain was a rock at the back and made his mark when he went up the field for setpieces. Though he was three more Premier League titles, his first one would always be the most special one.
THE GLORY TALE CONTINUES
Kompany was injured for most parts of City's title defence and the team invariably suffered. They lost the title to Manchester United and poor performance in the FA Cup final cost Mancini his job. It showed how important Kompany was to the City team both on and off the pitch. Manuel Pellegrini took charge of the Etihad outfit in 2013 to build on their Premier League success.
Kompany's winner against West Ham sealed another Premier League title in 2014. Though they were succeeding in England, European success was elusive. Still, Kompany produced top displays in the Champions League. On one occasion, he challenged an onrushing Lionel Messi and stole the ball without breaking a sweat. These types of trademark tackles showed Kompany's world-class talents.
Kompany was again the main part of Pep Guardiola's City backline. Peps City walked the league in 2018 as they became the first "Centurions" in the Premier League era by getting to 100 points. Kompany played a key role in City completing the domestic double. In the Carabao Cup final against Arsenal, he produced another iconic moment. At 31 years of age, the Belgian defender caught up to speedster Pierre-Emerick Aubameyang and barged him off the ball. Kompany's reaction after the duel was a hilarious one. He even chipped in with a goal on the evening.
He already acquired a legendary status at the Etihad stadium. Kompany decided to leave the club with one last hurrah in 2019. City were locked in a thrilling title race with Liverpool that swung every time a point was dropped. City had to keep on winning to win the title and it looked like their luck was out when they met Leicester City on the penultimate matchday.
Their captain came to their rescue like always. Kompany made his way to the edge of the box and was urged not to shoot by his teammates. To everyone's dismay, the captain let it fly with his right foot and almost tore Kasper Schmeichel's net. The goal sealed a 1-0 win allowing City to defend their title on the final day of the league. Kompany broke into tears on the victory lap as it was his final match at the Etihad stadium.
Vincent Kompany has won Match of the Day's prestigious Goal of the Season competition for his long range screamer against Leicester City.

Never in doubt…😏#ManCity pic.twitter.com/zXP0NGfwlW

— City Report (@cityreport_) May 12, 2019
Later that week, City completed an unprecedented domestic treble to give a grand send-off to their captain who joined his boyhood club Anderlecht as a player-manager.
🏆 – Premier League
🏆 – FA Cup
🏆 – League Cup

Manchester City go into the 2019/20 season after completing a domestic treble, but do they need to add to their squad?

Tweet your questions and opinions below and the best will be answered on Good Morning Transfers from 9am! 👇 pic.twitter.com/b7ORKGETa3

— Sky Sports News (@SkySportsNews) July 23, 2019
Kompany is a bonafide legend of the club who gave his everything for it. He led them into the future and helped City become a global brand. His defensive contributions to the league are not to be ignored. Honouring Kompany's services, City deservedly unveiled a statue for Vincent Kompany.