Manchester United continue to beef up their youth ranks. After pre-Brexit signings of Hannibal Mejbri, Willy Kambwala and more, the club has turned its focus to British gems. At the forefront of that queue stands Toby Collyer.
BOOM 💥 Official Toby Collyer has completed his move to Manchester United #MUFC pic.twitter.com/9LlqhgZinJ

— TheSecretScout (@TheSecretScout_) March 20, 2022
The precocious 18-year-old was by Manchester United from Brighton last season. The imposing midfielder caught the eye of United scouts during Brighton's game against Huddersfield. Collyer went on trial at Carrington afterwards. And a permanent move followed soon after.
Who is Toby Collyer?
Toby Collyer is an 18-year-old midfielder who played for Brighton's youth teams. Therefore, he makes a fine addition to United's midfield ranks. Hannibal Mejbri is the crown jewel of Manchester United's future midfield, now establishing himself in senior football at Birmingham.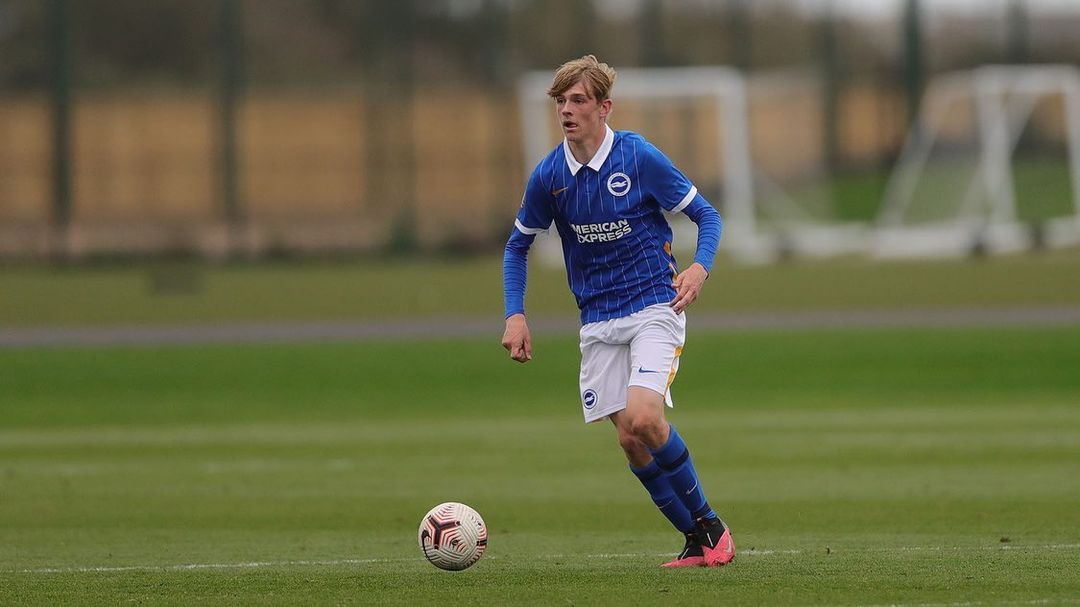 Collyer's style of play is suited to play as the lone defensive midfielder. He is equally comfortable playing as one of two central midfielders in a 4-3-3. This versatility will undoubtedly do him good in his career. Moreover, the lack of a pure No 6 in the first-team makes it quite possible for him to be fast-tracked.
Toby Collyer potential
Collyer is regarded as one of the finest prospects in England's age groups. Born in Worthing, England on Jan 3, 2004, Toby Collyer has already made appearances for England U16, U17 and U19s. He has shown leadership qualities in his nascent career so far. Collyer has captained England at U16s and U17 levels.
Liverpool are matching Man Utd when it comes to signing wonderkids: Here's all you need to know about Calvin Ramsay, Liverpool's Scottish Alexander-Arnold
Notably, Man United's now-former Head of Youth Development, Justin Cochrane, was the head coach of England U16s and U17s when Toby Collyer turned out for the team. Cochrane has left the club for a first-team coaching role at Brentford. However, the signing of Collyer could be a great gift for Man Utd in the coming years.
BOOM 💥 Toby Collyer to Manchester United confirmed, he thanked his agency First Access Sports for their support

Official photos later today 🤝 pic.twitter.com/SE5nnQV3ns

— TheSecretScout (@TheSecretScout_) March 15, 2022
Toby Collyer stats
Collyer didn't make many appearances for Brighton last season. However, his performances the season before caught the eye of many clubs across the UK. Last season, Collyer made only one appearance for Brighton U18s before moving to United and making 3 appearances.
Also read: Football clubs with best academies in world football
This season, Collyer has already been promoted to the U23s team. Although he hasn't made an appearance yet, he trains with U23s, with occasional training with the first team.
Skills and style of play
Toby Collyer is more in the mould of a Michael Carrick-type defensive midfielder than a pure destroyer, like Wilfred Ndidi. He has a calm head on his shoulders and likes to dictate possession from the No.6 position. With James Garner now off to Everton, Mejbri going on loan and the likes of Dylan Levitt and Ethan Galbraith all departing on loan or permanent, a player of Collyer's skills was sorely needed in the youth setup.
BOOM 💥 Toby Collyer to Manchester United 🔜

3.5y deal from Brighton 📝

Captained England at U16&17

One of the best young Central Midfielders in the country 🤝#mufc #ManUtd pic.twitter.com/DHGSLEwsQJ

— TheSecretScout (@TheSecretScout_) March 5, 2022
Moreover, Collyer's frame is already very well-developed. Hannibal Mejbri and James Garner's frame held them back from being fast-tracked into senior football. If Toby Collyer performs well in age-group football, his frame is not expected to be a hurdle.
Toby Collyer at Manchester United
Manchester United signed Collyer on a 3.5yr deal, with his contract running till the end of 2026. A long-term contract for the 18-year-old shows the trust the club has placed in him. With talented English players worth their weight in gold post-Brexit, this deal is a coup for Manchester United. Furthermore, Collyer was reportedly on the radar of several clubs. Therefore, there is a lot of excitement in United's ranks about Toby Collyer. Meanwhile, Collyer would look to make an impression in United's age-group teams. From there, the sky seems to be the limit for the kid from Worthing.