Women's football is growing in stature day by day. With every season passed their game is growing in quality and is attracting larger crowds. The clubs too are investing more in women's football and its infrastructure. After all these years their game is getting recognized and earning them the respect they deserve. We summarise top women's leagues and their winners.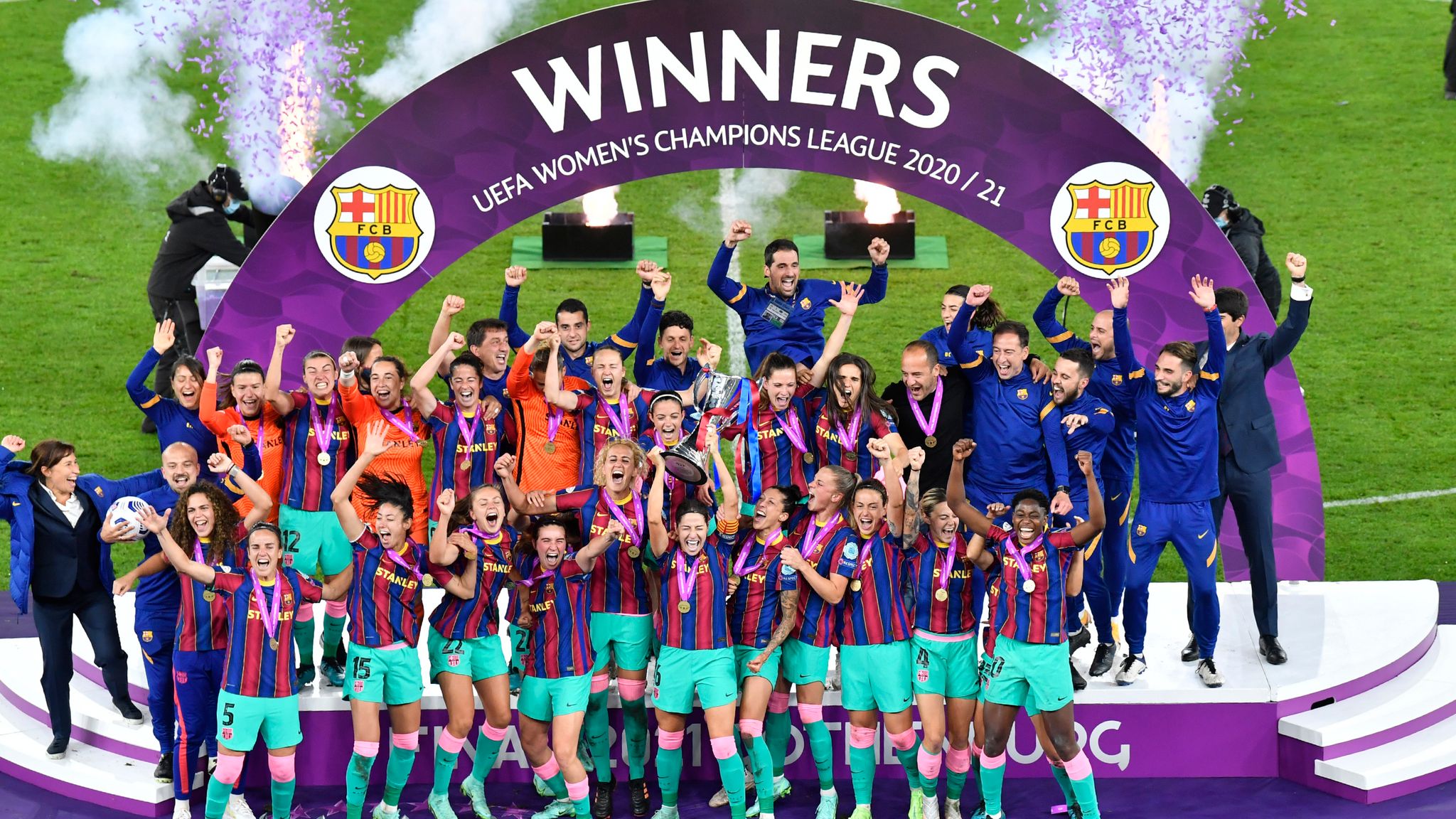 The 2020/2021 season has come to an end and it has been another remarkable year of progress for women's football. FC Barcelona Femeni have created history by winning the treble in Europe.
We at FootTheBall have gathered the details of all the top women's leagues and cups and their winners.
UEFA WOMEN'S CHAMPIONS LEAGUE
FC Barcelona Femeni have won their first-ever Women's Champions League as they brushed aside Chelsea FC Women 4-0. The Blaugrana who made their second final appearance defeated the first time finalists Chelsea.
G🔵🔴d morning, champions!

Sum up Barcelona's performance in the #UWCLfinal yesterday in ☝️ word! #UWCL | @FCBfemeni 🏆 pic.twitter.com/gBlct8ttOm

— UEFA Women's Champions League (@UWCL) May 17, 2021
Barcelona became the first team to win both the men's and women's Champions League titles. Barcelona Femeni also completed a historic treble as they won the Primera Divison along with Copa de la Reina.
SPAIN
PRIMERA DIVISION AND COPA DE LA REINA
FC Barcelona Femeni have succesfully defended the Primera Divison Femenina title. Lluis Cortes's side finished the league with 84 points and 17 clear of arch-rivals Real Madrid. The Catalans have become the women's league winners for the sixth time.
TREBLE WINNERS!! 🏆🏆🏆

¡Congratulations, @fcbfemeni! 💙❤️

🔝 DREAM SEASON! 🤩 pic.twitter.com/ajXi5xr4TP

— FC Barcelona (@FCBarcelona) May 30, 2021
They finished a historic treble after a 4-2 victory over Levante in the Copa de la Reina final. Their star player Alexia Putellas was pulling strings and scoring goals left right and centre in the historic campaign.
ENGLAND
WOMEN'S SUPER LEAGUE
Chelsea Women were crowned the 10th Women's Super Leagues winners and became the record titleholders with four titles to their name. Emma Hayes's Londoners won the league with 57 points just 2 points ahead of Manchester City.
2020/21 @BARCLAYSFAWSL CHAMPIONS!!! 🤩🏆#CFCW pic.twitter.com/ffSPUGk5Ax

— Chelsea FC Women (@ChelseaFCW) May 9, 2021
The Blues also had a dream run in the Champions League and were cruelly beaten by Barcelona Femeni in the finals.
WOMEN'S FA CUP
The cup competition is currently in its quarter-final stage. Due to government restrictions, the tournament was suspended from January to March. the quarters and subsequent stages of 2020/2021 would be played in the first part 2021/2022 season. Defending champions Manchester City kick-off against Leicester City on September 29th to resume the tournament.
The 2020-21 #WomensFACup quarter-finals are set.

Who will win the 🏆 this year? pic.twitter.com/jTfN2yzNtG

— Vitality Women's FA Cup (@VitalityWFACup) May 28, 2021
The final is scheduled for 5th December of this year at Wembley.
FRANCE
DIVISION 1 FEMININE
The title race in France went right down to the wire in the women's league just like the men's league. Paris Saint Germain won the league for the first time in their history. They finished the league with 62 points just a single point above the defending champions Lyon.
Oui, ce sont bien nos #CHAMPIONNES ! 🏆✨

❤️💙 @Co_Ultras_Paris pic.twitter.com/mDchxdZJJ1

— PSG Féminines (@PSG_Feminines) June 5, 2021
PSG went into the final matchday against Dijon knowing a win would seal their first-ever league title. They won the game 3-0 to secure the title without any fuss and deny Lyon yet another title.
COUPE DE FRANCE FEMININE
The pandemic has forced the French football federation to choose a new format. Under the new format, 112 amateur teams compete for the 10 spots available in the round of 16. The remaining spots are filled by 12 professional teams in Division 1 after playing a one-off qualifier amongst themselves.
Currently, all 16 spots are fixed and we are waiting for the further stages of the tournament to kickoff.
GERMANY
FRAUEN BUNDESLIGA
The women's Bundesliga had an exciting title race unlike the men's league this time. Bayern Munich held a two-point advantage over the defending champions Wolfsburg ahead of the final matchday.
🏆🏆 #MiaSanMeister 🏆🏆 pic.twitter.com/rqXaaFIINa

— FC Bayern Frauen (@FCBfrauen) June 6, 2021
Bayern thrashed Frankfurt 4-0 on the final day to win their third league title. Wolfsburg destroyed Bremen 8-0 and prayed for a miracle that never happened in the hope of lifting their seventh league title.
DFB POKAL FRAUEN
Wolfsburg won the cup after a 1-0 win in the extra time against Frankfurt. Ewa Pajor the Polish striker scored the winning goal for Wolfsburg as they enjoyed cup success for the eighth time.
Congratulations to @VfL_Frauen on becoming 7 time DFB Pokal champions 🏆🏆🏆 #VfLWolfsburg pic.twitter.com/cRQaqPPZPw

— Women's football talk (@wftalk2020) May 30, 2021
Wolfsburg are now just one title behind FFC Frankfurt who have merged with Eintracht Frankfurt this season.
ITALY
SERIE A WOMEN
Juventus have won the league comfortably as they finished the league with 66 points, 15 ahead of second-placed Milan. The old lady's women's side has won the title, unlike their men's side who have failed to win the league for the first time in 10 years.
𝗔 𝗦𝗲𝗿𝗶𝗲 𝗔 𝘀𝗲𝗮𝘀𝗼𝗻 𝗹𝗶𝗸𝗲 𝗻𝗼 𝗼𝘁𝗵𝗲𝗿! 💪🏆⚪️⚫️

🗞🔢All the #F4BULOUS stats from the league campaign! #ForzaJuve

— Juventus Women (@JuventusFCWomen) May 30, 2021
This triumph means that Juventus have now won the league for four successive years since 2017. They have four titles to their name now and are going for Torres Calcio's record of seven titles.
COPPA ITALIA WOMEN
🇮🇹🏆🇮🇹
#ASRomaWomen #ASRoma pic.twitter.com/mRQ0IzCcW2

— AS Roma Women 🏆 (@ASRomaWomen) May 30, 2021
Roma won their first-ever Coppa Italia as they defeated Milan 3-1 on penalties as the game ended 0-0 after 120 minutes of football. The capital side was overjoyed by their triumph in the cup competition.