When someone like Pep Guardiola gives a heartfelt praise to the opponent, they usually are THAT good. After Southampton's recent nail-biting match against Pep's men, whom they narrowly lost to 1-0, the Sky Blues coach was asked how impressed was he with Ralph and his team.
"They are so, so good," said Pep Guardiola.
So much is his volume of success with the Saints that recently news broke out Manchester United's owners, The Glazers, are preparing to bring in Ralph as a potential replacement for Ole Gunnar Solskjaer at the end of this season.
In stark contrast to the current scenario at St. Mary's, exactly 13 months ago, Ralph Hasenhuttl's men had been thrashed 9-0 at home by Leicester and were into the relegation zone. Fast forward to almost a year and the Saints are challenging for European places and reaping the rewards for sticking with the Austrian tactician.
Now i'm not getting ahead of myself or anything… but if you compare Ralph's Leipzig team and his current #SaintsFC team you can see a number of similarities throughout the team and set up as a whole.

He really is building something special here. We are so lucky. #Hasenhuttl 👑 pic.twitter.com/sPnuxjlBFE

— 🔴ℝ𝕙𝕪𝕤⚪️ (@RhysTheSaint) November 7, 2020
After that humiliation against Leicester, the very next thing that took place between the Saints head coach and chief executive Martin Semmens was a lengthy talk about the clubs vision. The long chat did not include about the future of the manager but instead, it was how much responsibility Hasenhuttl was carrying out on his own and how he needed that extra support to execute his vision for the club.
Steffan Galm with whom the former RB Leipzig coach worked with in his early managerial days, said that, "His football is with force and power, with team spirit and, at first, not tactical. The most important thing was to be a team together, to have bravery, courage and fun."
So how has Ralph Hasenhuttl turned an inconsistent squad from relegation favourites to European contenders in the space of 13 months?
NO MORE A FEEDER CLUB?
In the past decade or so, the Saints have been a feeder club of all sorts; be it a managerial departure or a key player leaving the St. Mary's.
Starting off with managers, Mauricio Pochettino was poached by Tottenham Hotspur just when the club and fans alike started to believe that the future is bright ahead.
Ronald Koeman replaced the Argentinian and delivered the best ever finish to a season for the Saints, only for the Dutch manager to be hired by Merseyside club Everton.
🗣 "What was lacking a little bit today was the quality in the final third."

The boss delivers his assessment of today's match:

— Southampton FC (@SouthamptonFC) December 19, 2020
Speaking to Stadium Astro, former Norway international Claus Lundekvam said, "I'm sure there will be big teams looking at Ralph without a doubt. What he's done with Southampton is quite incredible."
"If you look at Southampton in the last five or six years, they've been a feeder team.
"They lost [Mauricio] Pochettino and [Gareth] Bale to Tottenham, they've just taken [Pierre-Emile] Hojbjerg this season and he's been a revelation.
"But they believe in Hasenhuttl and the project they're building.
"Can they keep him? I don't know. You look at the Big Six teams and some of them need a manager like him."
This sort of instability in management led to player unrest and star players eventually sought for pastures new.
In defence the lost players like Virgil van Dijk, Toby Alderweireld, Dejan Lovren, Luke Shaw, Calum Chambers, Cedric Soares and Nathaniel Clyne.
In midfield star players Morgan Schneiderlin, Victor Wanyama, Adam Lallana were also poached by the Big Six of the league.
In the final third of the pitch, players like Sadio Mane, Dusan Tadic, Rickie Lambert and Jay Rodriguez were sold and each of them was a match winner at some point for the South-coast club.
RALPH GOING BACK TO BASICS
During that drubbing against Leicester, the Austrian coach played with wing-backs, as he had done for most of the season.
This was in contrast with the 4-2-2-2 formation he was popular for and had been using from the start of his managerial career, with the juniors at SpVgg Unterhaching, a third-tier club in Germany, 13 years ago.
Hasenhüttl does not use the traditional 4-4-2 formation, instead the Saints approach with a 4-2-2-2 formation, a variant of the more traditional 4-4-2, which reverts back to the 4-4-2 when out of possession.
No reward but a spirited display 👊

The best of the images from #SaintsFC's defeat to #ManCity:

— Southampton FC (@SouthamptonFC) December 19, 2020
The highlighted difference from the traditional 4-4-2 is that the wingers tend to operate in and around the lines between the opposition full-backs rather than staying high and wide, especially while dominating possession. This allows the Saints full-backs to make those marauding overlaps and crowd the penalty box with ease.
In other words, Hasenhuttl went back to the tactics that was the foundation for his success in his early days at Ingolstadt and RB Leipzig and which got the fans at the south-coast pumped with confidence when he arrived at St Mary's.
With enough time to put his ideas into practice during the lockdown, the Austrian started building his project which fans famously these days call as 'Ralphampton'.
SMART RECRUITMENT
Walker-Peters and Walcott were the only summer signings in the starting 11 against Manchester City and that alone suggests the work Hasenhuttl has put in with resources already at his disposal who arguably looked weaker after the summer sale of Pierre-Emile Hojbjerg.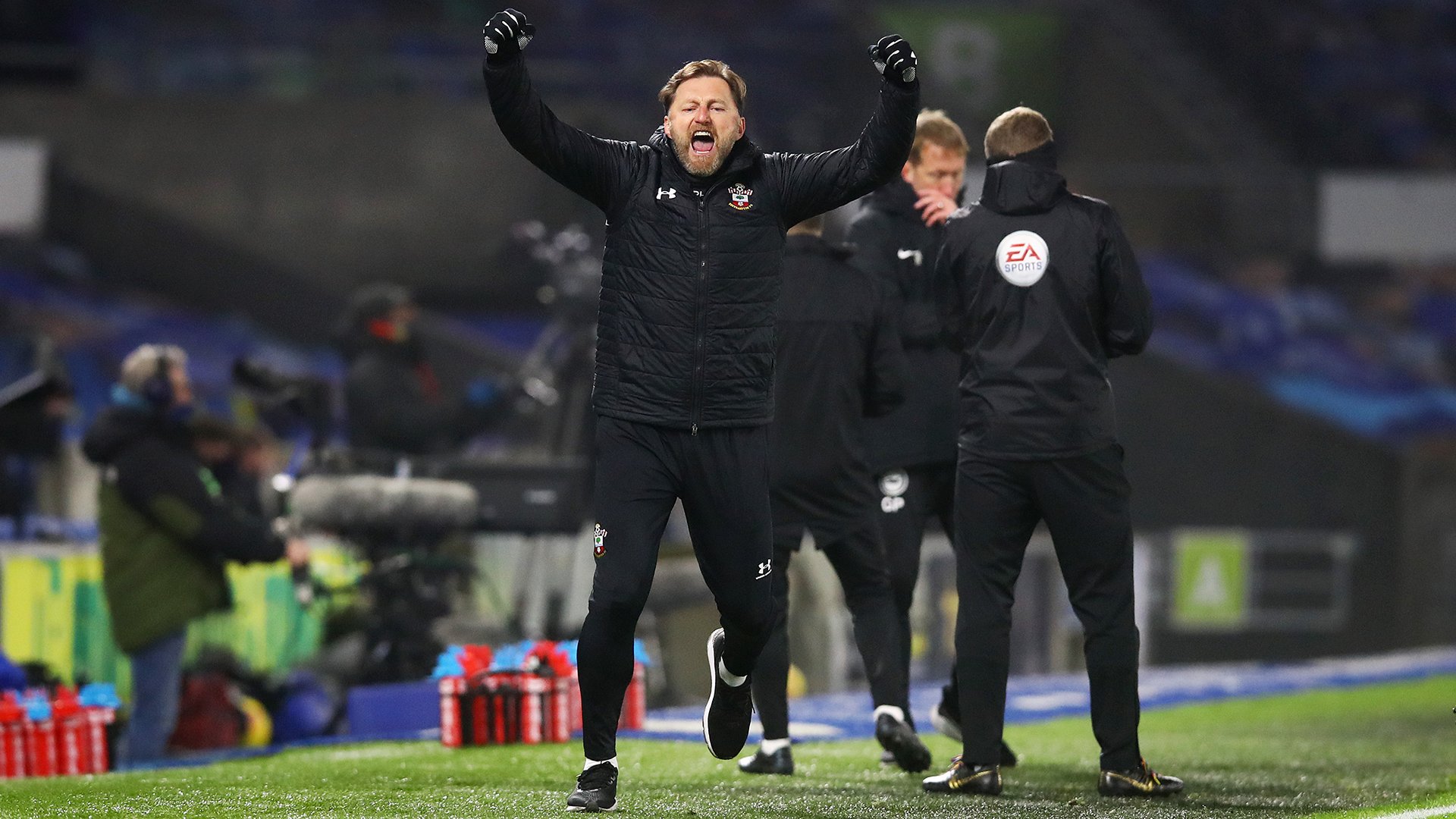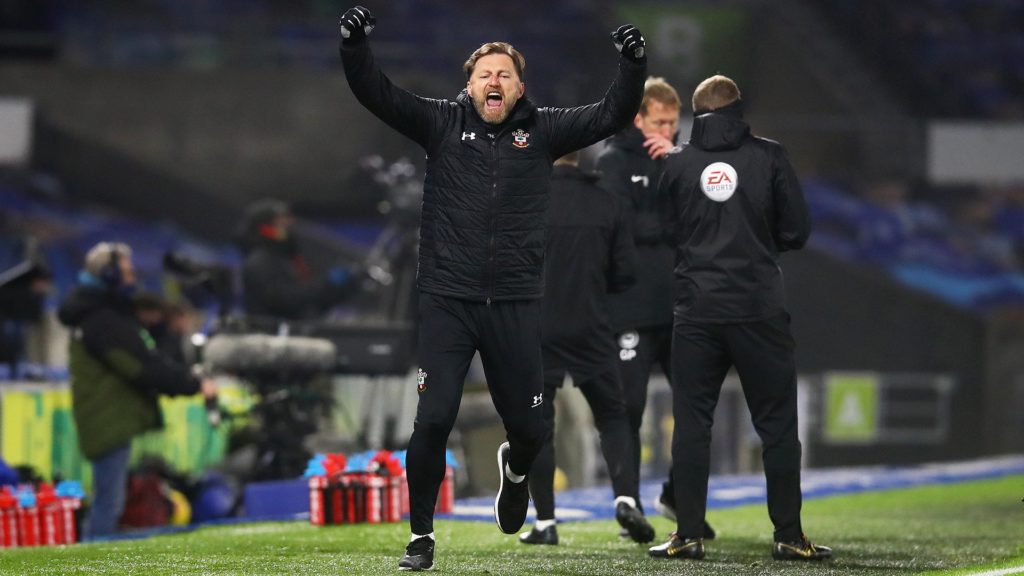 Before the Austrain arrived at St Mary's a large chunk of their transfer budget was blown on players who are not even at the club right now. He inherited relatively little and turned it into a lot.
He was appointed after a series of disappointing managerial helms and signings a club operating without an owner funding cannot afford which included the likes of £19m on Argentine striker Guido Carrillo (joined Elche for free two and a half years later); £18.1m on midfielder Mario Lemina (now on loan at Fulham); and £15m on Dutch defender Wesley Hoedt (loaned out to Celta Vigo 18 months later).
SLICK FOOTBALL
Brighton midfielder Pascal Gross, who was at Ingolstadt when Ralph Hasenhuttl was incharge described the impact the former RB Leipzig coach had on him and his teammates.
"From the first week, no matter what the team was, we trained and played with the same style: really aggressive, trying to press and force mistakes, then quick balls into the strikers when the defence is not organised to get some chances," he said.
A chance to shine 💫

Ibrahima Diallo could be given a first #SaintsFC start on Boxing Day, with @OriolRomeu now suspended: pic.twitter.com/4xP7wvGWQe

— Southampton FC (@SouthamptonFC) December 20, 2020
"We pressed so we could win the ball high up – 20, 30, 40 metres in front of the opponent's goal. Then you only need one pass to get a chance. It was really successful."
Adam Leitch a former Southern Daily Echo spokesperson at Southampton for 18 years, a period which featured 16 different managers was taken by surprise by the coach's no-nonsense approach.
"He spoke with incredible conviction and authority," said Leitch. "He wasn't coming in to steady the ship, he was coming in to revolutionise."
"A no-excuse, no-nonsense culture was instilled on the training pitch from day one," said Leitch.
PLAYER REVIVAL
While the Saints' performance levels have indicated otherwise, perhaps some of their players are not individually that good; not without Hasenhuttl anyway.
Danny Ings' astounding scoring return of 27 goals in his last 43 games has propelled his side to challenge with the leagues elite's, but it is to be noted that even a player of his calibre has produced the best form of his career under Hasenhuttl. While he is not alone in that category, a rejuvenated Theo Walcott is performing far better than he has for years.
Even their colleagues such as a James Ward-Prowse, now the division's best free-kick taker according to Pep Guardiola, was Saints' 19th man for a trip to Huddersfield two years ago; now he is the club captain. An average player like Oriol Romeu has reinvented himself as the league's best destroyer in the middle of the park.
💪 Big tackles
🚫 Vital blocks
🤩 Precision passing

Just how good has @JVestergaard7 been on a scale of 1️⃣-🔟 so far this season? 🔥 pic.twitter.com/kaRF7cD7Q1

— Southampton FC (@SouthamptonFC) December 21, 2020
Che Adams for that matter was a striker who did not score in his first 25 Premier League games, has now formed a lethal strike partnership with Ings with eight goals in his last 19 matches.
Jannik Vestergaard has been the towering centre-back that the Saints were missing ever since the days of Virgil Van Digk whose set-piece threat and long-passing range have been compared recently with the Danish powerhouse.
Jose Mourinho was happy to let go of Kyle Walker-Peters from Spurs who thought was not good enough to play at this level.
MOMENTUM IS KEY
Hasenhuttl's innate German footballing philosophy, energetic and the progressive brand of football are what many big clubs look for these days. Saints may hope that Borussia Dortmund who recently pulled the trigger on Lucien Favre, have not noticed the extent to which a revival has been instigated by their Austrian tactician.
Because this is something what you get when you are patient with yourself and how what a difference in management can make. And Pep Guardiola would probably agree with that.
Hasenhuttl's straight-forward approach shook up a club aimlessly floating at the bottom of the table not long back.
But Hasenhuttl did not have the player profile to implement his philosophy in quite the way he wanted. Before the Leicester thumping, Southampton won successive games only twice in 10 months following that initial debacle.
We gave absolutely everything today. Felt we deserved more from the game with such a good performance. Onto the next! #wemarchon pic.twitter.com/my8G4KRL7O

— Kyle Walker-Peters (@KWPeters) December 19, 2020
Former Southampton manager said, "You have to give Ralph credit,"
"If he had stayed on the back foot he would have got sacked.
"When you lose three games in a row as a manager, you don't sleep at night. Am I picking the right side? Am I using the right tactics? Is the training right? Are we getting the most out of the players? Are we playing the players in the right positions?
"A lot of managers would have said 'I am not changing'. He did change. He changed the whole style of play from a defensive one to an attacking, pressing one."
"Martin needs a pat on the back because he is the one who stuck by the manager when it would have been easy to say 'we are going to have a change'," says Merrington. "Now the manager and chairman are working hand in glove. If you have that, you have a chance."
Will the Austrian genius end up taking his side to Europe is something only time will tell.