An "Artist" and an "Assassin". Football players can be broadly categorized into these two categories. The "Artist" probes for an opening, seeks adulation from the crowd and
beautifies the game
. The "Assassin", meanwhile, does not see an opposition that can't be pummelled into submission.
Darwin Nunez is an "Assassin" of the highest order. 20 goals in 22 league appearances tell their own story. However, it's the manner in which he feeds his goal-thirst that has made him the apple of the eye of scouts worldwide. Give him an inch of opening in the box, and he'll put his head where players would be afraid of putting their foot. A semblance of space to run into? Nunez's raw pace can unnerve a gazelle. Why do the "Artistic" dribbling and probing when ruthless efficiency works? All this to see his name on the scoresheet. Darwin Nunez lives for scoring, to quench his thirst for goals.
The 22-year-old adept at playing anywhere across the front line has proven that he is worth every penny of the €24 million that Benfica paid for him in 2020.
He is the current top scorer in the league, and the form that he is in, it'll be challenging for Benfica to keep him beyond the summer with many top sides in Europe looking for a centre forward.
But what makes him such a brutal striker?
Why is Darwin Nunez special?
And after suffering several injuries in the previous season, he has burst onto the scene this season. Currently, the youngster is the ninth top goalscorer compared to players from the top five leagues. He also ranks when it comes to expected goals scored this season at 12.65.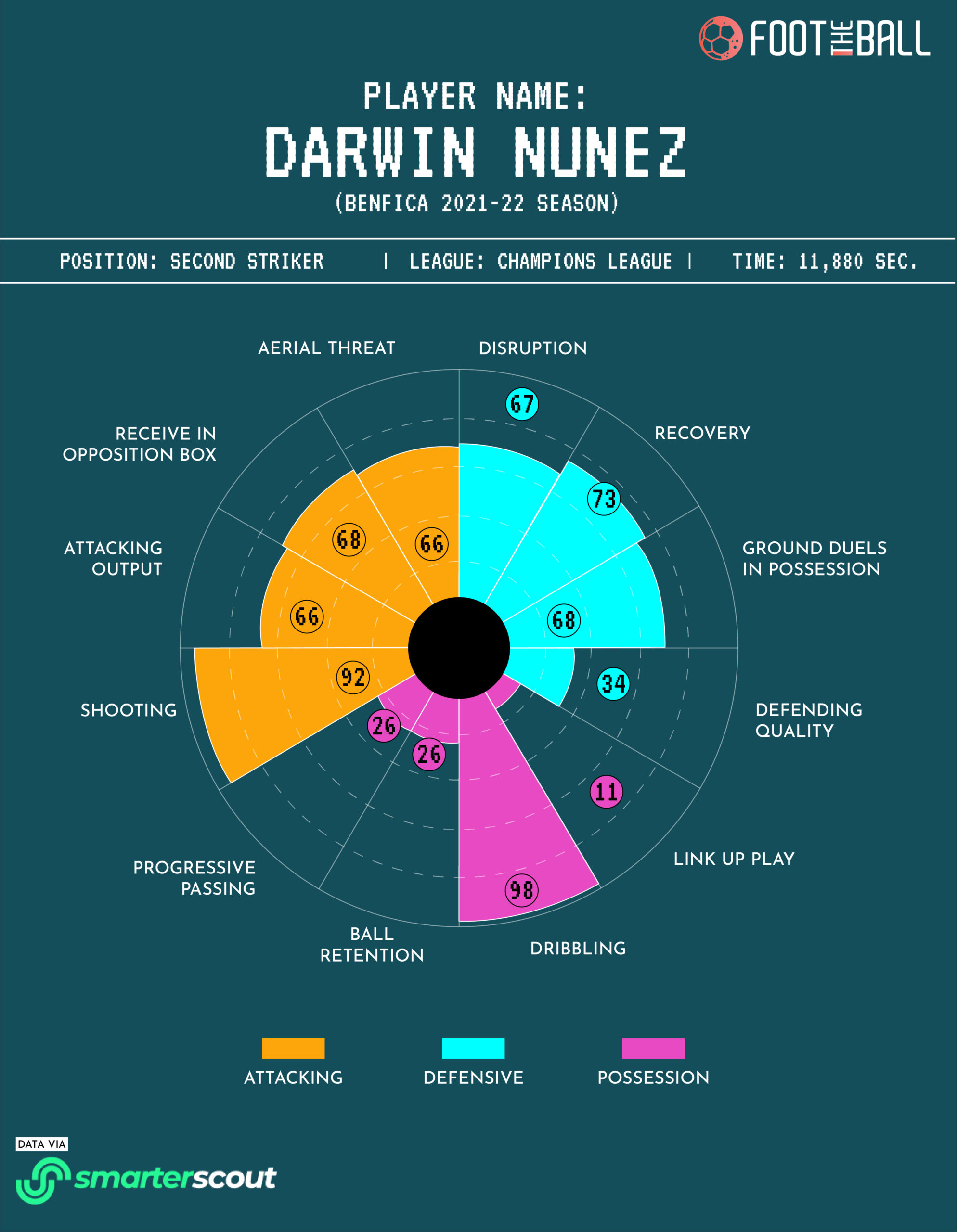 Darwin Nunez is a player who is an efficient dribbler, which proves why he ranked third when it comes to expected threats (CST) from carries. Stats from Soccerment shows that he is ranked 18th when it comes to dribbles attempted, but his success rate is more than 50 per cent, which shows that he has a good knack for moving the ball forward in the opposition's half.
In addition, he is also ranked second for expected offensive value added (xOVA), which is more effective in measuring a player's effectiveness as it penalises players if they lose possession after getting a valuable pass.
A bumpy road for Nunez
However, Nunez's integration into the Benfica squad was not as easy. The player suffered multiple injuries before contracting Covid-19 that kept him out of the team. But this did not stop him from scoring six goals and nine assists in the league while adding five goals and one assist in the Europa League.
And this season, Darwin Nunez has become more of a scorer, with his playmaking abilities taking a backseat.
And we need to take a look at the heatmap for the 2020-21 and the current season, and we see a stark difference.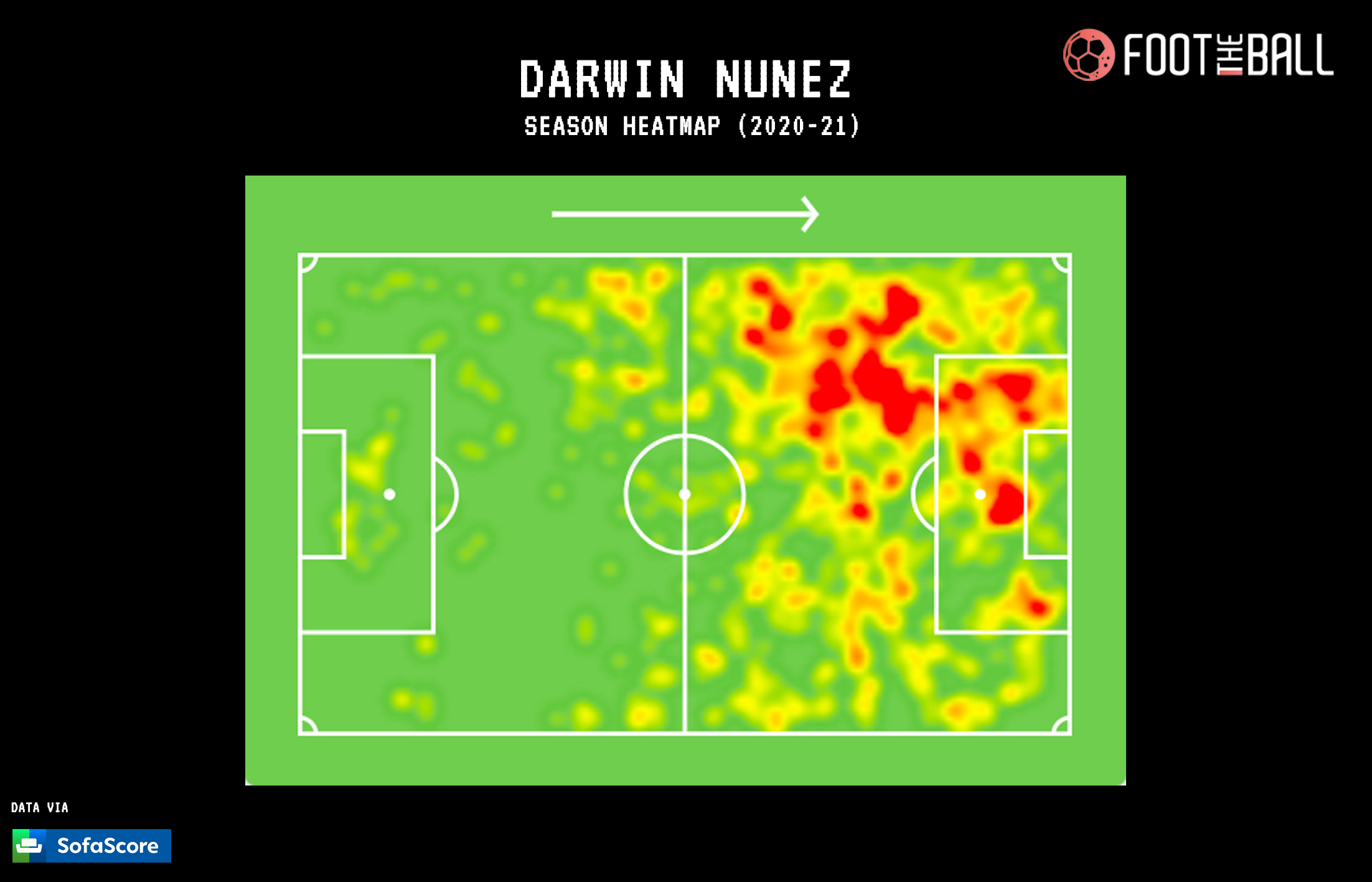 In the 2020-21 season, Nunez's was operating outside the D on the left side most of the time. This was where he created his magic that led to his nine assists.
However, this season, his heatmap shows that he has been most involved in the goal area, which explains his high-scoring spree.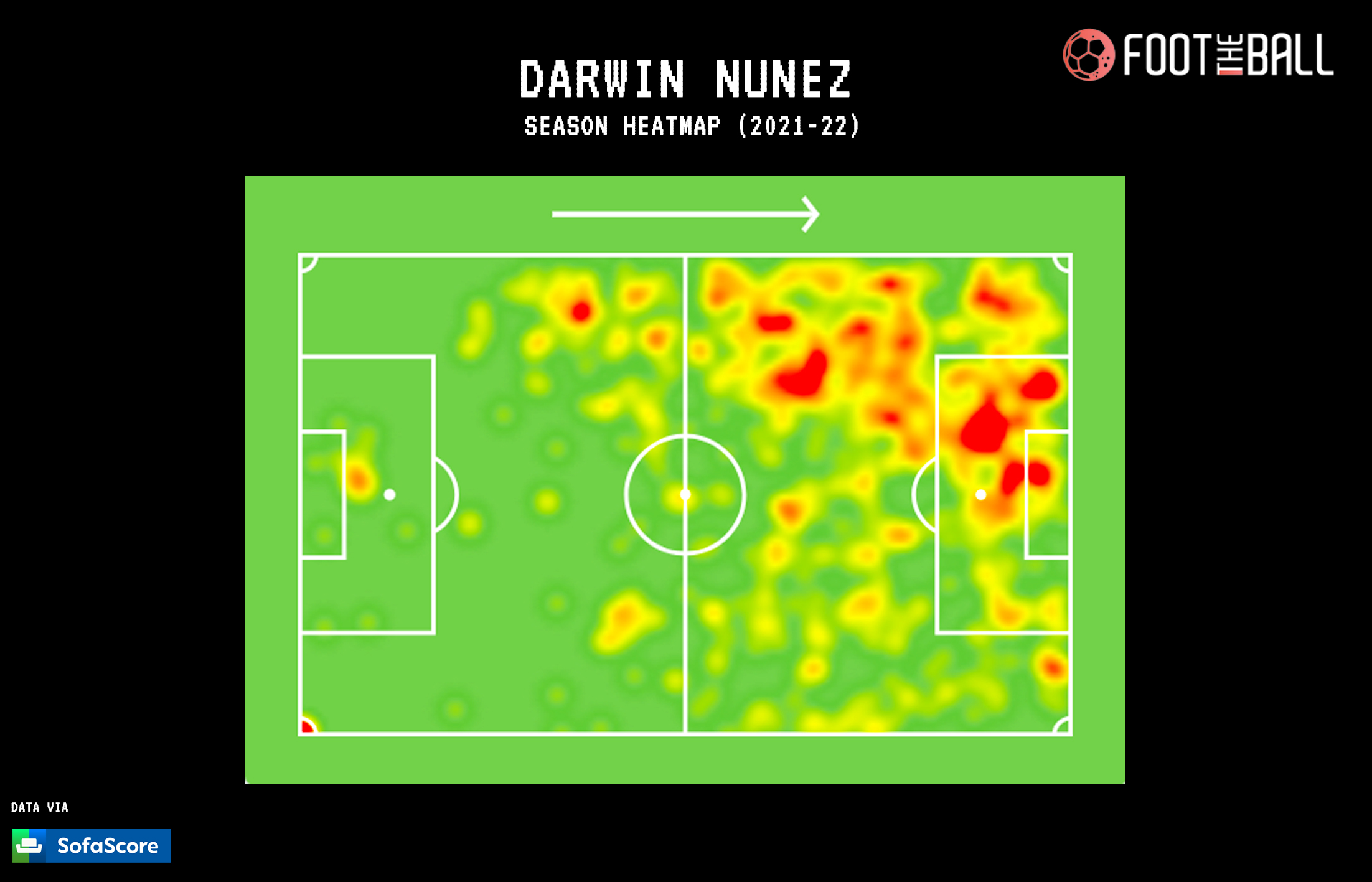 The killer goal scorer
If there is one thing Nunez has shown this season, he is best suited to be a goal scorer. Of course, many players can score goals, but what makes Nunez unique is the efficiency with which he scores them.
Soccerment's 
stats show that Nunez has scored 18 goals out of his 28 shots attempted on target. This is an astounding conversion rate of 64.28 per cent, which is more than 10 per cent of the second-placed Ricardo Horta and a
certain Luis Diaz
.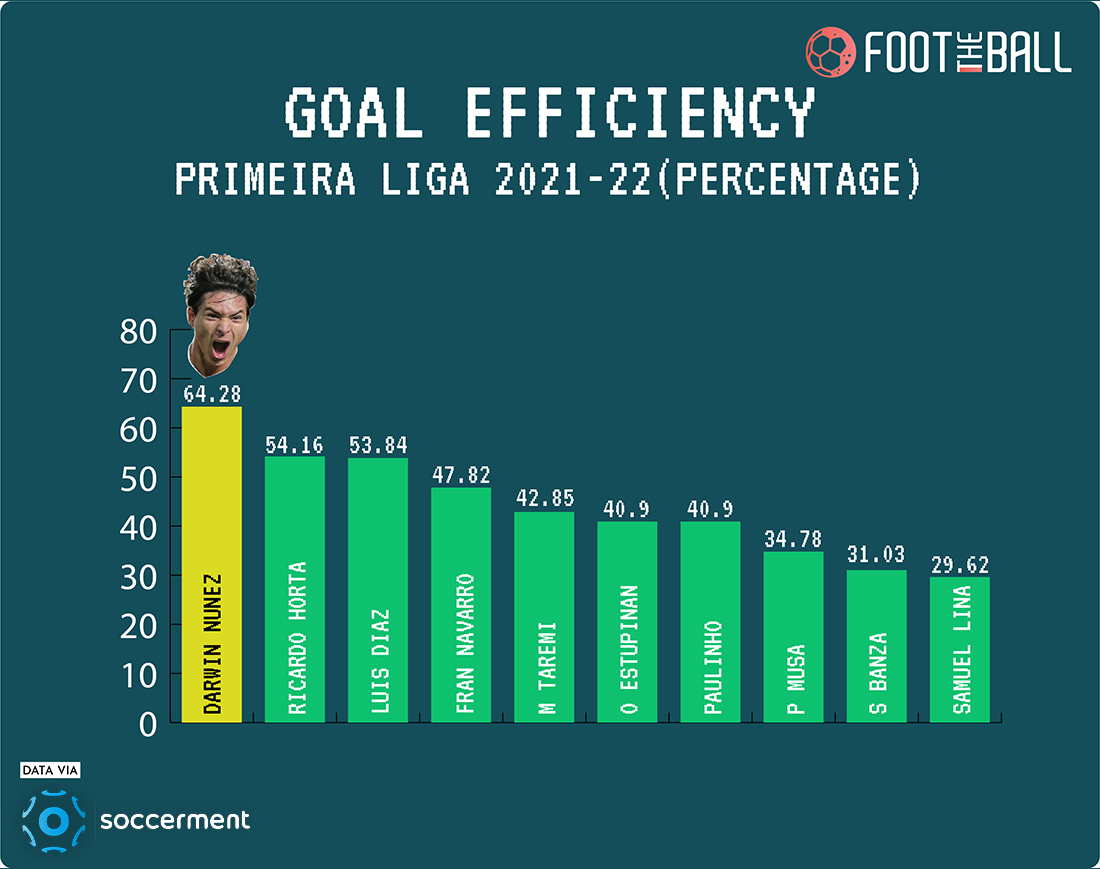 Another thing to notice is that though he was more involved in playmaking in the 2020-21 season, he was deployed more centrally during the same campaign in Europa League.
This resulted in five goals and one assist. And this year, he has had the opportunity to show his talents in the UEFA Champions League, which he has taken with both hands.
Smarterscout, which rates every player between 0-99 on various skills, has rated him very highly in attacking prowess while his possession numbers are pretty low.
Soccerment has also given him the maximum possible rating for non-penalty goals and a high rating for shooting and touches in the opposition's box.
This contrasts his previous season where Soccerment he has been rated low on every metric except on aerial ability, assists and through balls.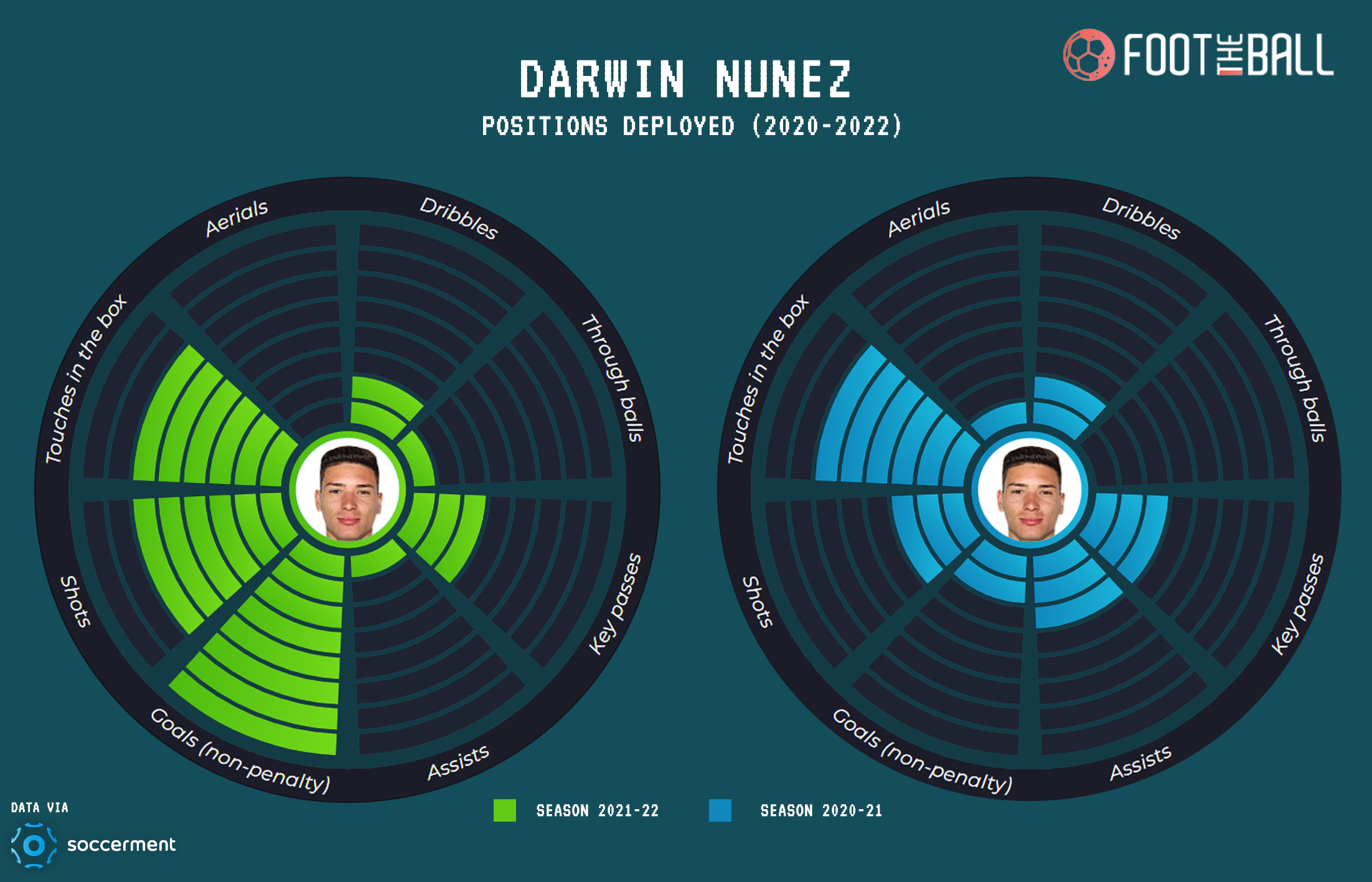 Why should teams sign Darwin Nunez?
Nunez is a particular player who is blessed with scoring prowess and thus can add quality to any team's attack. The 21-year-old will also have a lot of suitors as top clubs such as Barcelona, Manchester City, Real Madrid, and Paris Saint Germain (based on the situation with Kylian Mbappe) will be in the market for a top striker.
Erling Haaland is another player who will be on the club's radars, but only one club can get him in the end, plus his exorbitant fees and salary required to woo him may be a roadblock for clubs.
He is 21 like Haaland, and it would be easier for a club to conduct a deal with Benfica than for Erling Haaland, whose market will be red hot, conducted by Mino Raiola.
And it was evident in the January transfer window when Benfica was ready to part with him for a figure close to € 50 million despite Nunez having a release clause reported to be between € 125-150 million release clause.
In such a scenario, Nunez can be perfect for teams looking to sign a player with huge potential.
Furthermore, Nunez is also a player who knows his limitations, and he tries to get himself involved in areas and lies where he knows he can be helpful for the team.
If Nunez maintains this high level of performance, he will be eventually prized away, and it's a question of when not if.