Ever since Ousmane Dembele's transfer from Stade Rennais to Borussia Dortmund, Rennais has become a hotbed for young talent and undervalued players. The likes of Eduardo Camavinga came from their academy.
1 – Eduardo Camavinga is now the youngest player to score with Rennes in Ligue 1 in the post-war period (17 years & 35 days). Diamond 💎. pic.twitter.com/msKJ7DaoZO

— OptaJean (@OptaJean) December 15, 2019
The recent transfer of Raphinha to Barcelona was another proof of their elite player development system. Since Raphinha left Rennais for Leeds, their next line of elite wonderkids have already arrived. The likes of Loum Tchaouna and Lesley Ugochukwu will be looking for a breakout season now.
[#OLSRFC]

📊 Le SRFC est la première équipe à marquer au moins 4 buts lors de ses 2 matchs de la saison en @Ligue1UberEats 🆚 Lyon (4-1 puis 4-2) depuis Bordeaux en 82/83.🤓

🔎 Les chiffres marquants après la 28ème journée👇

— Stade Rennais F.C. (@staderennais) March 14, 2022
Bruno Genesio's side possesses such talents that have shown their quality after they switched to Stade Rennais. players like Lovro Majer, Jeremy Doku, Kamaldeen Sulemana, and Benjamin Bourigeaud are part of that pack. However, a key part of their success has been Martin Terrier. A bit on the older side when compared to his younger teammates at 25, he has been the one constant at Rennais after upheavals every summer window.
Finally, he looks to have caught the eye of European elites. How good is Martin Terries? What can be expected of him? We take a look.
Martin Terrier stats
Martin Terrier has been exceeding expectations since his switch from Lyon. Terrier properly exploded last season and finished 3rd in the scoring charts of Ligue 1 with 21 goals in 37 games.
With 22 goals between them, #Ligue1's most fearsome forward line is ready to pounce at the Parc de Princes…against PSG 🔥

➡️ Catch the dynamic duo of Martin Terrier and Gaetan Laborde in action for #Rennes at #PSG – live today on beIN SPORTS from 2:50PM ET. #PSGSRFC pic.twitter.com/L3PXe1dyNP

— beIN SPORTS USA (@beINSPORTSUSA) February 11, 2022
Martin Terrier became a star that season. The Lille academy graduate, who showed a lot of promise since his early days, gathered momentum and took off. After scoring 9 goals and assisting 7 times in an all-action attacking display from the left-wing in the 2020-21 season, his clinical nature made his switch to a more central position logical. Last season, the majority of Terrier's minutes came as a centre forward alongside a strike partner. He was also been deployed as a second striker but effectively now plays in the centre of the pitch.
🇫🇷⭐𝗠𝗮𝗿𝘁𝗶𝗻 𝗧𝗲𝗿𝗿𝗶𝗲𝗿, with a perfect 🔟, leads the way in this week's @WhoScored Team of the Round! pic.twitter.com/ieZiy3bo6J

— Ligue 1 English (@Ligue1_ENG) December 6, 2021
It seems like he has found a position that is perfect for him. Especially since he has constantly been moved around to play almost all positions in the attacking 3rd ever since his senior career began.
Martin Terrier scout report
Last season, Bruno Genesio has converted Martin Terrier into a proper striker. Earlier, the majority of Terrier's minutes came on the left wing.
Owing to the change, his statistical profile changed completely. From starting the moves and being involved in buildup, he transformed into a ruthless finisher who didn't need a second invitation to score. No surprise his 6ft gangly agile frame has proved more fruitful in the central areas of the pitch.
Since the positional switch, Terrier's shot numbers have almost doubled from 1.7 to 2.8 and so have his shots on target which has jumped from a lowly 0.6 to an elite 1.35. In turn pushing his per 90 Xg from 0.3 to 0.6 which is about the same as world-classs forwards such as Sadio Mane. He is even taking shots closer to goal.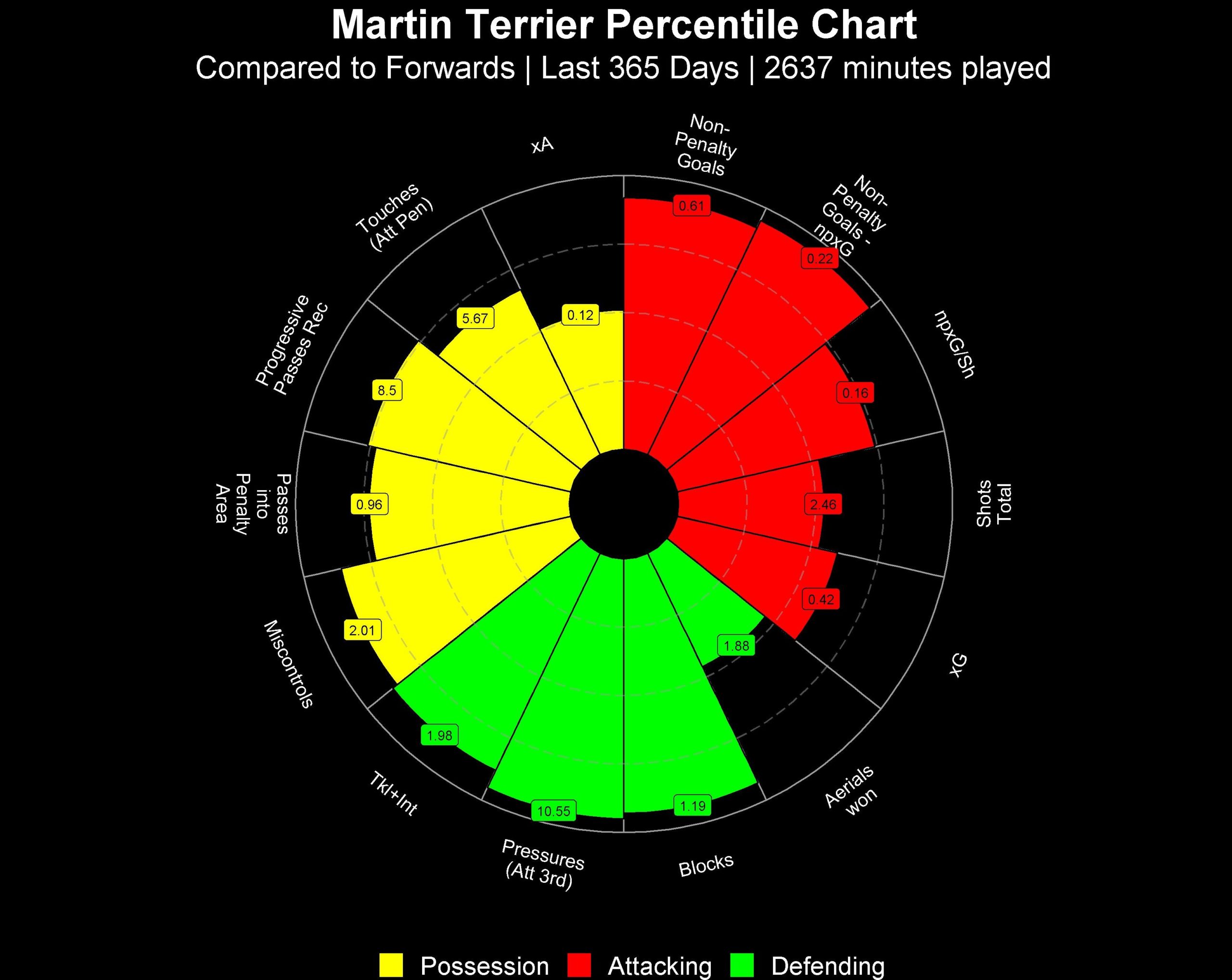 His average shot distance last season was an average of 16 yards which has dropped to a promising 14 yards, meaning he is getting into better positions to take his chances.
His shot conversion ratio has always been solid sitting at around 0.48 but since his volume of shots has gone up his lethal nature in front of goal has come into the spotlight. Ligue 1 defenders are struggling to contain him now and his reign of terror over them is peaking.
Martin Terrier style of play
Martin Terrier is the proper modern-day attacker. Versatile with a wide skill set. His positional versatility in his early career has granted him the ability to find space and press! A unique combo. Therefore, he is an ideal signing for successful modern team who build their game around the principle of "Gegenpressing".
His pressures have remained the same at 19.5 per game which is a high number for forwards, so much so that he can be compared to the likes of Griezmann.
His compatriot Terrier is very similar to him stylistically. Both of them are capable of playing anywhere along the attacking frontline and even as a second striker, a position they seem to thrive on.
Terrier was more lethal than Griezmann last season. While Terrier lays on 1.2 key passes a game, Antoine is not too far ahead at 1.7. Martin Terrier has been superb at converting his chances, unlike Griezmann. While Griezmann is on his way down Terrier is on his way up.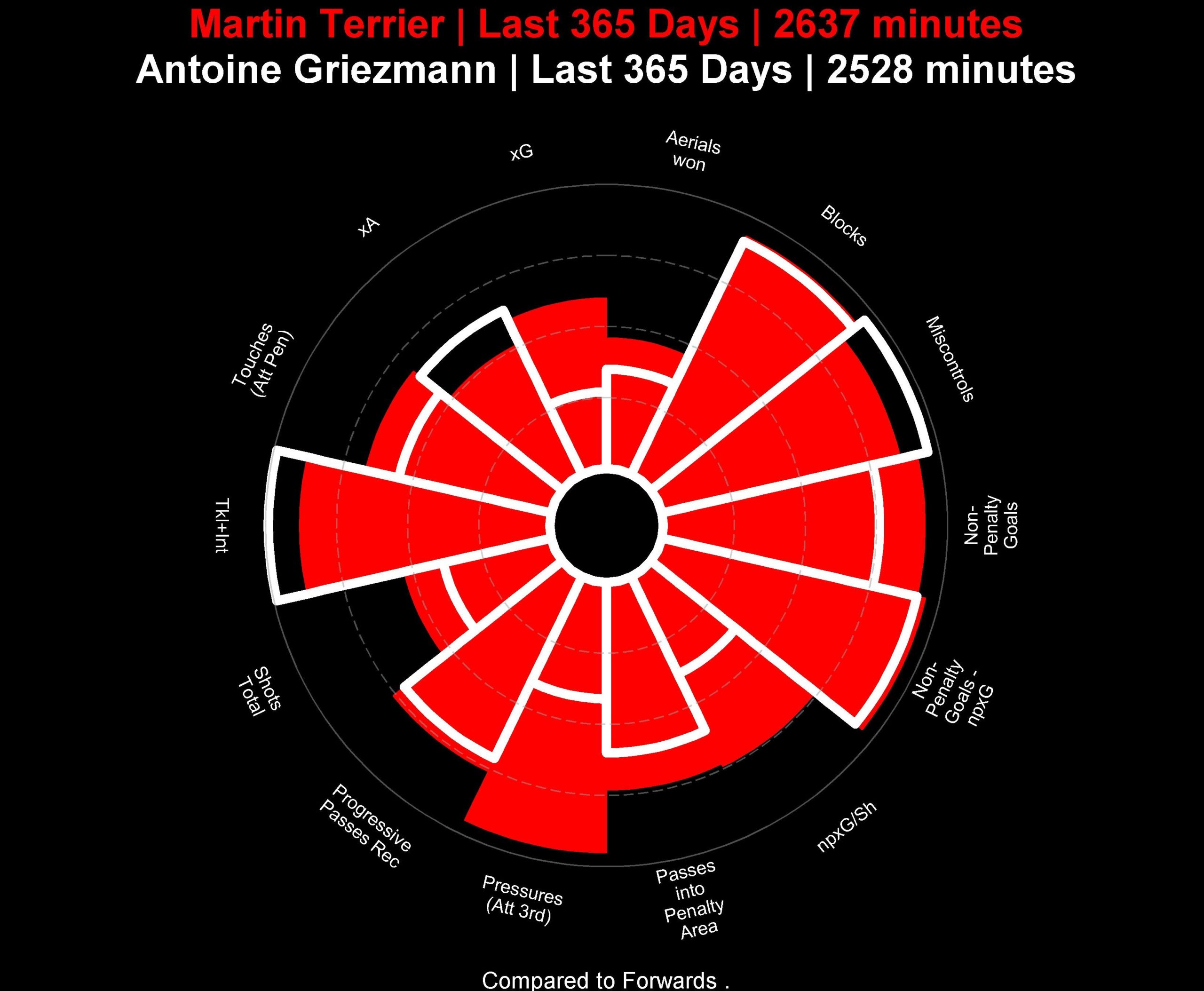 He has always showcased an inherent ability to find space in forward areas despite his progressive passes received, going down after his positional switch. They sat at a promising 9.7 during the 2020/21 season which has dropped to 7.7 during 2021-22. However, his percentage of successfully retaining the ball has gone up. This is despite the central areas of the pitch always being congested, meaning that despite receiving a fewer number of progressive passes he is able to turn them into something productive on the pitch more this season.
His tenacity and decisiveness have been fine-tuned for him to have an even bigger end product. Terrier's passes received percentage is the same as Griezmann, sitting at an excellent 76%.
Antoine Griezmann this season:
• 7 Matches
• 0 Goals
• 0 Assists

Dreaming of better times. 🥺 pic.twitter.com/frnWCPoS4b

— 90min (@90min_Football) September 27, 2021
His attacking versatility is very similar to the little Frenchmen too. If Griezmann's end-product does not pick up again Terrier will be a good acquisition for Atletico Madrid in attack. He will not mind playing a bit part role also but his talent deserves to play Champions League football.
A call-up from the France national team set-up beckons too. He will be an asset for any club that has aspirations of playing UCL football. After seeing his teammates depart for bigger clubs every summer, Terrier's time is coming soon!