"He is very young, he is a great talent and he can play like a number 10 with the strikers." That's what Tottenham Hotspur boss Antonio Conte recently said after Dejan Kulusevski's transfer from Juventus. 
But the Swede is not just about that. And Conte knows it. "He has the potential to play wing-back on the right, he has good quality. He likes to attack, he is good on a one vs one, to create chances for team-mates," Conte told journalists.
After the heartbreak of losing out Luis Diaz to Liverpool, Tottenham actually may have a gem with Kulusevski that Conte can polish and unleash in a role alike to Heung-min Son . 
But in footballing terms, Dejan Kulusevski is a signing that Tottenham settled for, not what they aspired to do.
But can he survive the intensity of the English Premier League?
Stats
A look at his stats straightaway confirm one thing, he loves to dribble and is a hard worker. And the youngster and his coaches have admitted that too. The Swede is the type of player who wants to be the creative force of the team/.
To better analyse his quality, we should look at his stats from the 2019-20 season when he was at Parma. Before the start of the season, Juventus had brought him before loaning him to Parma.
During the entire season, Kulusevski was involved in 18 goals (10 goals and eight assists). However, the Swede played the majority of his season as a right-winger.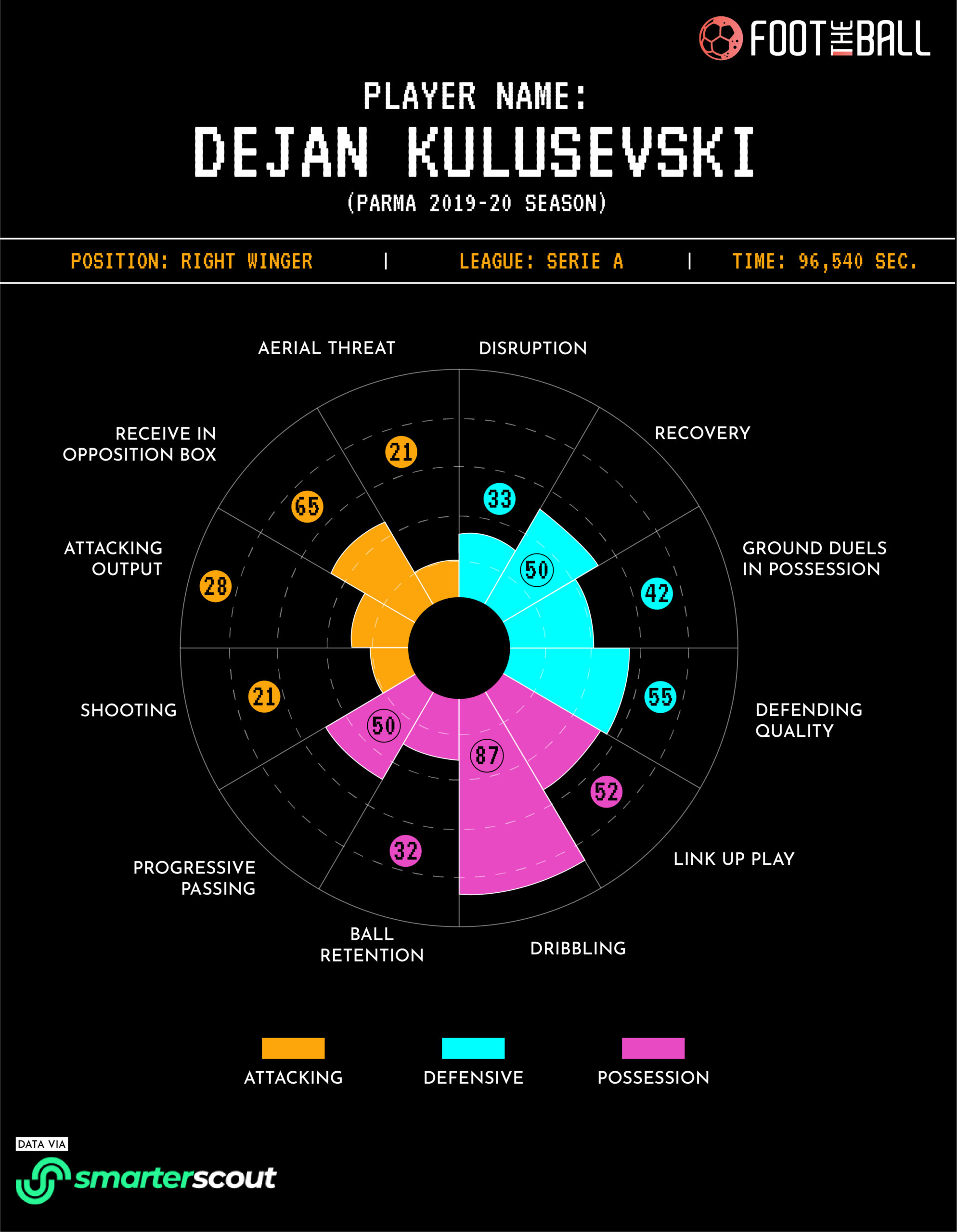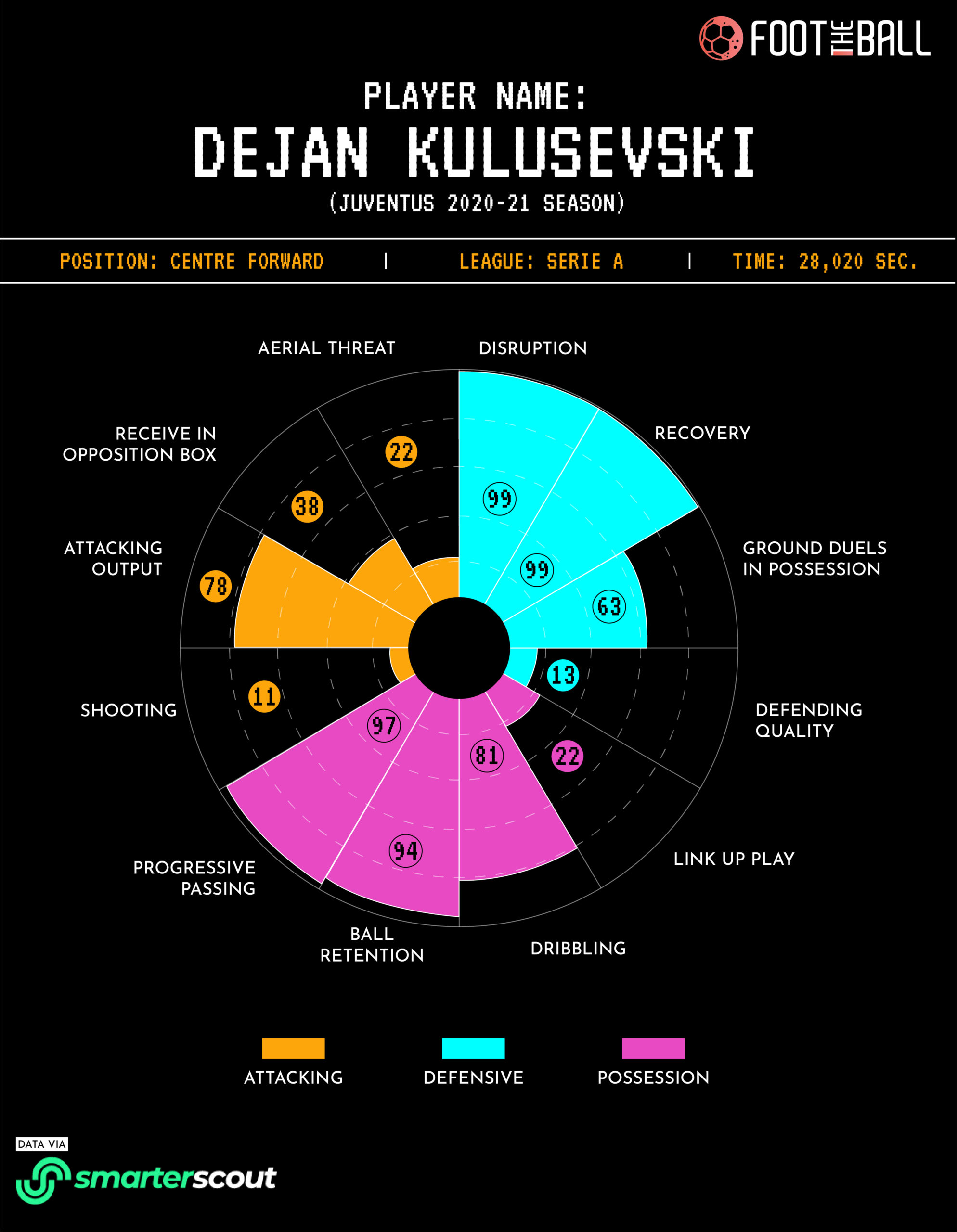 And even then, he was rated at 87 for dribbling and had a respectable stat for someone playing at the highest level of Italian football.
Still, he scored eight goals and nine assists from the position, while a solo goal came when he was playing in the central attacking midfield position.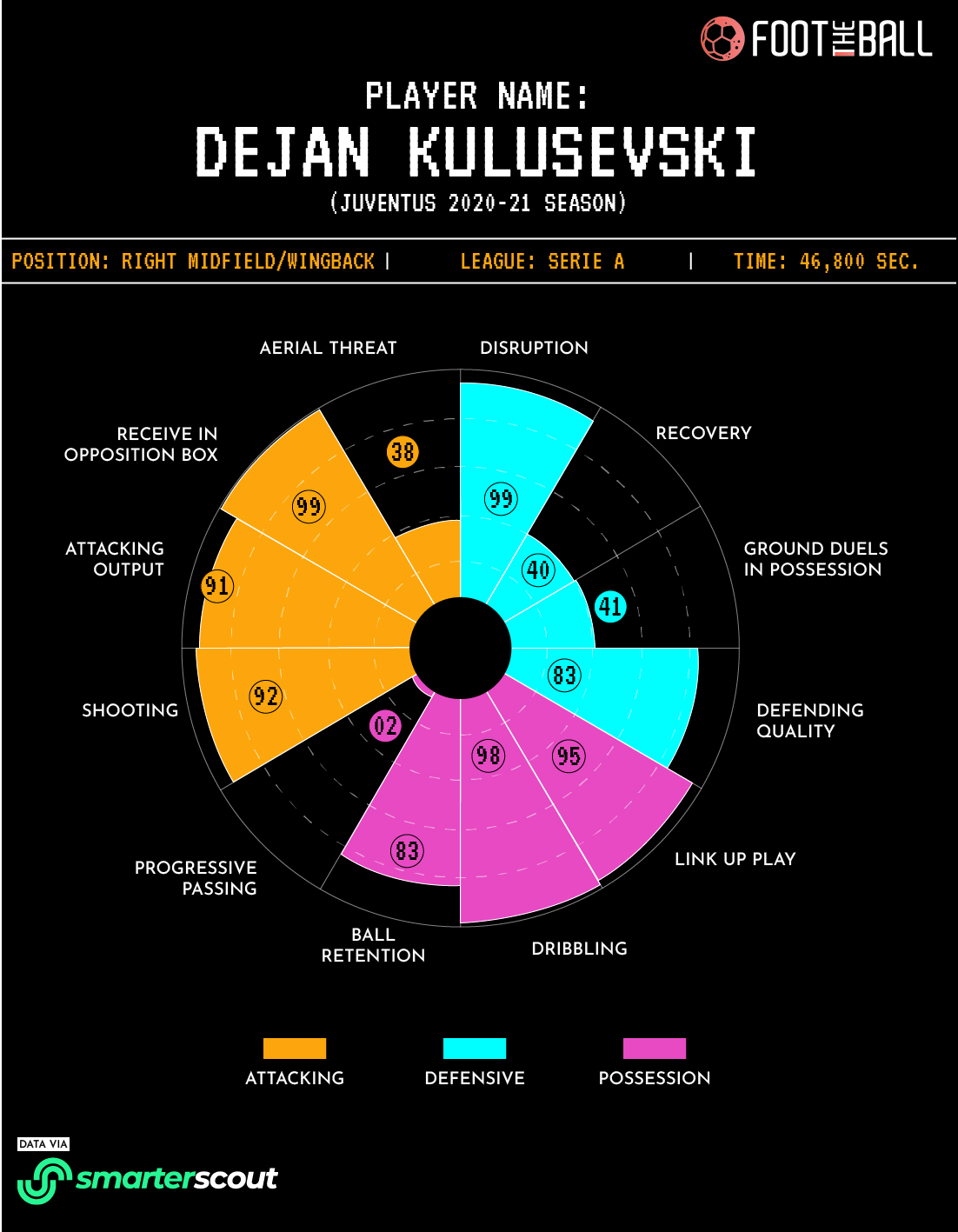 However, things at his parent club were far from perfect. Maurizio Sarri, who sanctioned the deal, was fired by the season end and replaced by Andrea Pirlo.
However, this would be an underwhelming season for the I Bianconeri as they qualified for the Champions League by a single point.
His partnership with Cristiano Ronaldo failed to produce the desired results. However, much blame can't be laid on him as the frequent changing of position from the second striker to right midfield/wing, and vice versa, ensured that he never got the desired time in one position.
Despite this, he has managed to put on respective numbers. Data from Fbref shows that the player completed 6.02 progressive carries per 90 minutes in the last 365 days, which puts him in the top nine percentile compared to forwards. In addition, he also makes 1.90 carries into the final third and 1.28 carries into the final third, both of which puts him in the top ten percentile category.
The story is quite similar to shot-creating actions as the youngest ranks among the top ten percentile with stats of 3,50 per 90 minutes.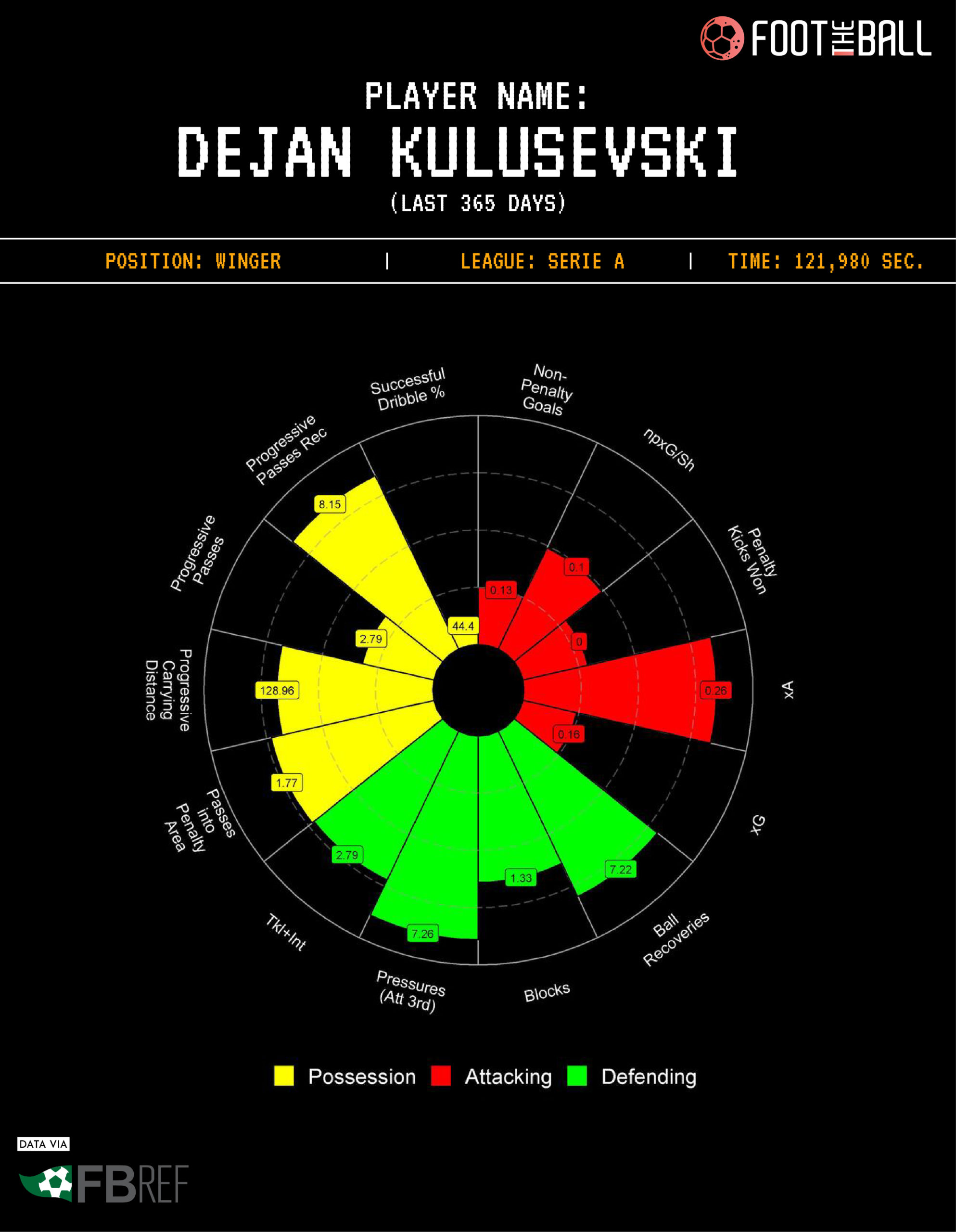 We also must take a look at the stats from a different viewpoint. When compared to attacking midfielders and wingers, his numbers are pretty ordinary, but we have to consider that the majority of his previous season came at the second striker position.
The hard-working forward
One of the critical areas that Kulusevski shines at is his tremendous work rate. T is something that his coaches have acknowledged too. Fbref data shows that his defensive numbers are elite level when compared to forwards.
He averages 1.86 tackles per 90 minutes (top one percentile),1,33 successful tackles (top one percentile), 0.58 dribbles tackled (top one percentile), 1.86 dribbles contested (top one percentile), 23.51 pressures (top one percentile), 5.84 successful pressures (top four percentile), 1.33 blocks (top three percentile), 1.28 passes blocked (top three percentile),and 2.79 tackles plus interceptions (top one percentile).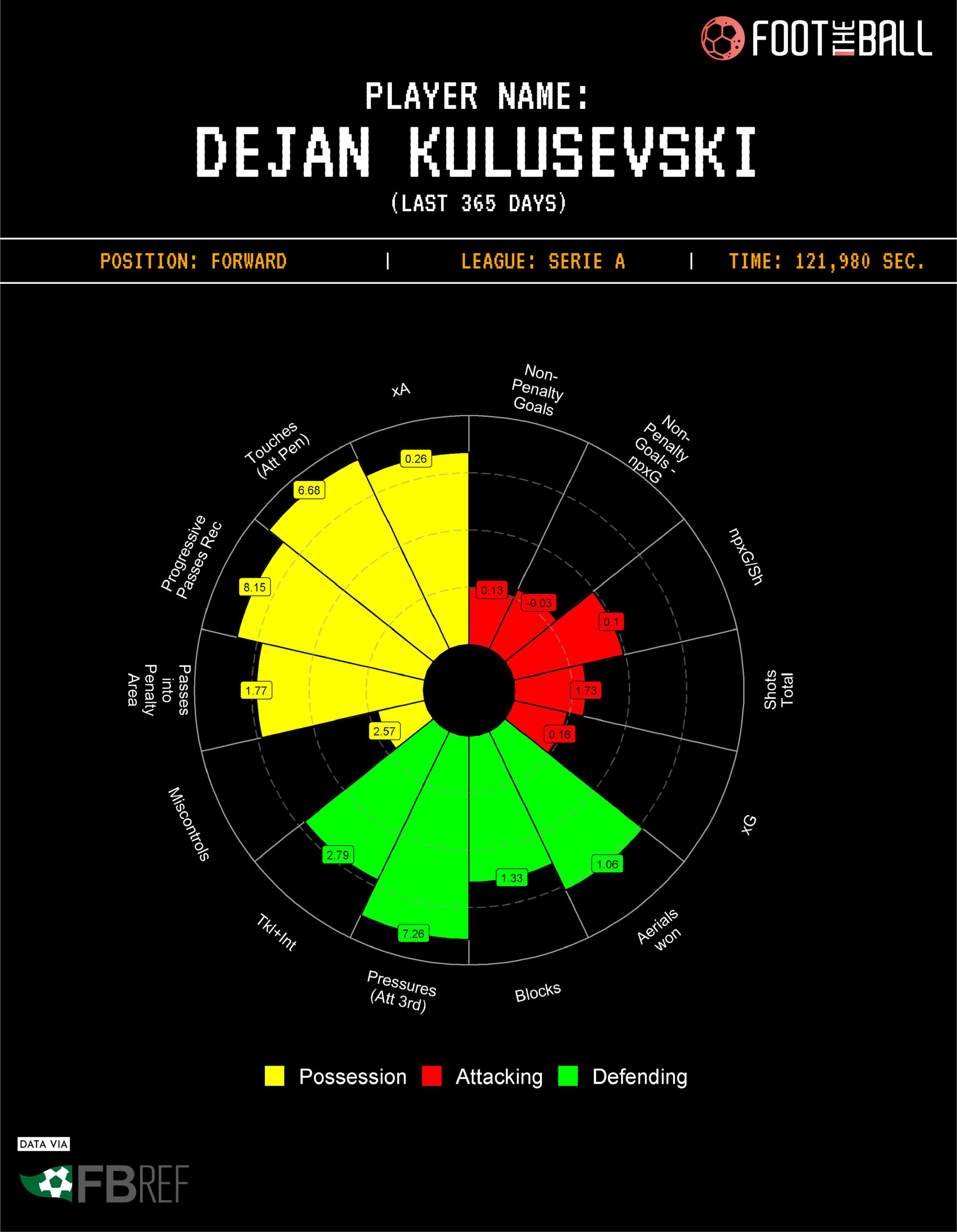 This proves that he will be the perfect player to ensure that Tottenham can pressure the opposition in their half and create chances.
Kulusevski was also one of the highest distance covering players in the Serie A, regularly coving more than 13 km in a single match.
One of the major problems he has faced during his career is that fewer and fewer teams now play with a true central attacking midfield relying rather than on a three-person midfield.
However, the Swede has shown that he can adapt, which will be beneficial to a side like Tottenham.
Why Tottenham signed him?
Though Dejan Kulusevski may be an alternative signing, he also brings a different dimension to the Tottenham attack. For instance, he is a left-footer who plays on the right-wing and is probably the best signing in such a role since Erik Lamela in 2013.
And if Conte puts him back in the right-wing position giving him ample minutes, Kulusevski might be able to reconjure his magical 2019-20 season with Parma.
If this happens, his primary challenger will be Lucas Moura. And comparing stats of both players, it's easy to see that Kulusveski will be more than a match for the Brazilian.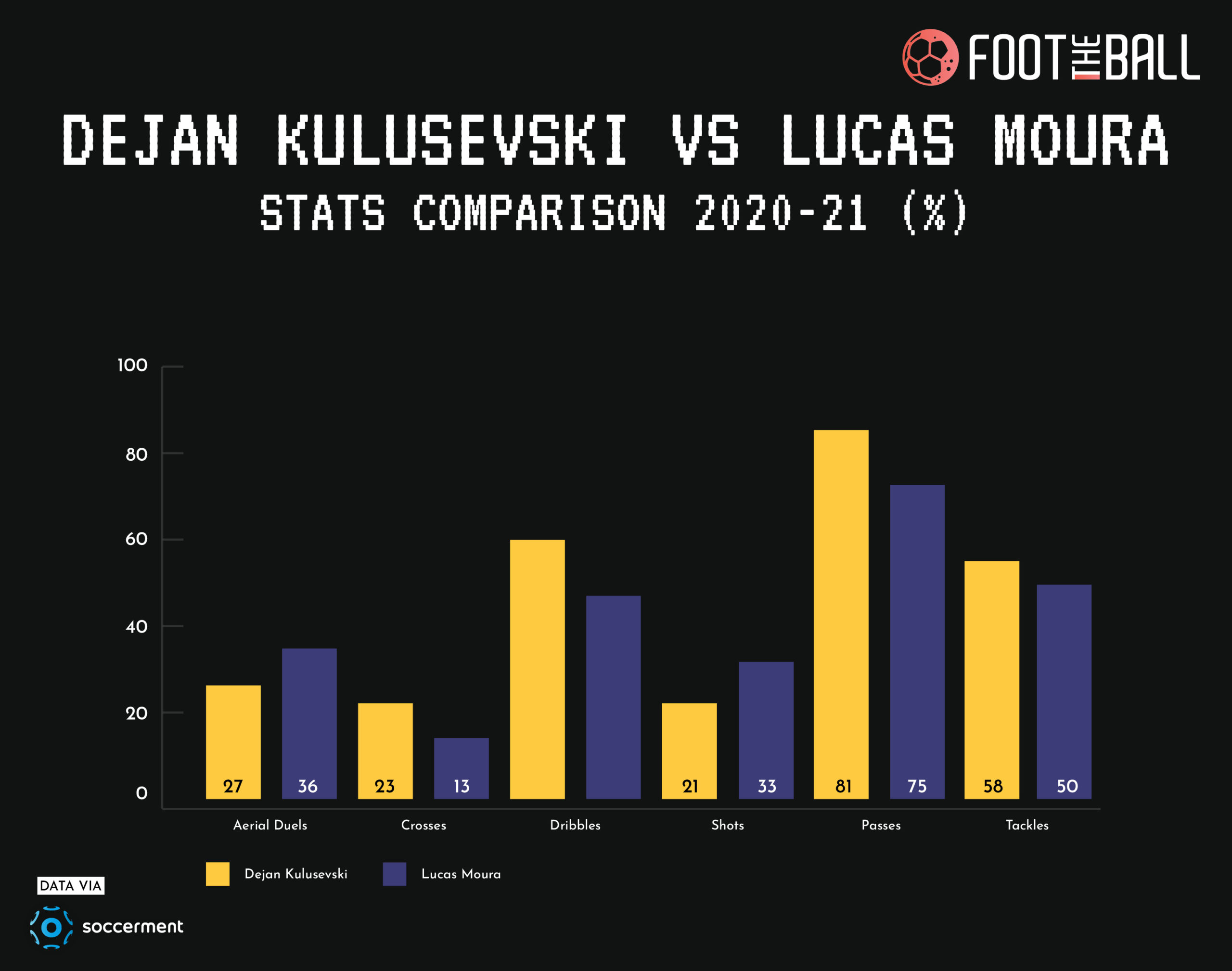 According to stats from Soccerment, The 22-year-old has a better success rate than Luca when it comes to crosses, dribbles, passes and tackles.
And he also has time on his side, and under Conte can become a future star not only for his club but also for Sweden.
Dejan Kulusevski may be signing that Tottenham settled for, but he has the skill and talent to convert himself into a brilliant one.
*This article is sponsored by Tech Mahindra's sports vertical. India's only Formula E Championship participant, Mahindra Racing has appointed the IT consultation and business services provider, Tech Mahindra as the digital transformation partner of the greenest racing brand in the tournament on the opening day of Formula E – Season 8.