After ending its drought of winning an English top-flight title in 30 years, Liverpool could have rested on their laurels, taken a break, downed a few pints and go back in utter satisfaction on the trophy-less spiral. But they did not. Rather they could not in an era of Jurgen Klopp's 'Gegenpressing' era.
In came Kostas Tsimikas from Olympiacos as competition to Andy Robertson, Thiago Alacantara from Bayern Munich to act as the midfield operator and a certain Diogo Jota from Wolverhampton Wanderers.
The move was not surprising as Liverpool had not signed any high profile player in the last two transfer windows. 
But it was Jota's signing that stood out; copybook signing that every club dreams for, done with the minimum of fuss and the news leaked to the media only when the deal was almost complete.
The Portuguese was signed as Jurgen Klopp wanted some competition for his front three of Roberto Firmino, Mohammed Salah and Sadio Mane.
Despite winning the previous season by a comfortable margin Liverpool were lucky that none of the front three were sidelined for an extensive period of time but it was a gamble which Klopp did not want to take again.
Stats 
Jota's signing was a typical Klopp signing, a player with huge potential who could be elevated to a world-class level at Anfield like a certain Andy Robertson.
In the 2019-20 season, Jota scored seven goals in the Premier League which was the second-highest by a Wolves player after Raul Jimenez.
While this may be a good figure for a young player Jota also missed 12 big chances in the entirety of the season, the highest of any Wolves player and the 13th highest overall in the league.
However, he was still less wasteful than Robert Firmino who scored nine goals and missed 20 big opportunities that season, the third-highest in that season.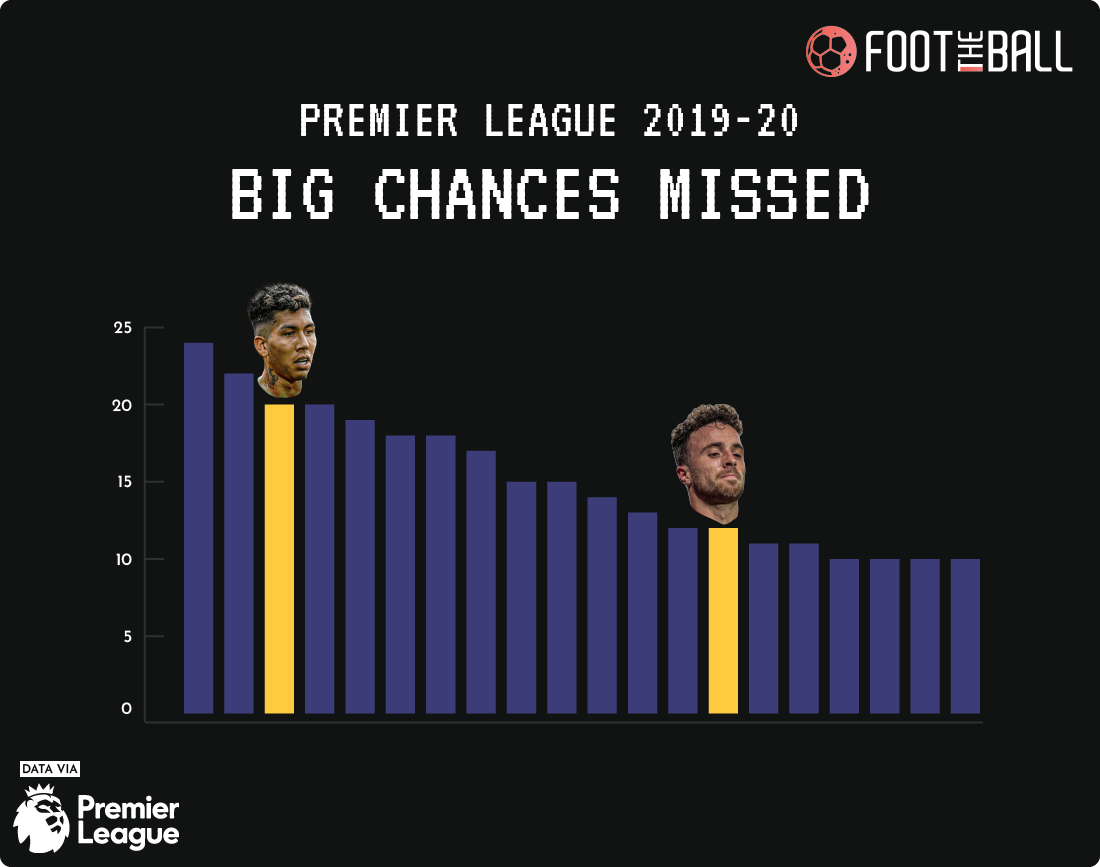 In a nutshell, Liverpool were looking to add a player to their ranks, a player that would be a quality replacement for their front three, a job that Divock Origi and Xehrdan Shaqiri were unable to do.
And Jota was a beast when he came off the bench for Wolves.
In the 2019-20 season, Jota scored five goals after coming on as a substitute, the most for any player in that season according to Opta stats.
And in Liverpool, he found the perfect match as it was a club that was desperately in need of quality additions to the bench, the lack of which had exposed them in the 2017-18 Champions League final against Real Madrid.
And in his first Premier League start coming off the bench against Arsenal Jota announced himself in style by scoring a goal for his new side.
He would go on to score two goals in his next two matches against Sheffield United and West Ham United thus making himself the second player in the club's history after Luis Garcia to do so.
Jota's stats also improved massively.
According to the ratings provided by smarterscout Jota displayed massive improvement in his both on and off the ball play while playing at the striker position.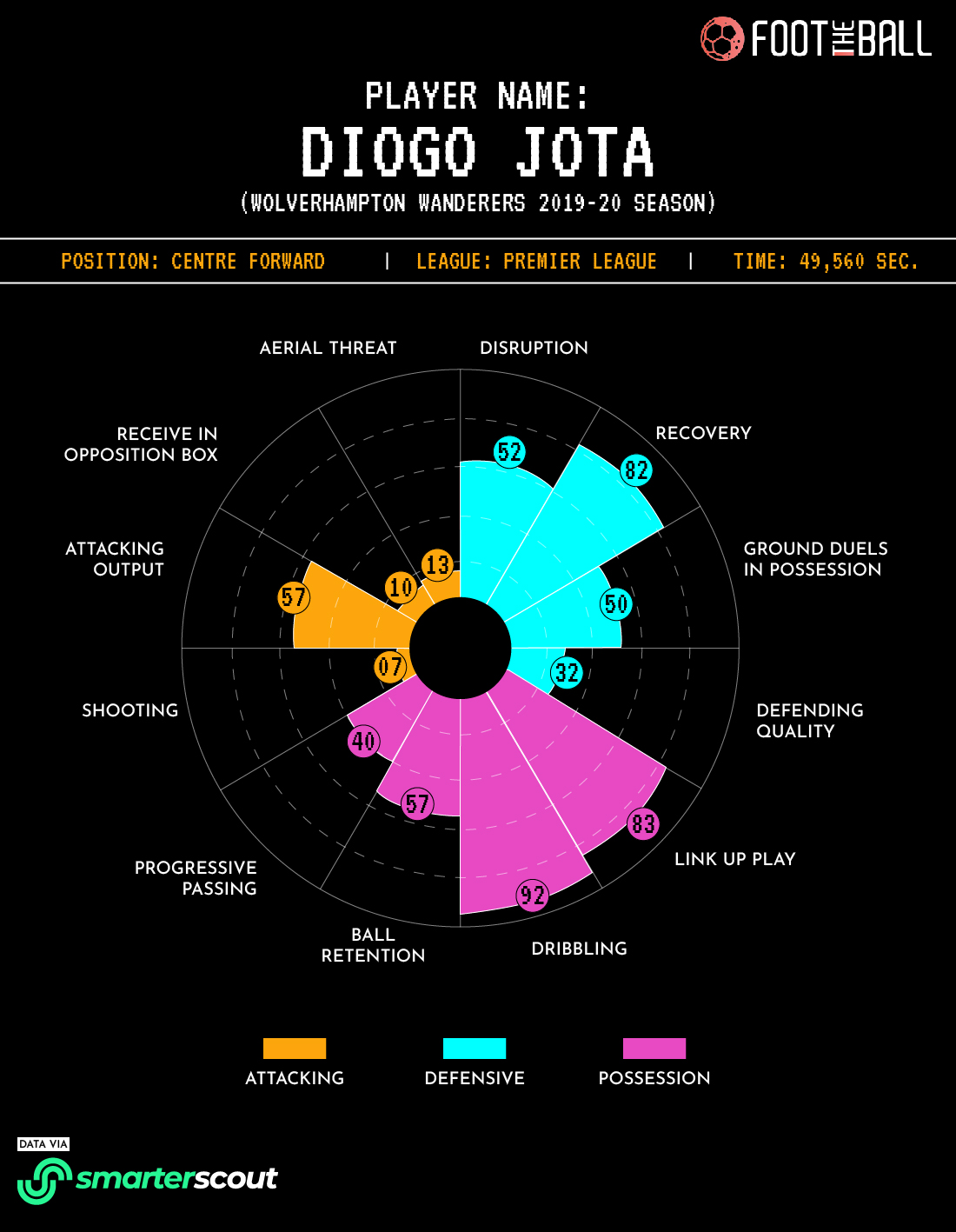 Furthermore, despite Firino's brilliant off the ball work his lack of attacking incisiveness was beginning to hurt Liverpool as Mane and Salah were not as consistent in the 2020-21 season.
This is where Jota's knack of getting consistently on the scoresheet helped Liverpool as it offered Jurgen Klopp some sort of Plan B.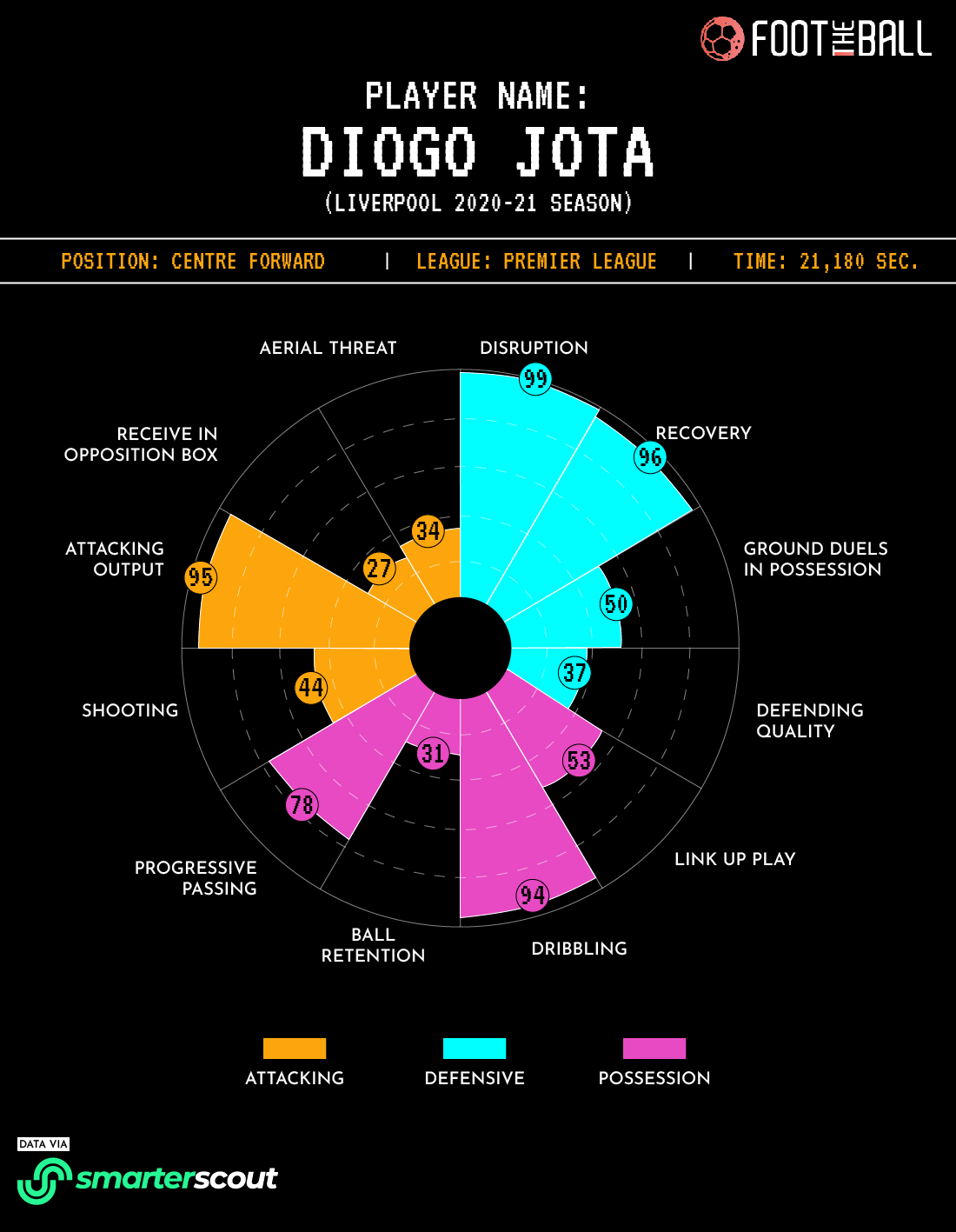 At the end of the season, Jota and Firmino scored nine goals each in the Premier League, however, the former had only played 1,113 minutes while the latter played 2,849 minutes according to the statistics by the Premier League.
And Jota thrived in one area where Firmino had dropped off massively which was his involvement in the attacking third.
A comparison of Jota's and Frimno's stats from the last season presents a clearer picture.

Stats are per 90 minutes 
This is a clear reflection of why Liverpool were right in adding Jota to their ranks.
Make no mistake Firmino was still ahead of the Portuguese when it came to off the ball work and carrying out the defensive duties but at the end of the day, Jota started bringing in goals for the club which was the need of the hour.
Jota has also added new skills to his arsenal.
He ranks third when it comes to scoring from headers since the 2020-21 season with six behind Dominic Calvert-Lewin (8) and Christian Benteke (7) despite Jota's five feet eight-inch height.
📊 STAT: Diogo Jota has scored 10 goals in a Premier League season for the first time in his career, while only Dominic Calvert-Lewin [8] and Christian Benteke [7] have scored more headed goals than his six since 2020-21. #awlive [opta] pic.twitter.com/hnd1D2y74h

— Anfield Watch (@AnfieldWatch) December 19, 2021
And an added bonus is that Jota can score goals which is evident by his three hat tricks in the Champions League and Europa League.
However, it is not that Jota has not struggled in some areas after joining Liverpool.
In fact, in the current season, he ranks third on the list of players who have missed the most number of big changes at 10.
But he has also scored 10 goals in the period as compared to Firmino's 2019-20 season when he scored nine goals and missed 20 big chances.
And Jota has missed one chance less than teammate Mohamed Salah and is on level with his other teammate Sadio Mane.
Jurgen Klopp has been known over the years to take players with potential and convert them into world-class players over time.
However, with Jota, the rise has been quick and Liverpool will hope that the rise goes on and on.