It was a classic transfer market move. Only this time, the wily Tottenham Chief Daniel Levy was blindsided by Liverpool's recruitment team in a classic 2013esque move when Brazilian winger Willian was set to join Spurs but was hijacked at the last moment by Chelsea.
Porto's Colombian winger Luis Diaz was wanted by Antonio Conte, heavily linked with a move to Spurs all throughout the transfer window in January 2022, but then came the charm offensive of Jurgen Klopp.
But who is Diaz? Why is he a sensation? For starters, the 25-year-old had been lighting up the Portuguese Primiera Liga team this season — scoring 14 goals and assisting 5.
So, who's Liverpool's Luis Diaz?
Stats
A look at his stats, and one can say that Luis Diaz is a mixture between Mane and Firmino. The 25-year-old is blessed with pace like Mane and loves nutmegs like Firmino. A look at his stats from fbref confirms the same.
According to fbref, Luis Diaz loves two things, dribbling and nutmegs. And the stats back it up. The Colombian has attempted 5.32 dribbles and completed 2.9 dribbles per 90 minutes in the last 90 minutes, both of which put him in the top eight per cent category. The stat is better than Firmino's stats of 2.78 dribbles attempted and 1.64 dribbles completed.
The Colombian also holds more than his own when it comes to defending, as he averages 7.47 ball recoveries per 90 minutes which puts him in the top eleven percentile category.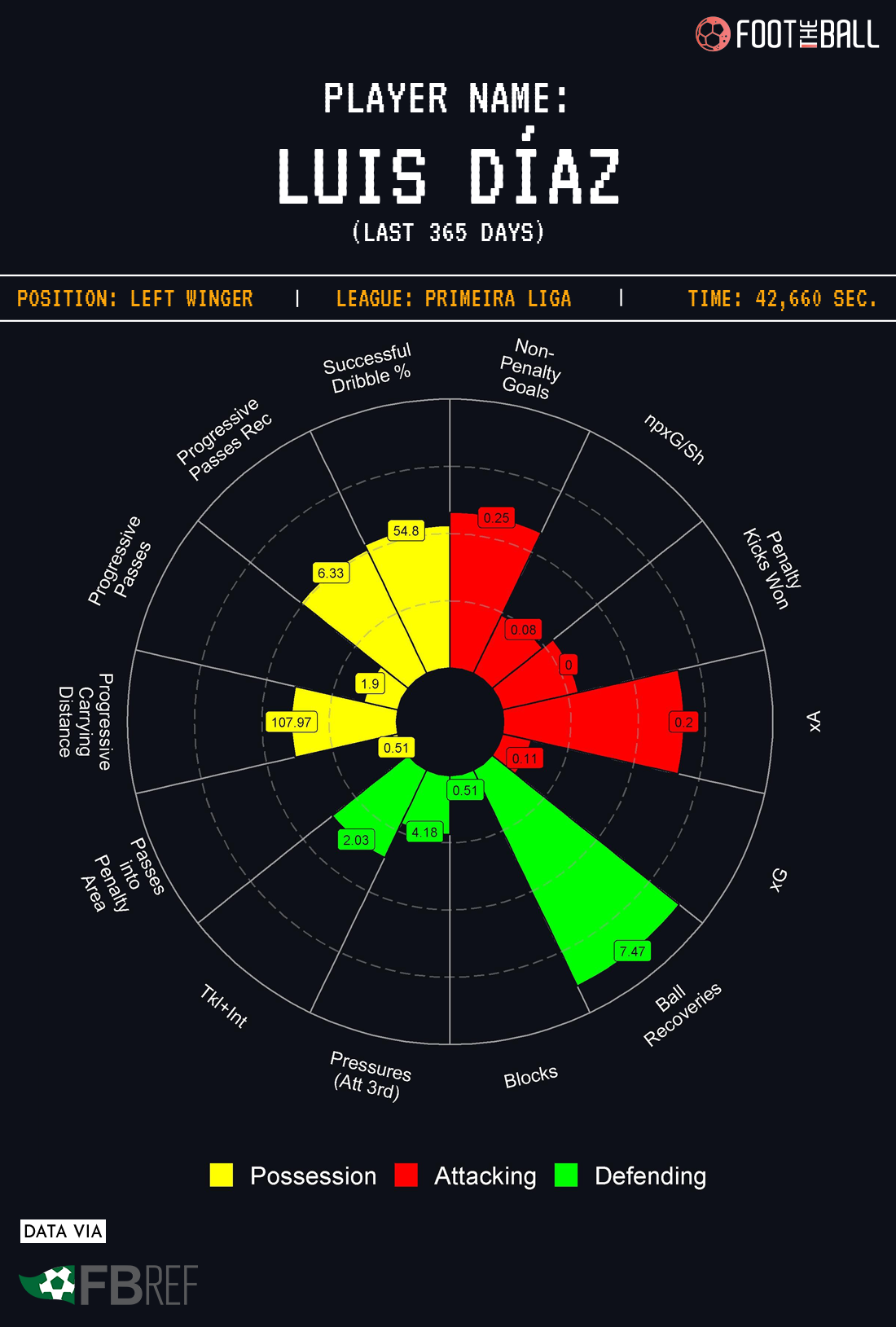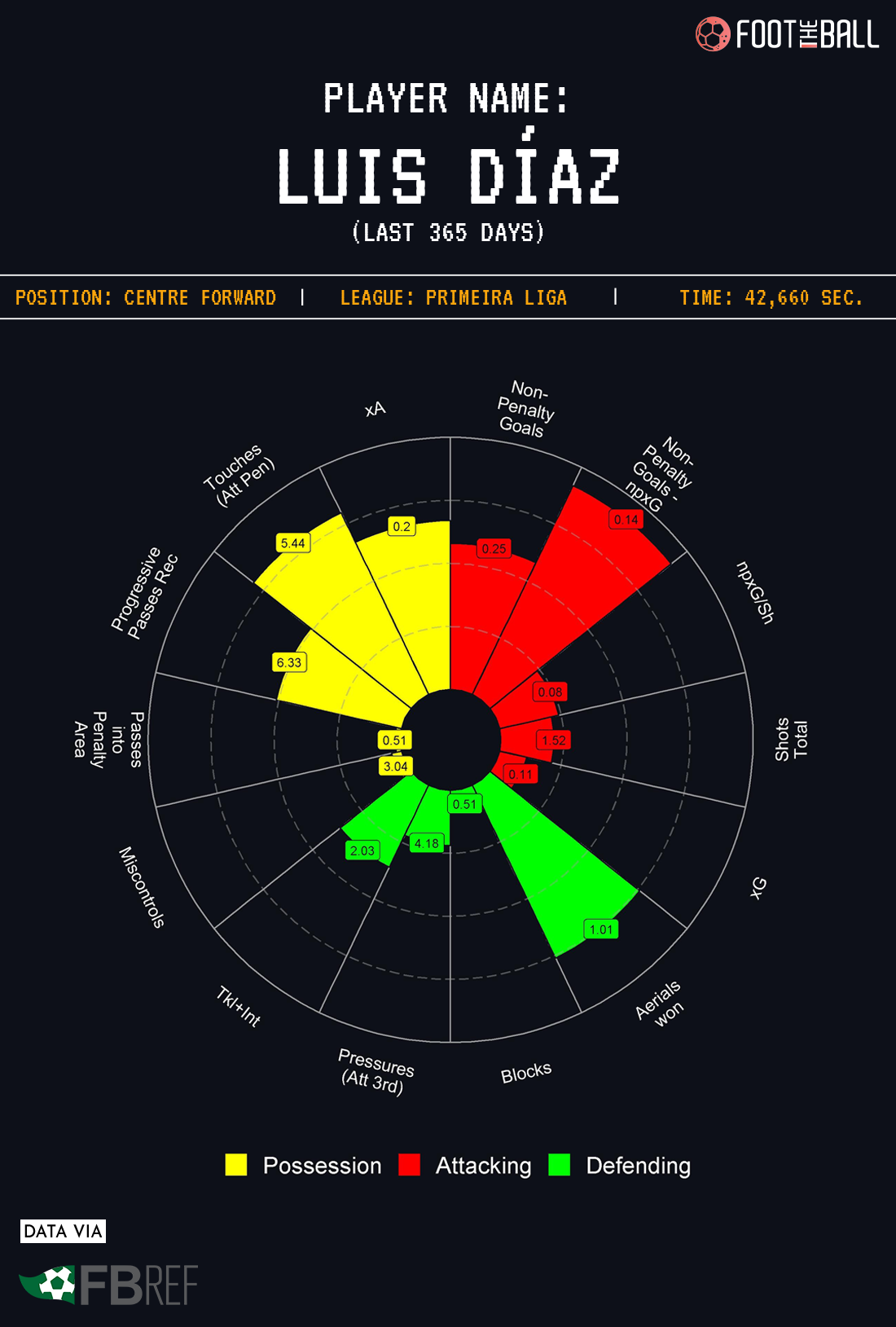 Diaz is also adept initiates an impressive..0.63 tackles per 90 minutes, the top per cent of attacking midfielders and wingers.
When compared to Mane, he still racks up impressive stats. Ratings from Smarterscout, which gives a rating between 0-99 for various skills, shows that Diaz has outperformed Mane. And these ratings have been adjusted to the Premier League level to give a clearer picture.
According to the data, Diaz has better ratings than Mane when it comes to recoveries (60 vs 35), ground duels in possession (76 vs 29), and defensive quality (86 vs 52). However, the comparison doesn't end there, and the Colombian has also outperformed Mane on link-up play (94 vs 66), dribbling (61 vs 58) and ball retention (91 vs 31).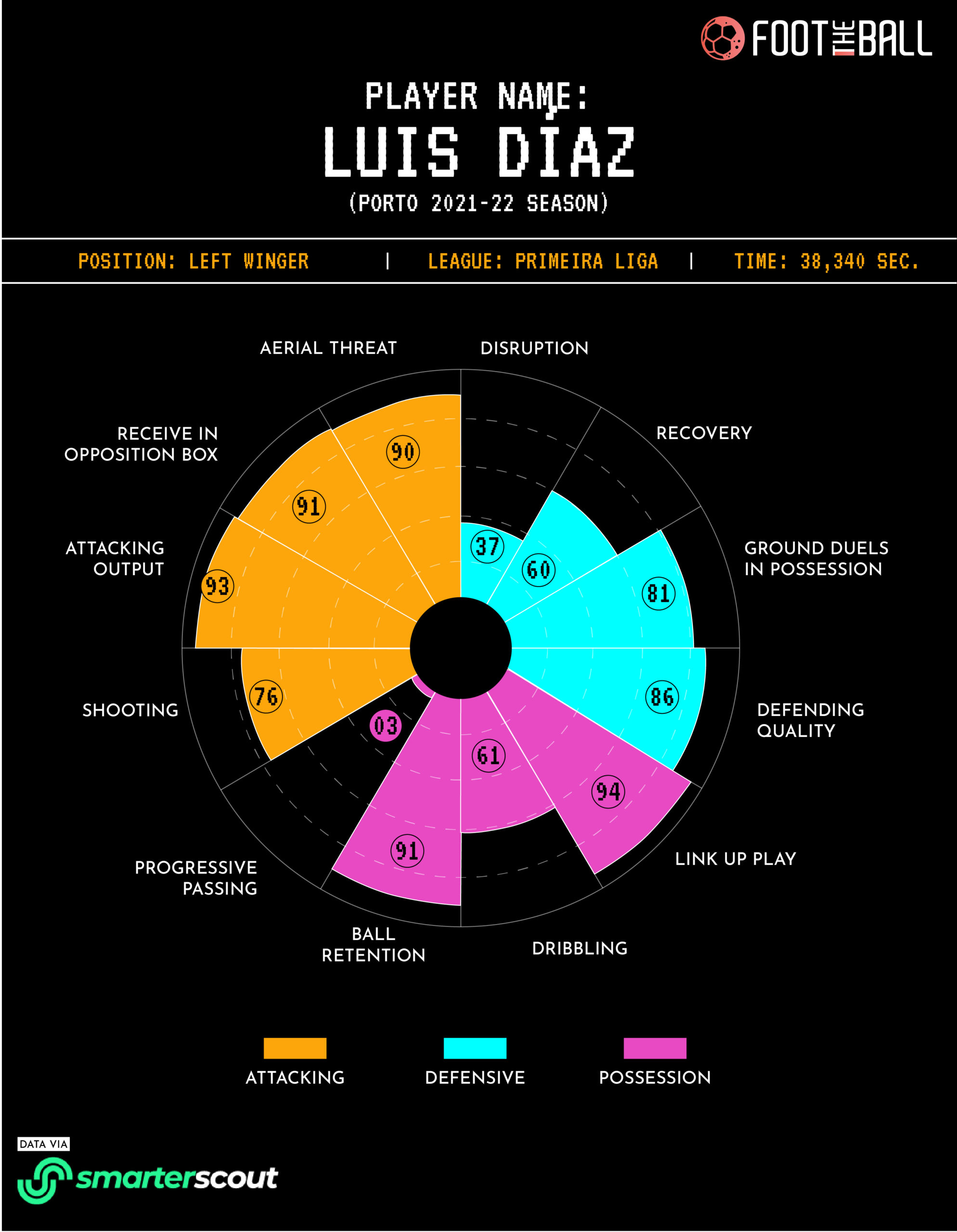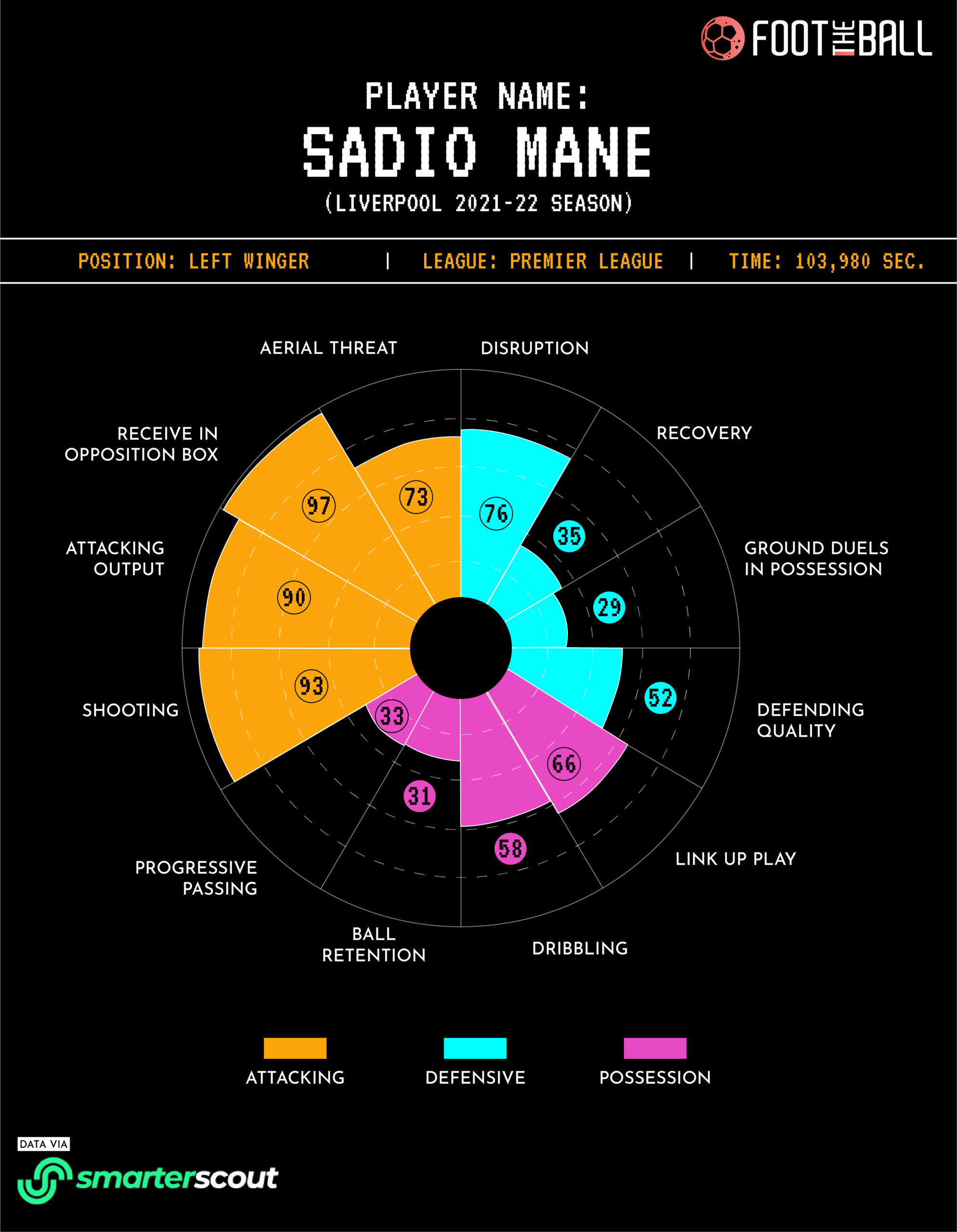 Although he has a measly rating of 3 for progressive passing, that can be explained by his high ratings of 91 when it comes to receiving the ball in the opposition's box. This shows that Luis Diaz is tasked with scoring from a key pass rather than making the critical pass himself.
"This combination of attacking output, ball retention, skill in 1v1s on the ball, and finishing doesn't come along too often. Can't really tackle but still defends well for an LW," Smarterscout said.
The curious case of shot conversion and goal accuracy
Liverpool has a real baller at their hands, but that doesn't mean he doesn't have any flaws. The left-winger was the second-highest goalscorer in the Primeira Liga had a sixth-best shot to goal conversions rate when comparing the top eight scorers in the league.
His ratings improve marginally when comparing shots on goal to goal conversion rate, where he ranks fourth.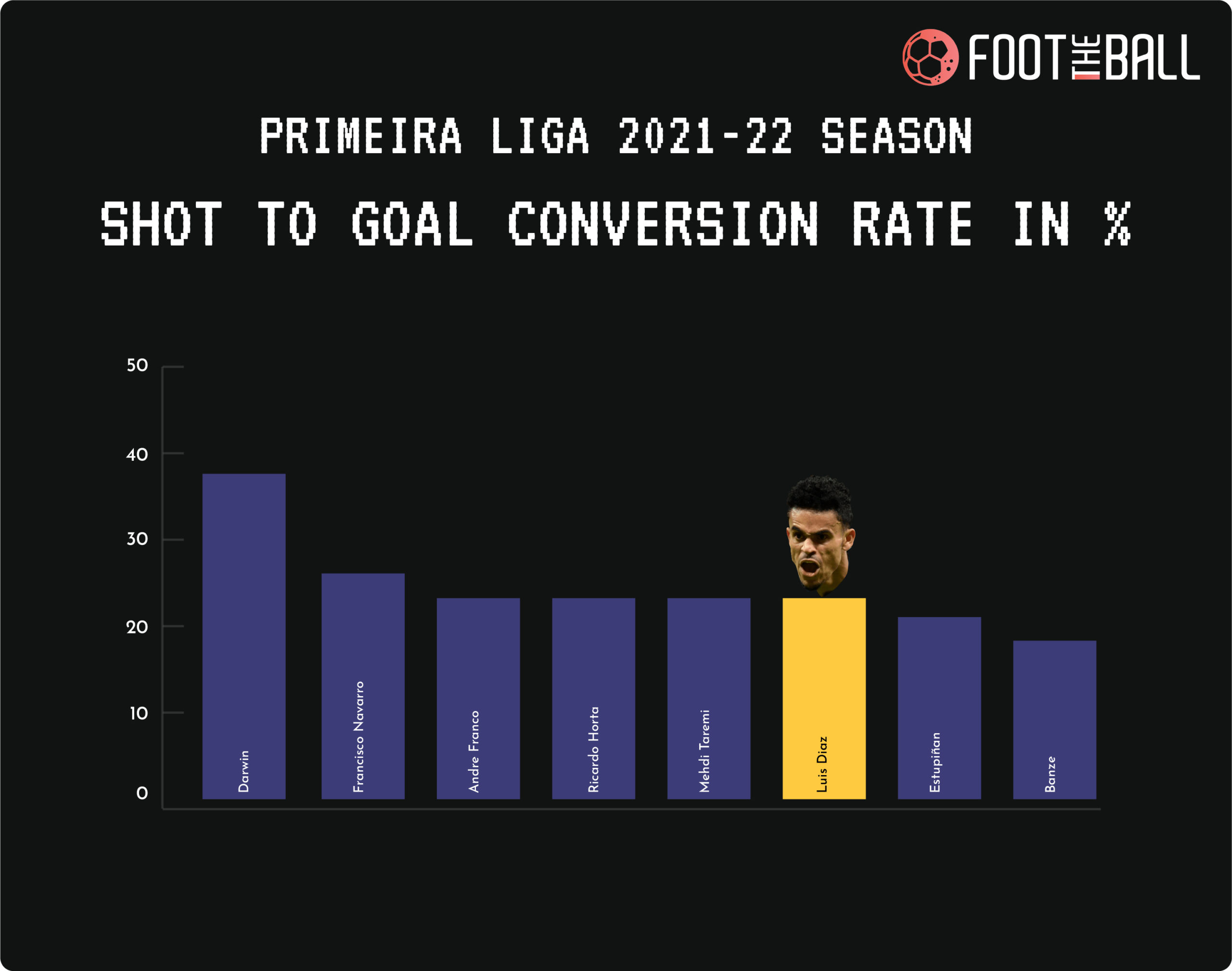 However, a peculiar and exciting stat does stand out. Luis Diaz has scored 14 goals in the league this season, out of which four are penalties. And according to stats from the Primeira Liga, he has ten shots on target, which means that his every shot on target went in, giving him a 100 per cent shot on target to goal conversion rate.
If he even manages to keep half of that accuracy in the English league, Liverpool will have added firepower in their arsenal.
Diaz has also been involved in 170 attacks, a whooping 32 more than second-placed Andre Bukia. This shows his willingness to participate in the final third of the pitch and create havoc for the opposing defenders.
Why did Liverpool sign him?
With his pace, skill, artistry, and brutal goalscoring, it is evident that Luis Diaz is more than just a bench player for Liverpool. And Jurgen Klopp's tactics of gegenpressing means that the maximum physical pressure is on wingers and full-backs, which means that players like Salah and Mane will need deserved breaks which also does not compromise the quality of Liverpool's attack.
Furthermore, with Mane and Firmino ageing and the former having a horrid last season and an average present season, Liverpool are looking to the future where the mantle of left-winger will be passed from Mane to Diaz.
This explains why the Reds were so anxious to splash such a large amount of money in the winter transfer window (a trick they had already done for Virgil Van Dijk)
Luis Diaz is a player with huge potential and is highly expected to shine under the watchful eyes of Jurgen Klopp. The Anfield faithful will hope he is worth every penny paid for and more.