Back in Argentina, a young Uruguayan, Rodrigo Bentancur, had set the stage alight at Boca Juniors. That was long back. Four and half years to be precise. Then came the move to Juventus, who lapped him up. But that fire was petering out. And that needed an Antonio Conte to not just light it again, but harness it to glory.
Bentancur, 24, joined Tottenham on deadline day for a fee of £20million.
And while Harry Kane dominated the headlines Tottenham's shocking win over Manchester City, it was Bentancur's numbers that raised eyeballs: he covered 13.074km across the game, made 351 intensive runs. Just a game before that, coming from the bench, Bentancur won 3 tackles, 3 headers and produced 5 interceptions against Aston Villa.
Conte needs ball-winners in his midfield. It seems he has finally got one.
What's the fuss about Rodrigo Bentancur?
To better understand Bentancur, we need to look back at his inaugural season at Turin. Smarterscout, which gives ratings between 0-99 for players, rated Bentancur highly for his defensive prowess and link-up play. He was rated 98 and 92 for disruptions and recoveries, respectively. In addition, his link-up play was also given a score of 94.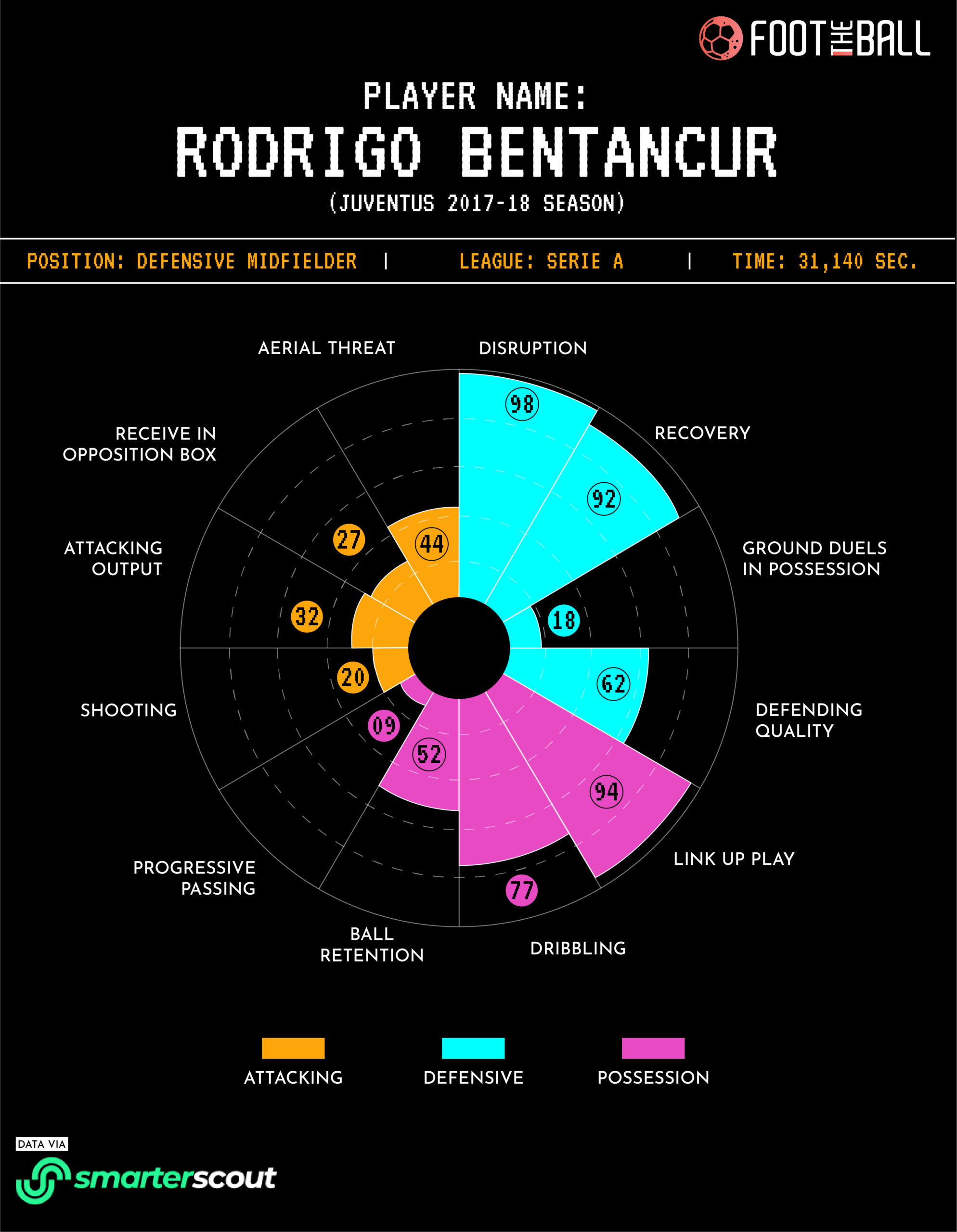 10 – Rodrigo #Bentancur created 10 chances, made 51 recoveries and won 17 tackles in his 7 apps in this Primera Argentina. Multifaceted. pic.twitter.com/lFysCeYbnh

— OptaPaolo 🏆 (@OptaPaolo) November 17, 2016
And though he played for only 519 minutes at the position, he managed to make his mark on the team. Data analytics site Soccerment rated him better at short passes and tackling than teammates Miralem Pjanic, Sami Khedira, Claudio Marchisio and Blaise Matuidi. He was only second to Pjanic when it came to making recoveries.
Though he played far fewer minutes, he still impressed the fans and Allegri, who lauded his performances on the field.
"Rodrigo Bentancur impressed me in midfield, both from a tactical and technical perspective," he had said as quoted by Goal.com.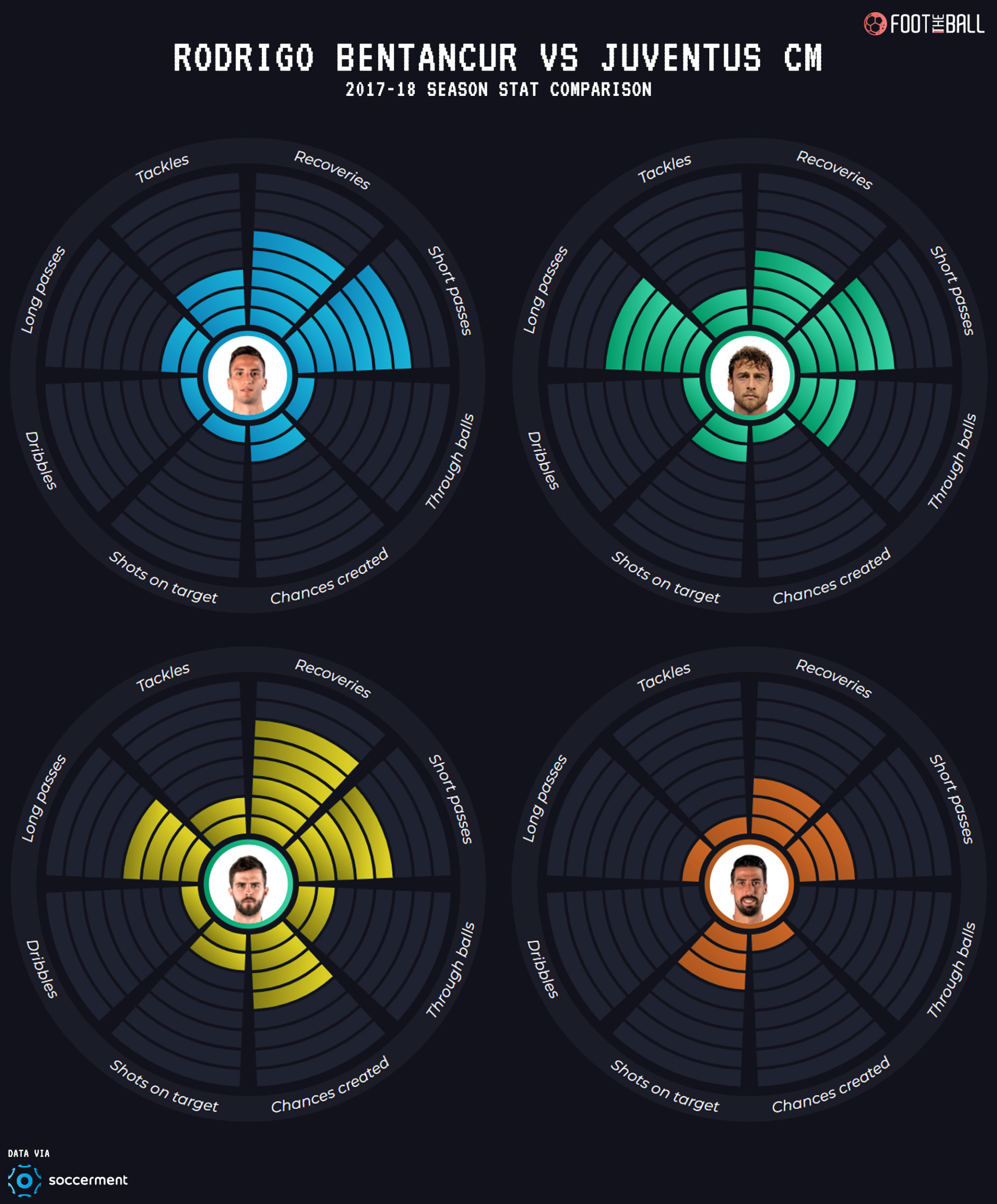 "We knew that he had the quality, and we only had to wait a while for him to develop it. He has fulfilled our hopes both in quantity and quality, he is growing up, and we know he will have more chances to play and see action," Allegri added.
The ascendancy continued to further under Sarri in 2019-20 as he provided eight assists in the season, the tenth highest. However, compared with central midfielders, he was only second behind Lorenzo Pellegrini.
This was also the season where he finally became the central controller in the midfield, also known as the regista. 
And it was no mean feat to be the man controlling the midfield in a team with Khedira, Adrien Rabiot, Matuidi, Aaron Ramsey and Pjanic.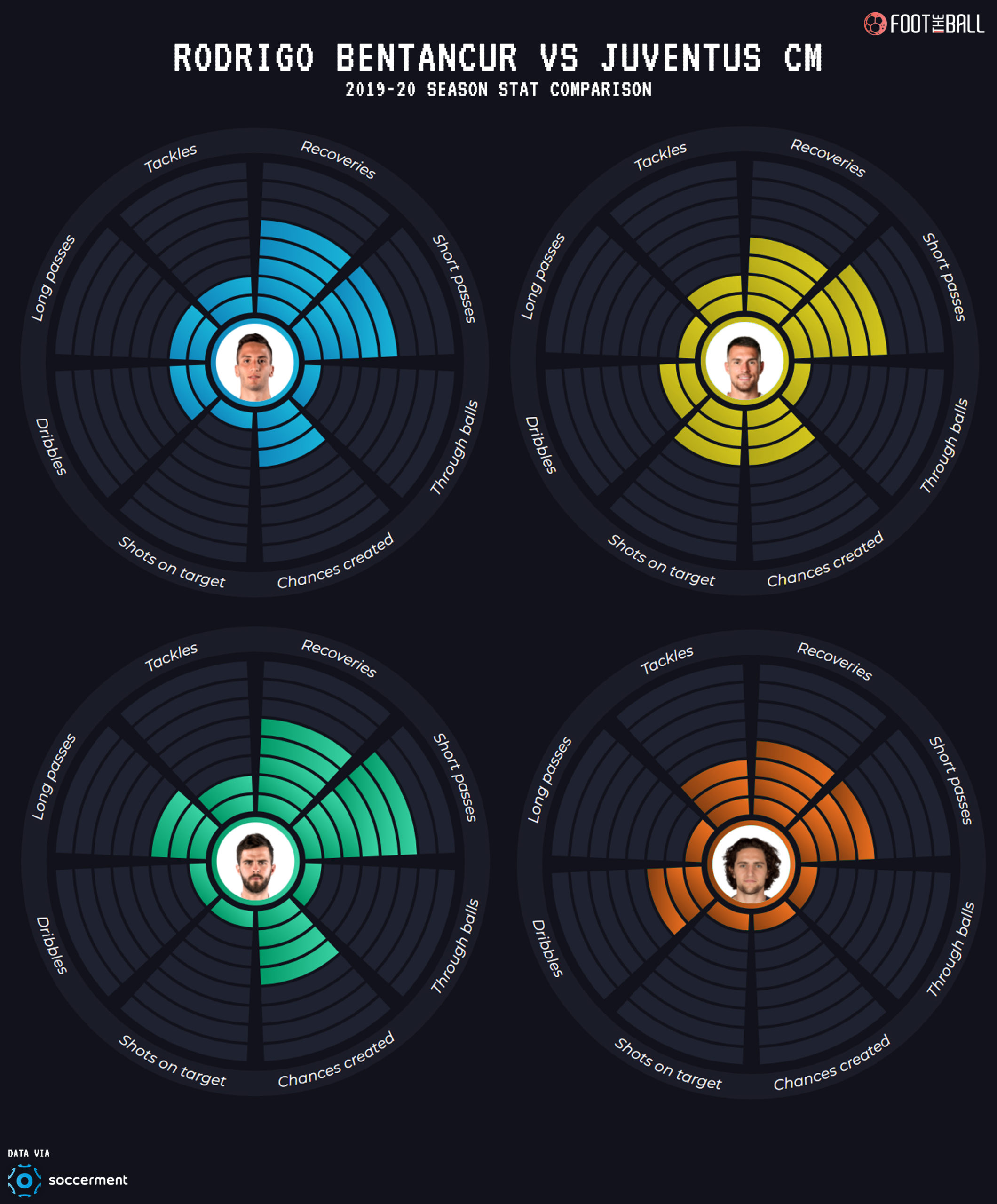 In the season, Bentancur was rated better by Soccerment than all of his teammates when it came to recoveries. He was also second only to Pjanic when it came to short passes. He was also the second-best at creating chances.
His minutes on the pitch also drastically increased, and when Pjanic was sold to Barcelona, everyone expected Bentancur to be the leader of Juventus' midfield.
However, things could not have gone more wrong for him as he struggled throughout the season. His assist tally dropped to four compared to eight from the previous season. 
Bentancur was also a victim of frequent tactics changes made by Andrea Pirlo, who played him 24 times as a defensive midfielder and 21 times in central midfield.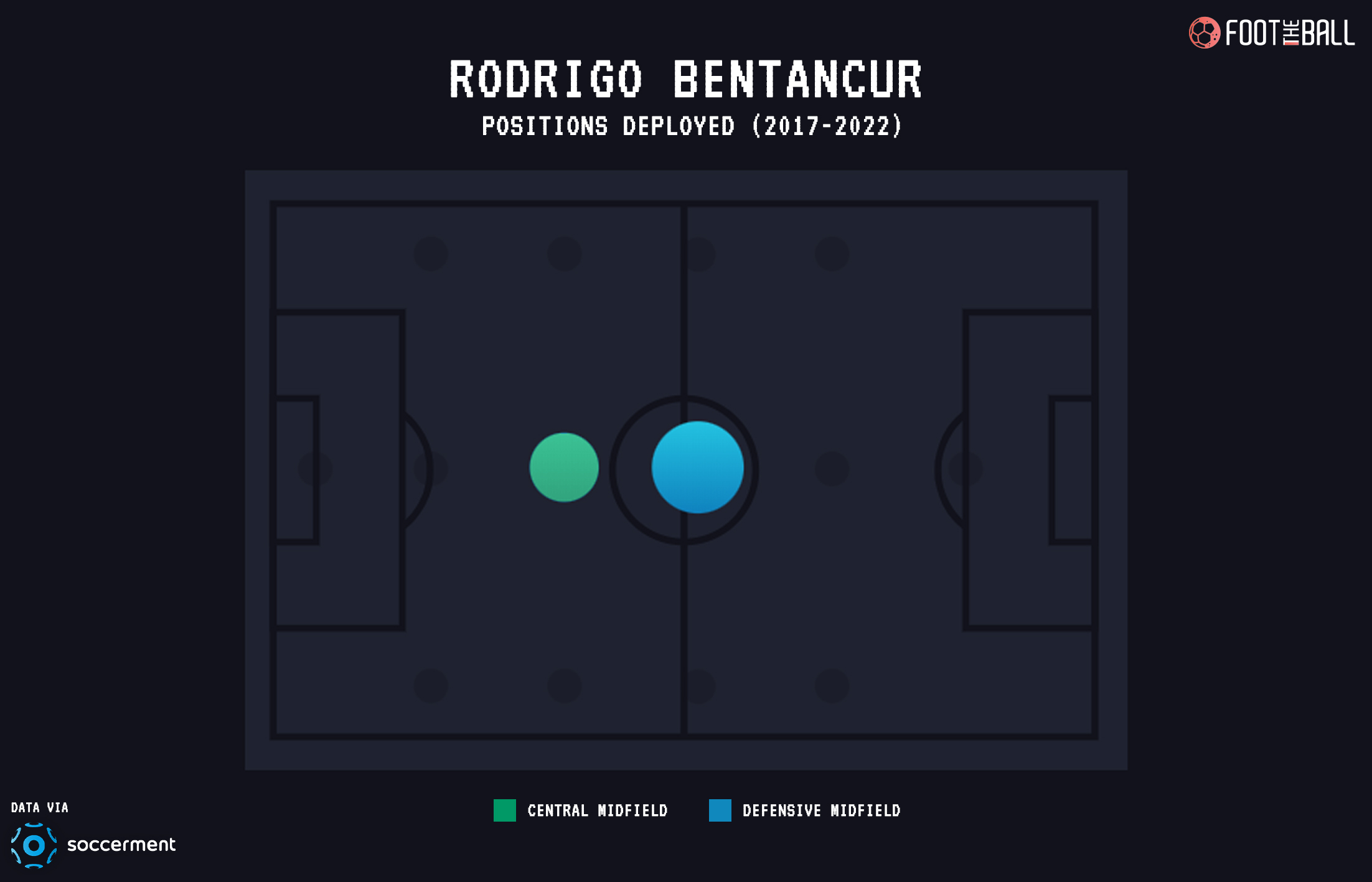 With the absence of a certain Pjanic besides him, he struggled to cope with the intensity of the opponent's team. The added pressure began affecting his performance as he made errors in the midfield.
His mistake against Porto, though, was his most prominent as it not only unravelled Juventus' whole season but also represented their season in a nutshell.
Playing in the first leg, the Uruguayan made a terrible back pass to his keeper Wojciech Szczesny, intercepted by Mehdi Taremi, who slotted the ball into the net.
Juventus would be knocked out on away goals, but Bentancur's terrible back pass would be the highlight of their exit.
The curse of versatility
Another aspect of his game that has affected him is his versatility to play anywhere in the midfield. The impressive World Cup performances, which paved his way for more minutes in the Juventus team, were gathered in the No.10 position where Bentancur was feeding the ball to Edinson Cavani and Luis Suarez. 
However, in Turin, he was alternated between a number 6 and a number 8 role. And, after years, he managed to master none of the two positions.
Furthermore, after the reappointment of Allegri, he started 20 matches this season in the central midfield and three games in the defensive midfield. In this area, he was usually used in the past two seasons.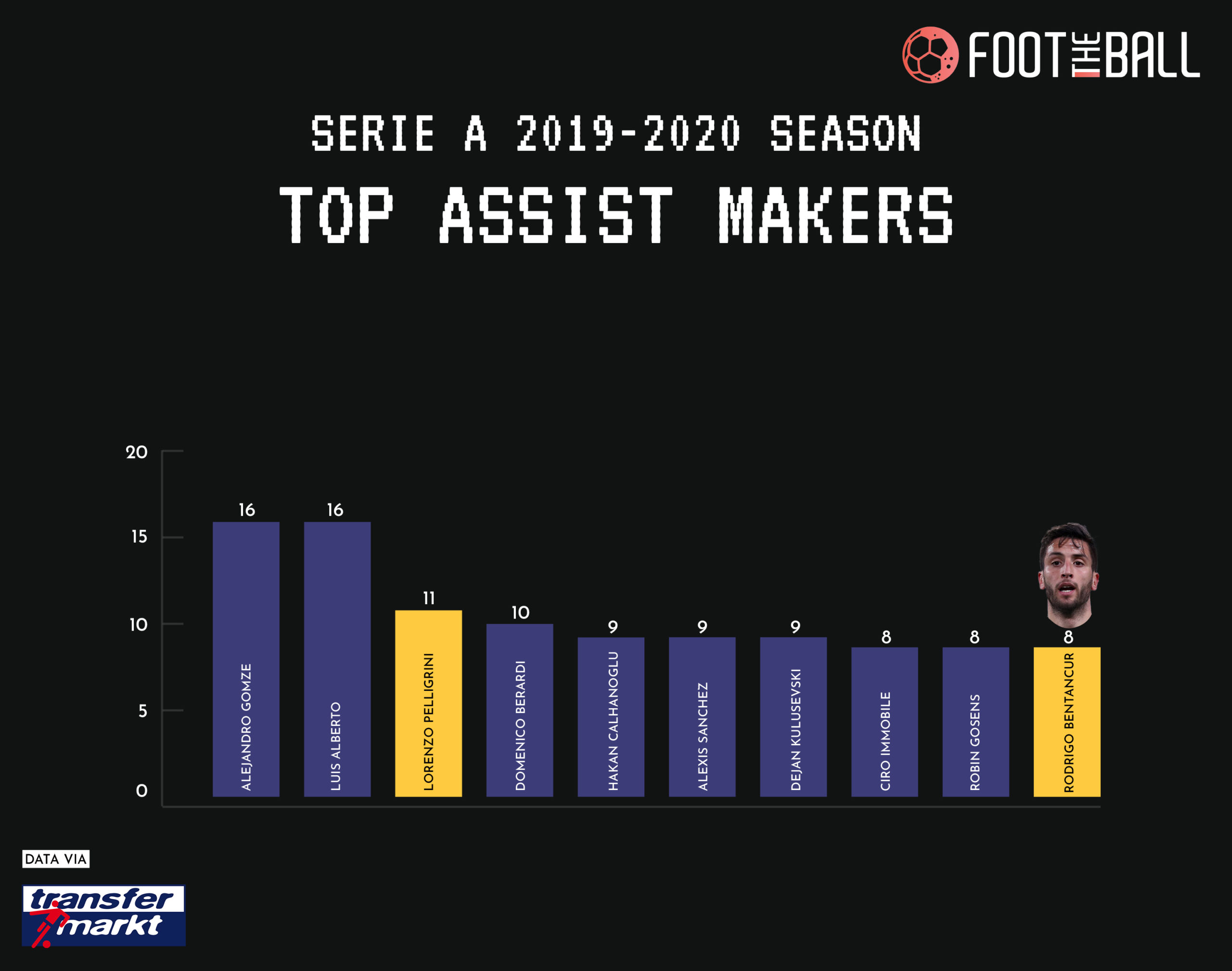 Another area where he has struggled even from his days in Argentina is goals and chance creation. Barring the 2019-20 season, he has never really blossomed in a creator role and has struggled to establish himself in the final third of the pitch.
According to data from Soccerment, he ranked 111th in Serie A when it came to common threats. This is a startling stat as expected threats (xT) give fair weightage to every action involved in a goal. So, for instance, if a midfielder plays a 40-yard accurate pass to a teammate, which bypasses the opposition's defence, and then the player receiving the ball provides a straight pass to the goal scorer, the expected threat model would give a higher score to the initial pass, rather than the player who provided the assist.
Why did Tottenham buy him?
It's no surprise that his career has not prospered the way it should have, but most of the blame can't be laid at his feet. The constant positional changes and managerial changes, which brought a huge difference in style, had a massive role to play.
Even during his years at Juventus, he was one of their best passers. In addition, when he arrived, he was far from the finished product and needed excellent coaching, which perhaps has not been the case.
However, he can benefit under Conte as he is a coach who greatly values defensive solidity. And Bentancur's defensive numbers are solid, if not spectacular.
According to fbref,  Bentancur has averaged 22.81 pressures per 90 minutes which puts him in the top 13 percentile compared to midfielders. In addition, he also has 5.32 tackles plus interceptions per 90 (top ten percentile), 2.84 tackles (top 20 percentile), 0.48 shots blocked (top 19 percentile).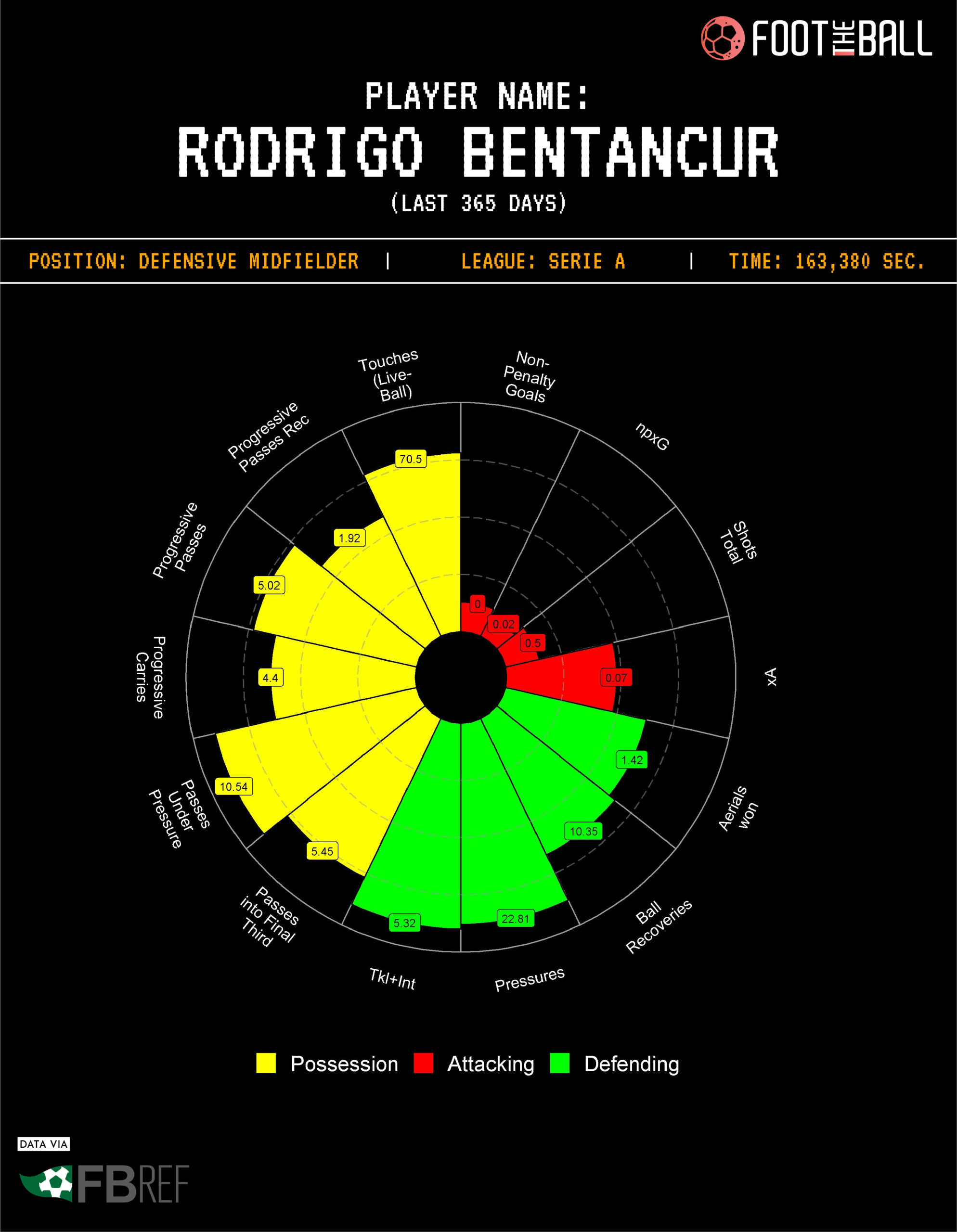 And he still is just 24-years-old which means that he has ample time to get his career back on track.
The challenge at White Hart Lane will be by no means a small challenge for Rodrigo Bentancur, but he finally may get the stability that he desperately needs because Tottenham could make or break his career.