Danny Welbeck scored more goals for Manchester United than Diego Forlan. Louis Saha scored more goals than the both of them. In the long run though, Forlan is undoubtedly the one who is most fondly remembered around Old Trafford. Welbeck's academy graduation still has its admirers around Carrington while Saha is more of a footnote from Sir Alex's illustrious empire.
Such are the memories of football fans that the line between a positive impression and a negative one is very fine, & often based on emotions that give little weight to actual performances.  One player who inevitably toes this line between hero and flop a bit too close is Anthony Martial.
Anthony Martial wants to leave Man United, Rangnick confirms: "Anthony wants to go. He told me he feels is right time for a change", @sistoney67 reports. 🚨 #MUFC

"As far as I know, there has been no offer from other club. As long as this is case, he will stay", Rangnick said. pic.twitter.com/2KdafIlK7l

— Fabrizio Romano (@FabrizioRomano) December 26, 2021
The Frenchman's time at Manchester United is coming to an end with a deal being finalised with Sevilla. He will go to a great, title-chasing club, one where he may yet flourish. But how will he be remembered for his time in Manchester?
THE TEENAGE SENSATION
Martial came to United at a time when the club was lost, even more so than it is today. The departure of Sir Alex was still fresh in the minds and the aim was to emulate the Scotsman style even though most were, & still aren't, clear on what this style constituted.
Anthony Martial's stunning solo effort v Liverpool in September – now that's a debut! #mufc https://t.co/hnDNqvOlGf

— Manchester United (@ManUtd) March 8, 2016
Signed from Monaco in 2015, the striker burst onto the scene with his debut goal vs Liverpool, immortalised by Martin Tyler's commentary. In a very drab team led by Louis van Gaal, Martial was the only bright spot for months. His youthful energy and ice-cool demeanour was the closest replication of Sir Alex's United, and the Stretford End faithful let their appreciation known.
THE SIDE ACT
Martial's moments of brilliance though were not enough to save van Gaal from the sack. To replace him came Jose Mourinho, and the fairytale of the Frenchman's career took a dark turn. Mourinho didn't trust Martial to be his main man – the likes of Pogba, Ibrahimovic and Lukaku were the Portuguese's trusted generals, until they weren't.
The Mourinho era brought a lot of conflicts for Martial, the foremost being which is his best position. It is clear to even the casual observer that he isn't a classic number 9. The problem though is that he is not a modern number 9 either. He enjoys the ball in his feet, running at defenders and creating space for himself and others with quick exchanges.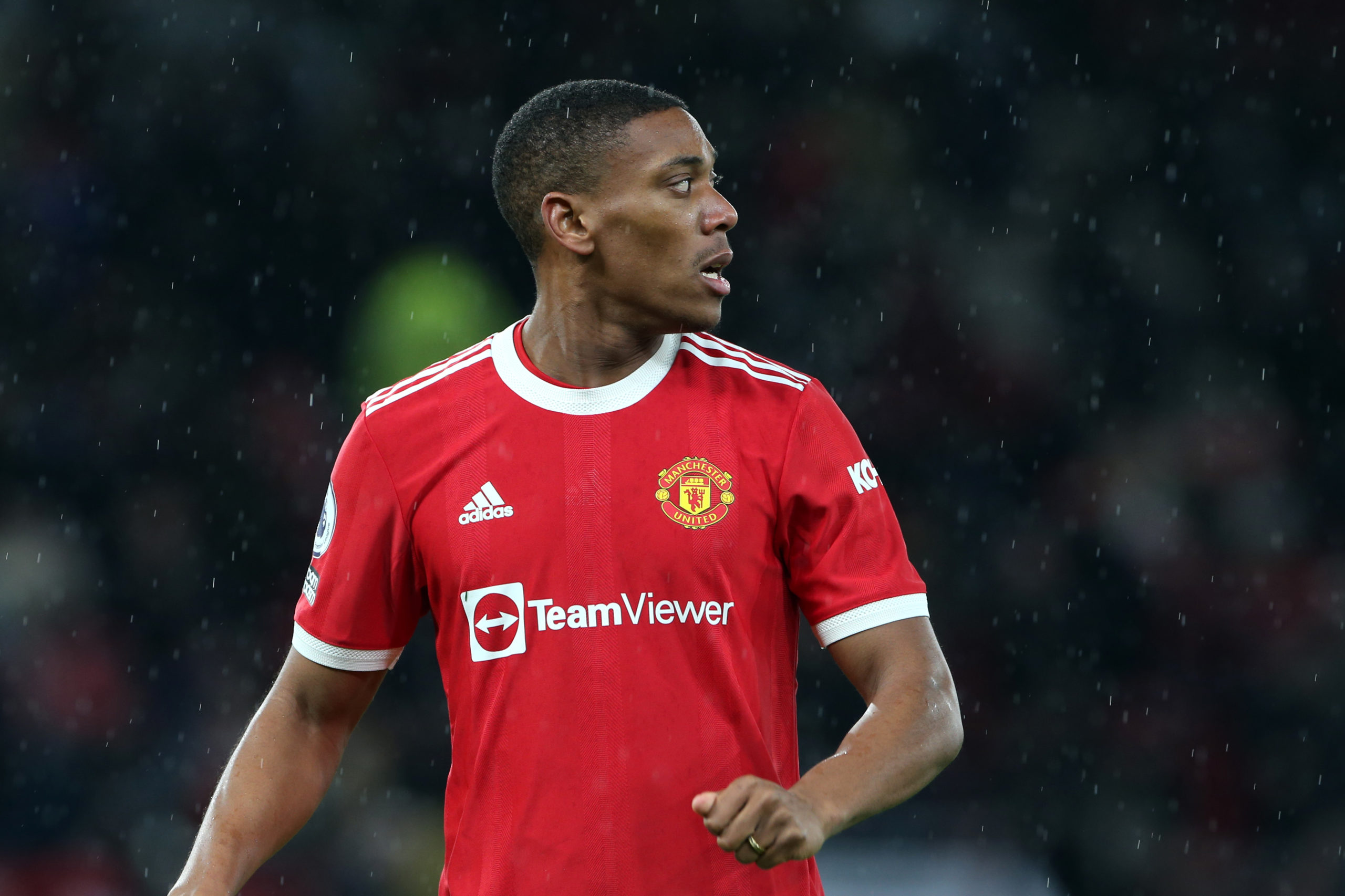 This suggests that his best position is at left-wing, where Mourinho played him, but Martial somehow looked impotent when played out wide. Much like a certain enigmatic Frenchman at Old Trafford, he perhaps was at his best when he was the focal point, the centre of attention, irrespective of where he played.
THE RENAISSANCE
The arrival of Ole Gunnar Solskjaer brought much needed hope to the dreary Northern England skies. Martial too experienced a revival, having his best ever season for the Red Devils in 2019-20. He scored 23 goals and provided 9 assists as the spearhead of a very young and exciting frontline alongside Marcus Rashford and Mason Greenwood.
The entire season showed just how high Martial's ceiling is. His 22 non-penalty goals came from an xG of just 13 (StatsBomb via Fbref) and while this level of overperformance was always going to be unsustainable, we saw the ruthless finisher that had been missing since his first season at Old Trafford.
Anthony Martial's shot map from 2019/20 emphasises the importance of creating good chances that allow your forwards to shoot closer to goal. pic.twitter.com/o2Gr9lkXUa

— UtdArena (@utdarena) August 25, 2020
An interesting thing to note though is that while Martial is very easily labelled as a profligate forward, he overperformed his xG in all seasons until the end of 2019-20. Only Marcus Rashford has scored more goals or provided more assists for the club since Martial's debut. It is only since the beginning of the last campaign that his goal-scoring problems have been a concern.
STICK OR TWIST?
It is important to recognize Martial's injury problems as well. In only two seasons has he made more than 30 starts – in his debut campaign 2015/16 and in 2019/20, his two most successful years. He seems to be a player who benefits from a good run of matches and in his seven seasons for United he has found that hard to come by, due to managerial and physical reasons.
Despite everything, his performances over the last year and a half have been very poor. He has looked like he cannot buy a goal, scoring just eight times since the start of last season. More tellingly, he has looked isolated and bereft of ideas. He has struggled to beat his man and looks unable to be on the same wavelength as those around him, something he did even in his worst vein of form earlier.
View this post on Instagram
It's been clear for weeks that his future lies elsewhere. He isn't the player Manchester United want him to be and Manchester United isn' the club where he wants to be. Martial has been a symbol of post-Ferguson Man United – inconsistently brilliant, ultimately ineffective.
In the grand scheme of things, Martial came from France as the most expensive teenager and gave the fans some exceptional memories. He has no control over how he will be remembered but there should not be questions over his intent. The 50 million were not all down the drain but it looks like Tony Martial will not be scoring at Old Trafford again.