Uruguay face a major conundrum going into the Copa America 2021. Arguably two of their best strikers ever Luis Suarez and Edinson Cavani are nearing the end of their careers. They have carried their national team over the years and Uruguay needs to find new heroes to replace them. Thankfully they have an exciting talent on their hand. Darwin Nunez is a young striker from Uruguay who is looking to make his mark at the Copa America 2021 and help his nation.
🗣😁@SLBenfica 🦅 pic.twitter.com/OQl0NnqoEp

— Darwin Núñez (@Darwinn99) October 28, 2020
Nunez, the 21-year-old Uruguayan is having a breakthrough campaign with Benfica in the Portuguese Liga-Nos. He is a mix of your traditional number 9 and an exciting modern-day forward. His exploits in Europe has caught the eyes of several big clubs.
💪 Man of the Match!@Darwinn99 #PSCSLB #DeTodosUm pic.twitter.com/fOvFQz7kcA

— SL Benfica (@SLBenfica) April 22, 2021
A great chance awaits for Nunez with the Uruguay national team at the Copa America 2021. He can be the long-term replacement for his country and lead a new generation of heroes.
Let us take a close look at Darwin Nunez and his gameplay make him the next big thing.
DARWIN'S EVOLUTION
Nunez is naturally gifted with great pace and physicality that makes him a tough player to mark. Intelligence and instincts in the box come to like fish to water. The way he combines all of them and puts them to use on the field brilliantly.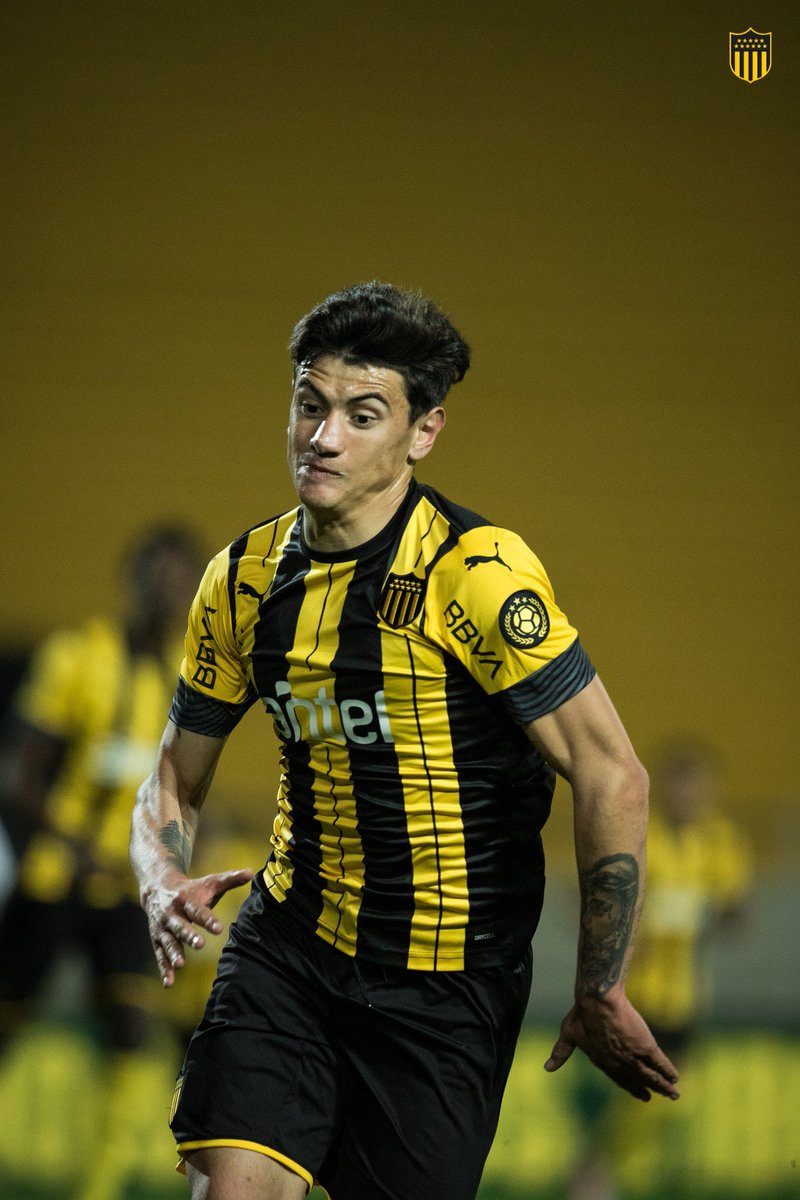 Nunez began his career with Penarol in his native Uruguay. He graduated from Penarol's youth academy where he joined as a 14-year-old. Penarol recognized his talent soon and were ready to cap him in the 2017/2018 season. Nunez had a knee injury that delayed his debut season, but he made his debut soon after. It took almost one year for him to score his first professional goal after battling another knee injury. During his 2 year stay, he scored 4 goals for the club.
Spanish clubs that actively scout in the South American region recognized him at first sight. UD Almeria, a Segunda Division side made their move.
SPAIN'S SECOND-BEST
UD Almeria a second division side wanted to find a new striker who could guide them to La-Liga. Their quest took them to Nunez who signed with them in a £4 million deal in the summer of 2019. Nunez arrived in Spain as a raw 20-year-old striker with infinite potential.
7' GOOOOOOOOOOOOOOOOOOOOOOOOOOOOAAAAAAL!
What a hit Darwin Núñez !!!
Ano now it's 1-0#AlmeríaTenerife #vamosalmería #Caminoalaliga2020 #UDAradio pic.twitter.com/qHcBfmpKH9

— UD Almería (@UDAlmeria_Eng) July 4, 2020
Nunez's traits suited the Segunda division perfectly. His speed and acceleration were top-notch. He also used his physicality to the fullest to torment defences. A debut in October was followed by a goal in that month as he started his extraordinary journey.
No promotion for Almería this season – really difficult to see Darwin Núñez sticking around for another long slog in Segunda.

Been fun following him throughout his first European season. His 11 non-penalty goals a solid return, but the skillset is something else. pic.twitter.com/ILJsr6tUsg

— Scouted Football (@scoutedftbl) August 19, 2020
He went onto score 16 goals in the league, spearheading Almeria to a 4th placed finish. They fell just short of promotion after a heartbreaking loss in play-offs to Girona. Nunez's 16 efforts saw him finish 4th in the golden boot race.
It was a fantastic campaign in terms of goals scored. However, there was much scope for improvement in Nunez's game. He had to work on his aerial game, passing under pressure and awareness of players around him. The humble youngster was a perfect canvas to work on for any big club.
LIFE IN LISBON
SL Benfica took a huge chance with Darwin Nunez. They shelled out a whopping £20 million on a youngster who had only one season in Europe. The transfer fee was a club record for Benfica and was also the biggest transfer in Almeria and Segunda Division's history.
🇺🇾 Darwin Núñez, the next Benfica wonder-kid scores their winner tonight.

The 21-year-old has scored 4 and got 4 assists in his first 7 games for the club. 🔥

🎥: @vsports_pt pic.twitter.com/2rgYY7jJfd

— FotMob (@FotMob) October 26, 2020
Jorge Jesus Benfica's manager knew Nunez was something special. He saw different versions of the game in Nunez and used him effectively. Jesus primarily worked on Nunez's shortcomings so that he would turn out to be a better player. Nunez was made to drift wide and bully the fullbacks with his pace. Once he gains enough momentum with his pace he was allowed to cut inside and unleash a finish with his devastating right foot.
Darwin Núñez follows the space, not the ball. pic.twitter.com/Ueg1xfwTrj

— Scouted Football (@scoutedftbl) February 11, 2021
Nunez had two different roles this season. He mainly played as a wide forward for Benfica in the league notching 6 goals and 9 assists. In the Europa League, he played in his natural role as a centre-forward. This role saw him score 5 goals in 7 games. He has enjoyed a successful season with 14 goals and 11 assists in all competitions till date.
𝗨𝗿𝘂𝗴𝘂𝗮𝘆, tierra de delanteros 🔝

𝗗𝗮𝗿𝘄𝗶𝗻 Núñez y sus goles en esta 𝗘𝘂𝗿𝗼𝗽𝗮 𝗟𝗲𝗮𝗴𝘂𝗲 😍#UEL | @SLBenfica | @Darwinn99 pic.twitter.com/gWcfBRrkDl

— UEFA.com en español (@UEFAcom_es) January 18, 2021
Jesus was quick to admit "Darwin Nuñez will be a world-class player. He is Benfica's most expensive purchase, and if the situation with covid improves, he will be our biggest sale". It's only a matter of time before he starts exploding. He could prove to be a bargain pick up of any of Europe's elite, his work rate and eye for goal make him hot property.
URUGUAY'S NEW-GEN
Luis Suarez and Edinson Cavani are having good seasons for their clubs. Given their age, it is tough for them to start all games in the summer gala event. We can expect to see more of Nunez for Uruguay at the Copa America 2021.
Darwin Núñez is going places. 📈

🇺🇾 The 21-year-old scored his 1st competitive international goal in Uruguay's big away win over Colombia.

🎥: @MovistarDeporPe pic.twitter.com/NCgvf7BUFE

— FotMob (@FotMob) November 14, 2020
Nunez was a regular with Uruguay under 20 side. He made his senior debut for Uruguay alongside Suarez. He has 2 goals to his name for the national tea including a stunning long-range effort against Colombia.
Darwin Nunez is set for a huge summer that can see him become a household name across the world. If Nunez could light up the Copa America 2010 with Uruguay he could be the long-term successor for Cavani and Suarez. A successful summer also means he could move to a top 5 league for the next season. Over to you Darvin Nunez.