Arsenal have had an array of legendary players vested with the number 10 in the past. Right from Dennis Bergkamp to Robin Van Persie, the number 10's have been extremely crucial for the Gunners in the past and with Ozil gone, Emile Smith Rowe asked for the iconic number as he signed his 5-year contract extension early this week.
A lot of eyebrows were raised when Arsenal decided to give a 20-year-old the number 10 since it isn't just a number. Wearing number 10 on your back would mean the player has taken the responsibility to control the attacking department and the duty is generally bestowed upon an experienced player. There were many experienced players who could have been chosen for the job, although it seems like the club has seen something special in Emile Smith Rowe.
A BOYHOOD PRODIGY
It is safe to say that Emile is a Gunner by heart as he has played for Arsenal ever since he was 9. The scouts from their youth academy found a jewel in 2010 and brought the talent to their North London youth facilities. Ever since then Smith Rowe has climbed through the ranks and has become good enough to lead the club he loves.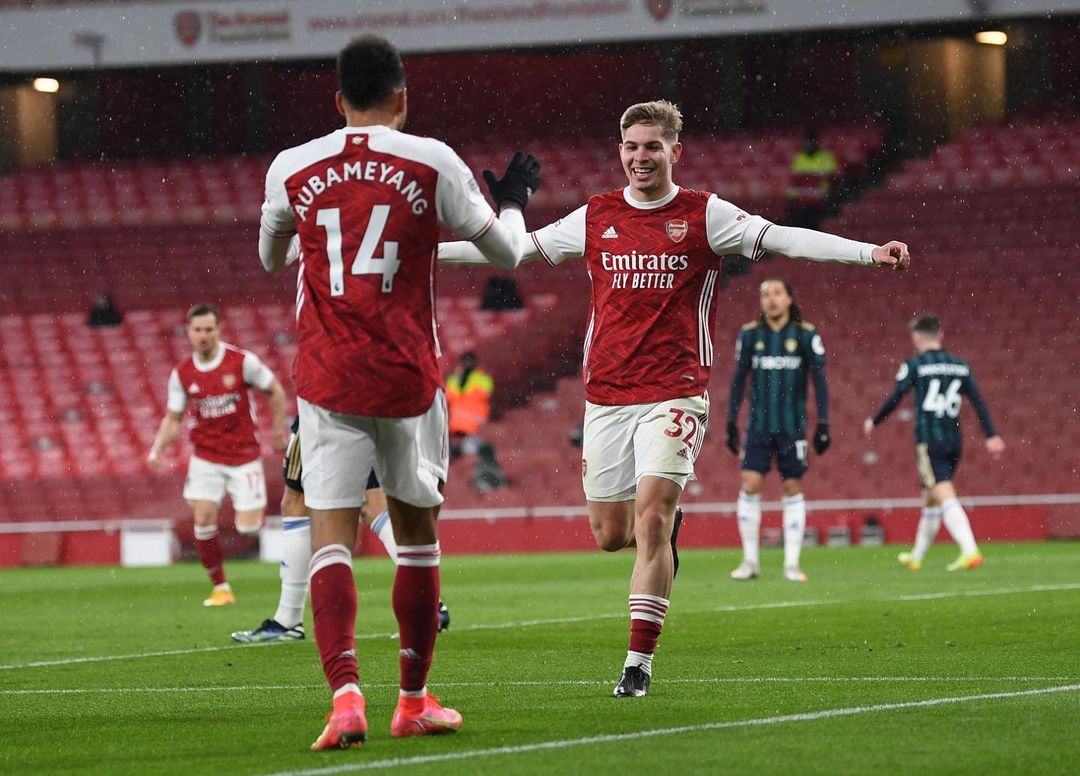 The youth coaches knew how important the youngster was for the club's future and shaped him into an all-round attacking midfielder. He got his break into the senior team on a pre-season tour when he was 17.
Congratulations to @England and to our midfielder Emile Smith Rowe – Under-17 World Cup champions! 🏆 pic.twitter.com/REZOgfdtFM

— Arsenal (@Arsenal) October 28, 2017
The youngster also has a bright future with the England National team since he was part of their U-17 world cup winning squad. After a couple of seasons out on loan, Emile Smith Rowe finally got his big break into the Premier League as he became a regular player for Arsenal in their 2020/21 campaign.
WHAT MAKES EMILE SPECIAL
Emile Smith Rowe isn't just technically gifted, his awareness and understanding of the game is too good for a player of his age. Since he plays in the central attacking position in the midfield, he acts as a pivot to nearly all of their attacking plays. He engineers the link-up play and when out of possession, he gets into threatening positions in the final third. Emile's ability to think quick on his feet is what separates him from the other players in the camp.
2 & 5 – Emile Smith Rowe has either scored (2) or assisted (5) in seven of his 10 appearances for Arsenal in all competitions this season, whilst the Englishman has provided two more assists than any other player for the Gunners this campaign (5). Returns. #ARSNEW pic.twitter.com/SWmWx4BAfq

— OptaJoe (@OptaJoe) January 18, 2021
Vision is an important aspect in modern-day football since the high-paced game makes it difficult for midfielders to find their teammates in the chaotic final third. Emile Smith Rowe's mental awareness helps him to find a player who is in a position to do the most damage. Smith Rowe is confident in his stride and even has enough pace to outrun the centre-backs in England. When on counter attacks, Arsenal can rely on Emile Smith Rowe to push the ball from one end to the other since he is technically sound with the ball on his feet as well.
CAN SMITH ROWE LEAD ARSENAL TO GLORY?
Ever since Ozil has left the club, Emile Smith Rowe has been starting for Arsenal at the CAM position. He had 20 appearances for Arsenal in the league last season but he will surely be seen on the pitch a lot more this time around. Arsenal have scored the least amount of goals among the top 9 teams in the league which is a pressing issue for Mikel Arteta. Goals win matches and without them, Arsenal can never imagine making it to the Champions League.
Since Arsenal have already prioritised their transfer targets for this summer. They can't afford to spend a lot of money for a new attacking midfielder. The Gunners will have to shape Emile Smith Rowe into a baller good enough to be their first-choice talisman. Arsenal have rejected two big offers from Aston Villa for the 20-year-old midfielder which clearly means they have big plans for the player. It won't be fair for the player if Arsenal fans expect him to play world-class football from the get-go. Arsenal's reputation is already in tatters as they failed to qualify for the Europa League.
There would be a lot of pressure riding on Emile's shoulder initially and a short spell of bad performances might have lasting effects on the player's morale. The fans and the senior players of the team should believe in his quality and in a couple of months, he will transform into the hero they needed all this time. Emile Smith Rowe has the potential to bring Champions League football back to the Emirates, but as they say, good things take time.