After over two decades at Juventus, barring a year's excursion to Paris, it feels weird to look at Gigi Buffon in colours other than those of the Old Lady. The 43-year-old is now back at Parma, and Gianluigi Donnarumma, long tipped to be his successor in Turin, has decided to move away from AC Milan to PSG instead of making the expected controversial switch to his home side's rivals.
https://www.instagram.com/p/CR1OudGqItS/
Buffon was not first choice last season but his presence still made Juve's goalkeeping department look strong. His departure leaves Wojciech Szczesny as the outright number 1, which is perhaps less than ideal.
The following graph plots Save percentage of all goalkeepers in the Serie A with minimum 15 90s completed last season against the Post Shot xG differential per 90. The latter metric measures the over or under-performance of each individual goalkeeper, relative to the average goalkeeper.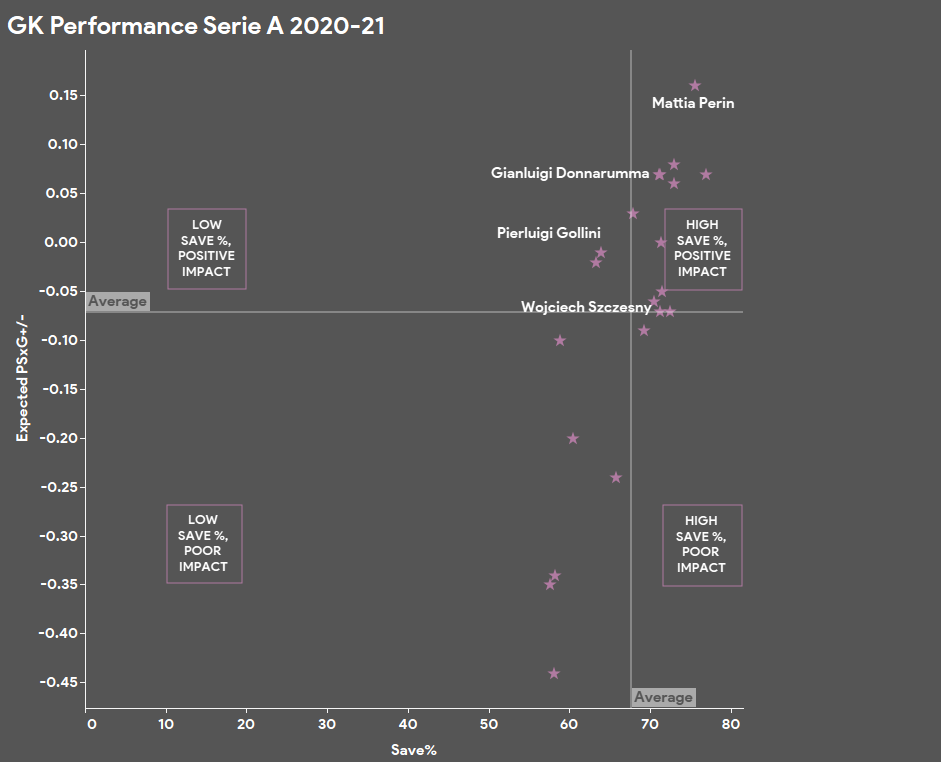 It can be seen that Szczesny ranks just around average for the league for both metrics. The Pole is not a bad goalkeeper by any stretch of the imagination but for a club that is aiming to chase domestic as well as continental success, he is perhaps not good enough as a number one.
Who can replace Buffon and give competition or even edge out Szczesny for new manager Massimiliano Allegri then? FootTheBall offers seven goalkeeping options for Juventus to look at ahead of the new season.
MATTIA PERIN, JUVENTUS
This is an in-house promotion, given that Perin has been at Juventus for over three years now. However, he has made just nine appearances for the Old Lady and spent last season out on loan at Genoa. At Genoa though, he was one of, if not the best shot-stopper in the league as is apparent from the above graph.
Perin outperformed his Post Shot xG by the highest margin in the league and had the second-highest save percentage amongst all goalkeepers in Italy to have played at least 15 90s.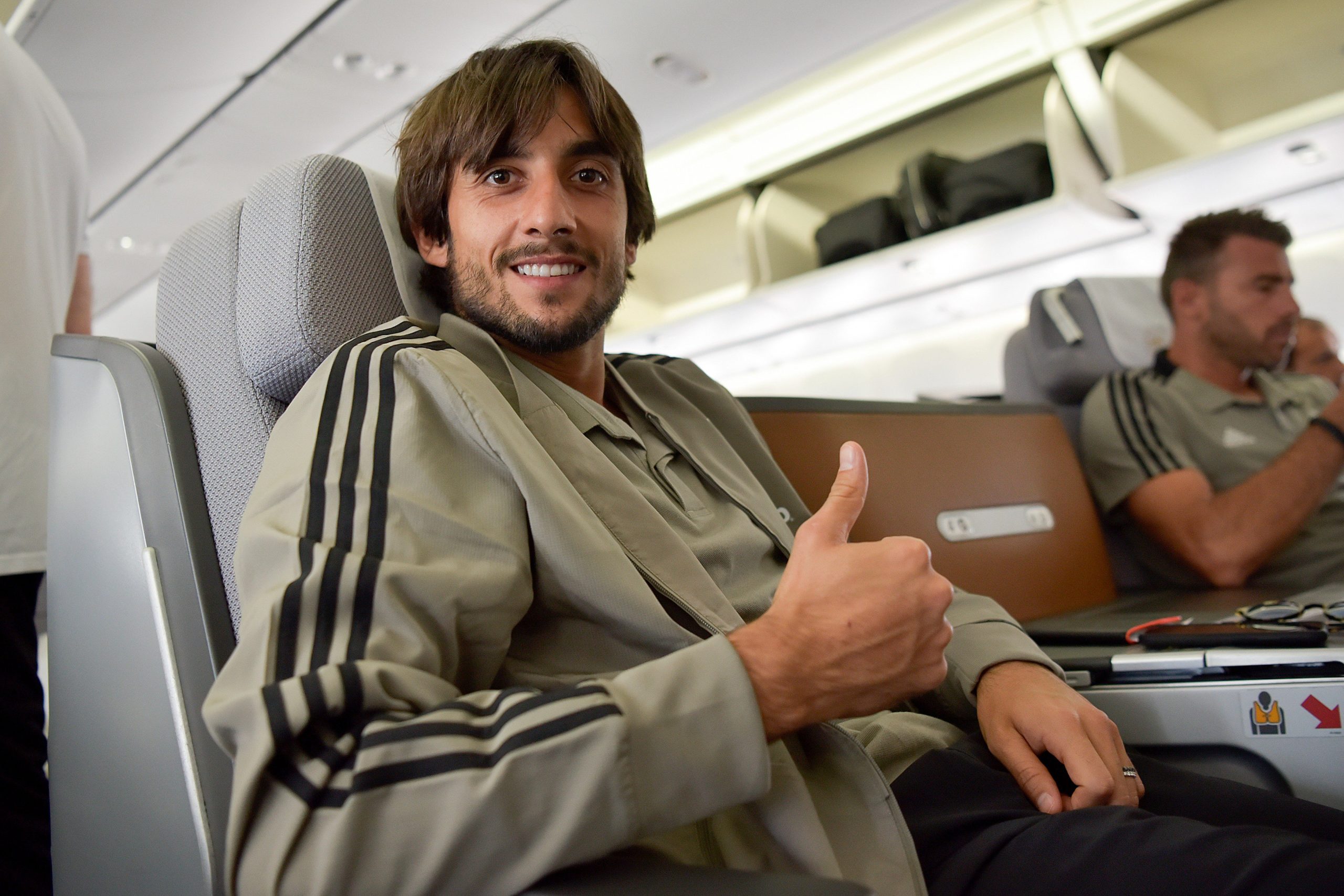 The Italian is more of a traditional goalkeeper who is not as comfortable with his feet as others but Allegri's playing style does not necessitate a number one with that skill-set. At 28, he is entering the prime of his career and his performances certainly warrant him another opportunity but with no European experience, he would still be somewhat of a gamble for the outright number one spot for Juventus.
DAVID DE GEA, MANCHESTER UNITED
If it is experience and star value that Juve want then few goalkeepers come close to David de Gea of Manchester United. The Spaniard has blown hot and cold in the last couple of seasons, his struggles reaching a new low in the Europa League final in May with him missing the decisive penalty after failing to save any of the prior ones.
To fall and rise. Learn from the experience, fight again and win. @ManUtd Thanks for your support pic.twitter.com/4AnLNGRA9A

— David de Gea (@D_DeGea) May 27, 2021
De Gea was embroiled in a tussle for the number one shirt at Old Trafford with academy prospect Dean Henderson towards the end of last season. It is still not clear who Ole Gunnar Solskjaer's first choice goalkeeper will be, come the start of the season. One would assume that the Norwegian wants to keep the more promising (not to mention, cheaper) Henderson ahead of de Gea.
Juventus are one of the few clubs who could afford the Spaniard's wages and he remains an elite shot-stopper still. If he can rediscover his top form in Turin, he is easily amongst the world's best despite his unconventional technique. At 30 years of age, de Gea has plenty left in the tank and he could be a huge coup for Allegri.
SERGIO ROMERO, FREE AGENT
David de Gea will be expensive but his former teammate Sergio Romero is one of the under-the-radar free agents available in the market. The Argentine was frozen out at Manchester United last season, having been deemed surplus to requirements. However, he was reliable whenever called upon for the Red Devils and has delivered some exceptional performances for his national side over the years.
Sergio Romero in 2019-20:

👥 – 14 appearances
🥊 – 25/28 saves (89.29% save success)
🔒 – 11 clean sheets
🥅 – 3 goals conceded pic.twitter.com/hkJqy5uChv

— UtdArena (@utdarena) March 12, 2020
However, Romero has not kicked a football in a competitive match in well over a year which is a cause for concern. Like Perin, he is also not very comfortable with his feet but if Juventus are looking at a goalkeeper who can give competition and provide backup to Szczesny then the 34-year-old is a sound option.
UNAI SIMON, ATHLETIC BILBAO
Spain's starter in goal at the Euros, Simon is long overdue a step-up at club level. He has been with Athletic Bilbao since 2018 and has been arguably the best shot stopper behind Jan Oblak in La Liga since. His performances rightfully earned him the number one jersey for La Roja and playing top level European football is the natural progression in his career.
Moreover, he is more comfortable with his distribution and is a more modern goalkeeper which is something a club of Juve's stature should be looking at. At 24, he could be a long-term solution to the problem.
🇨🇭🆚🇪🇸 Full penalty shoot-out…

🧤 Unai Simón = Spain hero in the quarter-finals!#EURO2020 pic.twitter.com/iPoN3Drpva

— UEFA Nations League (@EURO2024) July 20, 2021
The major stumbling block in a move that can be foreseen is the transfer fees. Bilbao still pursue a Basque-only player policy and that makes their players come at a premium, as Chelsea found with Simon's predecessor Kepa Arrizabalaga. Simon will cost upwards of 40 million Euros presumably and with a major rebuild coming soon, Juventus would not want to splurge that amount on a goalkeeper.
KEYLOR NAVAS, PARIS-SAINT GERMAIN
Paris' signing of Donnarumma does not make as much sense given that they already have three time Champions League winner Keylor Navas in their ranks. PSG boss Mauricio Pochettino may be looking at a long-term solution in Donnarumma but that does not discount the fact that even at 34, Navas is amongst the world's best goalkeepers.
The Costa Rican still has a few years left at the top and he would not want to spend them playing second fiddle in Ligue 1. He will not cost Juve much as Paris would want to reduce their wage bill and he is extremely reliable when it comes to shot-stopping.
Keylor Navas is the most under-rated football player in the world right now! 🗣

Agree or disagree? pic.twitter.com/q2mdsSEOc8

— International Champions Cup (@IntChampionsCup) July 24, 2021
The Italian giants are desperate for continental success – something which Navas got used to in his time at Real Madrid. In a period of financial instability, it would make sense for Juventus to go for a short term reliable option who does not cost much and Navas ticks all those boxes.