The collar of the red Umbro jersey turned-up. The captain armband, puffing out the top half of the long-sleeved shirt. Arms out wide in smug celebration, telling the world of his arrogant ingenuity. "What did you think? I would not score this audacious goal?"
At a time when the Premier League was aiming to become a global phenomenon, Eric Cantona's eccentric persona was a godsend. No one could get enough of Cantona – of his goals, his assists, his press-conferences, his off-field antics, and most of all, his persona.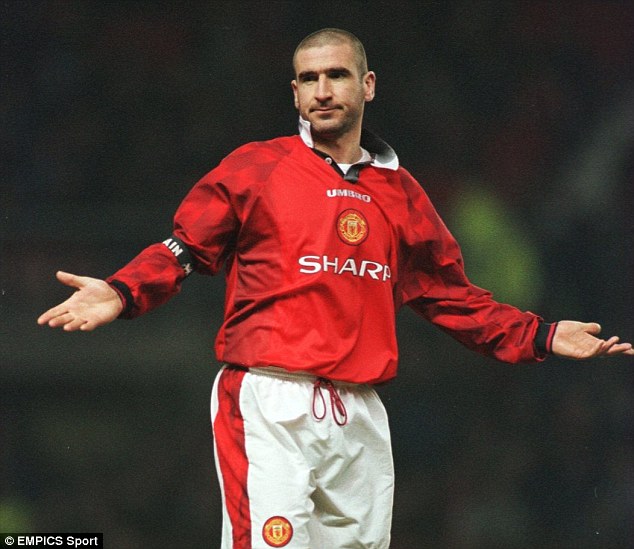 His aura was of a man full of himself but who wouldn't be when you are as good at your job as Cantona was. Four league titles in five years at Old Trafford, including two league and cup doubles, speak for themself but he was far more than his stats and trophies. You do not get called 'King Eric' just for being good at football..
An imposing figure, aesthetically pleasing (on and off the field), witty with his quips yet mysterious, he attracted millions of eyeballs and contributed greatly to the spread of football.
RIGHT PLACE RIGHT TIME
Many forget that Cantona's first title in England was not with Manchester United, despite being immortalized during his time at the Red Devils. Cantona's time at Leeds was brief but successful. They lifted the final First Division title in 1992 but as the Premier League rolled around Cantona could feel the winds were changing direction.
Just a few months into the new season, Cantona joined Leeds' arch-rivals in Manchester – the first major transfer of the newly formed Premier League. With Cantona, came the Premier League title to Old Trafford, for the first time in 26 years. When the striker joined United in late November, they were fifth. Within weeks, they had climbed to the summit of the top flight and would not be displaced come May.
The following season the Red Devils retained the league, along with winning the Cup as well. Cantona, expectedly, was integral. Playing as a withdrawn striker, the Frenchman was at the heart of the team. He brought the whole team together – supplying the pacy Ryan Giggs and Andrei Kanchelskis on the wings, helping the frontman Mark Hughes to thrive.
THE INFAMY
In the 1994-95 season, United would forfeit their crown to Blackburn Rovers and the major reason was Eric Cantona's suspension. In January, at a game against Crystal Palace at Selhurst Park, Cantona was sent off and while going off towards the tunnel, a fan in the crowd (later revealed to have far-right political allegiances) screamed at the Frenchman, calling him a Nazi and telling him to go back to his country.
Cantona did as Cantona does, and launched himself into the crowd to kung-fu kick the perpetrator. He was subsequently banned worldwide from all footballing activity for eight months. During  his suspension, Cantona wanted to leave England, tired of the constant vilification he had to face in the British media.
#OtD 25 Jan 1995 Manchester United footballing legend Eric Cantona kung fu kicked a fascist football hooligan. The hooligan attended far-right NF and BNP rallies and has violent convictions including for attacking a person who called him "Nazi scum" pic.twitter.com/bclg2EuvKB

— Working Class History (@wrkclasshistory) January 25, 2020
He gave an infamous press conference post the announcement of his suspension which summed it up well. As Cantona came in and sat down, the media people were packed in, desperate for a sound bite.
The Frenchman began "when the seagulls," and then paused to have a sip of water. He knew the vulturous media was hanging on to every word of his and he wanted to make them suffer. "Follow the trawler, it is because they think sardines will be thrown into the sea," he finished and walked away.
In a single statement, he was able to convey the absolute contempt he held for the journalists. It only took the world's best ever man-manager in Sir Alex Ferguson to keep him at Old Trafford – something no doubt many media writers will be thankful for, given that Cantona was 50% of their column space.
RETURN OF THE KING
Naturally, his return from suspension was billed up by Sky Sports – milking it for every ounce they could in advertising and broadcasting money. The fact that his return came against Liverpool helped even more. Cantona did his part – assisting one and scoring another in a 2-2 draw and just like that, the league came alive again.
Eric Cantona returns from his nine-month suspension to grab an assist and score a penalty against Liverpool at Old Trafford, 1995. pic.twitter.com/CZkcb2pqFq

— Manchester United Snapshot (@ManUtdSnapshot) October 19, 2019
United were trailing Newcastle by quite a bit when Cantona returned but his presence immediately made the team better. It was as if he was 7ft tall and untouchable. He led a young United squad to the title causing a Kevin Keegan meltdown and making Alan Hansen eat his words in the process. Irrespective of your views on Cantona, you never bet against him.
THE LAST HURRAH
In the 1996-97 season, Cantona was made captain of the side. Under his leadership, United went on to win another league and cup double, building the foundations for the side that would go on to win the treble a couple of seasons later.
However, the French genius was done. He decided to retire at the end of the season at the ripe old age of 30. For an artiste like him, the travails of modern football were too taxing. Despite multiple attempts to bring him back to the fold, Cantona stayed away from football.
"Just a genius"

Relive Eric Cantona's finest #PL moments as former players explain why they picked him for the #PLHallOfFame pic.twitter.com/y1jR0LACWs

— Premier League (@premierleague) May 18, 2021
He eventually ventured into acting and working with Nike.
It remains an ironic catch-22 that without Eric Cantona, modern football would not be as commercial and cut-throat as it has become and yet, he was one of the first victims of it's relentless march. He became the third inductee of the Premier League Hall of Fame, but no player in the nearly three decade long history of the top-flight has had a bigger impact than Cantona.