Usually, utility players are fan favourites even if they do not make the headlines week in week out. Occasionally they may get a mention from a pundit in a post-match analysis show but their true value becomes visible only to the public after they leave. Think Park Ji-Sung and Michael Carrick at Manchester United, Fernandinho at Manchester City, or Nemanja Matic at Chelsea.
All of the above were at least 'rated' by their own fans while they were playing but lacked a wider recognition. Granit Xhaka, however, cannot find a friend in England. For all his relentless efforts, his own fans hate him to the point that they celebrated his substitution. For the media and experts he is symbolic of the decline of Arsenal over the last few years. And for his own manager now, he is surplus to requirements.
XHAKA ON HIS WAY?
Rumours have been circling around Xhaka's expected departure for a while now. AS Roma reportedly want him and have had a bid rejected this summer already. They are now preparing a bid in the region of 20 million Euros for the Swiss international.
Roma are working to complete both Rui Patricio and Granit Xhaka deals in the next days. 🟡🔴 #ASRoma @SkySport

José Sá will be new Wolves goalkeeper joining from Olympiacos if Rui Patricio leaves the club.

Xhaka is pushing to join Roma – #AFC working to complete the agreement.

— Fabrizio Romano (@FabrizioRomano) June 23, 2021
Arsenal have also been linked heavily with Ruben Neves of Wolves. Neves has been impressive over the past few seasons and most Arsenal fans are happy with him replacing Xhaka at the Emirates. But is the Portuguese really an upgrade for Mikel Arteta's side?
XHAKA VS NEVES
Both Xhaka and Neves play as deep-lying midfielders tasked with protecting the defence and progressing play. Their roles are similar but the teams that they play in are very different. Arsenal, irrespective of the manager, are possession oriented and dominate proceedings against most sides even though results have not been on their side lately.
Wolves under Nuno Espirito Santo were a counter-attacking side. They did not have much of the ball but when they did, they were very effective. These stylistic differences manifest themselves while comparing the stats (data from fbref) of Xhaka and Neves.
Take a bow, Granit Xhaka 👏#ARSCHE pic.twitter.com/RygODiTvHi

— Arsenal (@Arsenal) December 27, 2020
Neves ranks better in defensive metrics – he presses more and makes more blocks, tackles and interceptions per 90 minutes than Xhaka over the past three seasons since Wolves got promoted to the Premier League. However, Xhaka's success rate in tackling dribblers is considerably higher (40.1 vs 31.3) while his success rate for pressures is also slightly higher (29.2 vs 28.2)
On the flipside, Xhaka is considerably better at ball progression – he dribbles more and with a higher success rate, and has more progressive carries (overall and into the final third) than the Portuguese. Xhaka passes more frequently as well but he tends to play shorter passes than Neves – again a function of their respective teams' playing styles.
Interesting point to note is that Xhaka has a marginally higher success rate (73.1 vs 71.3) while playing long passes (of more than 30 yards). Neves is revered for his long pings but perhaps they're just highlighted because he plays them more often – Xhaka, if asked to, could do the same.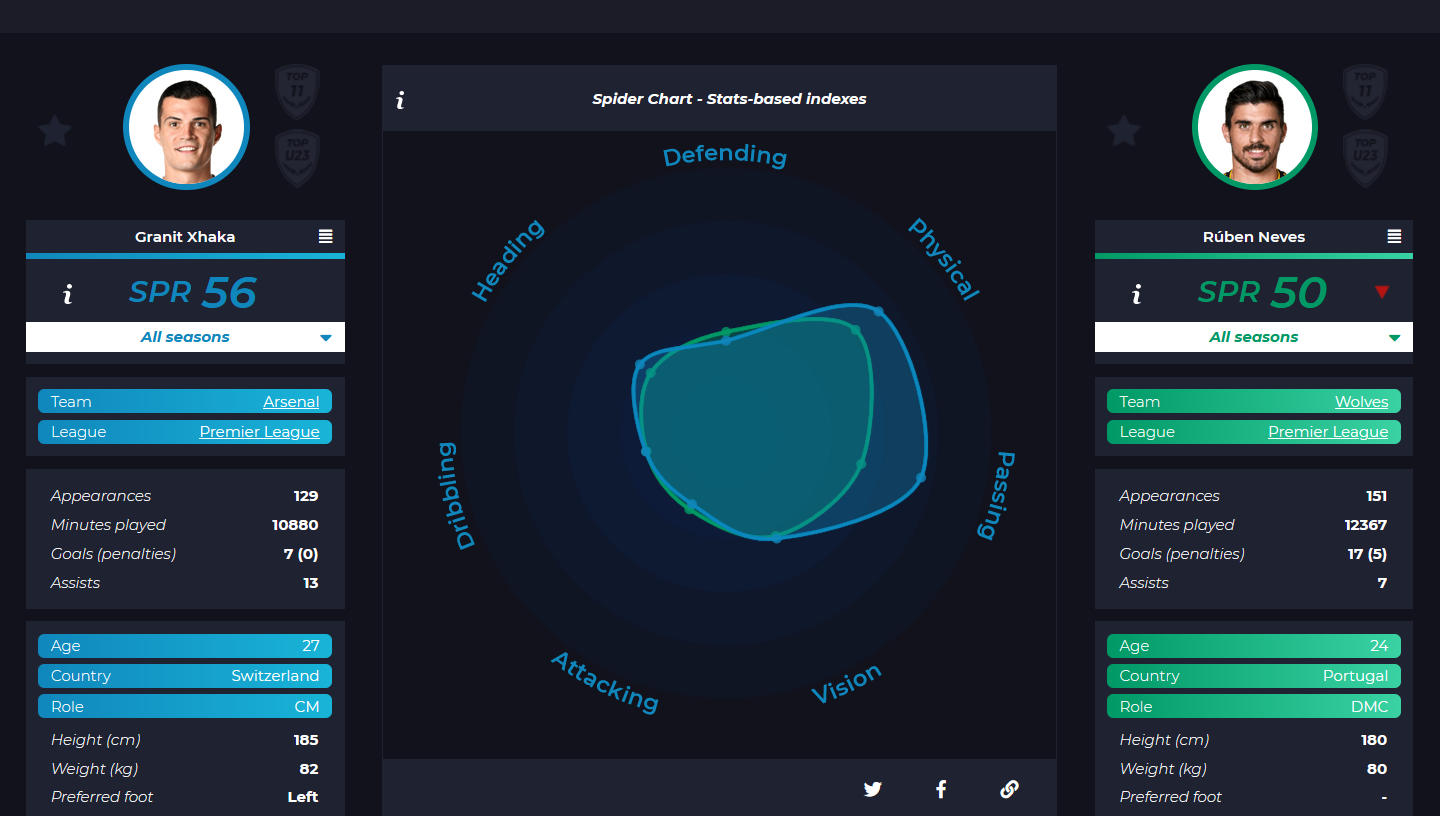 Comparing the two over their entire careers, using Soccerment, we can see that Xhaka is more physical and a better passer while Neves is slightly better defensively. They are more or less at par in the other aspects.
DO ARSENAL NEED NEVES?
So Neves is not really an upgrade on Granit Xhaka immediately but he does have the advantage of being a few years younger than him. His prime is arguably in front of him while Xhaka is in his prime right now.
Arsenal also already have Thomas Partey and Mohamed Elneny in that role. Xhaka has also shown his versatility this season, filling in at left back and as the left-sided centre back of a back three when needed.
Granit Xhaka's game by numbers vs. Fulham:

94% pass accuracy
31 final third passes
5 aerial duels contested
4 aerial duels won
4 tackles attempted
4 tackles won
3 ball recoveries

Filled in at LB admirably. 👏 pic.twitter.com/PCGyVGpE99

— Statman Dave (@StatmanDave) April 18, 2021
He is also one of the few players on the Arsenal squad who is vocal and has some semblance of leadership qualities. The Gunners have a lot of young talent coming through and Xhaka could play a key role in honing them into players with more steel.
Further, and perhaps most importantly, Neves will be expensive. Even if Arsenal manage to get 25 million for Xhaka, Neves will cost another 10-15 million more. If not Neves then any other replacement will cost them more than what they sell Xhaka for. The Gunners do not have lavish funds at their disposal and perhaps need to address other areas (attacking midfield, full backs, and wingers) more urgently.
Xhaka has perhaps inadvertently become a symbol of Arsenal's lethargy. His clashes with the fans and previous manager Unai Emery often overshadow his consistent workmanlike performances. He has the tendency to go over the top sometimes but Xhaka remains a player who gives it his all for the badge.
Selling him would be acceptable if Arsenal were getting a significant upgrade but at this point the Gunners' will lose a top player. Perhaps Xhaka may benefit from this transfer after all, should the fans realise what they lost once he is gone.