The Bundesliga is one of the premier destinations for a young baller nowadays. Georginio Rutter is flying in his first full season. Augsburg completed the signing hugely talented American Ricardo Pepi recently. Bayer Leverkusen, of course, have the hottest prospect in Florian Wirtz. The latest in this list is Jamie Bynoe-Gittens, poised to link up with the senior team of Borussia Dortmund.
JBG 🥶 pic.twitter.com/AdnbkG7Lx7

— Borussia Dortmund (@BlackYellow) February 9, 2022
Whenever the future of an English player comes up, thoughts always turn to Dortmund. Jadon Sancho developed into one of the best players at Signal Iduna Park. Currently, Jude Bellingham is tearing up defences and putting in masterclasses every week. The pair were 17 years old each when they made their debuts.
BVB U-19 this season:

☑️24 games
✅20 wins
⭕️2 draws
❌2 defeats
⚽️3.4 goals scored per game

Fantastic team with many superb prospects such as Bradley Fink, Julian Rijkhoff, Jamie Bynoe-Gittens, Samuel Bamba, Dennis Lütke-Frie, Abdoulaye Kamara, Nnamdi Collins & Tom Rothe. ⚫️🟡 pic.twitter.com/bnaFTsKmxJ

— Football Talent Scout – Jacek Kulig (@FTalentScout) February 10, 2022
Now, they are two of the foremost in their positions. Therefore, Bynoe-Gittens has also started walking the same path. After scoring his first goal for Dortmund on his first senior appearance, the sky is the limit for the kid from Manchester.
From Manchester to Dortmund
There are several similarities between Jamie Bynoe-Gittens and Sancho. Bynoe-Gittens was plucked from Reading U14s by Manchester City's Academy. The interest from City surprised him, but he described it as "an easy decision," because "they were producing players like Brahim Diaz and Jadon Sancho back then." He linked up with the U15s and immediately started making a name for himself.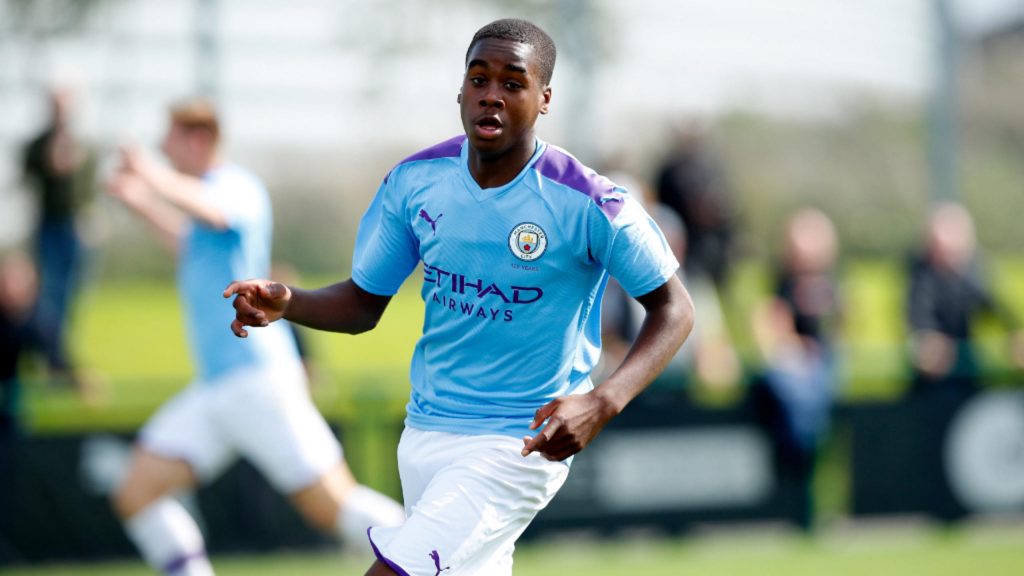 Bynoe-Gittens was being fielded in higher age groups. He was described as an incredibly fast player with ambidextrous control. Bynoe-Gittens made his U16 debut with England just weeks after turning 15. He enhanced his reputation further by scoring in a 3-3 draw with Ireland, with opposition manager Justin Cochran calling him one of the "best future prospects in the English game."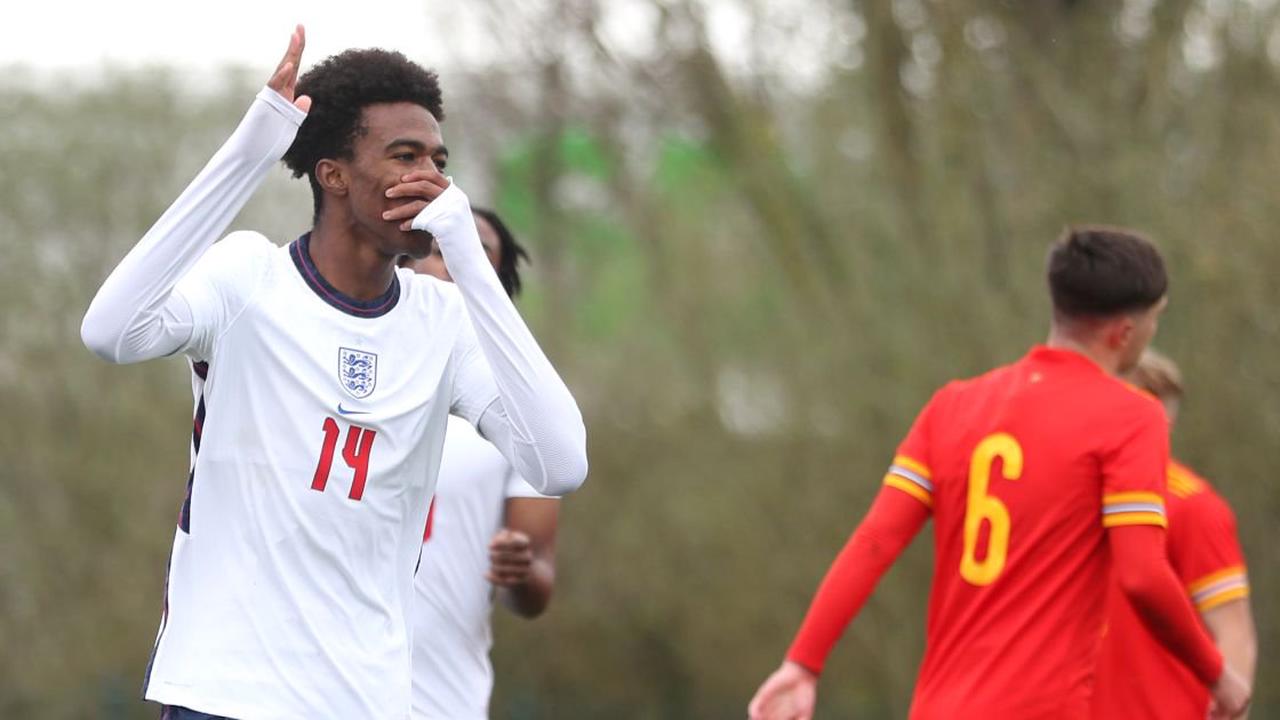 Bynoe-Gittens went on to play a further four times. It was becoming clear that Bynoe-Gittens was ready for the move up with City too. He made his professional debut with the U18s in the Premier League against Liverpool only a month later.
The fleet-footed wide attacker describes being "nervous" and "drinking too many fluids." He came on at the start of the second half and scored the final goal in a 5-2 win. Talking about his goal, Bynoe-Gittens said, "I was going to chip it but I was too shook, so I just did a fake shot, beat the keeper and slotted it in." Talk about confidence at 15 years old!
It was evident that he would continue on this upward trend but differences emerged over how involved Bynoe-Gittens will be with the senior team. For City, a deja vu situation was developing. They had seen this before with Jadon Sancho.
Dortmund have signed another young talent. This time Jamie Bynoe-Gittens. The 16-year old comes from Man City academy. He is seen as one of the greatest prospects of English football – he will start at the U19- team in Dortmund https://t.co/zXCnbS7faw

— Jan Aage Fjørtoft 🏳️‍🌈 🇳🇴 💛💙 (@JanAageFjortoft) September 24, 2020
In the end, Bynoe-Gittens was signed by Dortmund in 2020 when he was 16 years old. He was immediately promoted to the U19s.
Coming back stronger
It was not the greatest of beginnings for Jamie Bynoe-Gittens at Dortmund. He could only play twice with the U19s due to a combination of niggling injuries and the pandemic. Nevertheless, his impressive performances in training and quickly maturing skills caught the eye of senior team boss Marco Rose.
Bynoe-Gittens goal against Sporting Lissabon.#BVB pic.twitter.com/QfWCzE9Uhx

— BVB Newsblog (@bvbnewsblog) November 29, 2021
Bynoe-Gittens was called up to be a part of the first-team squad during the pre-season last year. However, as luck would have it, he suffered an ankle in his debut against Athletic Club in a friendly in July. It was feared that he would not return before 2022.
Bynoe-Gittens vs Hannover 96 U19.#BVB

via Instagram pic.twitter.com/p4vQB3obg5

— BVB Newsblog (@bvbnewsblog) January 19, 2022
However, the recovery and determination to return from Bynoe-Gittens proved stronger. He made his comeback in November and went on a superb run of form. Bynoe-Gittens has netted six times in the UEFA Youth League, including a brace against Besiktas. Overall, he finished in double digits for the season and became one of the brightest stars for the youth team.
One to watch
It was highly touted that Bynoe-Gittens would be promoted to the first team at the start of this season. True to form, Bynoe-Gittens made his first senior appearance for the club against Freiburg, coming off the bench to score and seal a sensational comeback win.
Dortmund have been excellent in giving chances to youngsters and helping them evolve into world beaters. Bynoe-Gittens has shown enough evidence already of being ready to take that big step.
🏴󠁧󠁢󠁥󠁮󠁧󠁿 Jamie Bynoe-Gittens (17) in the @UEFAYouthLeague for BVB:

☑️ 4 games
⏰ 287 minutes played
⚽️ 6 goals
🔥 Goal every 48 minutes

Scored both goals vs. Manchester United AND converted the winning penalty earlier today. 🥶

Into the Quarterfinals! pic.twitter.com/jUQlhHYwyw

— Football Wonderkids (@fbwonderkids) March 1, 2022
His close control, strength in beating defenders for pace, bag full of tricks and dribbling prowess are heavily talked about. Bynoe-Gittens loves getting forward from the left wing and is a menace with or without the ball.
Though his decision-making needs work, there's still plenty of time to work on the shortcomings. Bynoe-Gittens will be a severely potent threat for Dortmund, especially with their more established stars struggling.
Julian Brandt has not been able to replicate his form of Leverkusen. Thorgan Hazard has seen his impact reduced due to injury issues. The injection of a youthful and hungry player will perfectly fit with the mold of Dortmund. Bynoe-Gittens has been mirroring the career path of one of his inspirations and there's no doubt that he might even surpass Sancho's impact with the club in the future.