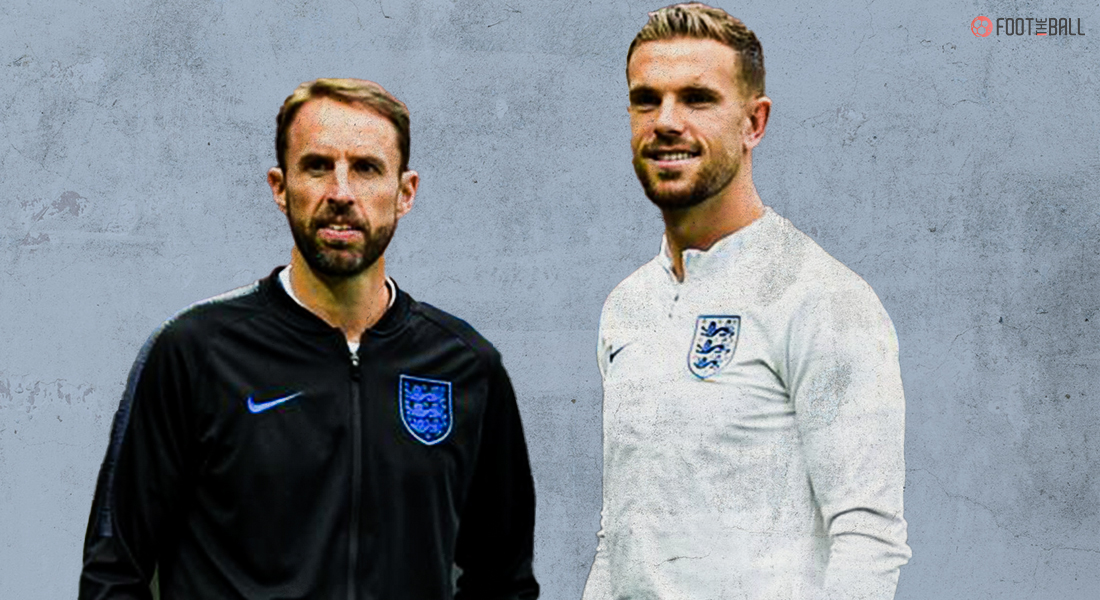 JORDAN HENDERSON - LIVERPOOL MAN NOT FULLY FIT BUT HIS LEADERSHIP MAY CONVINCE SOUTHGATE TO KEEP HIM FOR EURO 2020
Jordan Henderson has missed Liverpool's last 16 matches. He is on his way back from a serious injury which has kept them out since February. Across the sea, Sergio Ramos was in a similar predicament with Spain and missed out. Henderson, however, is a lock to be in Gareth Southgate's England squad.
He returned to training earlier this month and was an unused substitute in Liverpool's final game of the season against Crystal Palace last Sunday. The injury and the time spent on the sidelines didn't prevent Gareth Southgate from naming him in the 33-man provisional squad for the Euro 2020 and Henderson is unlikely to be cut for the final 26-man squad too, which is to be submitted before the June 1 deadline.
The provisional 33 man squad has been named by Gareth Southgate.

How do you rate their chances for #EURO2020?#England #englandsquad #football #soccer #ThreeLions https://t.co/Zri2yAvH4s

— FootTheBall (@FootTheBall) May 25, 2021
Doubts over the decision have already been expressed but Southgate himself wished to see his match fitness along with other injured players in the squad like Harry Maguire, Jack Grealish and Kalvin Phillips before making a final call. "We're just going to have to monitor all of those really closely," said the England manager.
The Three Lions are set to play Austria and Romania in warm-up friendlies before the tournament begins on June 11 and Henderson is most likely to be a part of the squad.
One of the major reasons behind the 30-year old's inclusion in the squad despite injury and lack of playing time is undoubtedly his leadership quality. Jordan Henderson is the captain of the Liverpool team and led them to successive glories in the Champions League in 2019 and Premier League in 2020. Even if you remove the trophies, one can't possibly name a better leader than Henderson, though Harry Kane may be wearing the armband.
HENDERSON – "THE CAPTAIN OF CAPTAINS"
His role at Liverpool is considered that of a glue or a pin that binds the team together, that keeps them motivated to work for each other. When Henderson won the FWA Player of the Year last year he humbly said that he cannot accept the award as an individual and shared it with the whole team.
"I accept it on behalf of this whole squad, because without them I'm not in a position to be receiving this honour. These lads have made me a better player — a better leader and a better person. If anything I hope those who voted for me did so partly to recognise the entire team's contribution," said Henderson in his emotional acceptance speech.
During the Covid-19 pandemic, Henderson along with other players set up a charity funded by the Premier League players to help and support the work of NHS in England. This initiative came at a time when players were under criticism for not giving back to the society in need. Brushing aside the politics of the issue, Henderson worked in silence and took the step required. Wolverhampton Wanderers captain Conor Coady reflected on Henderson's role and said —
"Jordan was brilliant in terms of setting up and taking the initiative and moving forward with it and then getting in contact with everybody. As soon as he did, everybody was on board straight away. So it's a brilliant, brilliant thing that he's set up and something that'll affect a lot of people."
The NHS frontline needs our support now more than ever so I'm honoured to be announced as the first NHS Charities Together Champion. 🌈 More info – https://t.co/gJo6YFAH0K @NHSCharities #NHSCharitiesTogether #NHS pic.twitter.com/FUloeVjupz

— Jordan Henderson (@JHenderson) January 19, 2021
Further evidence of his brilliant leadership and will to bring change was shown when the European Super League was announced and fans were furious over the clubs' decision.
Everyone including the players was against the concept but one guy took the step towards change. Jordan Henderson called a meeting of all Premier League captains to discuss the response to the under-fire breakaway league. He led the Liverpool players to start issuing a statement against the announcement
— Jordan Henderson (@JHenderson) April 20, 2021
The Black Lives Matter movement was eagerly picked up by Liverpool's captain, who in fact, is credited for the idea of Black Lives Matter badges on players' shirts.
"I think what we've done so far is incredible. Not only for the NHS but for the Black Lives Matter campaign, that the players led on that side. And I have to say it is across the board. It is every single club captain and all the players across the Premier League have been involved in these things."
These words at the FWA awards ceremony meant more than what meets the eye, Henderson looks like the leader of the pack. He knows that he represents more than just Liverpool. Like his former teammate from his Sunderland days, Neudm Onuoha said — "He is the captain of captains"
LEADER OF THE KOP
Henderson is said to have revived the idea of captaincy in the day and age when the job of leadership, especially at big clubs lies with the coaches and managers. The absence of fans from stadiums due to the pandemic made us realise that the Liverpool captain is often louder and more animated than Jurgen Klopp himself. He has been criticised too, for his overzealous comments on teammates during the matches, but for him, it's a part of the job he took over from Liverpool legend Steven Gerrard. He accepts that sometimes he might go over the top and has to apologise and in his own words "Hug it out" after the game, but the work rate that Liverpool plays with, it is quite important to keep all the players working in symphony.
Henderson "the player" is a reflection of Henderson "the captain" and is always ready to sacrifice and give his all to the teams, both club and national. Over the years, Henderson is seen filling in for injured players and play out of position to contribute to the team's tactics without complaining. His importance to Liverpool can best be explained with Jurgen Klopp's words back in January 2020 when he said —
"If anyone who is with us doesn't see the quality of Jordan Henderson, I can't help him"

"Is he the perfect football player? No. Do I know anybody who is? No. But is he unbelievably important to us? Yes. He's exceptional, he's outstanding."
As a captain, Henderson has to give his best when he's playing in order to complement his authority over the team. It is impossible for a bad performer to make others improve, it is a given. Sometimes poor performances from the leader can cause disruption in the team environment and bring more damage than benefit.
Henderson might not be the most gifted or skilled player in the squad, but in terms of commitment and desire, he easily transcends others.
LEADS BY EXAMPLE!
Something that makes him special both for Klopp and Southgate is the ability to lead by example. Unlike many who enjoy the captaincy for the feeling of power and authority it gives, to Jordan, it is more of a responsibility he has to discharge, and not only on the field but off it as well. Sports psychology and human behaviour experts have said it we have seen it first hand as well, that the right leadership and right motivation can work wonders. His presence in the dressing room, even if not the field can greatly impact the English chances at Euro 2020. The Three Lions coach Gareth Southgate understands it and his place in the 26-man squad will be sealed regardless of his form and fitness.