Lionel Messi made his debut for Barcelona aged 17, then becoming the youngest player to make an official appearance for the club. Now, almost 20 years later, 15-year-old Lamine Yamal has a chance to make history by becoming Barcelona's youngest-ever player after being named in the squad to face Atletico Madrid.
Lamine Yamal is a name that has been spoken about in excited tones ever since he came into the mainstream. While La Masia has been a world-class talent factory for a long time, every few years, there comes a prospect that takes the breath away. Ansu Fati broke through similarly. Now, Lamine Yamal looks set to be the next one.
Lamine Yamal has been called up with Barcelona first team to face Atlético de Madrid. He's 15 — born in July 2007 🔵🔴⭐️ #FCB

Barcelona are already in contact with Jorge Mendes to prepare professional contract for Yamal, considered one of the biggest gems of La Masia. pic.twitter.com/gksvVRuLgi

— Fabrizio Romano (@FabrizioRomano) April 22, 2023
So, who is Lamine Yamal, the 15-year-old prodigy deemed good enough by Xavi to make the squad in a fixture as elite as one against Atletico Madrid?
Who is Lamine Yamal?
Lamine Yamal is a multi-faceted forward player who has been in Barcelona's youth academy all his career.
Born to a Moroccan father and mother from Equatorial Guinea, he has represented Spain in youth football but is also eligible to play for either Morocco or Equatorial Guinea through his parental roots.
Having just turned 15 in July of 2022, Lamine Yamal was added to Barcelona's Juvenil A team, becoming one of the youngest players to be added to that squad.
Pedri has been an inspiration to many young La Masia graduates, even though he wasn't one of them
Buy your Barcelona Pedri merchandise today
click here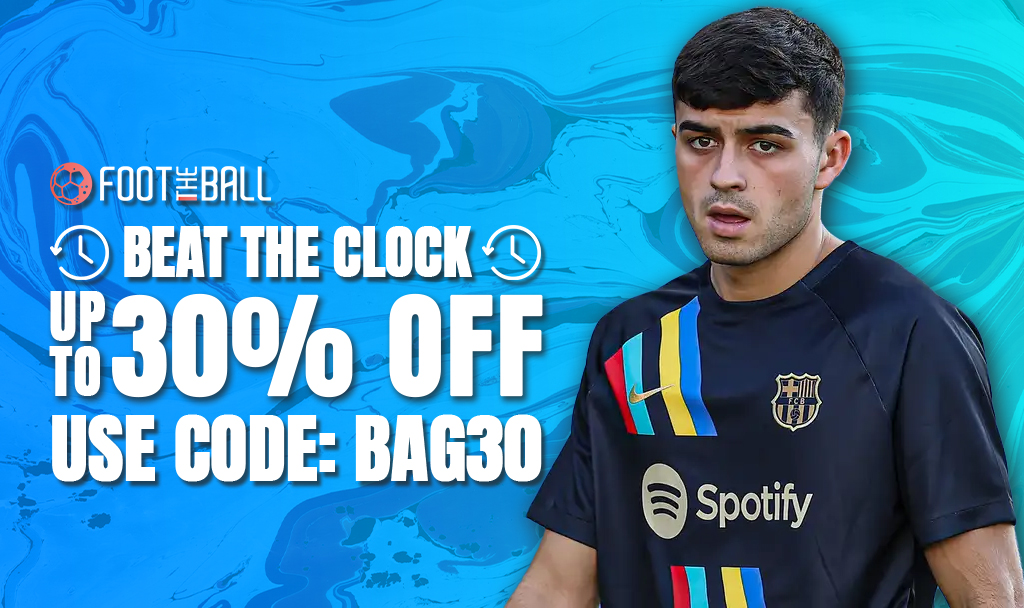 Since then, his talent has shone through at a club where youth prospects are always given a chance regardless of their age. Yamal has been training with the first team since September. His effort in training hasn't gone unnoticed. Now selected in the squad for the fixture against Atletico Madrid, Yamal will have the chance to burst onto the scene as Ansu Fati did.
Lamine Yamal stats
The sample size of games played for a 15-year-old is understandably small. However, the standard of games he has played speaks volumes of the trust coaches have in his talent.
Yamal has made six appearances in UEFA Youth League (UEFA Champions League's youth version). This is his first season with the U19s, so his introduction to the team has been gradual. He has played only 45% of all available minutes in the competition, making the starting XI 33% of the time.
His progress at the international level has been equally as startling. In a span of just 18 months, Lamine Yamal has gone from making his debut for Spain U15s to making his debut for Spain U19s, going through the U16 and U17 sides.
Yamal has made age-group football his playground at the international level. He struck four goals in five games for Spain U17s and was called up to the U19s team 10 days later due to his utter domination at the U17 level.
The raw stats column will undoubtedly fatten up as Yamal progresses in his career. For now, his playing style and potential are what excite the most.
Playing style
Any talent from La Masia has two skills in spades- Understanding spaces on the pitch and being technically elite with the ball. Lamine Yamal is no exception.
However, it is the added "IT" factor he has to his game that makes him such a special talent. Just like a certain Argentine magician from La Masia, Yamal is left-footed and prefers to come on to his stronger foot by playing on the right wing.
Lamine Yamal is extremely adept at taking on opponents of the dribble, with an almost street-like quality to his dribbling and ball control. Combine those skills with the pace that is sure to increase with age, Yamal is a nightmare to defend for opponents, especially in close spaces.
Most importantly, Yamal has shown the ability to release the ball at the right time once the opposition's defence is scrambled due to his dribbling. Often, youth prospects take years to learn that football is a team game, running into cul-de-sacs again and again.
Yamal's footballing education in La Masia has ensured he is already adept at this skill. Slide rule passes, progressive passes, switches of play, or through balls, Yamal has the technical quality as well as mental understanding to pull off such passes.
He will definitely add a cutting edge to his game too as the years progress. Coaches at Barcelona have already tried him as a centre-forward to accelerate the development of that area. Furthermore, he has also played as a left winger to make him adept at using his weaker right foot or cross by going to the byline on his stronger left.
Lamine Yamal potential
A 15-year-old playing for FC Barcelona is not normal. That alone speaks volumes of the potential coaches see in him. His progress through the age groups has been startling and he has taken every progressive step in his stride, looking unfazed.
FC Barcelona are assembling a maverick team with youth prodigies like Gavi, Pedri, Ansu Fati, and more. Lamine Yamal has the potential to be mentioned in the same breath as these otherworldly talents.
Yamal still hasn't signed professional terms with the team which means his inclusion in the squad against Atletico could also be a gesture by Xavi to show how much the club believes in his ability. However, it is not to say that Yamal hasn't deserved this opportunity.
Many prospects through La Masia have been hyped to no end. In the case of Yamal that hype looks well deserved and more.
Lamine Yamal at Barcelona
In Xavi, he has the perfect coach to oversee his development. Xavi came through La Masia himself and also saw the emergence of Lionel Messi up close. Moreover, he has not been reticent in giving youngsters an extended run in the team provided they perform.
Xavi: "Trust me, Lamine Yamal has really tremendous skills. He can mark an era at this club". 🔴🔵✨ #FCB

"We are not afraid to call him, as Lamine can help us despite being 15 years old. He has a lot of personality and talent". pic.twitter.com/yPbtUfn6KK

— Fabrizio Romano (@FabrizioRomano) April 22, 2023
If Lamal's career so far has been any indication, performing well won't be a hurdle for him. From then on, it will be all about trying to remain injury-free while soaking up the knowledge of those around him.