The debate rages on.
More rumours come flooding.
With every passing minute, the possibility seems more & more certain.
And the fear – more real than it has ever been.
We've seen Ronaldo exit Manchester & then Madrid.
Neymar leave Barcelona.
But there's nothing quite like this.

THE DIFFERENCE
Lionel Messi & Barcelona share a relationship more special than any player-club bond.
He was a young Rosario boy battling dyslexia & growth hormone deficiency before he migrated to Barcelona with his father.
Life for Messi was football.
And the home of football Barcelona.
He was trained, taught, groomed & grown in the La Masia, Barcelona's youth academy.
Everything, from his first break to his 6th Ballon d'Or, he has won at this very club.
In his 17 years, he has shown one and all that there was & will never be anyone more valuable to Barcelona than he has been.
His immense talent got him many offers over the years. His loyalty however made him stay.
Stay at Barcelona.
Stay at Home.
Stay at that club which had given him everything he ever had.
In light of the recent exit speculation lately, this feeling however has diminished.
After having carried the team on his shoulders for over a decade – he wishes to leave.
Messi in the last years of his career wants to win more trophies- both, team & individual & leave an even bigger mark on the game.
The reason for this is not just personal glory, but also a relief & a better opportunity.
Barcelona as we know has been crumbling downwards recently. In this process, Messi has been disrespected & even blamed on certain circumstances.
Therefore, arises a need to put an end to the menace.
The need for the G.O.A.T to catch another train, for Barcelona has been going crashing down- taking him along!
View this post on Instagram
THE WAY AHEAD
While the transfer request is still not accepted and Messi yet not on the market, offers are pouring in!
Every team desires to have a player as great as him.
Several clubs including Inter Milan, Juventus, PSG & Manchester City have shown a keen interest.
Manchester City among these shall be the favourite option, taking into account the biggest factor – Pep Guardiola!
Manchester City's recent run has been phenomenal. Under former Barcelona coach Pep Guardiola, City's game is a beauty to watch.
The ball moves as smooth as fluid on the pitch & absolute possession is maintained throughout the 90 minutes.
This is very similar to actual Barcelona Tiki-Taka football.
Pep Guardiola has also been among the most important mentors to Messi. Thus, this seems like the most favourable destination.
We for sure would love to watch Messi cut the PL defences wide open & Pep finally attain European glory if this ever happens at all!
Above all, Manchester City's Arab money backing ensures a very strong financial position that can easily facilitate the transfer if it happens.
View this post on Instagram
Other enticing options include Juventus- where all football fans could witness dreams come true-watch Ronaldo & Messi play together.
It could also be PSG where Messi could go and accompany his pal Neymar in the attack. They can cruise through the season with Kylian Mbappe by their side!
ACCEPTANCE
The very idea of Messi playing elsewhere & winning trophies seems heartbreaking to many!
As hard as it is to imagine that the Legend is leaving, it is important that we accept that it is happening.
We should realize that the man has already made an extraordinary contribution to the club & deserves to play where he wishes to.
He is not leaving Barcelona because of any Disliking for the club.
He is leaving to make the best of the little time that is left in his career.
He is leaving in search for better prospects!
This is possibly unfair to Barcelona, but now that this is happening- they should regard his contribution & be thankful, rather than highlight this decision of his to make the situation further ugly.
The Barcelona board also needs to reflect & realise that the situation has become this ugly because of their sloppy management & bad decisions over the years!
The fans are crying right outside the Camp Nou trying to stop Messi- because of a turmoil that has been created gradually over the years!
View this post on Instagram
THE GOOD SIDE
Messi's good may lie in leaving to play elsewhere. Winning there & retiring with pride. This after all is his motive behind leaving & should inspire the fans to support him rather than turn against him!
The Good for Barcelona will sure be just as good!
This Drama that lead to the departure of their Hero will sure be an eye-opener!
The majority of the board would change, attitudes of the players would change & even the game would probably improve under Koeman.
This may prove to be an important step in reviving Barcelona. For, imagine if this had not been done & Barca continued to rely on Messi – in this case, the team would've fallen apart upon his retirement!
It could've left all the glory days behind – Like AC Milan did upon Pirlo, Maldini & Kaka's departure; like Manchester United did upon Sir Alex's departure!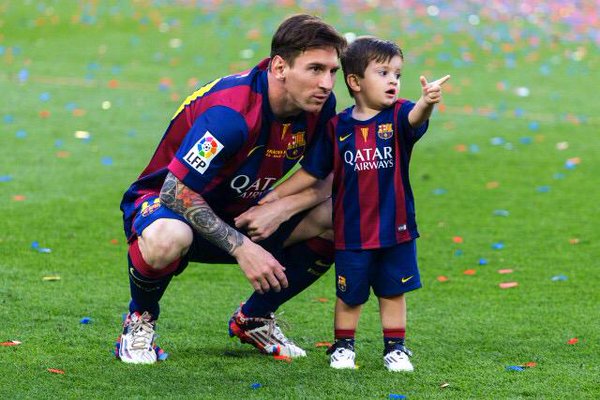 FAREWELL
All this takes us back to 1973 when Pink Floyd in their song Breathe mentioned
"Leave, but don't leave me"
Lionel Messi may no longer play for Barcelona, but he will continue to play beautiful football wherever he goes.
He will continue to respect the club for it has given him everything.
However ugly this exit-drama may get – he will be grateful to Barcelona & so Barcelona would be grateful to Leo.
The fans should accept this.
The fans should be thankful for the very opportunity of getting to watch such a legend & should continue to support him whatever may be.
Let's embrace the Good in this Goodbye & wish our hero good luck for the future!
You may leave Barcelona, but we shall hope – You never leave it behind!
Vamos Leo