Marco Reus, one of the best footballers to ever grace the pitch has broken yet another record by becoming the first-ever Bundesliga player to have over 100 assists and 100+ goals in all history.
He achieved the feat due to his match-winning assist against Augsburg last night which makes him only the 3rd ever player to get a hundred assists behind Thomas Muller and Frank Ribery. Bayern Munich and their players have dominated the Bundesliga records but Reus has broken their monopoly and has made history by doing so.
The German veteran has had a career full of ups and downs so far but it seems like Reus is redeeming himself with commendable performances this season. Here's everything you need to know about Marco Reus and his Borussia Dortmund journey.
SWITCHING ALLEGIANCE
Reus was born and bred in Dortmund itself and he was picked up by the club's youth academy when he was just 7 years old and has been an integral part of the club's culture ever since. Although Reus was looking like the future of Dortmund during his teenage years, the player dared to change allegiance and join Dortmund's fierce rivals, Borussia Monchengladbach.
Marco Reus (22) in his final Borussia Mönchengladbach season:

• 32 appearances
• 18 goals
• 9 assists

Fantastic in a fun Favre team. pic.twitter.com/xK0QtMlAlT

— Scouted Football (@ScoutedFtbl) May 2, 2019
The player scored 10 goals in 13 appearances of the 2011/12 season which compelled Dortmund to activate his buy-out clause and buy their wunderkind in the next transfer window for a high price at the time.
A TRUE BVB AT HEART
Reus has spent nearly a decade playing for Dortmund now which is quite unusual in the club's history.
Bayern Munich have the habit of poaching the best players in the league from their rivals and Reus, Robert Lewandowski, Mario Gotze and Matt Hummels, all 4 players were at the top of their game during their spell at Dortmund but all of them left for Bayern Munich in the end, all but Marco Reus who's love for his boyhood club has made him stick around.
Bayern surely offered a huge amount of fee for Reus and Dortmund would have accepted as well, it was Reus who chose legacy over glory and the player has said that he doesn't regret that decision at all.
Marco Reus: "I wish luck to Lewandowski and Götze, but Bayern Munich will never sign me. Money is not everything." pic.twitter.com/c6UtUg4UK7

— FutbolBible (@FutbolBible) January 12, 2014
Although he has been unfortunate with fitness for most of his career, he has had a massive influence on their squad and has saved them in dire situations. He has been named Bundesliga's player of the tournament 3 times in his career so far.
He finished the last season on a strong note and has continued his exceptional run in the 2021/22 season. He has bagged a goal and 2 assists in 6 appearances and being the captain of the side, he has made sure his team does well under Marco Rose's guidance, The major thing missing from Reus's career is a Bundesliga title and despite all his efforts over the years, Dortmund have always fallen short by fine margins.
Reus's versatility in the attacking lineup has helped him stay in the starting lineup whenever he is fit and match ready, his playmaking ability and knack for guiding the frontline has helped them win 3 DFB Pokals and they even reached the Champions League final in 2013.
He has created 1.50 goal scoring chances per 90 this season and has had a goal involvement of 0.509 per game. Dortmund has been aggressive up front this season and although Halaand is the one stacking up the goals for them, Reus has had a massive role to play in their system.
INJURIES KEPT HIM FROM GREATNESS
If it weren't for his injuries, Marco Reus would have reached even greater heights in his career despite his successful footballing journey. A player with a lot of potential, but just couldn't gain enough momentum to take off and become the best due to recurring injuries and fitness issues.
He has expressed his disappointment in himself when he sees his teammates train and play for the club when he is recovering during rehab but Reus says he copes with it by having a strong mental resolve and not getting distracted with the media and the people in order to focus on his recovery and hitting the ground running.
Reus was out for nearly 7 months in 2017 and the world felt Reus can definitely not get back in his old stride after such a big injury, but he still came back in 2018 and dominated the league.
FLICK'S TRUMP CARD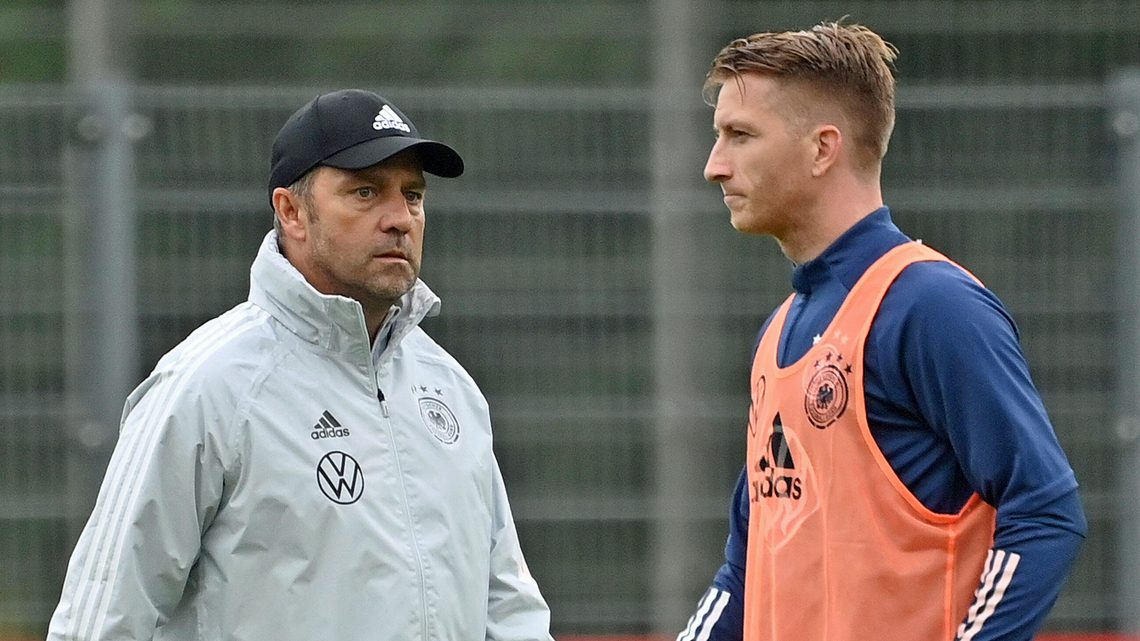 Marco Reus missed the opportunity to feature in the World Cup-winning Germany side in 2014 because of an ankle injury he received just a few weeks before the tournament. Since then Reus was never picked up in the German squad during important fixtures due to his inconsistent fitness and the tough competition in the pecking order.
But it seems like Reus is about to play a key role in Hansi Flick's system for Germany. Recently in an interview, Hansi Flick said, " Marco Reus is one of the best players in the final third and is definitely the best player in the world in his position." Flick still has the 32-year-old attacking midfielder in his mind as he sets out his squad for the 2022 World Cup in Qatar.